Use this page as a reference for your Mexican cooking journey and you'll be able to skip over all the mistakes I made along the way! You'll always be able to find it under 'Start Here' in the site's main menu.
I will keep this page as simple as possible -- no pics, no ads, just real deal Mexican recipes and techniques. I hope it has a direct impact on your Mexican cooking journey 🙂
Let's get started...
Nothing will upgrade your kitchen more than a batch of freshly made Salsa. Get familiar with these three Salsa recipes and you'll have instant access to loads of quick meals:
Red Salsa -- Tomato Jalapeno Salsa
Green Salsa -- Salsa Verde
Roasted Tomato and Tomatillo Salsa
Here are the supporting cast recipes that I use most often. They dislike being called "side dishes" because you can easily make satisfying and complete meals out of them:
Authentic Pico de Gallo
My Favorite Refried Beans
Quick and Easy Guacamole
Classic Arroz Rojo
Once you're comfortable with those classic recipes, you can add eggs to the mix and you'll have access to these delicious Mexican breakfast dishes:
Breakfast Tacos
Vegetarian Breakfast Burritos
Migas -- Eggs and Tortillas
Huevos Ahogados -- Eggs Poached in Salsa
Huevos Rancheros
Now it's time to add some protein dishes to your repertoire! I use chicken frequently, but keep in mind that you can swap out your preferred protein source in most of these recipes:
Easy Chicken Tacos
Spicy Chicken Tinga
Chicken Chile Verde
15 Minute Creamy Chipotle Chicken
Chicken Burritos with Avocado Salsa Verde
Quick Chicken Recipe for Tacos, Burritos, Quesadillas, etc.
Making your own tortillas is a great way to taste their full potential. You don't have to make your own tortillas for every meal, but I recommend trying out a few batches just to get a sense of how far gone most store-bought tortillas have become:
Homemade Corn Tortillas
Homemade Flour Tortillas
Half and Half Tortillas -- Flour and Corn Tortilla combo
Making Masa from Field Corn
Flour Tortillas Made with Bacon Drippings
Enchiladas are one of my favorite categories on the site! Once you make your own enchilada sauce you'll never go back to store-bought versions:
Ancho Enchiladas
Enchiladas Suizas
Creamy Poblano Enchiladas
Hatch Green Chile Enchiladas
I didn't know how prevalent soup was in Mexican cuisine until I spent time in Cozumel, and now I'm a total convert! Here are some ultra-satisfying soup recipes:
Roasted Poblano Soup
Easy Mexican Beans and Rice Soup
Pinto Bean Soup
Tortilla Soup
Make a Quick Batch of Chicken Stock
And now comes the heavy hitters! These are classic dishes that will feed a hungry crew of your friends and family:
Delicious Carnitas Recipe
Beef Birria
Chile Verde made with Pork Shoulder
Chicken Taco Bar for 12
Carne Asada Tacos
Picadillo Stuffed Poblano Peppers
Baja Fish Tacos
Chile con Carne
Mole Poblano
Arroz con Pollo -- Mexican Chicken and Rice
Easy Tamales Recipe
In direct contrast to the above category, here are the quick-n-easy meals I make on rushed weeknights. Lots of quick, tasty meals here:
15 Minute Chicken Guac Quesadillas
Quick Chicken Burrito with Chipotle Crema
Quesadillas Dipped in Avocado Salsa Verde
Quick Avocado Soup with Quesadillas
Single Serving Arroz con Pollo
Quick Ground Beef Bowl
Be sure to add Tostadas to your regular meal rotation! I get tons of mileage from Tostadas -- they are wildly flexible so feel free to get creative with them:
Ground Beef Tostadas
Easy Breakfast Tostadas
Bean and Rice Tostadas with Tomato Tomatillo Salsa
How to Bake Tostada Shells
Another discovery I made in Cozumel was vegetarian dishes! Here are my favorites:
Calabacitas -- Mexican Zucchini and Corn
Vegetarian Green Pozole
Quick Vegetarian Stuffed Poblano
Chile Verde Rice and Beans
Avocado Hummus and Cucumber Pico de Gallo Tostadas
Pickled veggies have staked out permanent territory in my fridge. These quick pickled recipes have become my favorite final garnish on tacos, tostadas, and even eggs:
Pickled Jalapenos and Carrots
Pickled Tomatillos
Easy Pickled Onions
Tiny Jar of Pickled Serranos
I've also gotten in the habit of whipping up homemade hot sauces. I know there are loads of hot sauce fanatics out there, so here are my favorites:
Jalapeno Hot Sauce Recipe
Habanero Hot Sauce
Tiny Jar of Jalapeno Serrano Hot Sauce
Chipotle Hot Sauce
Need something for the center of the appetizer table? Try these out, they will quickly become the life of the party:
Chipotle Cheese Bean Dip
Black Bean Nachos
Spicy Queso Dip
Guacamole and Homemade Salsa for 10-20 People
I also like to build recipe lists based on single ingredients. Here they are:
What Can I Make with Tomatillos? 18 Easy Recipes
What Can I Make with a Chicken Breast? 17 Delicious Recipes
23 Easy Recipes You Can Make Using Chipotles in Adobo
What Can I Make with Eggs? 14 Delicious Mexican Recipes
What Else Can I Make with Pico de Gallo? 11 Mexican Recipes
12 Delicious Mexican Ground Beef Recipes
What Can I Make with a Can of Beans? 12 Mexican Recipes
What Can I Make with an Avocado? 14 Mexican Recipes
And here are the most helpful supporting articles on the site:
How To Work with Chipotles in Adobo
How To Reconstitute Dried Chiles
What's the Difference Between Jalapenos and Serranos?
How Spicy Are Poblano Peppers?
Be Sure To Taste the Dried Chiles' Soaking Liquid
4 Different Ways to Make the Same Salsa
What Exactly is Mexican Oregano?
Okay I hope you find this list helpful!
In addition to the above recipes, you can always go to the main recipe page to use the search bar or to scroll through the categories. Keep an eye out for the Most Recent and Most Popular categories as that is the easiest way to keep track of the latest and the greatest.
Enjoy!!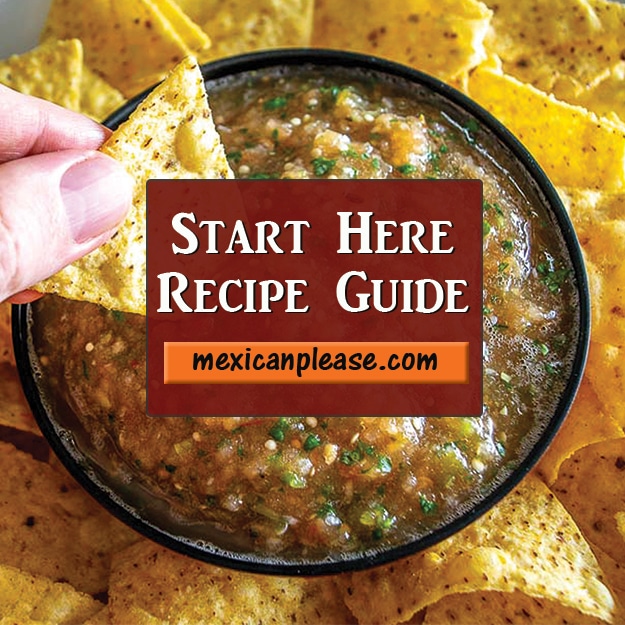 Still hungry?!
Want to receive Mexican Please recipes via email when they are posted?  Sign up below to subscribe.  All recipes are spam free.