If chipotles are the solution to life's problems then consider keeping some of this Chipotle Hot Sauce in the fridge.
It's got that addictive smoky flavor bursting out of the bottle and you'll only need a few drops at a time to liven up your latest meal.
There are seven chipotles in a single bottle of this hot sauce (yes, seven!) so please keep in mind that it is ultra fiery -- if you want a milder batch you can dial back on the chipotles.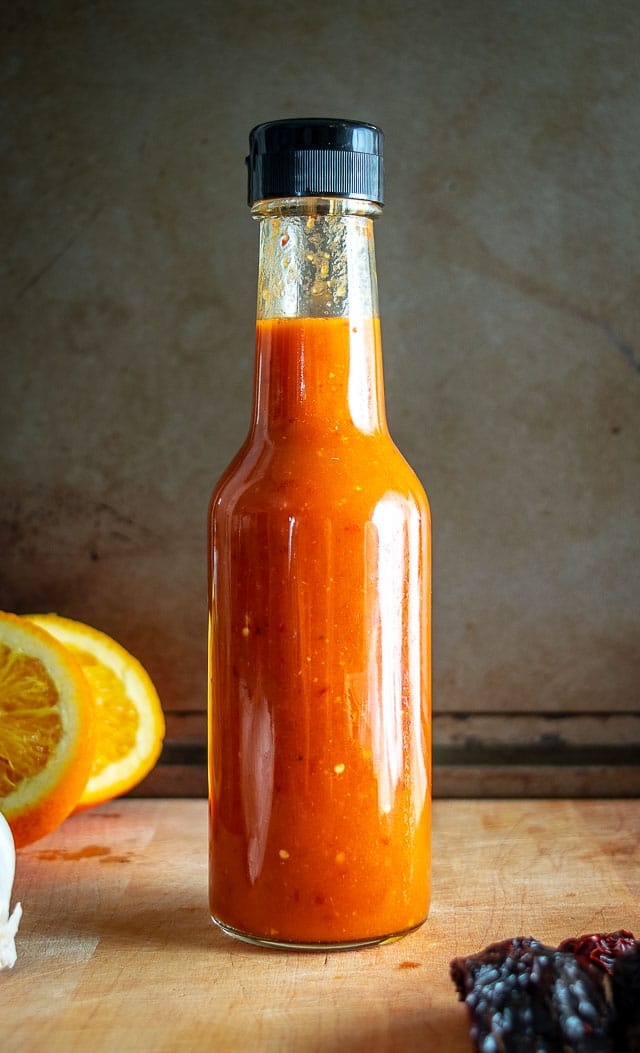 How To Make Chipotle Hot Sauce
Sure, you could start with some dried Morita chiles, but canned chipotles in adobo are much more convenient (and common) so we'll be using those.
If you're new to chipotles in adobo here's what they look like out of the can: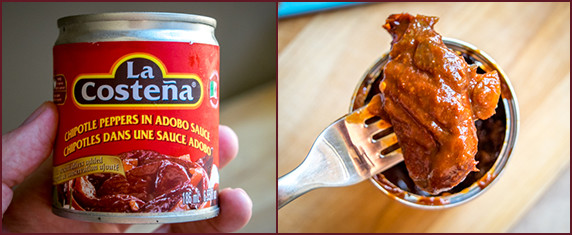 These are smoked jalapenos resting in a tangy adobo sauce and you'll get 6-8 chipotles in each can. Are chipotles spicy?
Occasionally you'll come across larger sizes, but these smaller 7 oz. cans are the most common in traditional supermarkets so I usually buy a few at a time.
I'm in the habit of scraping out most of the seeds as they tend to harden over time.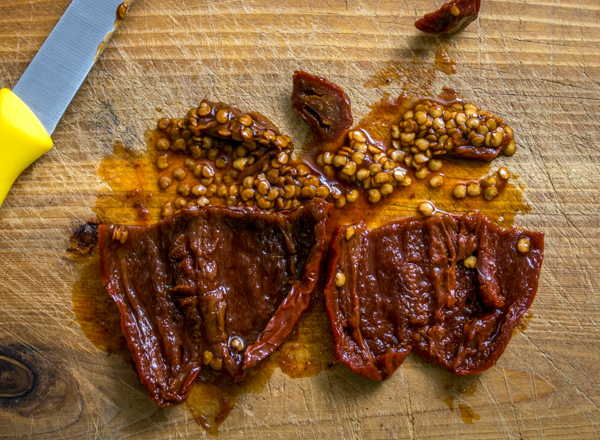 So we'll do that with seven of these chipotles (seven!) and add them to a blender along with:
1/4 small onion
1 garlic clove
1/3 cup white vinegar
1/3 cup water
juice of 1/2 orange
3/4 teaspoon Mexican oregano
1/4 teaspoon cumin
pinch of salt
I usually saute the onion and garlic in some oil before adding it to the blender. And note that this was a larger onion so I only used about 2/3 of the onion in the photo below: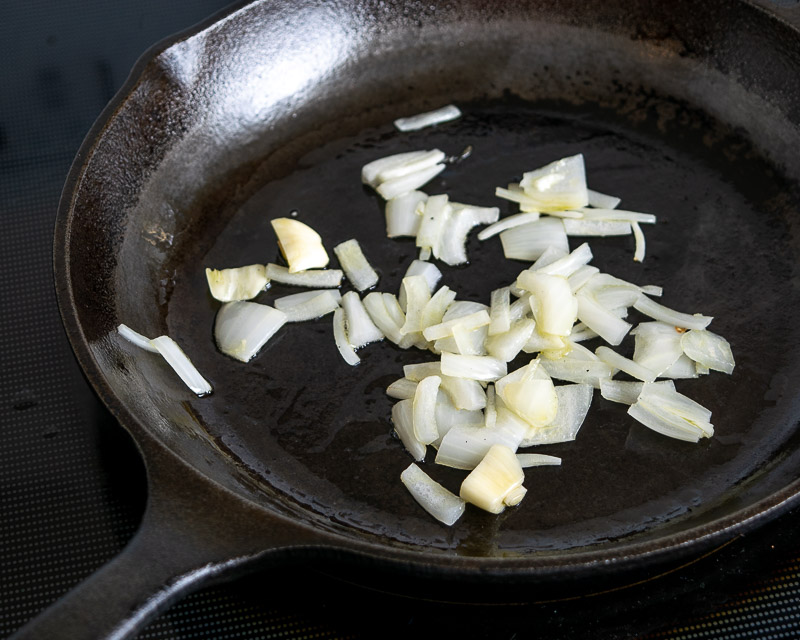 Once everything is in the blender (or food processor) give it a good whirl.
It'll need at least 30 seconds to liquefy everything so if it still seems chunky then give it a bit more time.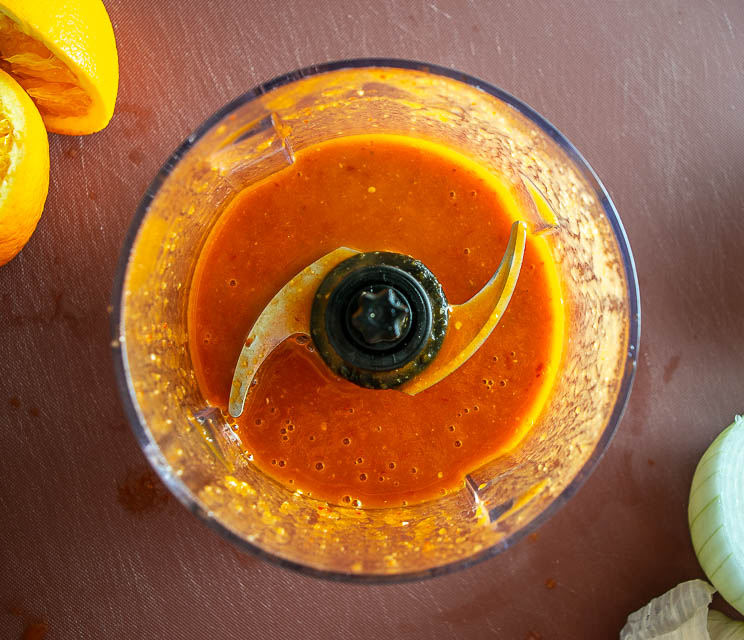 Once it's combined you'll have the perfect opportunity to take a taste for sweetness. And heat!
You're already getting some sweetness from the orange and the cooked onion, but you can always add a bit more if you want -- 1/4 teaspoon of sugar would be a good starting point. I don't have much of a sweet tooth so I did not add any additional sugar to this batch.
You can also taste test for heat. If you started with less chipotles for a milder batch then simply add 1-2 more chipotles if you want more heat.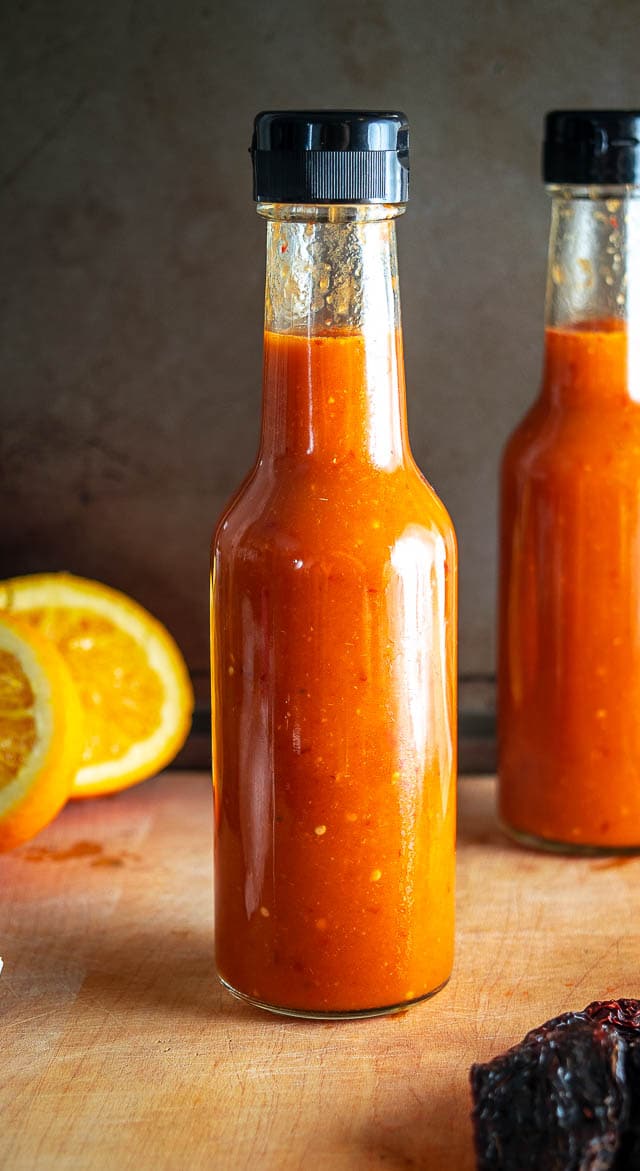 If all went according to plan you should have a single cup of chipotle fireball hot sauce. Nice! It's got a big, bold flavor and it will fit perfectly into a standard sized 5 oz. hot sauce bottle.
You can reuse older bottles or you can get new ones for about a buck each at Amazon.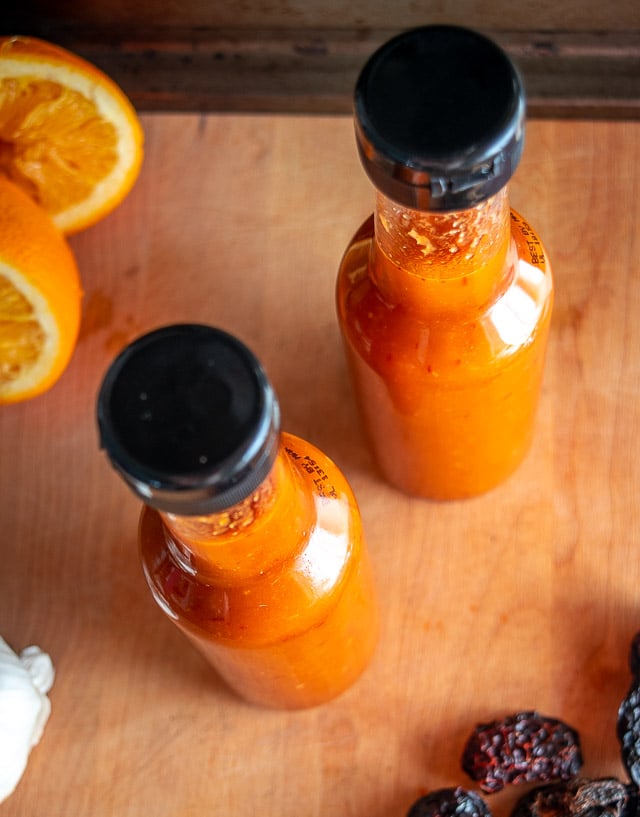 It also has a slighter thicker consistency than traditional hot sauces and this will help it cling to food more readily.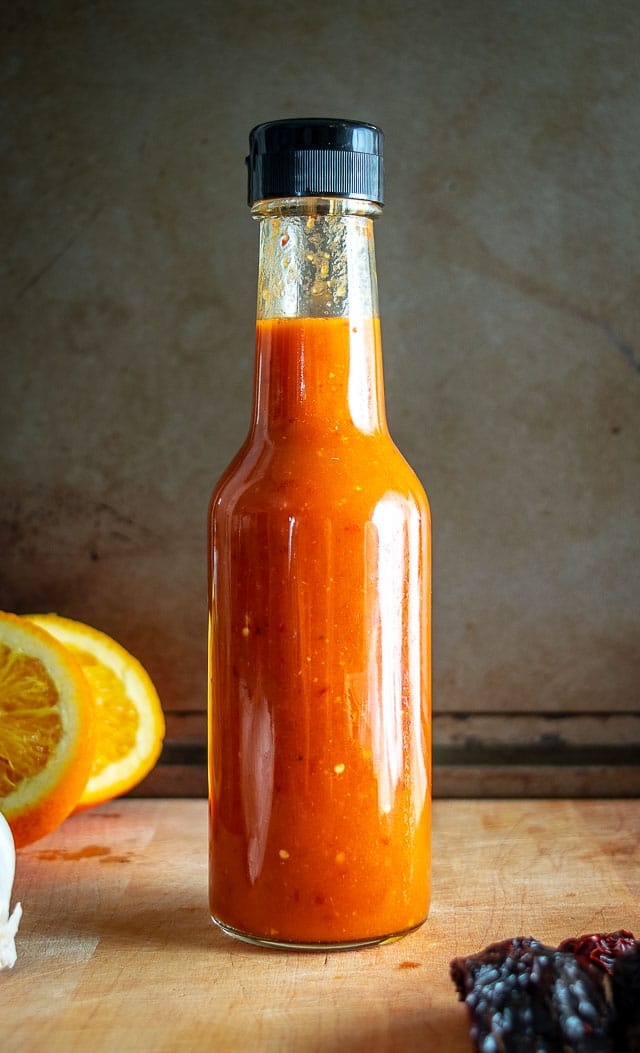 You can use this Chipotle Hot Sauce anywhere you would use your favorite hot sauce: tacos, eggs, and definitely potatoes!
Store it in the fridge where it will keep for about a month. (Note: instructions below are not meant for long term canning or preserving.)
Okay, start saving those old hot sauce bottles as it will remind you to make your own! This Chipotle Hot Sauce is a real treat and it's my default option lately, but we also have recipes for Habanero Hot Sauce and Jalapeno Hot Sauce if you want to do some experimenting.
Buen Provecho.
Want the latest recipe? Click your favorite from these options and follow me: Instagram, Facebook, Pinterest, TikTok, YouTube.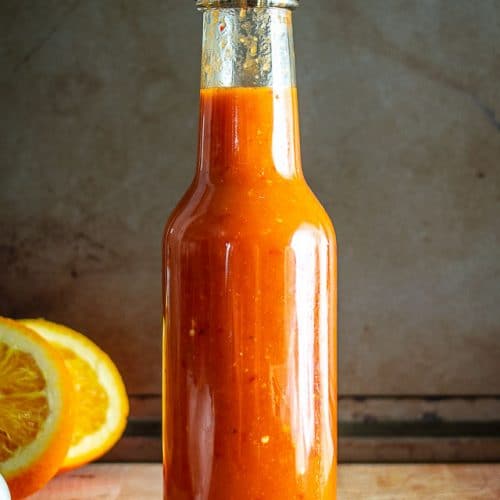 Chipotle Hot Sauce
Here's a super easy recipe for some homemade Chipotle Hot Sauce. It's a smoky, fiery delight and you'll only need a few drops to spice up your life! (Note: these instructions are not meant for long term canning or preserving.)
Print
Pin
Rate
Ingredients
7-8

chipotles in adobo

1/4

small onion

1

garlic clove

juice of 1/2

orange

1/3

cup

white vinegar

1/3

cup

water

pinch of

salt

3/4

teaspoon

Mexican oregano

1/4

teaspoon

cumin

1/4

teaspoon

sugar (optional)

olive oil
Instructions
Peel and roughly chop 1/4 small onion. Saute the onion in some oil along with a peeled, roughly chopped garlic clove. Giving it 5-7 minutes over medium heat will sweeten up the onion and bring out some additional flavors.

De-stem and de-seed 7-8 chipotles in adobo. I usually cut off the stems and then make a slit lengthwise on the chipotles, then peeling them open and discarding the inner veins and seeds. It's not crucial to get rid of all the seeds but I usually discard most of them.

Add the chipotles to a blender or food processor along with the onion-garlic mixture and 1/3 cup white vinegar, 1/3 cup water, the juice of 1/2 orange, a pinch of salt, 1/4 teaspoon cumin, and 3/4 teaspoon Mexican oregano. Blend until completely liquefied.

Take a taste for sweetness. You can optionally add 1/4 teaspoon of sugar at this point (or more) but I did not add any additional sweetness to this batch. If you started with less chipotles you can always add more at this point if you want additional heat.

Pour hot sauce into a 5 oz. bottle (I find it easiest to use a small funnel). Store in the fridge where it will keep for about a month.
Like this recipe?
Click the stars above to rate it or leave a comment down below! @mexplease
Got fresh tomatillos in the house? Our latest post shows all the recipes you can make with tomatillos.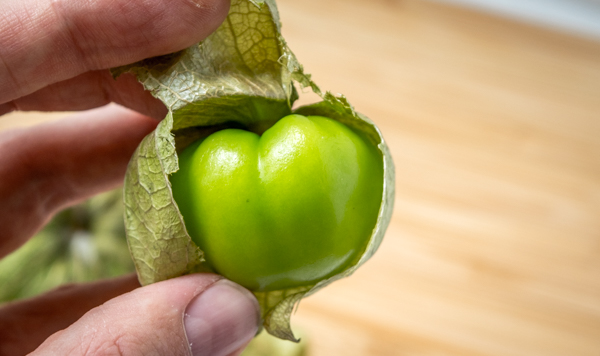 Still hungry?!
Want to receive Mexican Please recipes via email when they are posted?  Sign up below to subscribe.  All recipes are spam free.