The next time you come across a salsa recipe keep in mind that you've got some leeway on how to make it. The "right" way is the way that tastes best to you, even if others think you are violating the salsa code!
With that in mind, here are four distinct ways to make Salsa Verde. Most likely your palate will find a perfect match amongst these choices.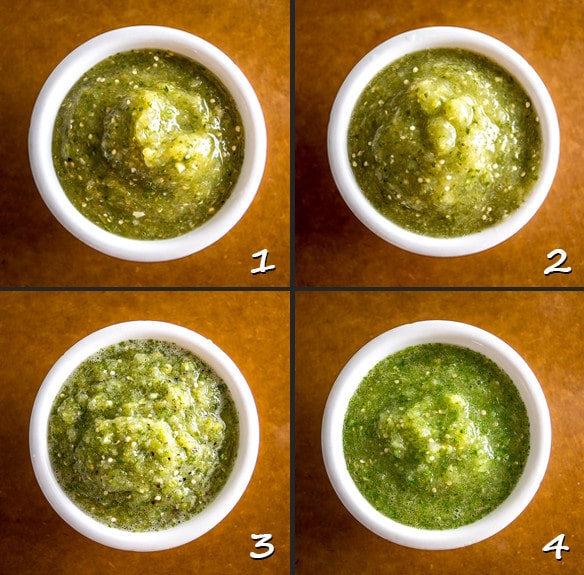 Let's first take a look at the recipe we're using. Salsa Verde is the willing volunteer in the kitchen lab today and it's one of the easiest recipes you'll ever come across.
Here's what it looks like: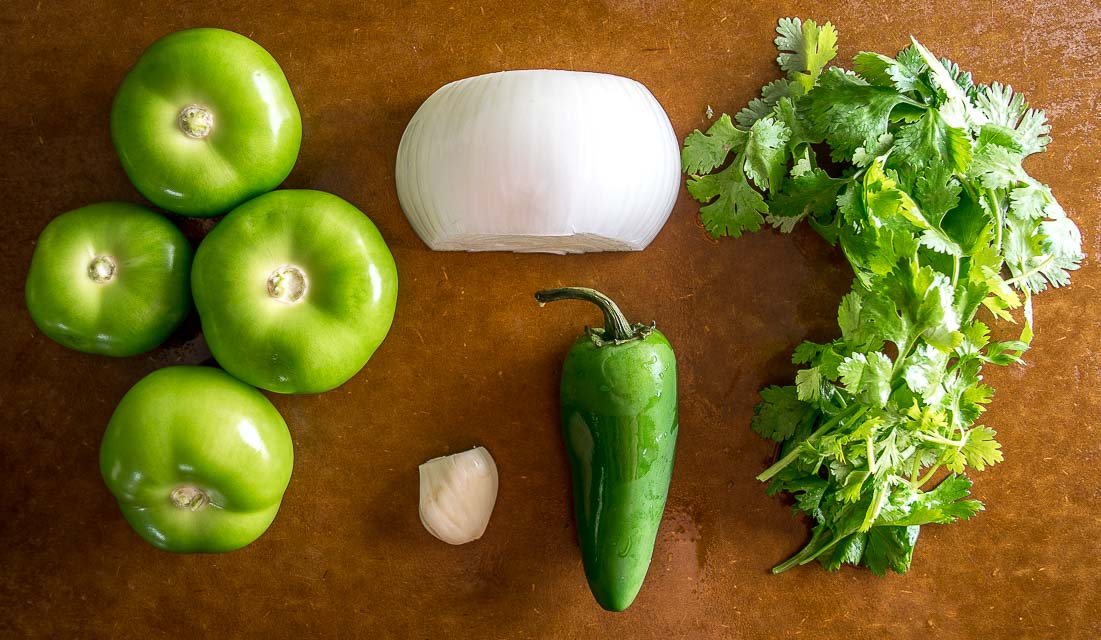 So in the above pic we've got:
4-5 tomatillos
1/2 onion
1 serrano (or jalapeno)
1 garlic clove
10-12 cilantro sprigs
Salsa Verde is traditionally made using serrano peppers, but you can get an equally good batch using jalapenos and that's what we're using today.
The key to this Salsa (and most Salsas) is roasting some or all of the ingredients. The roasting step is a gamechanger and will quickly become part of your routine once you taste the difference! Applying sustained heat to tomatillos will sweeten them up and make them less tart. You'll get a similar effect when you roast tomatoes.
The question then becomes...how do you roast them?
One of the easiest ways is to put them under the broiler. Simply add the ingredients to a sheetpan and adjust your oven rack so they rest 4-5" underneath the element.
They'll need about 10-12 minutes to roast.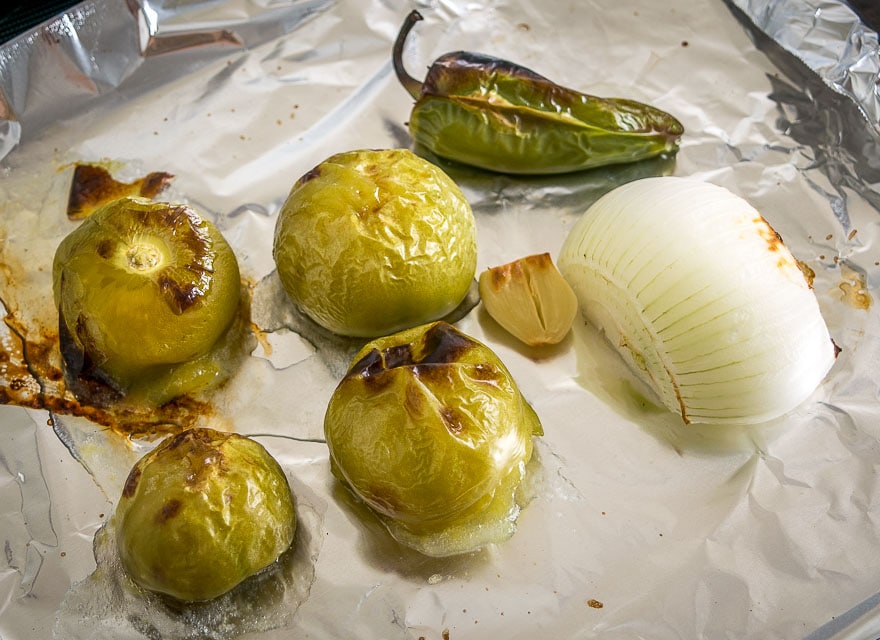 If they start to char you can flip them over halfway through the roasting period.
Then it's just a matter of de-stemming and plopping them in a blender along with 10-12 sprigs of fresh cilantro. I typically twist off the bottom, thicker portion of the cilantro stems but use the upper portion that holds the leaves.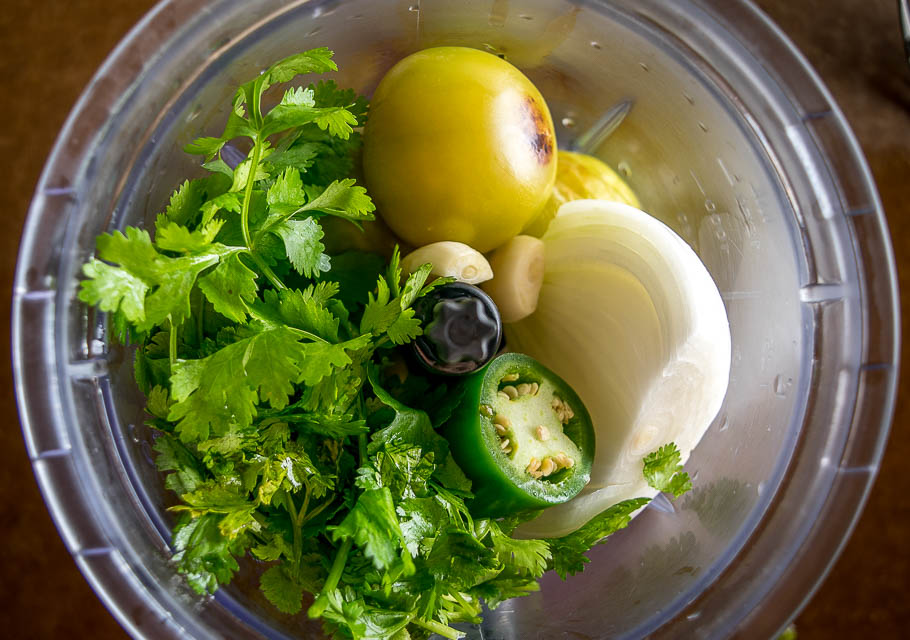 You'll end up with rich, delicious Salsa Verde that is a great option if you're new to making homemade Salsa.
By the way, I should mention that all of these options are far superior to any salsa you can buy at the store -- we are simply tweaking the core recipe to find the version that best fits your palate.
Okay, your next option is to boil the ingredients.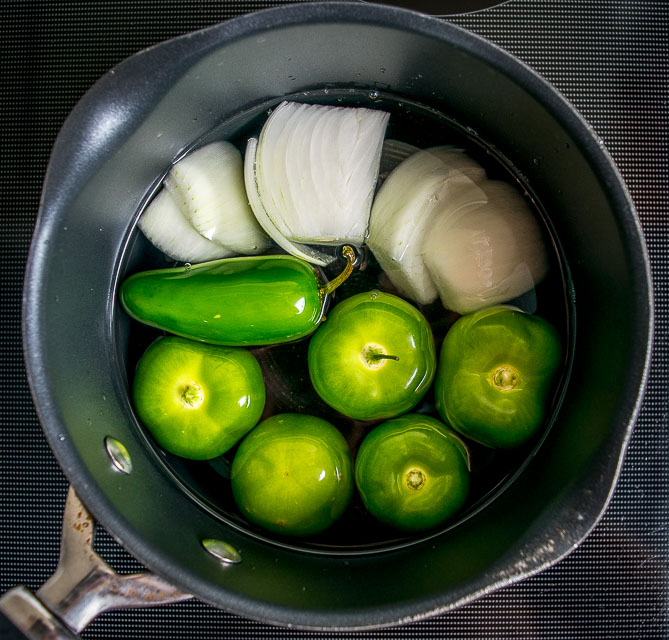 Simply add all the ingredients (minus the cilantro) to a saucepan and cover with cold water. Bring to a boil and then reduce heat to a simmer.
Cook until the tomatillos start to turn army green in color (approx. 10 minutes), then drain and de-stem them.
Add to a blender along with the fresh cilantro and give it a whirl.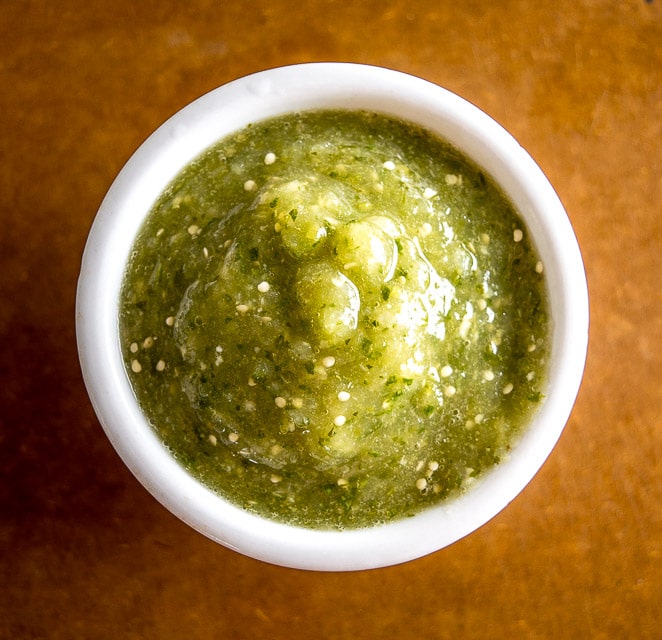 This produces the mildest option in our test today, kind of like a quiet version of Salsa Verde. Boiling the ingredients seems to homogenize the flavor, and while it's common to make Salsa this way in Mexico it's probably the option I use least often.
Your next option is to pan roast the ingredients.
Line a pan with foil and cook the ingredients over mediumish heat until you're getting charred spots on them.
You'll have to rotate them frequently to get an equal distribution of heat and that might be a dealbreaker for any of you out there looking for the most flavor with the least amount of effort (errr...me.)
Once de-stemmed, you can combine these ingredients in a blender with the fresh cilantro. Note: you might need to take the garlic out of the pan early to prevent the direct heat from burning it.
You'll get a rewarding Salsa Verde that packs a bit more punch than the boiled version.
Last up is the option you'll see most often on this site...
We'll roast the tomatillos in a 400F oven for about 15 minutes or until they start to turn army green in color...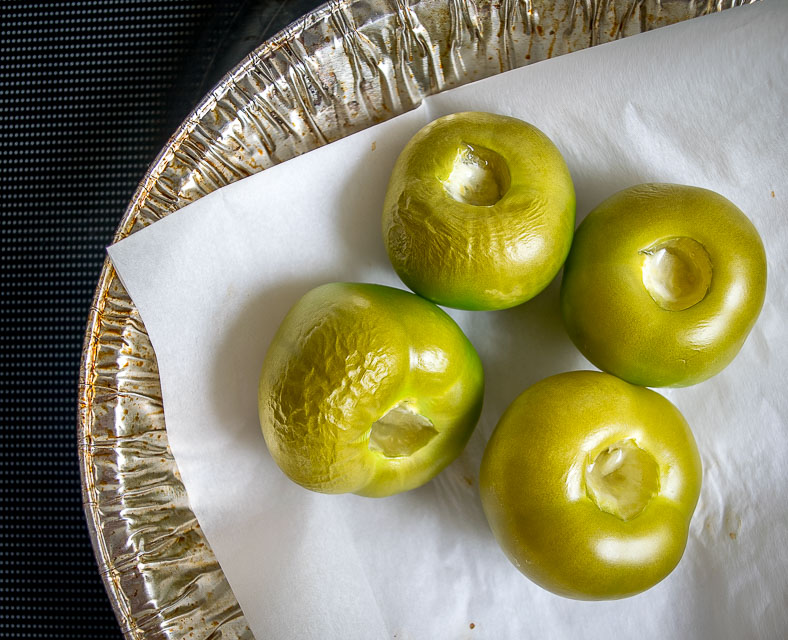 ...but we're not going to roast the other ingredients!
We'll simply add the roasted tomatillos to a blender along with fresh onion, jalapeno, garlic, and cilantro.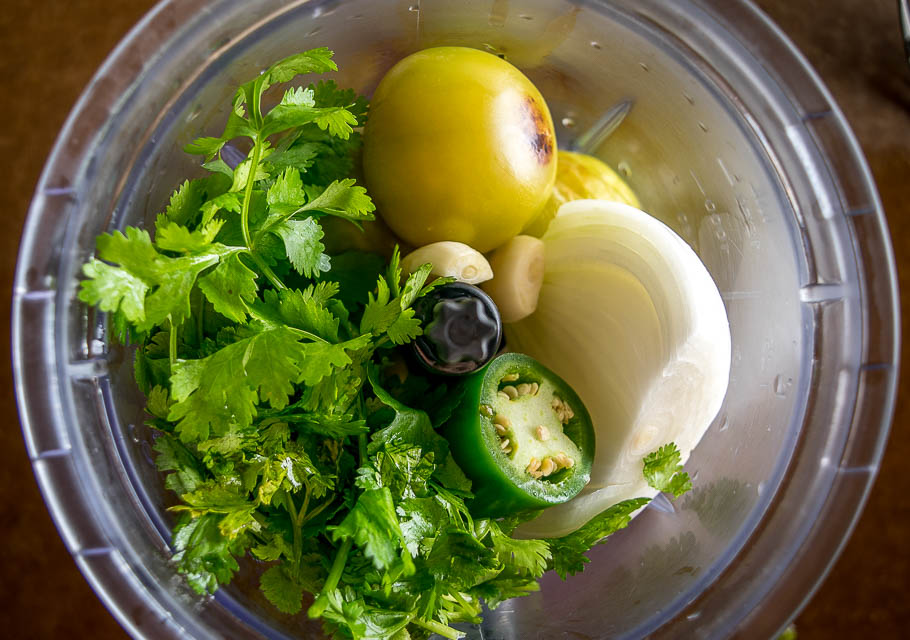 You'll end up with a vibrant Salsa punctuated by hints of sharpness from the raw onion and garlic.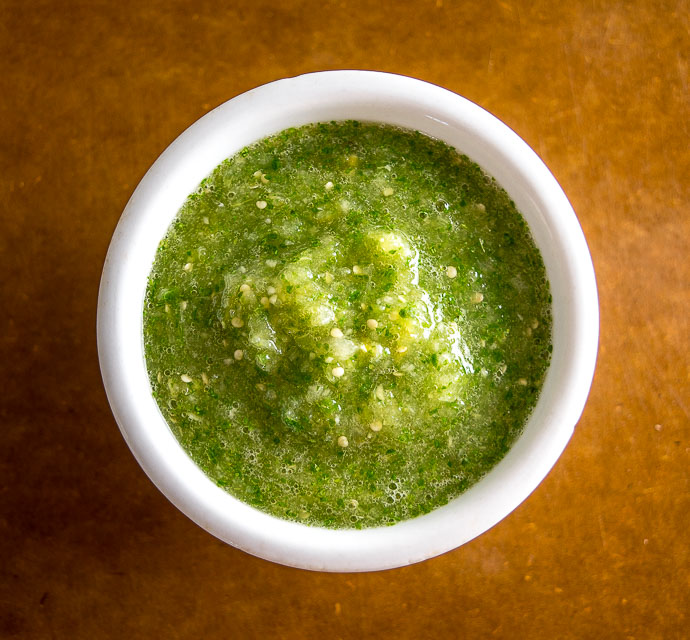 This method also has one other attractive trait -- it's hands off!
Just plop the tomatillos (or tomatoes) in the oven and put the fresh ingredients in the blender where they'll wait patiently until the tomatillos are done roasting.
Okay, here's a look at your Salsa Verde options again: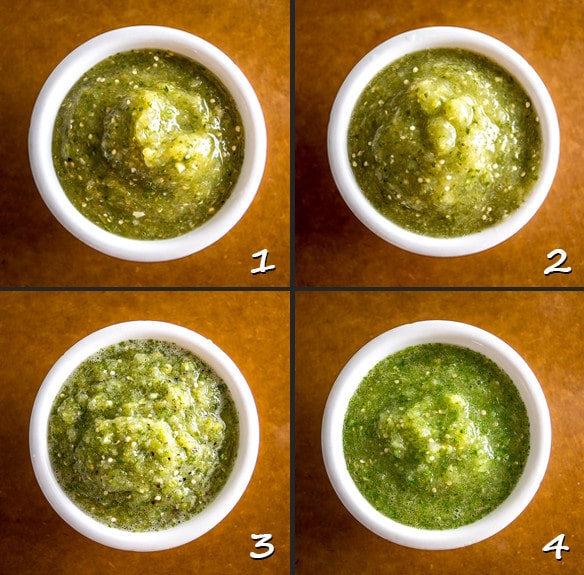 #1 broiled ingredients
#2 boiled ingredients
#3 pan roasted ingredients
#4 oven-roasted tomatillos only
#1 and #4 are the clear winners for me, but keep in mind that everyone's palate is different. I like the rich, deeper flavor of the batch made with the ingredients roasted under the broiler (#1), but I also like the vibrancy of the oven-roasted version with only the tomatillos roasted (#4).
Either of those options would be a great starting point next time you find yourself staring at a salsa recipe. And don't hesitate to experiment with the other options -- once you find a method that works for your palate you'll always have the option of making some delicious, lip-smacking Salsa Verde at home.
I'll put the recipe box for Option #4 down below if you want to try it. Feel free to use the comments section below if you have any questions.
Buen Provecho.
Want the latest recipe? Click your favorite from these options and follow me: Instagram, Facebook, Pinterest, TikTok, YouTube.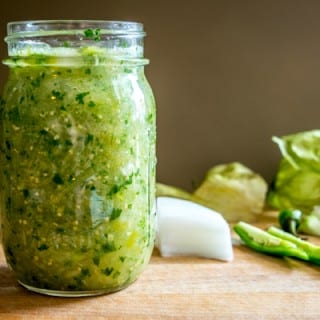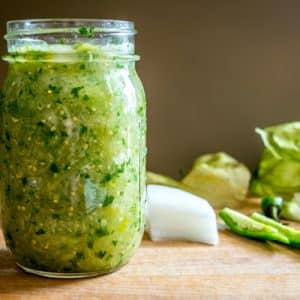 Tomatillo-Serrano Sauce (Salsa Verde) Step-by-Step
Getting good at whipping up this Green Sauce opens up loads of possibilities in the kitchen. Use it generously on eggs, enchiladas, carnitas and burritos.
Print
Pin
Rate
Ingredients
4-5

medium-sized tomatillos

1

jalapeno pepper (or serrano)

1/2

small white onion

(yellow is OK)

1

garlic clove

10-12

sprigs cilantro

salt to taste
Instructions
Pull the husks off the tomatillos and give them a good rinse. Cut the stems out of the tomatillos.

Roast the tomatillos in a 400F oven for 10-20 minutes or until they start to turn army green in color.

Add the tomatillos to a blender along with 1/2 small onion, 1 peeled garlic clove, 10-12 sprigs cilantro (using the upper stems is fine), and 1/4 of the serrano pepper.  (Be sure to give the cilantro and serrano a good rinse.)

Pulse blend and taste for heat level. If you want more spice add another quarter of serrano. Keep adding serrano until it tastes "right" to you.

Salt to taste (I typically do not add much salt).

Serve immediately and store leftovers in an airtight container in the fridge.
Notes
Always use caution when handling hot chiles.  I use my hands and just avoid touching my eyes or nose.  More tips on handling hot chiles. 
I highly recommend adding the serrano pepper incrementally the first few times you make this sauce.  
After you are happy with the heat level you can salt to taste, but when using fresh tomatillos I rarely add salt.
It's OK to substitute jalapenos if your local markets don't carry serranos.
I typically twist off and discard the bottom, thicker stems of the cilantro, but I use the upper stems that hold the leaves. 
Like this recipe?
Click the stars above to rate it or leave a comment down below! @mexplease
Want more Salsa info? See our post on Types of Salsa.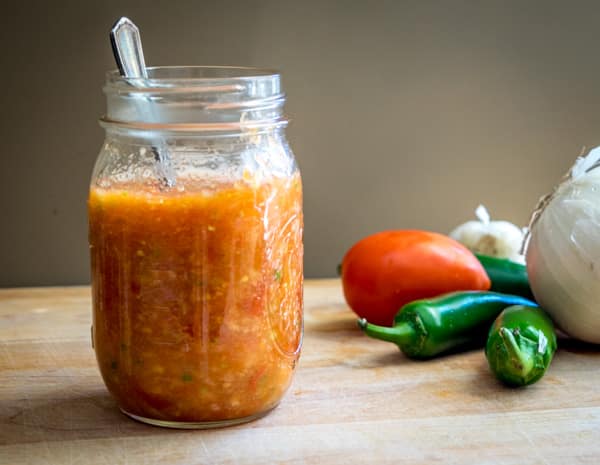 Our latest recipe is a batch of Chipotle Cream Cheese Taquitos.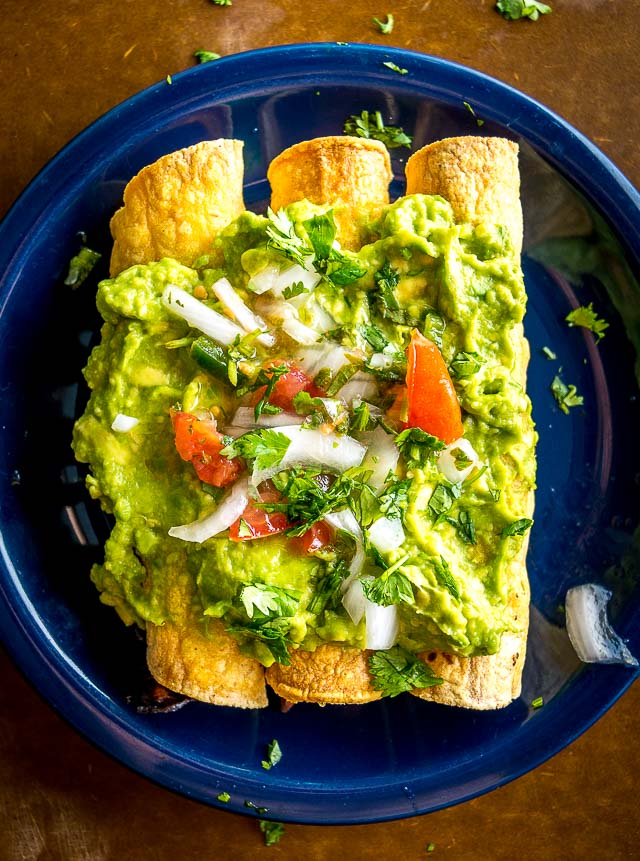 Still hungry?!
Want to receive Mexican Please recipes via email when they are posted?  Sign up below to subscribe.  All recipes are spam free.