There are so many different types of Salsa, where do I start?!
I get this question all the time, so I put together this Salsa roadmap to get you headed in the right direction. I've made all of these recipes multiple times so feel free to get in touch if you have questions about any of them.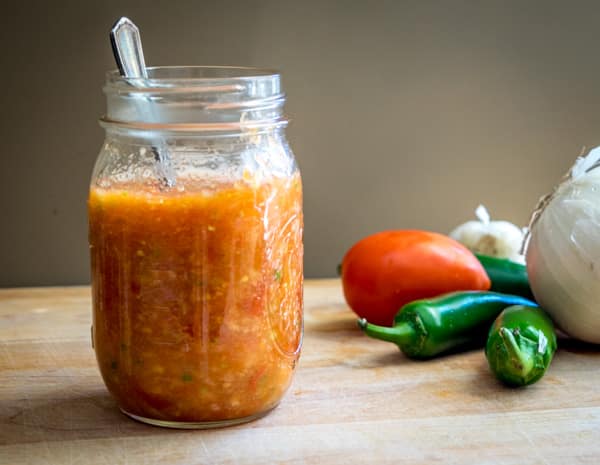 What Kinds of Salsa Are There?
Salsa roughly tranlsates as "sauce" -- so instead of just assuming these Salsas will be served next to a bowl of chips, keep in mind that many of them can be used as the main sauce for dishes like enchiladas, tacos, burritos, etc.
Okay, let's start with the most popular option -- this also happens to a great starting point if you're new to homemade Salsas.
Salsa Roja, or "red sauce", is made from just four ingredients:
Tomatoes
Onion
Jalapeno
Garlic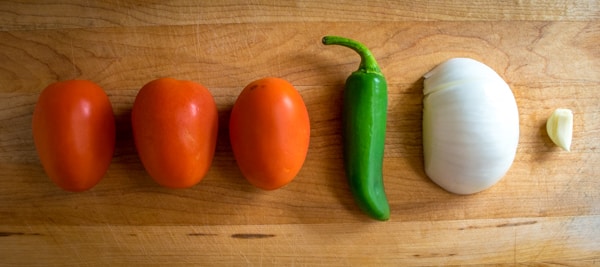 This is the world's easiest Salsa to make, but don't let the simple ingredient list fool you!
If you give the tomatoes a good roasting it can be one of the most satisfying Salsas out there -- I make it all the time and frequently refer to it as Tomato Jalapeno Salsa on this site.
Yes, it works great as an appetizer next to some chips, but I also use it for these Chicken Tacos and it's a real treat.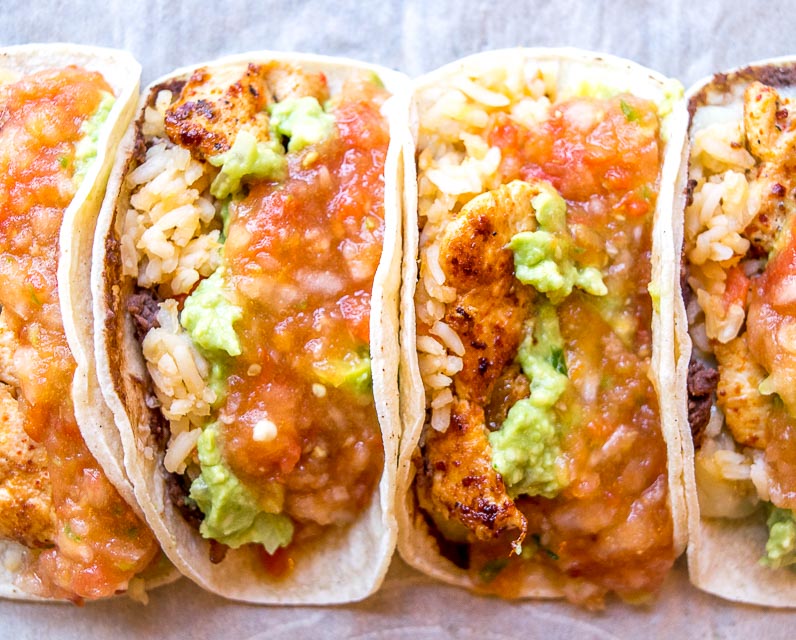 Salsa Verde, or "green sauce", also has an extremely simple ingredient list:
Tomatillos
Serrano (or Jalapeno)
Onion
Garlic
Cilantro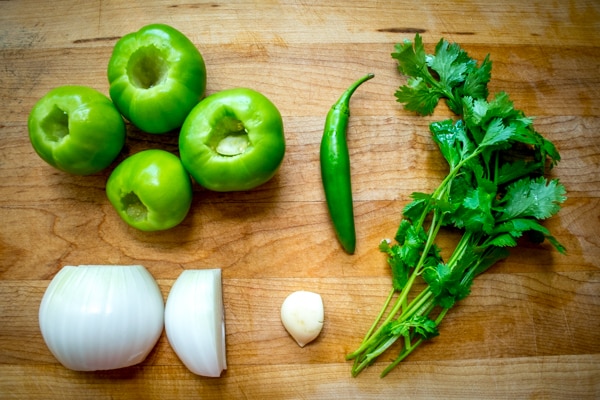 It's the tomatillos that give this Salsa it's distinct green color. If you're new to tomatillos they'll look like this at the grocery store: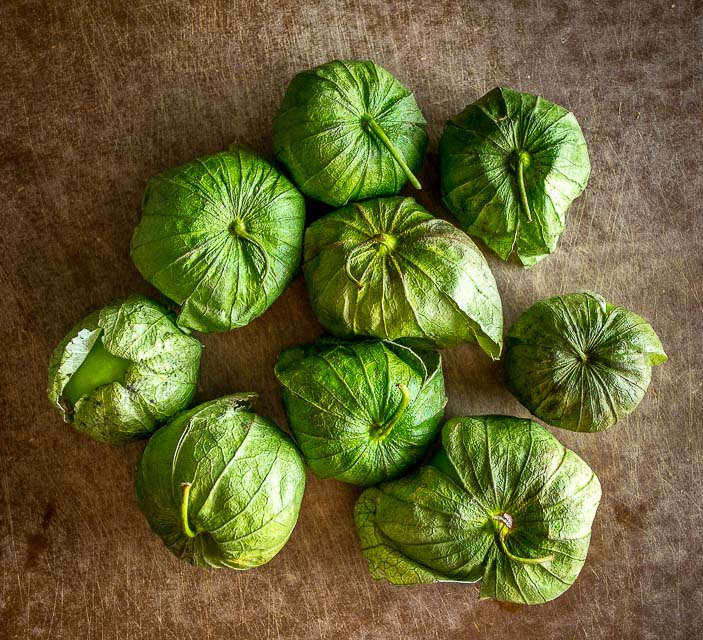 Be sure to remove the husk and give them a good rinse before using them as they are usually a bit sticky underneath the husk. More info on tomatillos.
Salsa Verde is remarkably easy to make (recipe here) and it acts as a flavor base in countless Mexican entrees. Any time you see a Mexican dish drenched in green sauce then you know it's using similar ingredients as a base, dishes like Enchiladas Suizas and Chili Verde.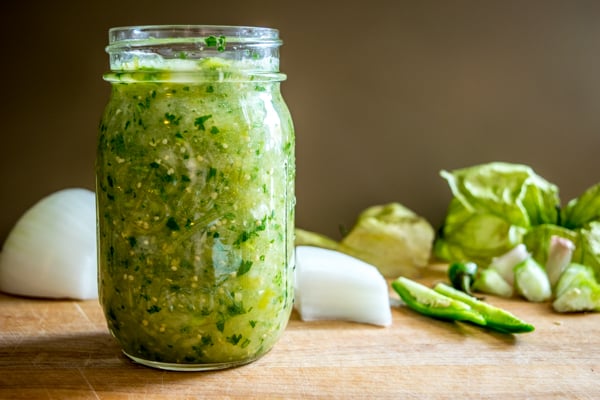 Once you're comfortable with those two Salsas you can expand by swapping out the jalapenos/serranos and using different chili peppers to flavor them.
For example, you can use chipotles in adobo in tandem with tomatillos to make this Tomatillo Chipotle Salsa: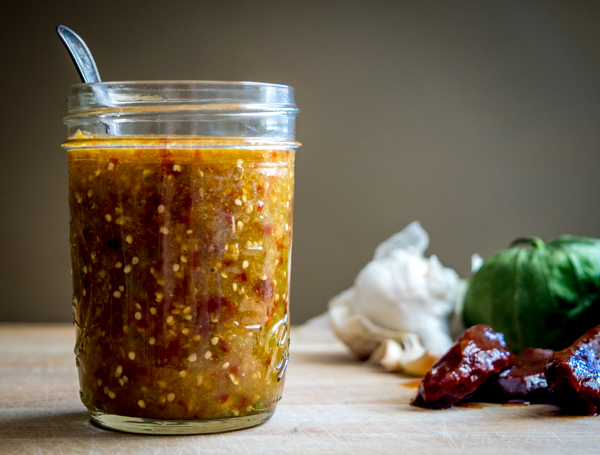 This Salsa has a wonderfully unique flavor and it's a great one to have in your arsenal.
Note that all the Salsas we've discussed so far have been blended together. But not Salsa Fresca!
Salsa Fresca is a freshly chopped Salsa that is typically referred to as Pico de Gallo in the States: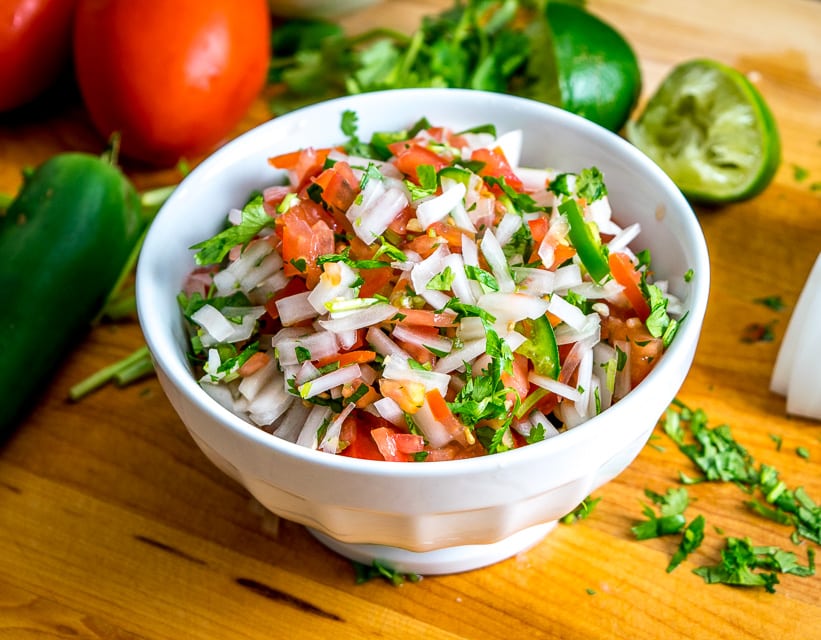 It uses a similar set of ingredients as Salsa Roja, but it's not blended together and is typically used as a topping for tacos and other main dishes.
It's a super easy recipe to make and when freshly chopped it has a rewarding flavor that can't be duplicated in store-bought versions. Here's a pic of the ingredient list for Pico de Gallo: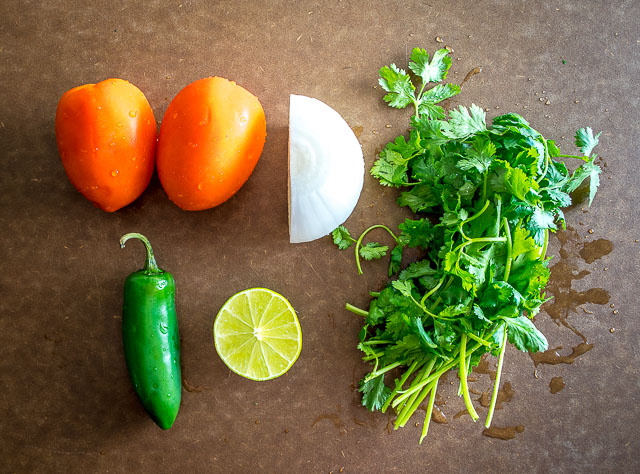 I use it to top Carne Asada Tacos and these easy Chicken Quesadillas.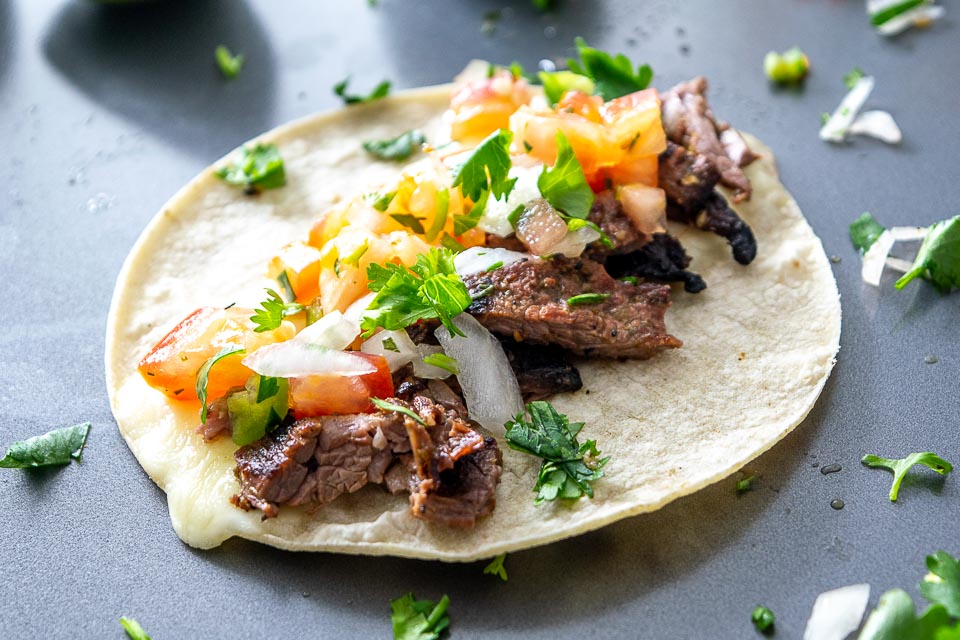 There's also one other Salsa that is frequently used as a topping for tacos: Salsa de Aguacate.
You know that creamy, green, smooth Salsa you'll see at taquerias -- that's Salsa de Aguacate! It's also sometimes referred to as Avocado Salsa.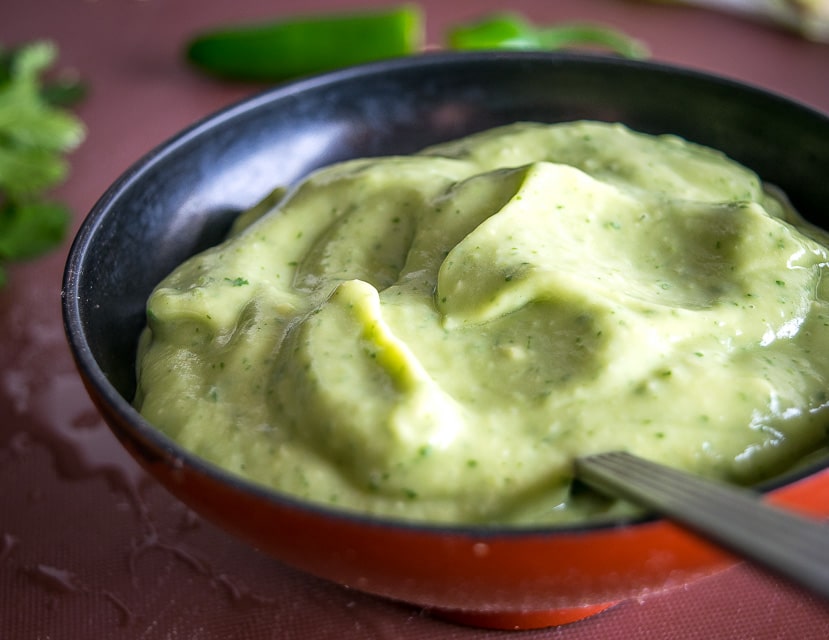 It's designed to be light and mild, and ideally you goop it on top of some heavily seasoned meats.
You're just combining some avocado with lime, cilantro, garlic and salt -- it's super easy to make and a good option to have on the table if you're serving something like Carne Asada.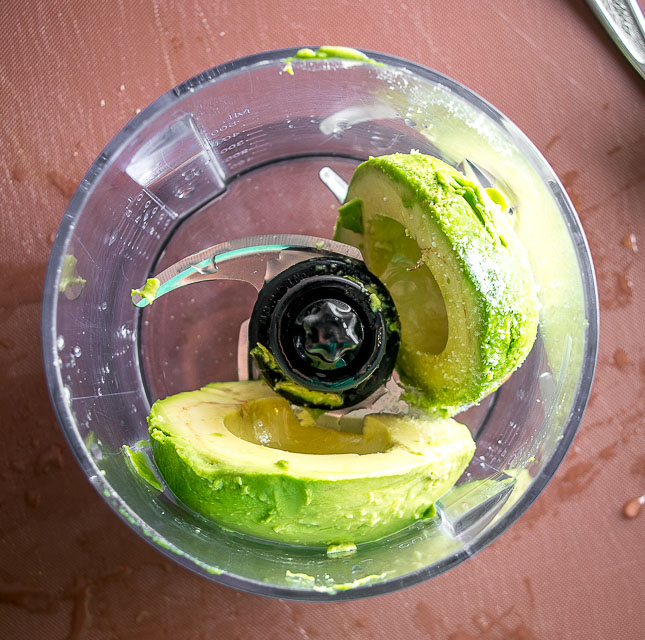 You'll also frequently see Salsa variations that retain the onion-garlic-heat combo as the base but substitute various fruits and veggies. Here are some common examples...
Add some corn and black beans to the traditional tomato-jalapeno combo and you'll get a tasty Black Bean and Corn Salsa: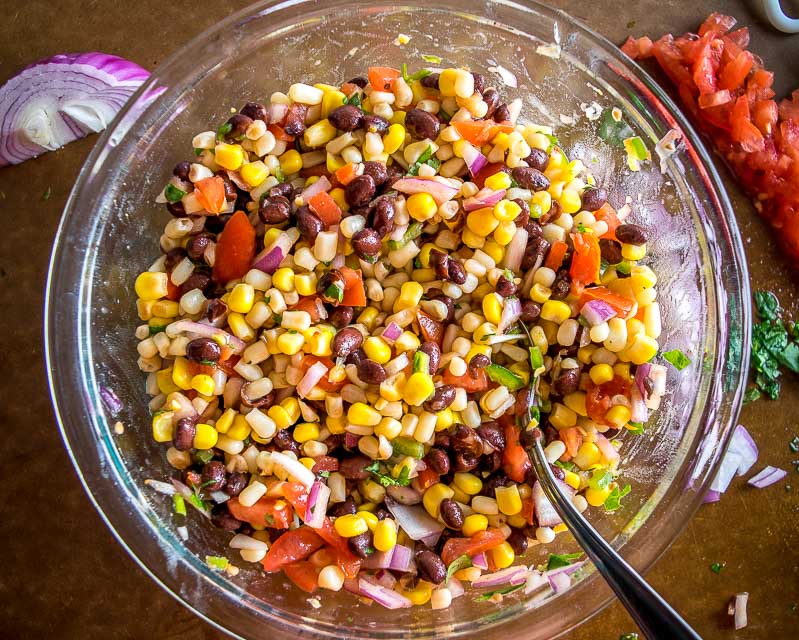 Keep the onion and garlic but swap out the tomato-jalapeno for some peanuts and dried chiles in this unique Peanut Chile Salsa: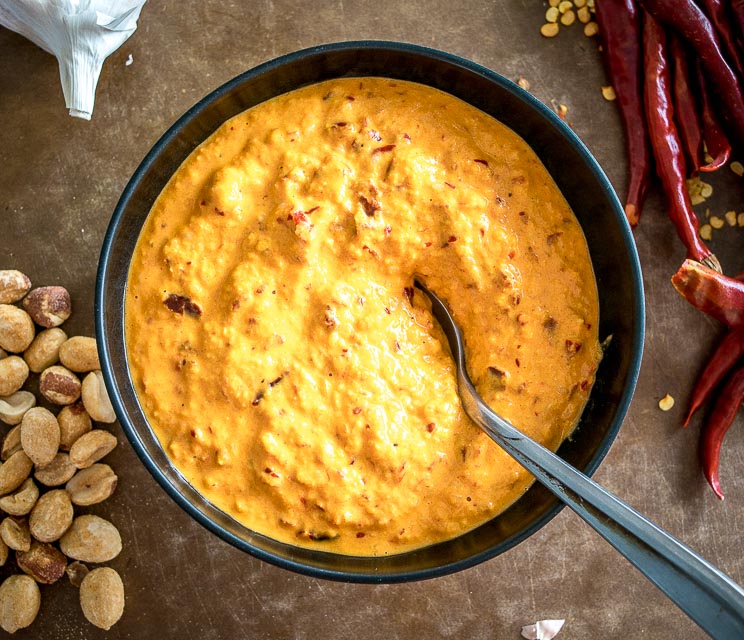 Starting to get hungry for some Salsa?!!
I also want to mention that we should create a law that prevents people from using "hot sauce" and "Salsa" interchangeably -- because they are two different things!
Hot sauce is a concentrated sauce that you'll only be using a few drops at a time. It has a higher percentage of chili peppers and is not diluted with as much onion as typical Salsas.
I will usually have some Valentina hot sauce in the fridge, or sometimes I will make my own, but I would never call them Salsas!
And finally, I want to quickly mention two other Salsas that have transformed my kitchen for the better. First up is this Roasted Tomato and Tomatillo Salsa: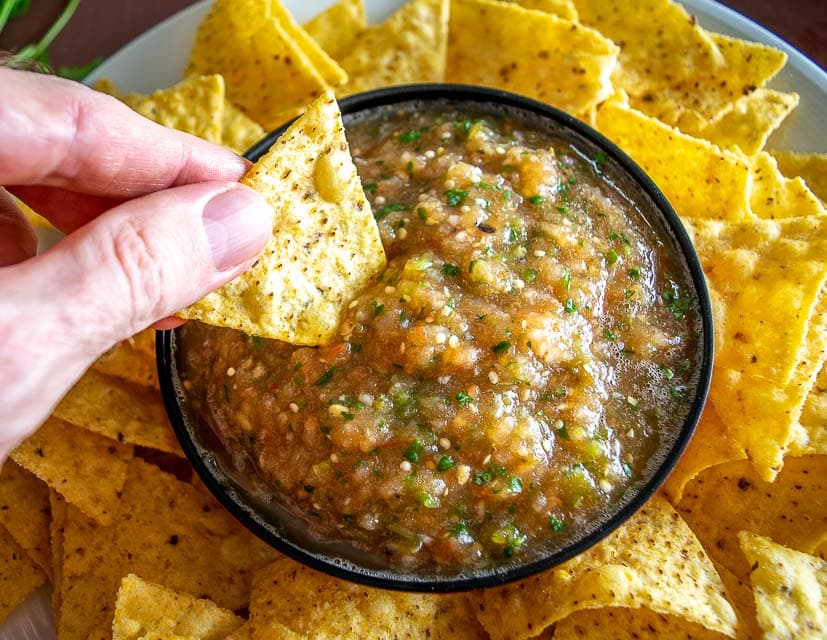 Most Salsas will use either tomatoes or tomatillos as the base, but when you use both you'll get a completely unique flavor! This one get rave reviews I highly recommend trying it at some point.
The other one is this Avocado Salsa Verde: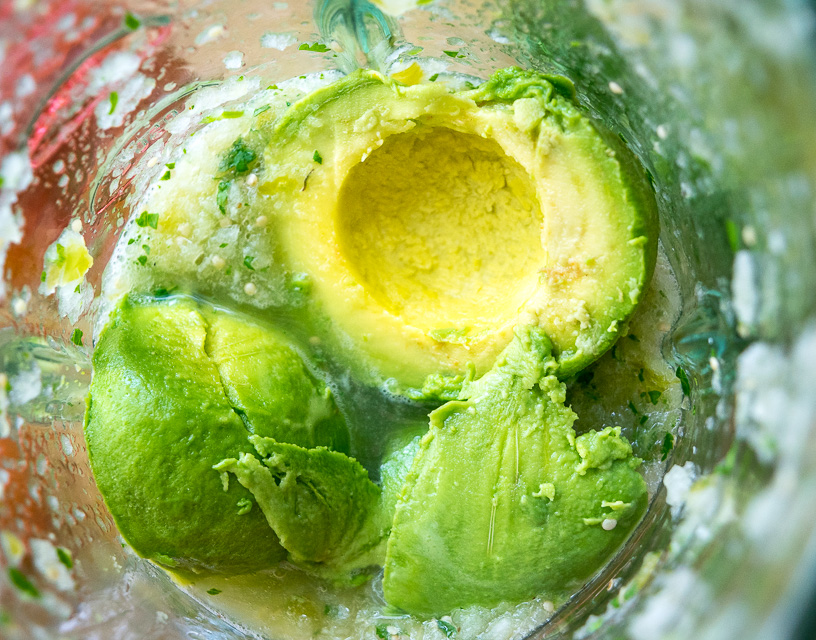 Once you're comfortable making a traditional Salsa Verde you can simply plop an avocado in the blender and you'll get a delicious, creamy green sauce that you can build meals around because it has so much flavor. Awesome. (See these burritos made with Avocado Salsa Verde.)
Okay, I hope this Salsa roadmap has helped identify all the types of Salsa in Mexican cooking for you. Homemade Salsa is a gamechanger and your kitchen will get an instant upgrade if you add some of these recipes to your repertoire, so please go for it!
Feel free to get in touch if you ever have any questions about any of these Salsas -- most of them are quite easy to make and all of them will give you a vast improvement in flavor compared to store-bought versions.
P.S. Don't forget that roasting the tomatoes (or tomatillos) is the key step to most of these Salsas. This sweetens them up and lowers their acidity. I typically use the oven but keep in mind that there are other ways to do the roasting -- see 4 Different Ways To Make The Same Salsa.
To see a complete list of all the Salsa recipes on my site simply click Salsas from the Recipe tab in the main menu at the top of this page, or click here. Good luck!
To get up-to-date recipes follow me on Instagram, Facebook, or Pinterest.
Still hungry?!
Want to receive Mexican Please recipes via email when they are posted?  Sign up below to subscribe.  All recipes are spam free.