It's true, you probably never reach for peanuts when you're settling in to make a homemade batch of salsa.  But there's a good chance this Peanut Chile Salsa will have you thinking twice about that the next time you're swinging open the pantry door.
In other words...it tastes good.  Real good.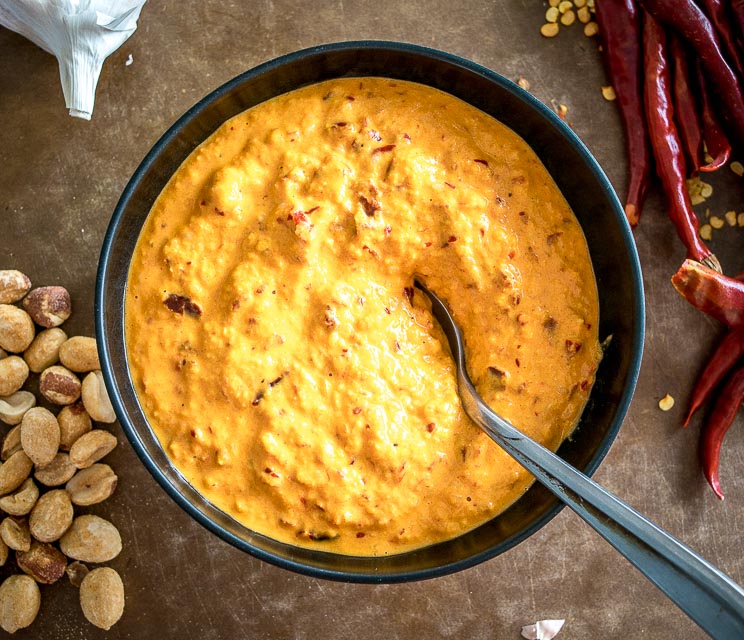 Peanut Chile Salsa Recipe
There's a rich, concentrated version of this salsa that you'll sometimes see referred to as either Salsa Macha or Chili Pesto.  As an example, here's a traditional Salsa Macha recipe from Rick Bayless.  Note the high oil amount, lack of onion, and lack of water.  This will result in a concentrated, "few drops at a time" sauce.
By reducing the oil amount and adding some onion (and water), you'll get an expansive, diluted version that still retains the classic peanut-chile flavor profile.  That's a technical way of saying that you can eat way more of it because it's not as oily.
The other good news is that the actual chile combo doesn't matter too much.  You can get creative with the chiles so feel free to start with what you've got.  We're using Guajillo Chiles and Chiles de Arbol.
Don't forget that the smaller the chile, the hotter it gets;  this makes for an efficient way to give your salsa some heat.  That's why you'll frequently see Chiles de Arbol, Moritas, and Chiles Pequin used in salsas like this.
I usually wipe off the chilis if they have any dusty crevasses, then cut off the stems and de-seed.
De-seeding the chiles isn't crucial here so it's okay to have some stragglers.
Meanwhile, saute half an onion and three garlic cloves in three tablespoons of oil.
Once the onion is tender (a few minutes), add 1/4 cup peanuts and a tablespoon of sesame seeds.
Unroasted, unsalted peanuts would probably be the ideal starting point, but don't be too picky about that the first time you make this salsa.   I've used the roasted, salted version plenty of times and still get a good result.
Let the peanuts and seeds cook for a few minutes and then add the chilis.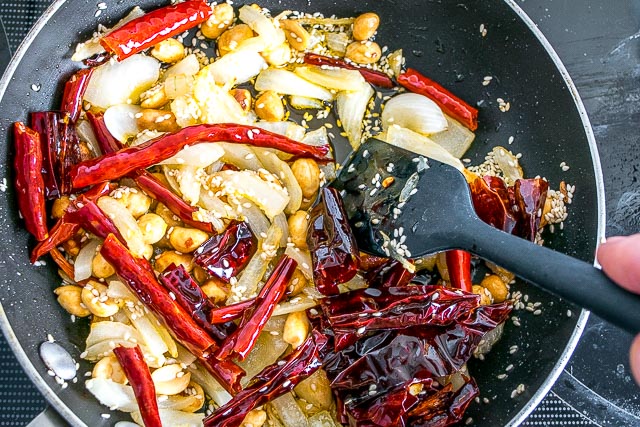 You don't want to burn the chilis so just 1-2 minutes is enough to release some of their dormant flavors.
Set the pan aside and let cool for a moment before adding to the blender.
Add this mixture to a blender along with:
1/2 cup water
1 teaspoon cider vinegar
some freshly cracked black pepper
1/2 teaspoon salt
Blend until thoroughly combined and take a taste for salt level.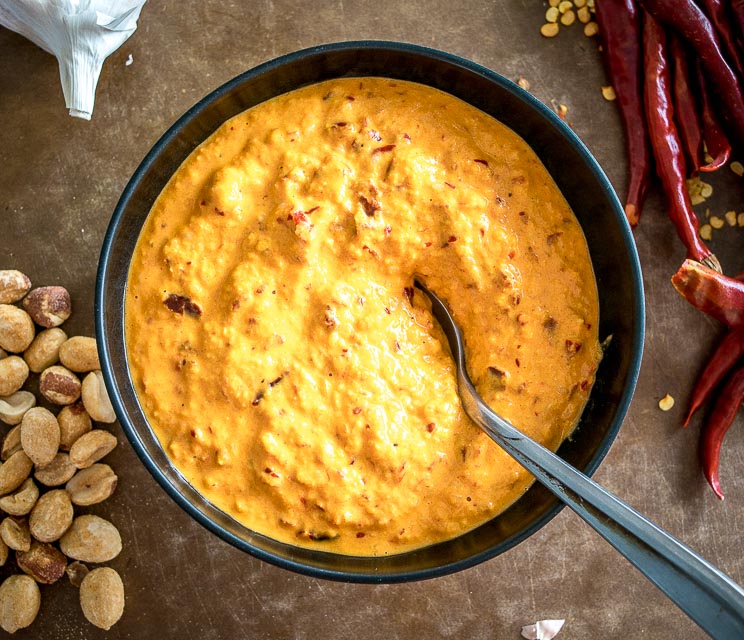 You're left with a delicious, rich flavor that will instantly expand your definition of  "salsa".  I mean...it's got peanuts in it!
This salsa will work great on cuts of meat, tacos, and just about anything else you want to dip into it.  So good!
It's worth adding an unconventional salsa like this to your repertoire, so please give this Peanut Chile Salsa a try.  It also comes with the added benefit of creating vibrant new brain synapses;  now when you see peanuts you'll think...
Salsa!
Buen Provecho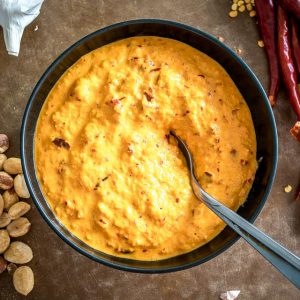 Peanut Chile Salsa
Chile de Arbols and roasted peanuts create a rich, otherworldly flavor in this delightful Peanut Chile Salsa. It's versatile too; feel free to get creative with the chili pepper combos.
Print
Pin
Rate
Ingredients
10

Chile de Arbol dried chiles

2

Guajillo dried chiles

1/4

cup

peanuts

1

tablespoon

sesame seeds

1/2

onion

3

garlic cloves

3

tablespoons

olive oil

1/2

cup

water

1

teaspoon

cider vinegar

freshly cracked pepper

1/2

teaspoon

salt
Instructions
Roughly chop half an onion and peel 3 garlic cloves. Saute the onion and garlic in 3 tablespoons olive oil over medium heat. Cook until the onion is tender (a few minutes).

Wipe off any dusty crevasses on the dried chiles. De-stem and de-seed the chiles but don't worry about getting rid of every last seed.

Add 1/4 cup peanuts and 1 tablespoon sesame seeds to the onion mixture and cook for a few minutes.

Add the dried chiles to the mixture and cook for 1-2 minutes. Set the pan aside and let cool for a moment before adding to the blender.

Add the mixture to a blender along with 1/2 cup water, 1 teaspoon cider vinegar, some freshly cracked pepper, and 1/2 teaspoon salt. Blend until all of the chili pieces are disintegrated. Take a taste for salt level.

Serve immediately and store leftovers in an airtight container in the fridge.
Notes
You can get creative with the dried chile combo.  Keep in mind that as dried chilis get smaller they tend to get hotter.  
If using salted peanuts you might want to adjust the salt amount;  starting smaller and adding more if necessary. 
Like this recipe?
Click the stars above to rate it or leave a comment down below! @mexplease
We also use Chiles de Arbol in this ultra-fiery Chile de Arbol Salsa.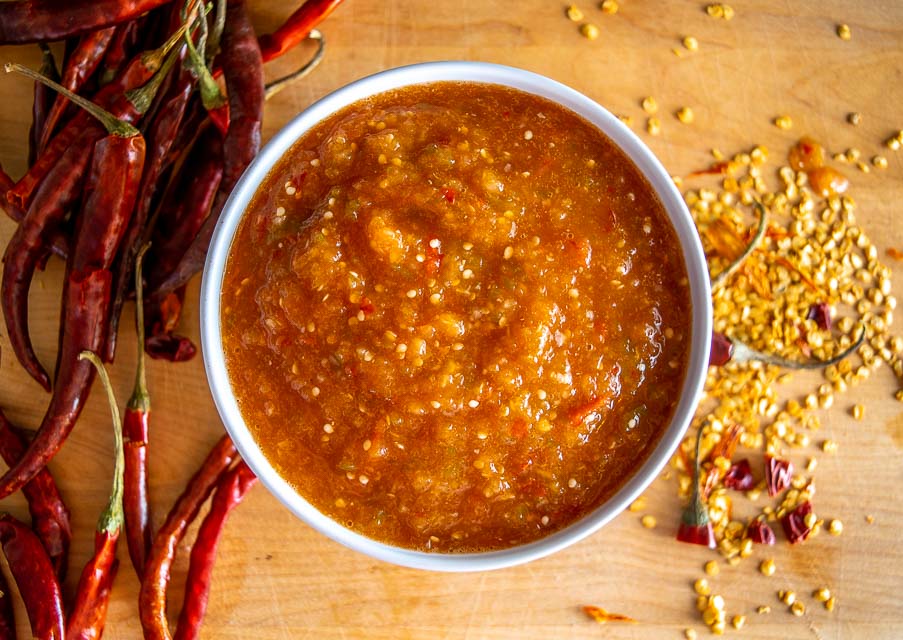 Still hungry?!
Want to receive Mexican Please recipes via email when they are posted?  Sign up below to subscribe.  All recipes are spam free.