Got any dried chiles in your area that look like this?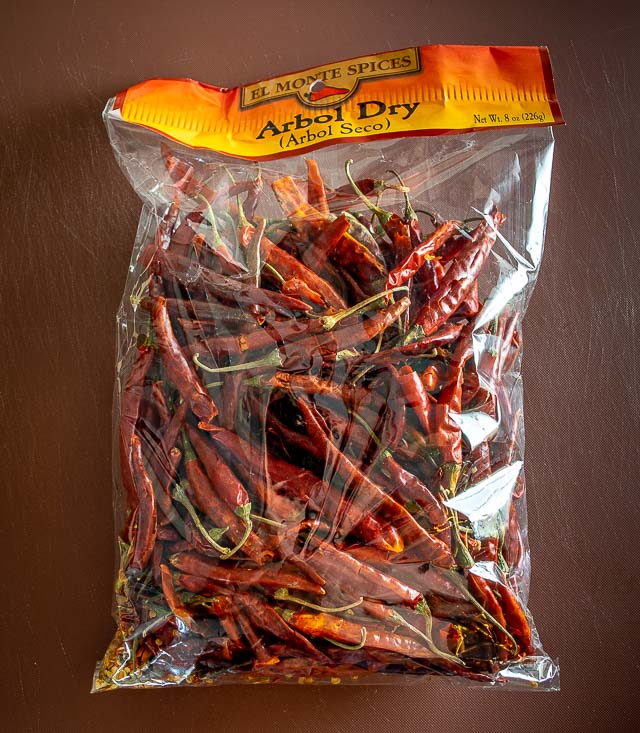 Those are Chiles de Arbol and they are little fireballs that are packed with flavor!
Here's where they stand on the Scoville Scale:
So yes, they have 2 or 3 times the capsaicin concentration of jalapenos. In other words... they're really hot!
But it's not just the heat that makes them popular, they also have a unique, slightly nutty flavor that you won't get from other dried chiles.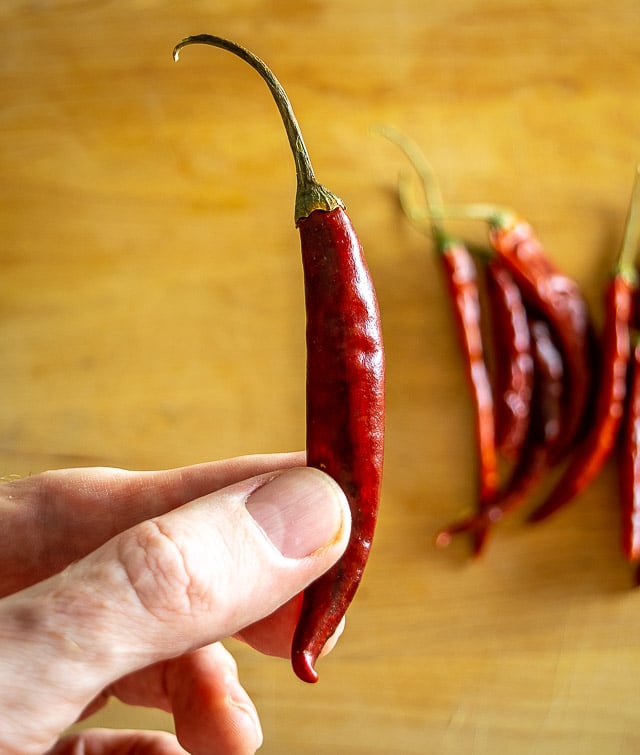 As with most dried chiles, you'll get a bump in flavor if you wake them up with some sustained heat.
I usually just plop them in the oven for a couple minutes, but you could also flash roast them in a dry skillet if you want.
So what can I make with these Chiles de Arbol?
Once roasted you can grind them up to make some real deal chili powder. You'll get an instant upgrade in flavor compared to store-bought chili powders. I use them in this Homemade Chili Powder.
You'll also frequently see Chiles de Arbol used in conjunction with other chiles to help out with the heat. For example, we combine Guajillo chiles with the Chiles de Arbol in this Peanut Chile Salsa.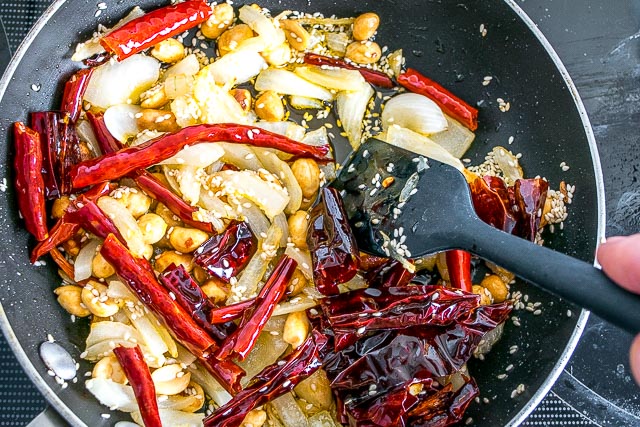 Not only will the Chiles de Arbol add plenty of heat to the mild Guajillos, but the nutty nature of the Arbols is a natural fit for that Salsa.
Or you can use the Arbols on their own to make some ultra-fiery Chile de Arbol Salsa. Let's do that!
Start by wiping off any dusty crevasses, then de-stem and de-seed the dried chilis. I usually cut off the stems and then make a slit lengthwise, scraping out some of the seeds.
The seeds won't affect the flavor too much, but they will affect texture so I tend to discard most of them.
As mentioned, I usually plop these chili pieces in the oven (400F) for a couple minutes to roast them. Once they are warm and fragrant, cover them with the hottest tap water you've got and let them soak for 20-30 minutes.
Reconstituting the chiles will soften them up and make them more amenable to being ground up.
For a simple Chile de Arbol Salsa you are just adding the drained Chiles de Arbol to a blender along with:
2 roasted tomatoes
4-5 roasted tomatillos
1/3 small onion
1 garlic clove
a pinch of salt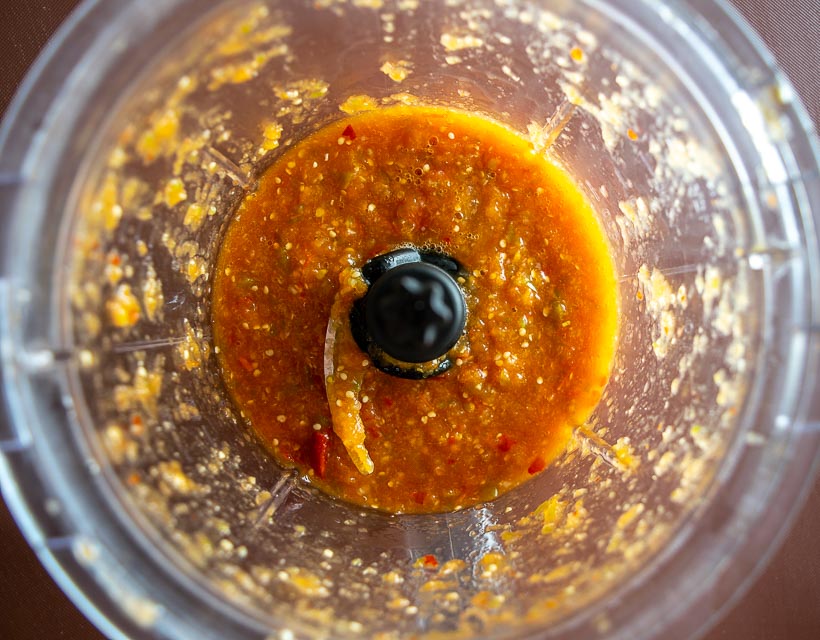 You end up with a massively rewarding Salsa that has some serious heat! (Recipe details here.)
It will be warm out of the blender and that's how I prefer this Salsa -- something about serving it warm seems to work really well with the searing heat. Keep in mind that you can always make a milder version by using fewer chiles.
Speaking of heat...it's also worth mentioning you should always use caution when handling chili peppers, especially when they are fiery like these Chiles de Arbol. If you have sensitive skin or any cuts/wounds on your hands then wear some gloves. Otherwise you can use your hands knowing that you'll be washing them after handling the chiles. More info on handling hot chili peppers.
Like most dried chiles, you can store these in an airtight container or Ziploc in the pantry and they will keep for months at a time. I usually give them a squeeze before using them, and also before buying them -- you want the ones that are soft and pliable. If they are hard or brittle they are a bit past their prime.
Okay, I hope this solves Chiles de Arbol for you! Feel free to get in touch if you have any other questions about them.
Here are links to the recipes and articles referenced in this post. Good luck!
How To Handle Hot Chili Peppers
How To Reconstitute Dried Chiles
Want the latest recipe? Click your favorite from these options and follow me: Instagram, Facebook, Pinterest, TikTok, YouTube.
P.S. If you can't find any in your area don't fret! You can easily buy Chiles de Arbol online. See our article Where To Buy Dried Chiles Online.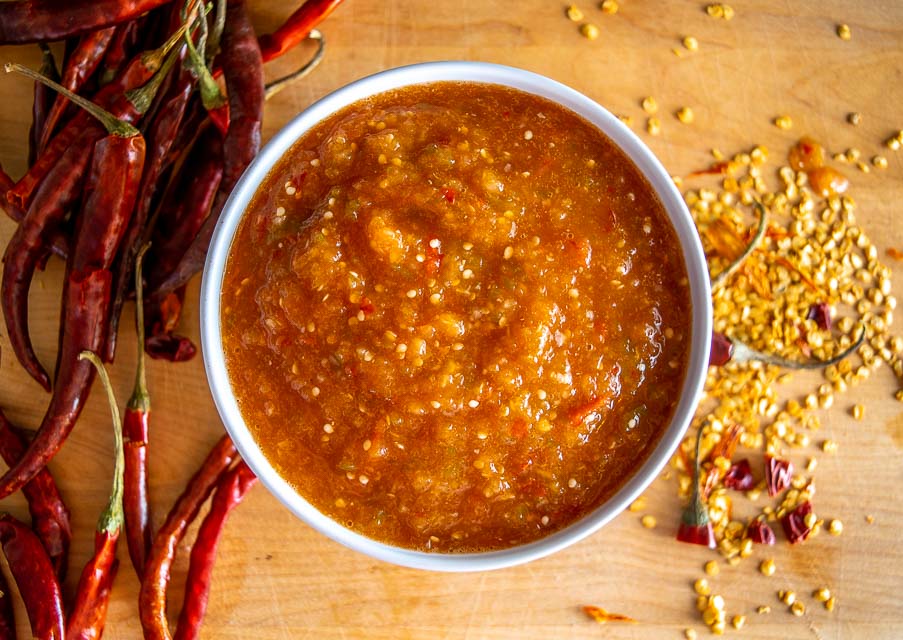 Still hungry?!
Want to receive Mexican Please recipes via email when they are posted?  Sign up below to subscribe.  All recipes are spam free.