Don't forget that Homemade Chili Powder is one of the awesome side benefits of keeping dried chilis in the pantry!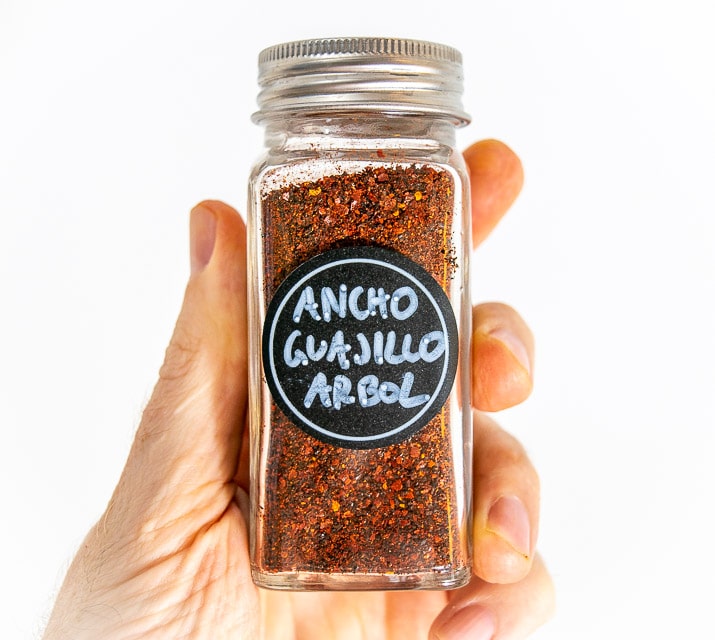 By now you've probably seen recipes on this site that recommend pure chili powder as opposed to the generic jars off the grocery store shelves.
As an example, here's a common ingredient list for chili powder in the States: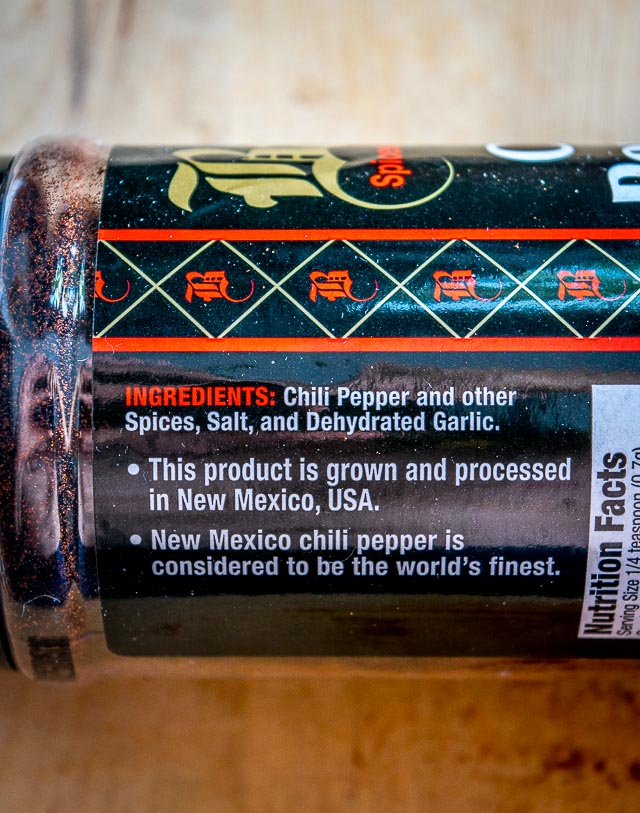 Errrr what's all that other stuff in there?!
Most store-bought chili powders are blends of dried chilis, cumin, a few other spices, and WAY too much salt. These concoctions will pale in comparison to the flavor of pure chili powders. If you've got a jar in the pantry take a quick look as you might be surprised at the extra ingredients!
Using pure chili powders will give you more control over the final flavor of your dish and will help regulate the salt so I'm always trying to get peeps to use them.
You can find pure chili powders in some supermarkets if you're willing to do some label hunting, or you can always get them online (here are the ones I've been buying lately), or you can simply grind some dried chilis at home, so let's do that!
Here is the combo that I've been using lately: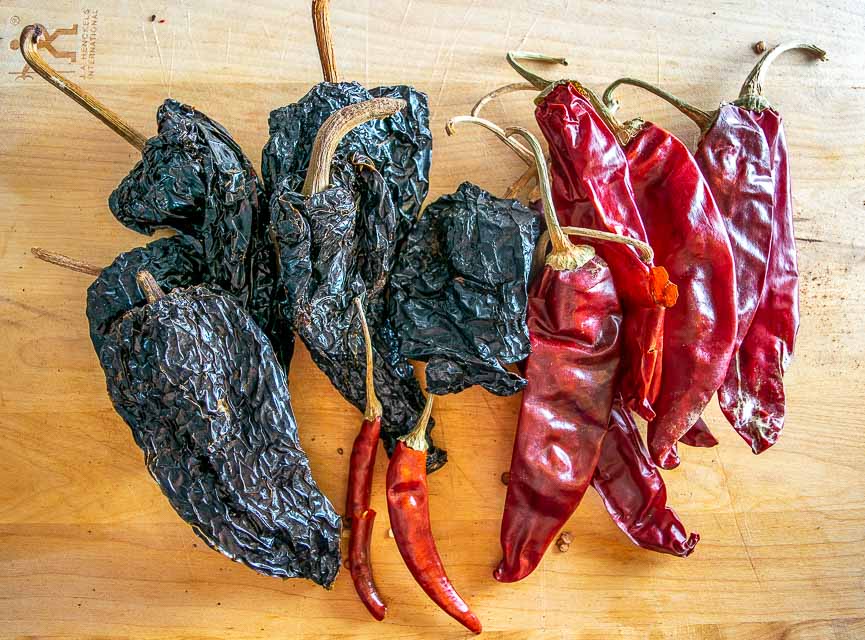 In the above pic I'm using:
5 Ancho chilis
7 Guajillo chilis
2 Chiles de Arbol
This is wicked combo to try out -- the fruity Guajillos lighten up the big, bold Anchos and you get some serious heat from the Chiles de Arbol. If you want a milder version you can omit the Arbols.
Start by wiping off any dusty crevasses with a wet paper towel, then we'll de-stem and de-seed the chilis. I find it easiest to cut off the tops and make a slit lengthwise so you can pull out the veins and seeds.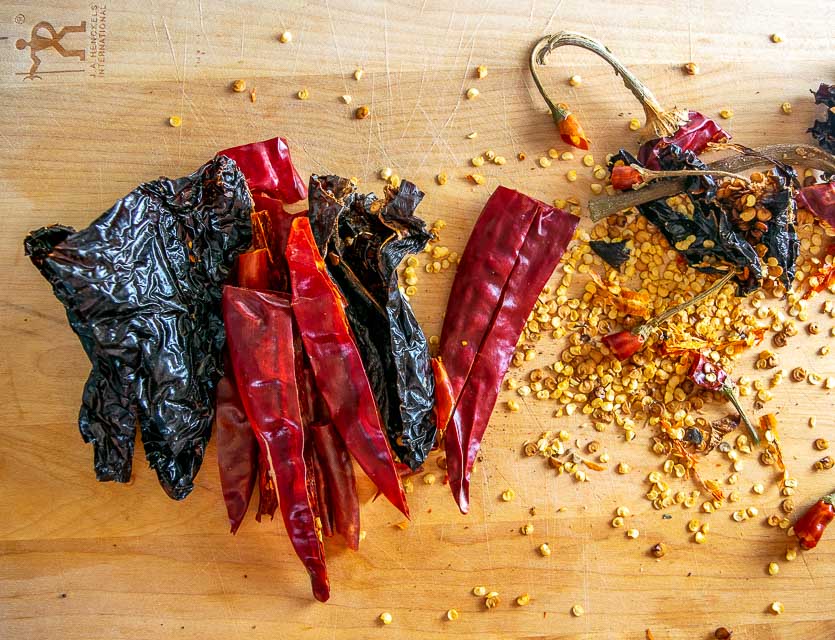 It's not crucial to get rid of every last seed but I usually discard most of them. Keep in mind that you'll want to use caution when handing dried chilis -- be sure not to touch your eyes or nose or you'll get a preview of being pepper sprayed! Handwashing will keep you safe but if you have sensitive skin you can always use gloves. More info on handling hot chilis.
You'll get a bump in flavor if you wake up the chilis with a blast of heat. I usually default to the oven for a couple minutes but you could flash roast them in hot skillet too.
Add the roasted chili pieces to a blender or food processor and give 'em a good grind.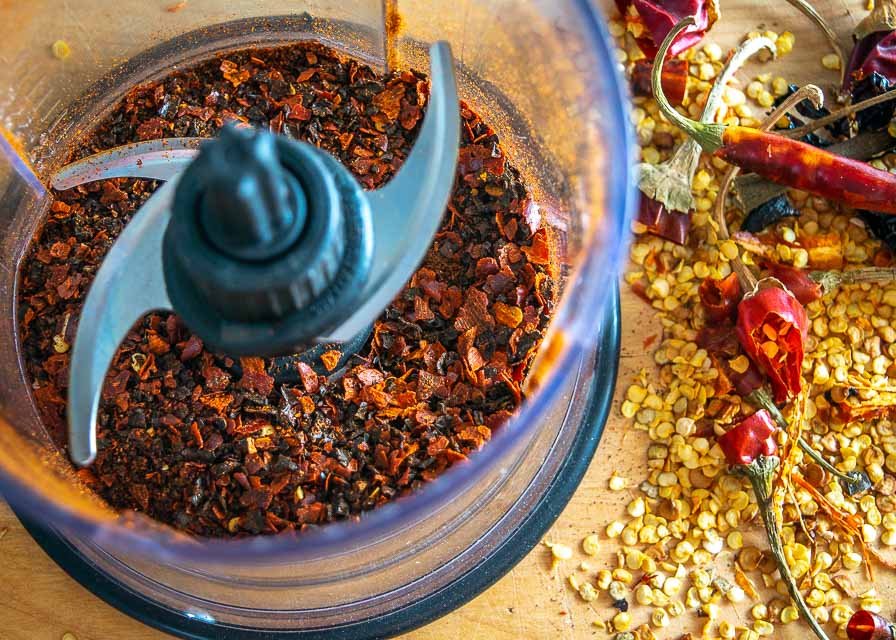 You can get pretty far with a blender or food processor, but I usually finish them off in a spice grinder to get a finer powder.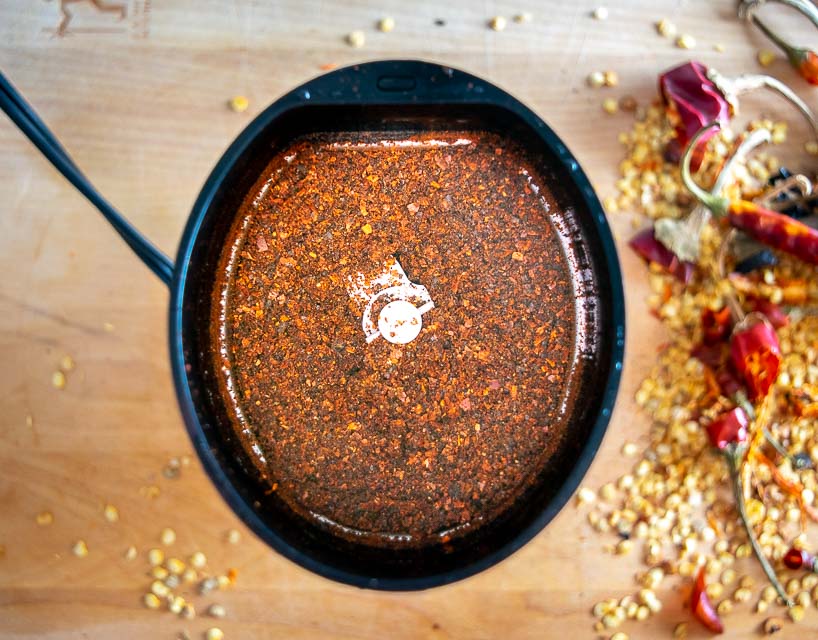 You're left with a big, vibrant flavor that tastes surprisingly complete even without all the extra ingredients. Perfect!
This batch will make 1/2 cup worth and that fits perfectly into one of these 4 oz. spice jars: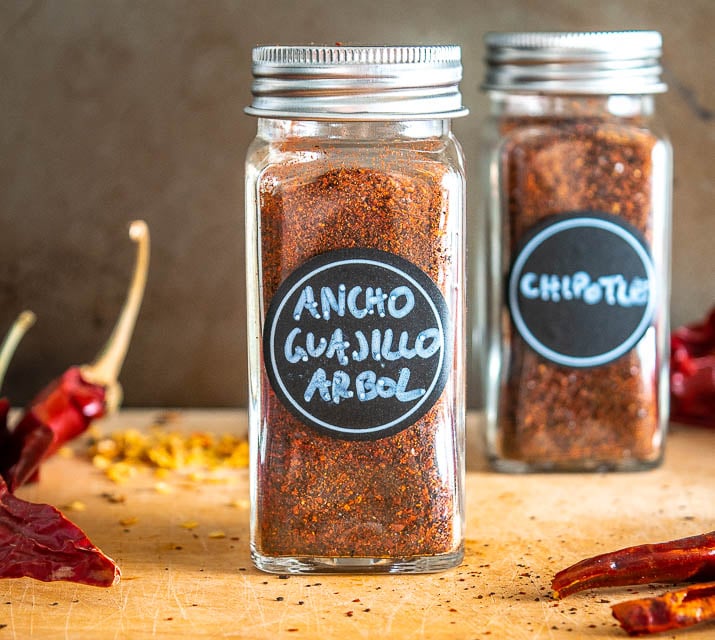 In addition to this Ancho Guajillo combo I will sometimes grind up some pure Chipotle powder .
For that you'll need about 20-25 Chipotle Morita chilis: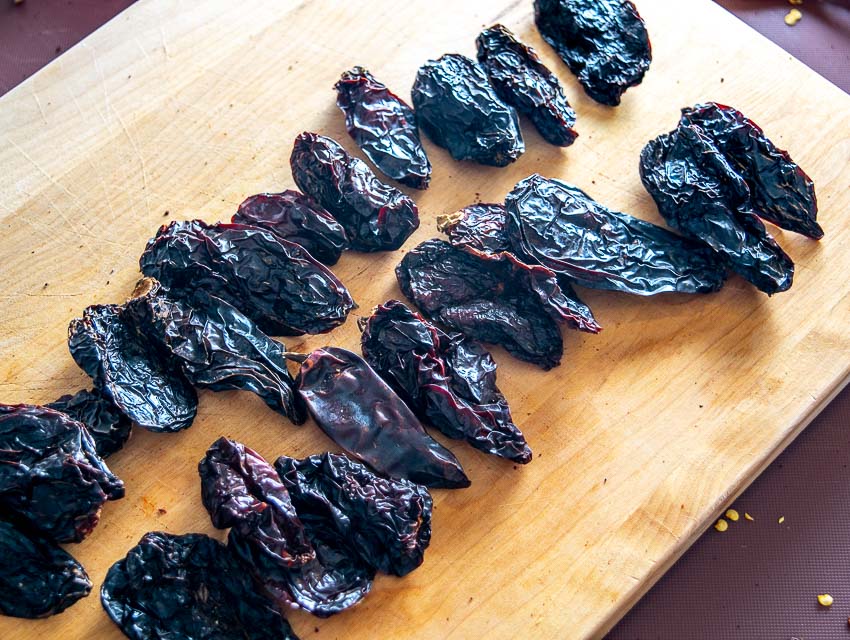 And you'll get 1/2 cup worth after following the same steps and grinding them up.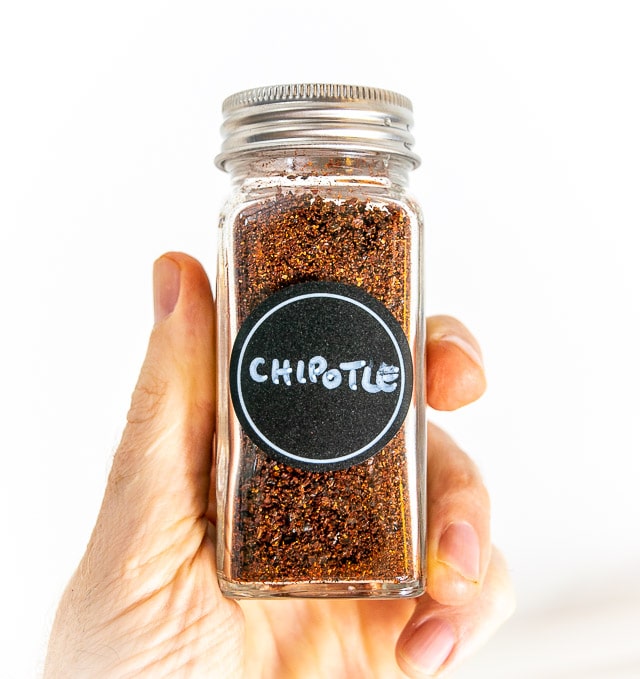 You'll see me plop spoonfuls of chili powder in all sorts of recipes on this site, things like...
...and it's ALWAYS either a homemade version like this Ancho Guajillo combo, or one of the pure chili powders that I get online (see here). I never use the generic chili powders and I'm in favor of them being forever banished from the grocery store shelves.
And yes, if you want to turn this into some on-the-fly taco seasoning you can add some cumin, Mexican oregano and maybe some garlic powder and you'll get a delicious flavor. For a more detailed recipe see here.
Saying adios to the grocery store chili powder is a great adjustment for your kitchen so please keep it in mind next time you run out. You'll get a wonderful upgrade in flavor by seeking out pure chili powders, or better yet, making your own!
Buen Provecho.
Want the latest recipe? Click your favorite from these options and follow me: Instagram, Facebook, Pinterest, TikTok, YouTube.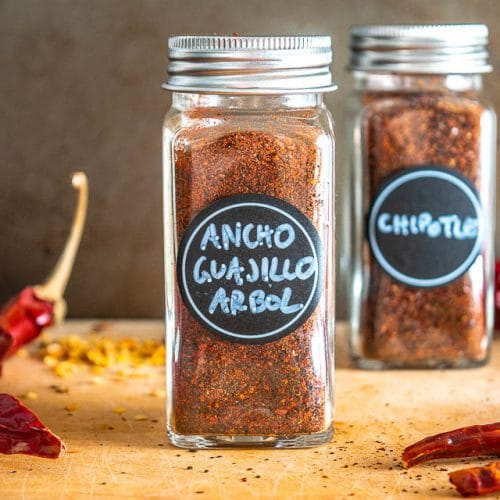 Homemade Chili Powder
Most store-bought chili powders have too many ingredients! But if you grind your own you'll get a pure, delicious flavor that will work wonders in your home cooking.
Print
Pin
Rate
Ingredients
5-6

Ancho dried chilis

7-8

Guajillo dried chilis

2

Chiles de Arbol (optional)
Instructions
Start by wiping off any dusty crevasses on the dried chilis, then de-stem and de-seed them. I find it easiest to cut off the tops, make a slit lengthwise, and then pull out the veins and seeds. Be sure to use caution when handling hot chilis.

Roast the chili pieces in a 350F oven for a couple minutes or until warm and fragrant. You can alternatively flash roast them on a hot dry skillet.

Grind the roasted chili pieces in a blender or food processor. You can optionally use a spice grinder for a finer powder.

This batch will make 1/2 cup of pure chili powder that will fit into a 4 oz. spice jar. Store in the pantry (away from the heat of the stove) where it will keep for weeks at a time.
Like this recipe?
Click the stars above to rate it or leave a comment down below! @mexplease
Our latest recipe is a batch of these Potato Chorizo Taquitos.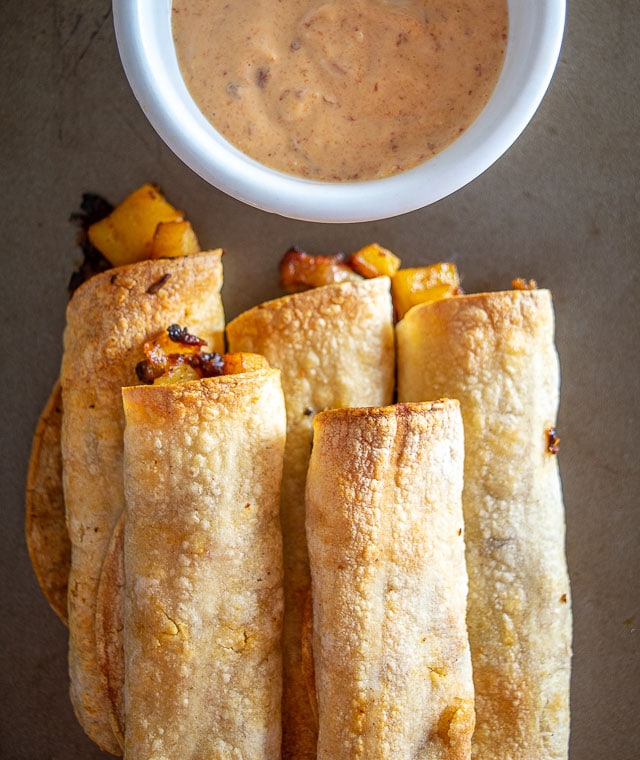 Still hungry?!
Want to receive Mexican Please recipes via email when they are posted?  Sign up below to subscribe.  All recipes are spam free.