Have you used these Chiles de Arbol before?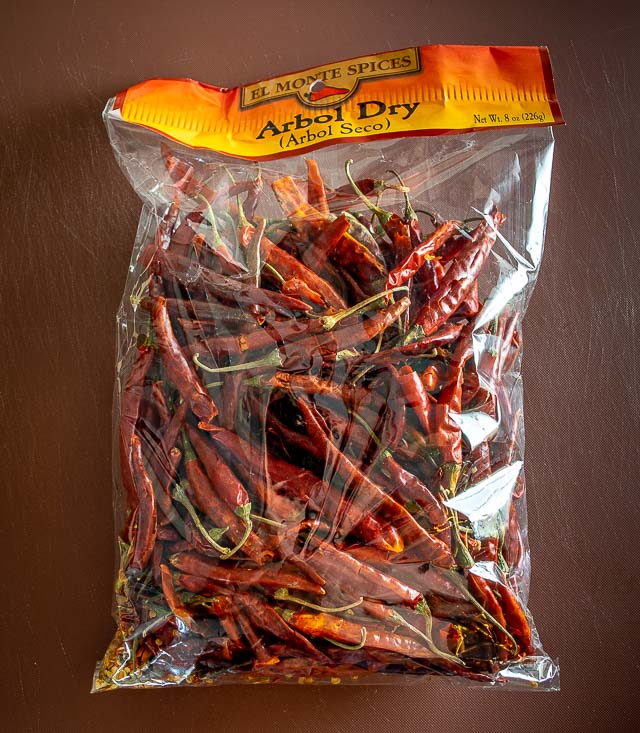 As is usually the case, the smaller the chile the hotter it is, and these Chiles de Arbol are definitely small!
For reference, here's where they stand in the Scoville scale:
So yes, they're about 3 or 4 times as hot as jalapenos.  That's some heat!  So as you would expect, this Salsa is heading towards volcanic and that's how I like it 🙂
But it's not just their heat that makes them so popular -- they also have a slightly nutty flavor that makes them completely unique in the world of dried chiles.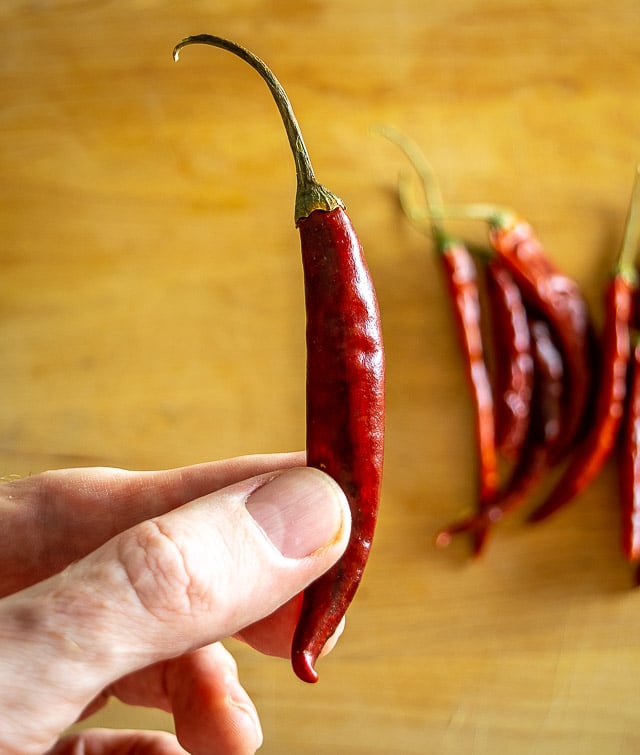 I used about 8 Arbols in this batch, but in the recipe box below I will recommend adding them incrementally the first time you make it so you can get the heat level to your liking.  It's easy to increase the heat, by adding more chiles, but not so easy to dial it back.
And since these chiles are so fiery it's always best to use caution when handling them.  I use my hands along with plenty of hand-washing, but gloves are a good option for anyone with sensitive skin.  More info on handling hot chiles.
Let's start by de-stemming and de-seeding the chiles.   Sometimes these chiles are loaded with seeds so I will usually discard the veins and some of the seeds.
I usually plop the chile pieces in the oven for 1-2 minutes to wake them up.
An equally good option is briefly roasting them in a dry skillet until warm and fragrant.
Then we'll add the chili pieces to some hot water and let them reconstitute for 20-30 minutes.
This will soften them up and make them more amenable to being ground up.  More info on reconstituting dried chiles.
Meanwhile, let's roast the tomatoes and tomatillos.
I will typically use the oven to roast these, but I used the broiler for this batch to give 'em some char.
They'll need about 5-7 minutes per side underneath the broiler.
Something about charred veggies seems to work really well with this volcanic Salsa, so feel free to leave 'em in there a little longer than you normally would.
You may recognize this tomato and tomatillo combo from our recent Roasted Tomato and Tomatillo Salsa.  The Chile de Arbols work great with this combo so give it go if you're new to it.
Once the tomatoes and tomatillos are roasted we'll add them to a blender along with:
1/3 small onion
1 garlic clove
a pinch of salt
3-4 drained Chile de Arbols
Give it a whirl and take a taste.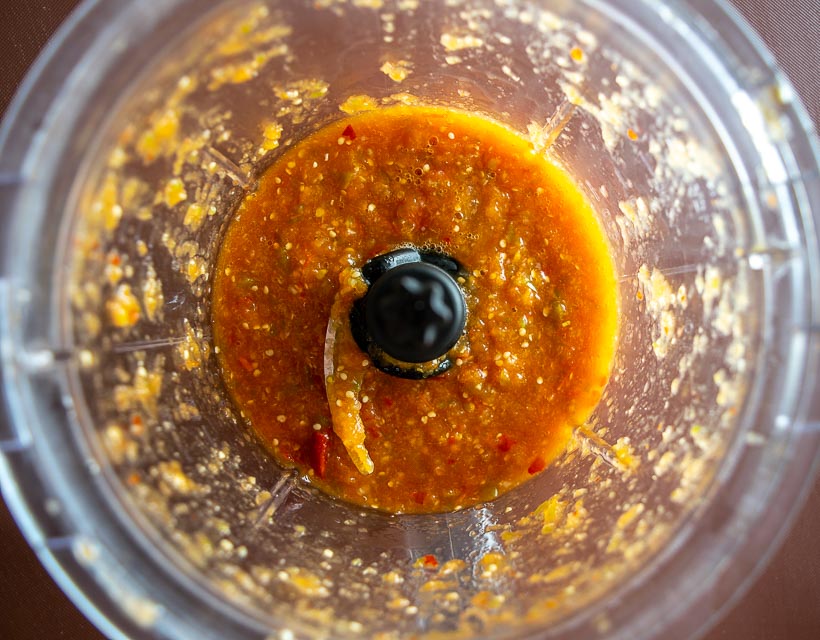 Fireball already?
If you want more heat add a few more Arbols; I used 8 for this batch but if you want a milder batch you won't need to use as many.
You'll end up with a fiery Salsa that has BIG flavor.  I've been using it on my no-thinking-involved tacos and it is delish, but it also does quite well next to a bowl of chips so feel free to start with that.
And note that this Salsa is going to be warm out of the blender because of the roasted veggies.   I like the Roasted Tomato and Tomatillo Salsa better when it's chilled, but I prefer this Chile de Arbol Salsa when it's warm.
It has such a huge, fiery flavor and serving it warm seems to complement that.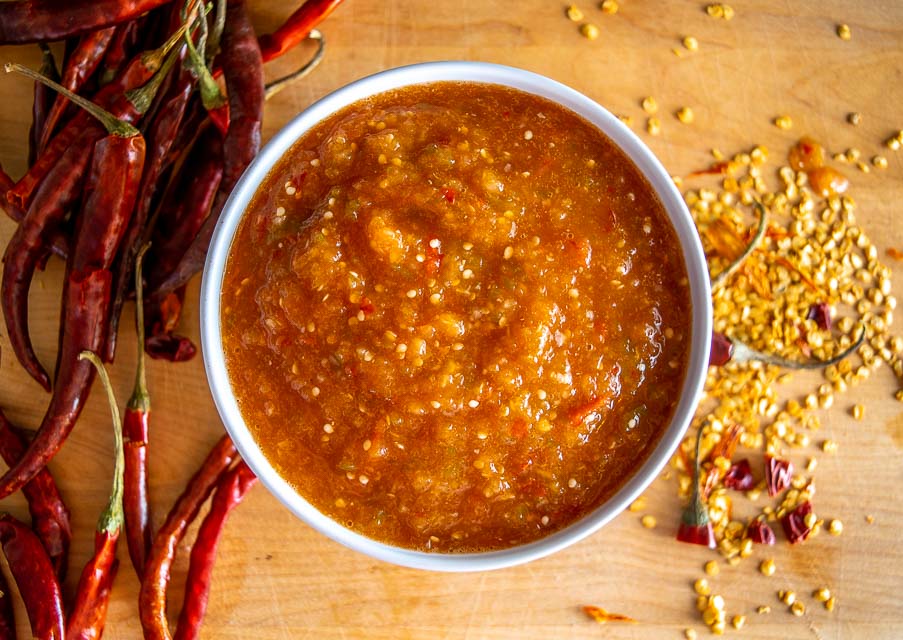 I think that's partly why I broiled the veggies for this batch -- making this Salsa a charred, smoky, volcanic delight seems to be a natural fit for these little fireballs.
Okay, keep an eye out for these Chiles de Arbol, you won't regret it!  You can find them quite easily in the States these days, or you can always buy them online.
Store them sealed in the pantry where they will keep for months, waiting patiently to explode whenever called upon.
Buen Provecho.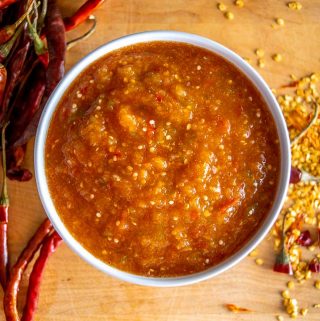 Chile de Arbol Salsa
Here's an easy recipe for a wicked hot Chile de Arbol Salsa. I've been gooping it on tacos all week but it does quite well next to a bowl of chips too!
Print
Pin
Rate
Ingredients
2

plum tomatoes

4-5

tomatillos

1/3

small onion

1

garlic clove

4-8

Chile de Arbol dried chiles

pinch of

salt
Instructions
I usually start by wiping off the Chile de Arbols with a damp paper towel. De-stem and de-seed the chiles, but don't worry about getting rid of every last seed. Note: it's best to use caution when handling hot chiles. Be sure to wash your hands after handling them or you can use gloves.

I roast the chile pieces in the oven (400F) for 1-2 minutes until warm and fragrant. Alternatively you can flash roast them on a dry skillet.

Add the roasted chili pieces to a bowl and cover them with the hottest tap water you've got. Let them reconstitute for 20-30 minutes. If they float to the surface you can use a small plate or bowl to keep them submerged.

Husk the tomatillos and then rinse both the tomatoes and tomatillos. I usually remove the stems from both knowing that any juices leftover in the roasting pan will go into the blender.

Roast the tomatoes and tomatillos underneath the broiler for 5-7 minutes per side or until some char is forming. You can cut them in half for a quicker roasting time, just be sure to pour all the leftover juices in the blender.

Add the roasted tomatoes and tomatillos to a blender along with 1/3 small onion, 1 peeled garlic clove, 3-4 drained Chile de Arbols, and a pinch of salt. Combine well.

Taste for seasoning, adding more Chile de Arbols if you want more heat. I used 8 for this batch and it was ultra fiery!

Serve immediately and store leftovers in an airtight container in the fridge.
Notes
When buying dried chiles you want the ones that are soft and pliable -- if they are hard or brittle they are a bit past their prime.
Sometimes you'll find Chiles de Arbol in the Latin goods section of major supermarkets.  Or you can always buy them online. 
Like this recipe?
Click the stars above to rate it or leave a comment down below! @mexplease
Our latest recipe is a delicious batch of Carnitas!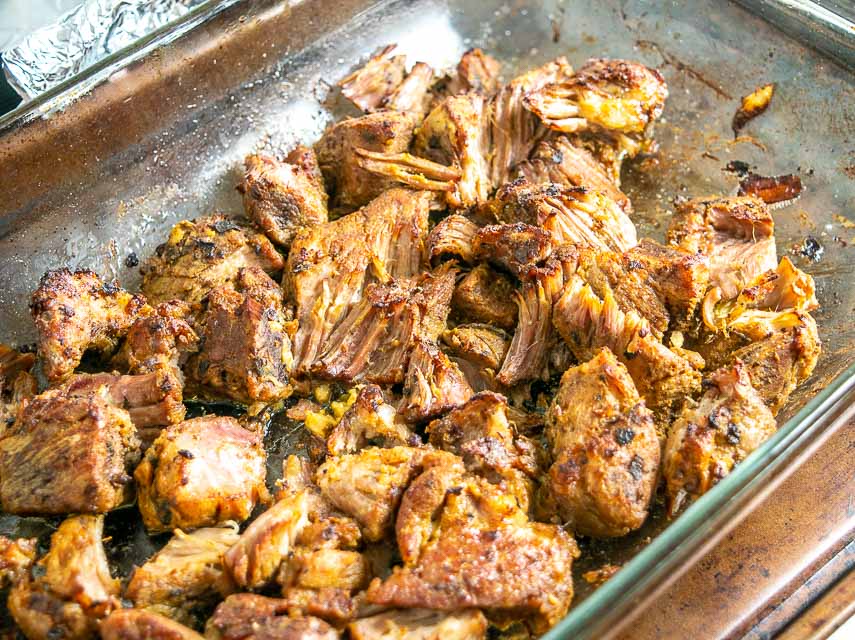 Still hungry?!
Want to receive Mexican Please recipes via email when they are posted?  Sign up below to subscribe.  All recipes are spam free.