I know that many of you stay up at night wondering why Mexican food is so darn good.  I do the same thing!
Capsaicin is one of the most important "ingredients" to understand when tackling home-cooked Mexican cuisine.  Maybe technically it's not an ingredient, but getting familiar with its attributes will put you in the driver's seat and have you on your way to making some otherworldly Mexican dishes.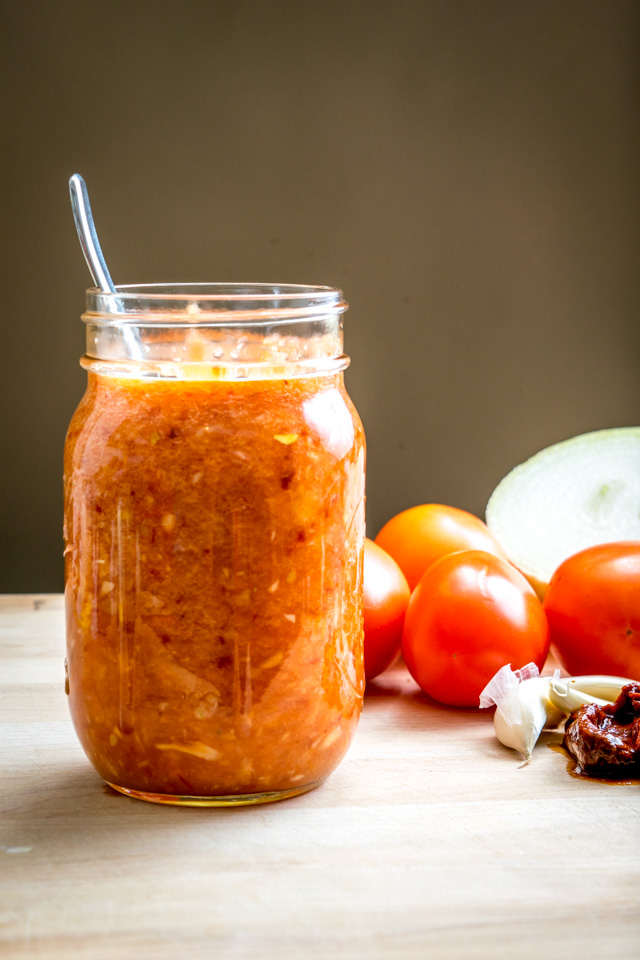 Capsaicin basics
First things first, capsaicin is the active component in chili peppers that gives them their distinct heat and spiciness.  The last time you took a bite of Mexican food and said "Whoa, way too spicy!" you could have just as easily said "Yowsa too much capsaicin for my taste buds!"
Sure, capsaicin has health benefits and is the main component in capasaicin cream, but today we're dealing with its more important uses.  Like salsa!
Take a look at this cross section of a jalapeno pepper: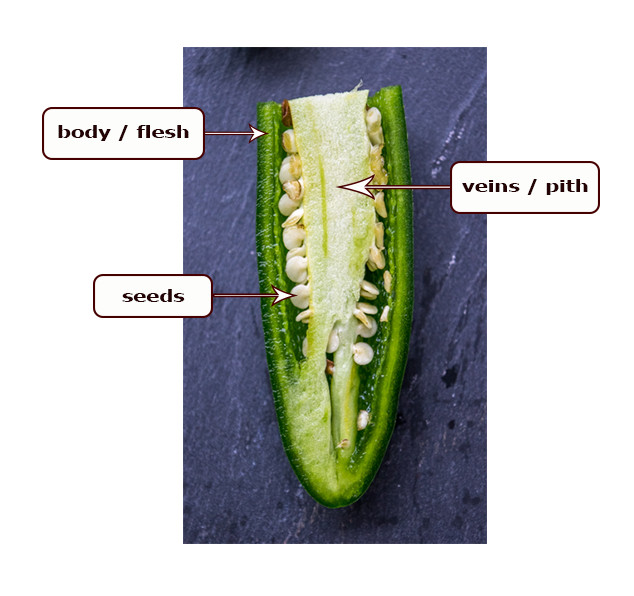 You'll find most of the capsaicin in the pith and seeds of chili peppers.  Yes, there is some capsaicin in the flesh but the pith/seeds have a higher concentration.  That's why you'll sometimes see recipes recommend scraping out the seeds for a milder version.
A taste test that I use frequently is to stick the tip of the tongue on the pith after chopping off the stem: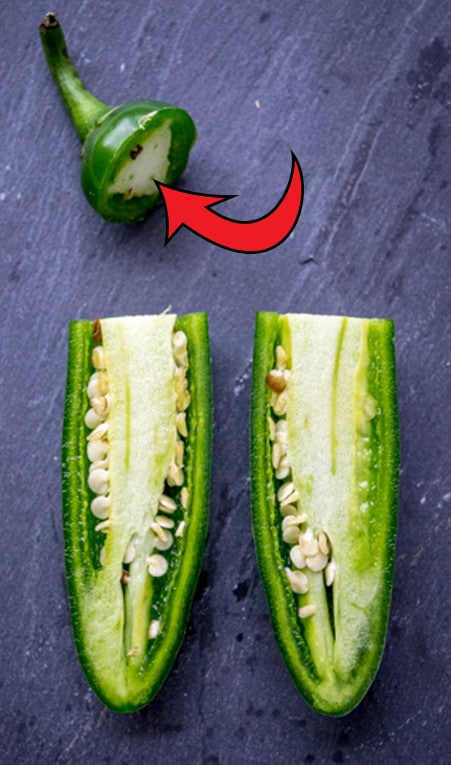 You'll get a little burst of capsaicin and after some experience you'll be able to tell whether the jalapeno is on the hot or mild end of its range.  Note: I wouldn't recommend this with the hotter chili peppers, i.e. habaneros.
A more precise way to gauge the heat of chili peppers is the Scoville Scale.  While the modern method is more scientific than the method Wilbur Scoville invented (taste testing involved!) you'll still end up with a chart that will instantly tell you how hot your chili pepper is.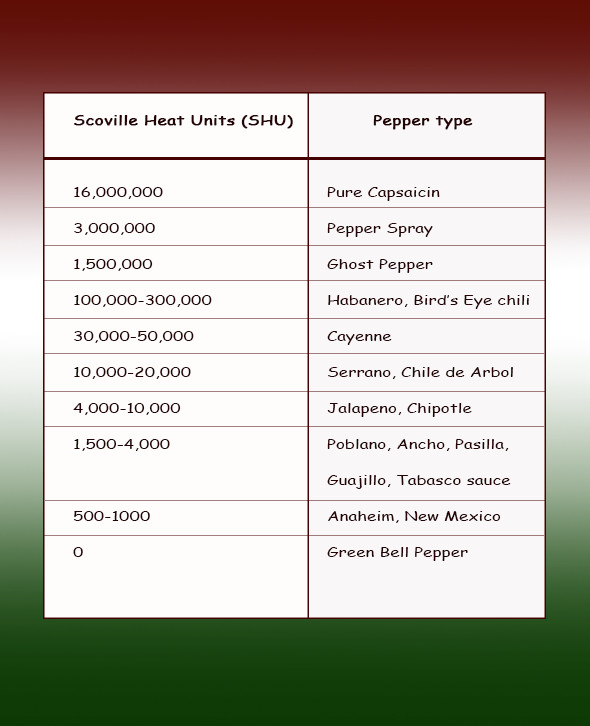 Note the extremes in the above chart, with pure capsaicin and pepper spray at the top and the heatless green bell pepper at the bottom.
As is usually the case, the smaller the pepper the hotter it is.  That's why you'll see the tiny Habanero towards the top of the chart and the larger, milder peppers towards the bottom of the chart.
Here's a quick look at the fresh chili peppers that you'll use most often in Mexican cooking.  Scoville measurements are listed below each chili.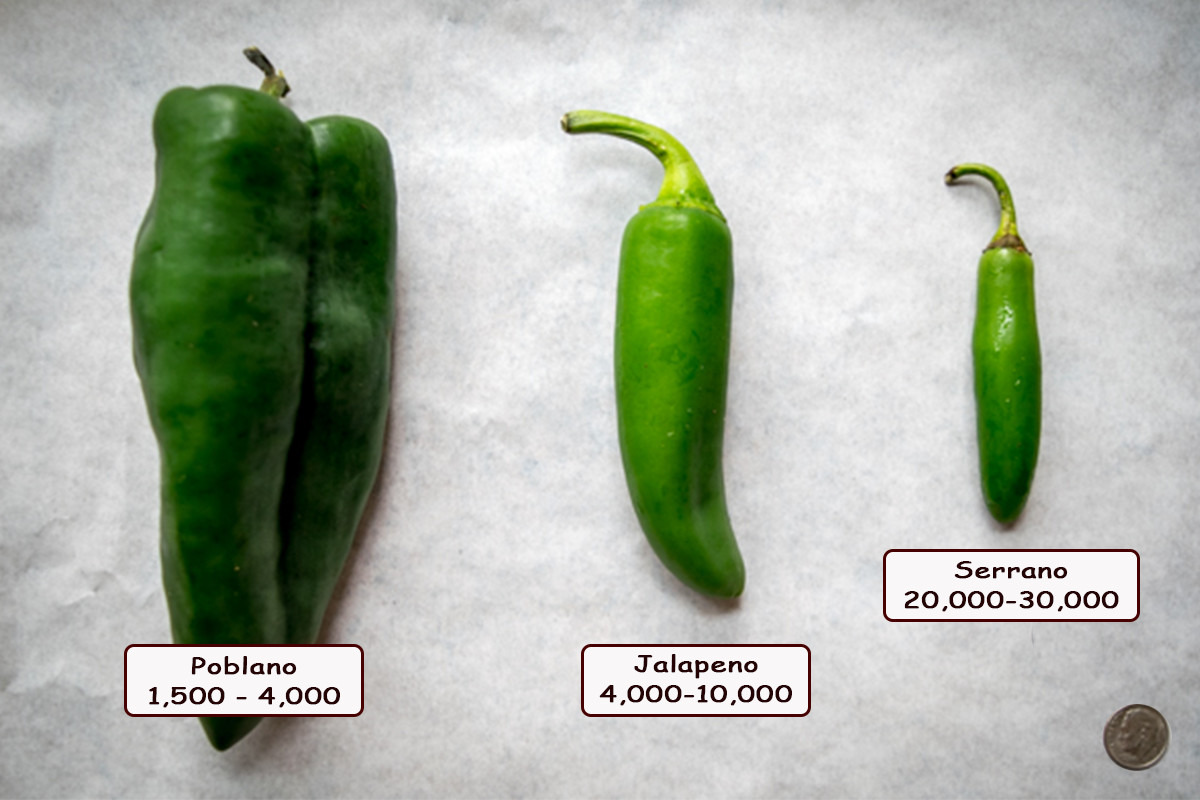 Note how mild the poblano is compared to the serrano.
And the following two pics will show you the dried chili peppers you are most likely to encounter in Mexican cuisine: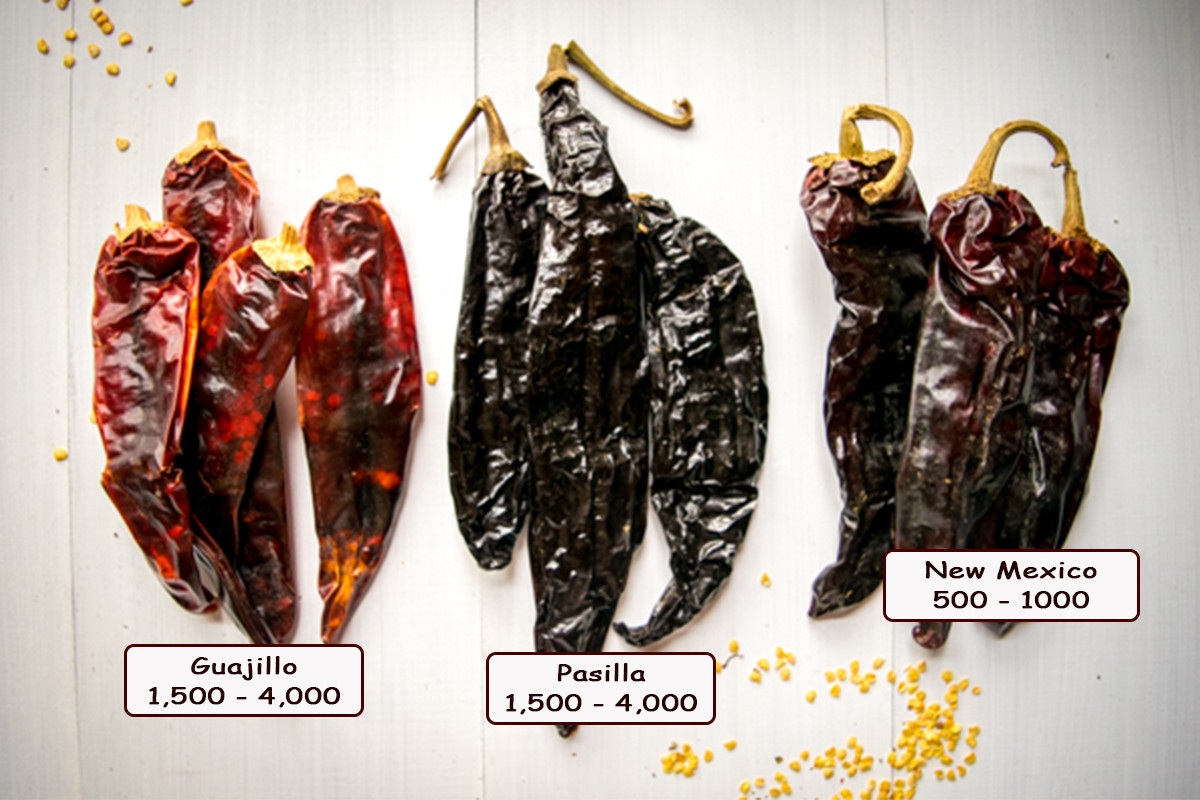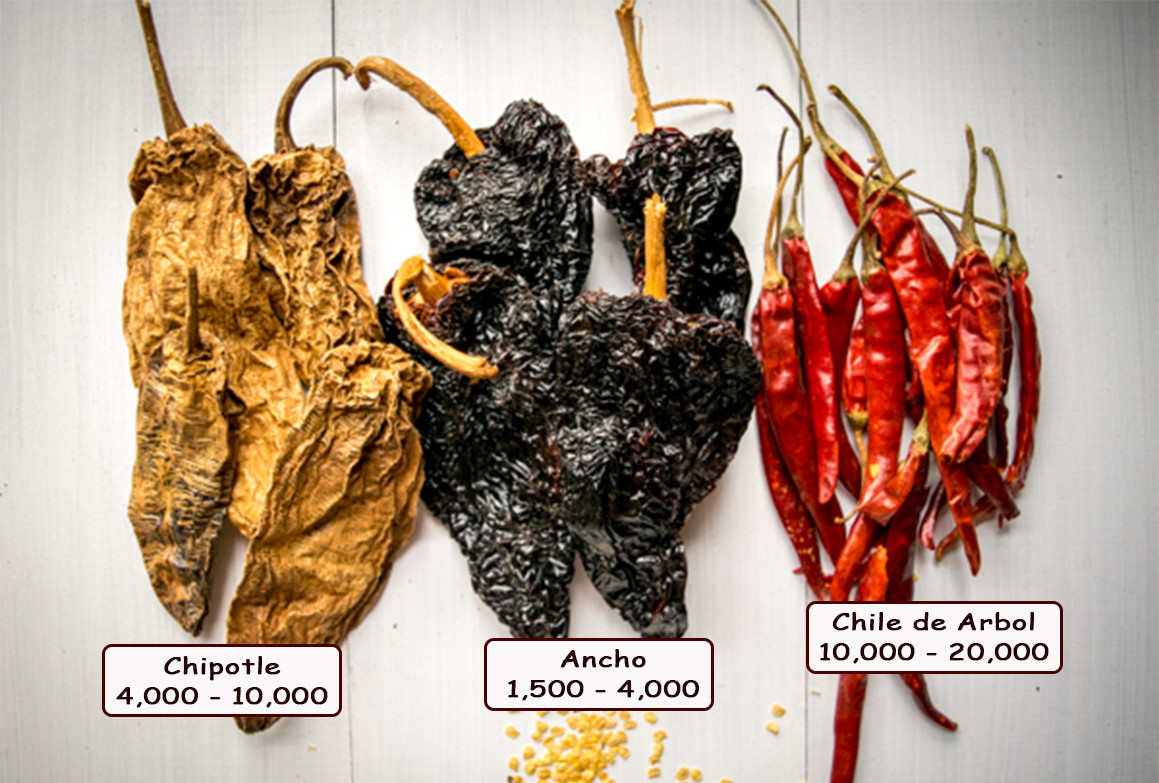 While it's helpful to know the general Scoville range of chili peppers, it's also worthwhile to add the capsaicin incrementally the first time you make a recipe.  I call this Capsaicin Control and it's easily the most underrated skill in Mexican cooking.
When people make salsa that ends up too spicy they tend to blame the recipe and go off in search of a new one.  But if you add the capsaicin incrementally the first time you make a recipe then you'll be able to quickly find the appropriate capsaicin level for your taste buds.  Recipes rarely take into account the world's huge range in taste buds and this is a big mistake!
Here's a good example to put this into practice...
Our recipe for the World's Easiest (and Best) Salsa calls for a single jalapeno.  Here are the ingredients: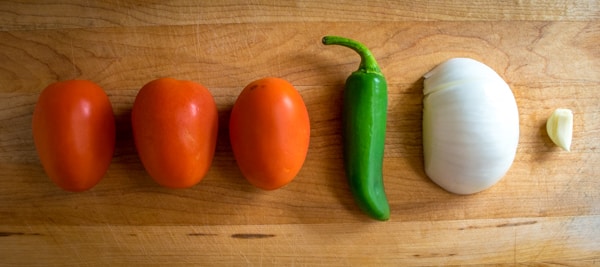 Adding in the whole jalapeno would probably make it too spicy for some people.  Adding the capsaicin incrementally the first time you make it will help you find the right heat level for your taste buds.  Cut the jalapeno into quarters and start by adding only 1/4 of the jalapeno.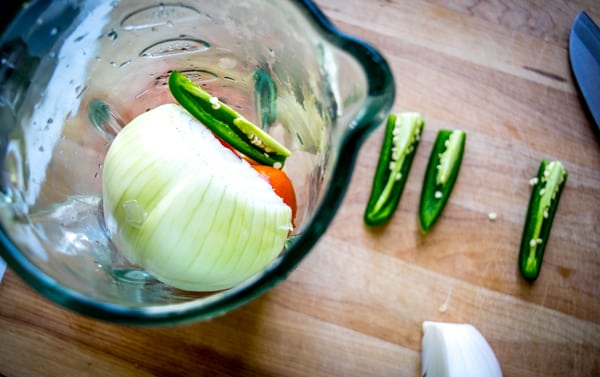 Take a taste.  How's the spice level?  Most people will say not spicy enough.
Add another quarter of the jalapeno and keep going until it tastes right to you.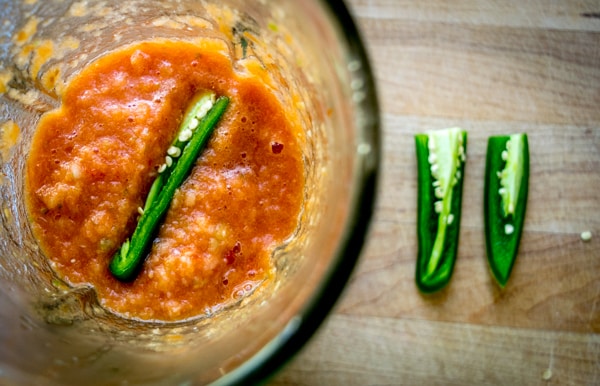 And keep in mind that you won't have to do this every time you make the recipe.   Once you are familiar with it you can streamline the process a bit.  For example, in the above recipe I usually start by adding half the jalapeno, taste test, and then add more if necessary.  (More details on that salsa here.)
This is a great skill to keep in mind next time you are cooking.  You no longer have to worry about salsa going nuclear on you!
Okay a couple more thoughts on working with capsaicin and chili peppers...
You'll frequently see people recommend wearing gloves when working with chili peppers. If you handle freshly cut jalapenos and then wipe your eyes you'll start to feel some stinging in the eyes.  The same will happen with your nose and other sensitive areas.   Wearing gloves can cut down on the risk of this happening but to be honest I never wear gloves.  I'm just in the habit of washing my hands after handling chili peppers and this keeps me safe.
And last but not least I want to mention that the zing of capsaicin will diminish over time.  If you store some leftover homemade salsa in the fridge, a few days later you'll notice that it has lost some of its pop.    You can easily rejuvenate old salsa by blending it with some fresh chilis as we do in our Salsa Verde Rescue Technique.
This is also why freshly made salsa is so much better than store-bought salsa.  You simply cannot beat a freshly made batch of homemade salsa because the recently blended chili peppers are bursting with so much flavor and spicy capsaicin.  Yum!
I think that covers capsaicin for the most part.  Let me know if you have any other questions about it.  Below I'll link to a few of our most popular salsa recipes that are great options to test drive your newfound capsaicin skills.  Good luck!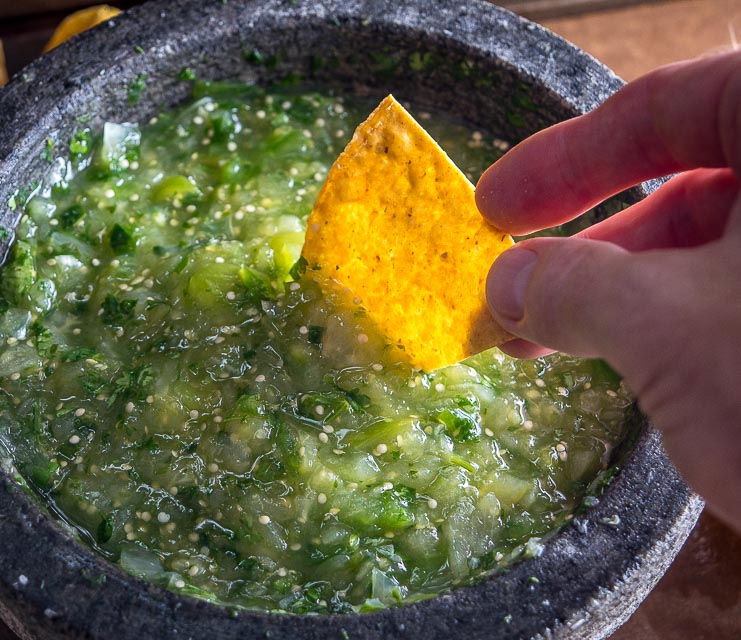 Still hungry?!
Want to receive Mexican Please recipes via email when they are posted?  Sign up below to subscribe.  All recipes are spam free.