It's getting late. You're still hungry.
A really good idea pops in your head: bean and cheese taquitos dipped in salsa verde.
You had a light dinner. You'll probably be up for a couple more hours anyways. I deserve this.
Recently you've gotten good at whipping up a homemade salsa verde using fresh tomatillos, so you open the fridge to grab a few, but no luck!
Your backup plan is to use canned tomatillos, so you check the pantry: none!
You sit down at the kitchen table, laughing at your crazy idea.   I don't need to be eating at this hour anyways.
Then you open the fridge again.  In the back corner, sitting next to the stuff you don't use anymore, is a half full jar of store bought salsa verde.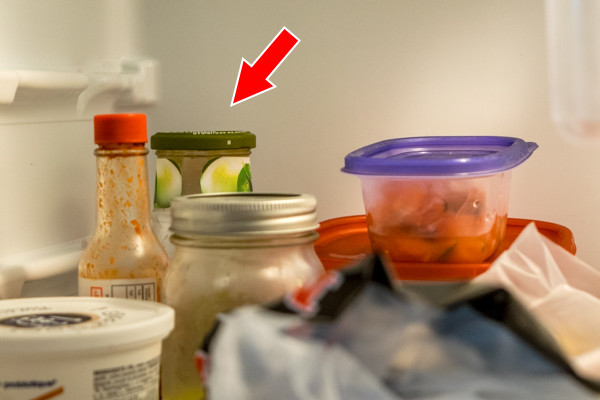 It's a relic from another era now that you are a homemade salsa Pro.
You reach for it, not sure if this is a good idea, but your head is filled with images of warm, cheesy tortillas dripping with salsa verde.
You put it on the counter.  It looks old, what's the point?   Wow this is going to be disappointing...
------------
Once you've been exposed to the real deal, i.e. homemade salsa verde, then going back to storebought will feel a little dirty.
But instead of feeling guilty about using leftover bottles of salsa, use this emergency rescue technique to give them a lifeline. Think of it as helping those most in need.
Chop up 1/2 white onion, 1 clove garlic, 1 jalapeno cut into quarters, and 8 cilantro sprigs.
It's OK if you don't have fresh cilantro, it's the onion and jalapeno that you really need. The onion will dilute the high level of sodium, and the jalapeno will add some zip back into it.
Pour the salsa into a blender. We've got about two cups worth here. Two cups of high sodium salsa verde from the back of the fridge!
Add the onion, garlic, cilantro, and one quarter of the jalapeno to the blender. Pulse blend and taste for heat.
Add another quarter of the jalapeno if you want more heat, and keep going until it tastes right to you.
Hide empty bottle of fridge salsa so your taste buds aren't influenced by seeing it.
Replace with shimmering bowl of almost-really-good-but-definitely-better-than-nothing salsa verde.
Serve with bean and cheese taquitos, or your choice of late night snack.  Because you deserve it.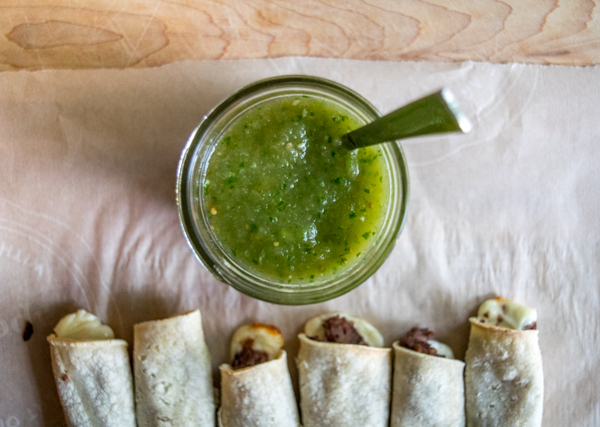 P.S. You can also use the same technique with a tomato based salsa. For 2 cups of red salsa that needs to be rescued, use ½ white onion, 1 clove garlic, and 1 jalapeno cut into quarters and added incrementally.
Still hungry?!
Want to receive Mexican Please recipes via email when they are posted?  Sign up below to subscribe.  All recipes are spam free.