The Scoville Scale is a heat map for chili peppers and quickly gives you an idea of a chile pepper's heat in relation to other chiles.
It was created to identify the exact capsaicin level of common chiles, and it's usually shown in table form, something like this: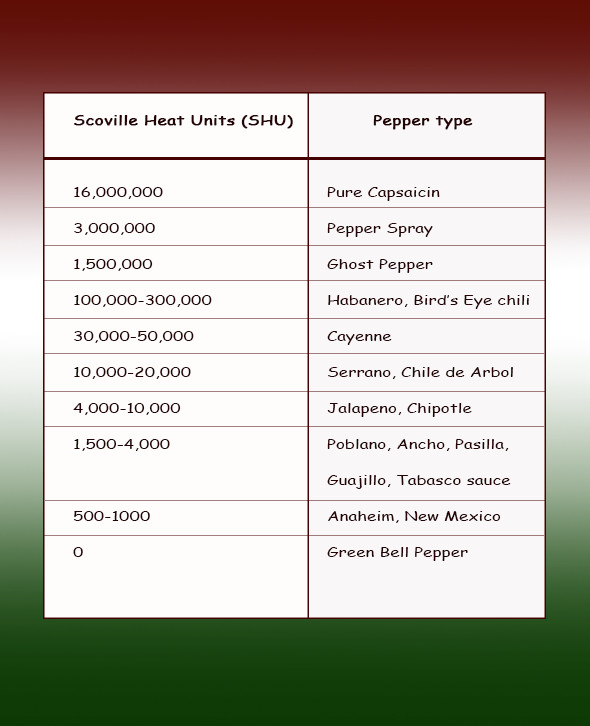 Notice in the above pic that pure capsaicin is at the top of the chart. Capsaicin is the active component in chili peppers and gives them their distinctive heat, or spiciness.
And at the bottom of the chart you'll see green bell peppers that have no heat whatsoever.
Originally there was taste testing involved in the creation of the Scoville scale, and those were some brave taste testers! They would extract the heat (capsaicinoids) from dehydrated chiles and dilute them with increasing amounts of sugar water until they could no longer taste any heat.
The dilution rates were converted into Scoville Heat Units and just like that, after some extensive taste testing (and lots of tortilla chips?), the Scoville scale was born.
These days it's much easier (and less fun) to use Liquid Chromatography to measure capsaicin levels in place of taste testing, but Scoville Heat Units are still used as the metric to rate the heat of chiles.
So why is the Scoville Scale so darn helpful? Well, take a look at this pic: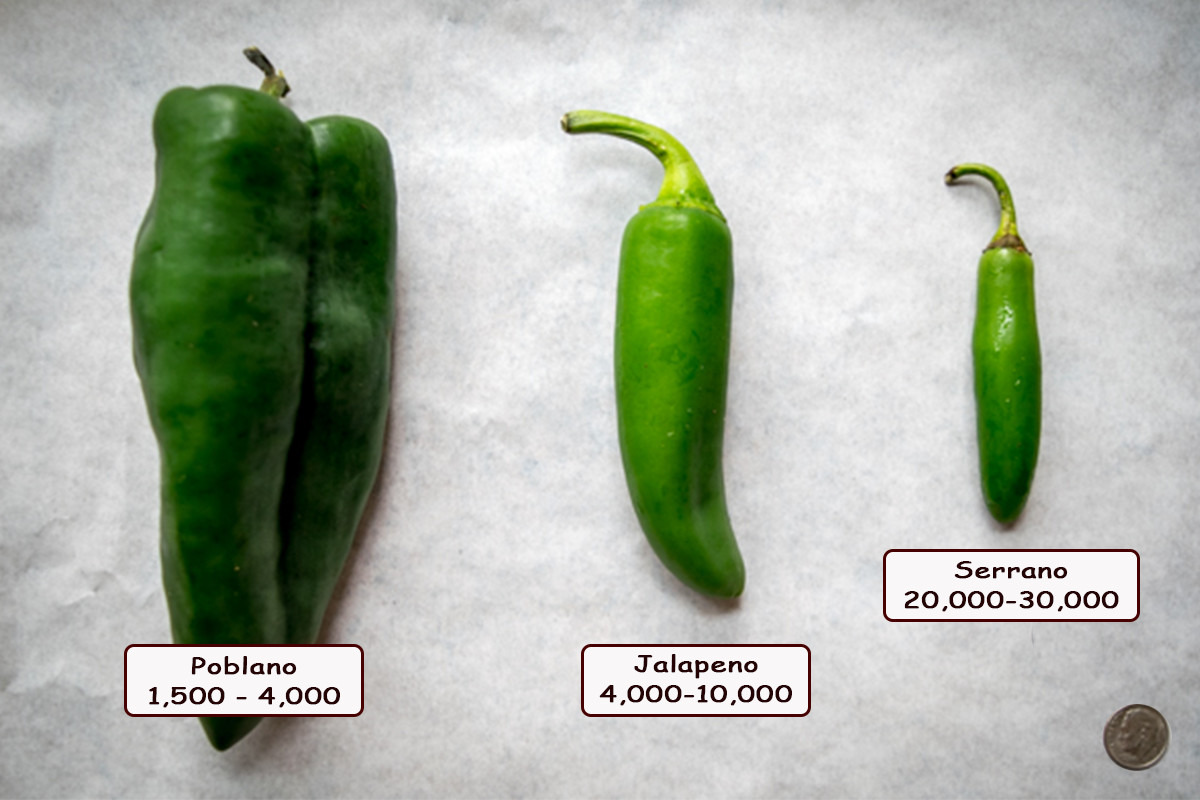 Each of those peppers is accompanied by their Scoville range. (Yes, technically it's usually a range for each chile as growing conditions can affect the exact heat level.)
Notice how Poblano peppers are quite mild by nature? Most people don't know that because they are such large peppers.
And note that Serranos are twice as hot as Jalapenos -- good to know right?
You'll also notice that chiles tend to get hotter as they get smaller -- this is a great tip to keep in mind and will give you a quick reference point when you come across new chile varieties. Another way of saying it is that small chiles tend to have higher levels of capasicin concentration.
For example, these little Habanero beauties are some of the hottest peppers you'll come across in Mexican cuisine: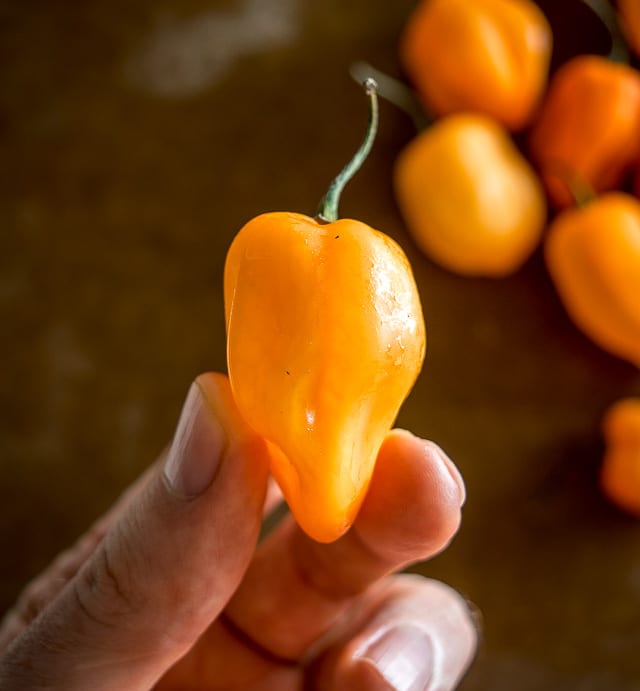 Good things come in small packages! And don't forget that it's always best to use caution when handling hot chile peppers like these Habaneros. More info on handling hot chile peppers.
Here's a look at some common dried chiles and their accompanying Scoville Heat Units: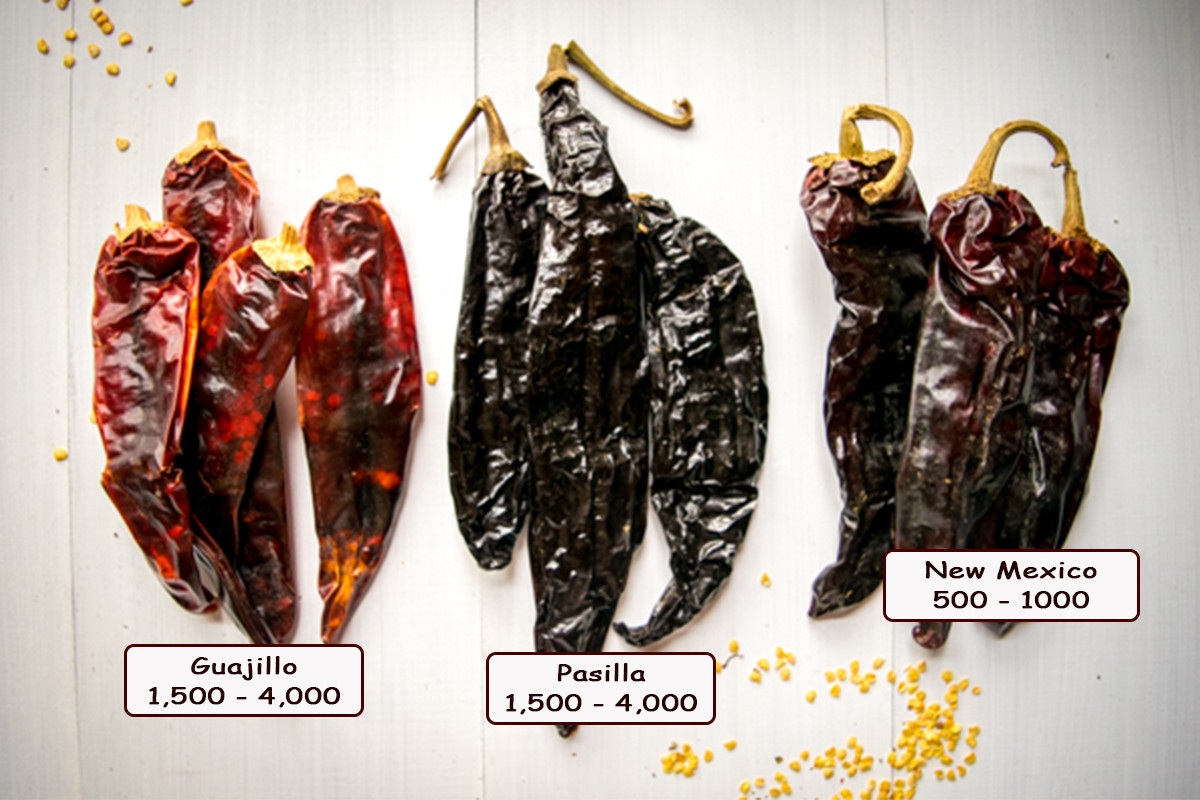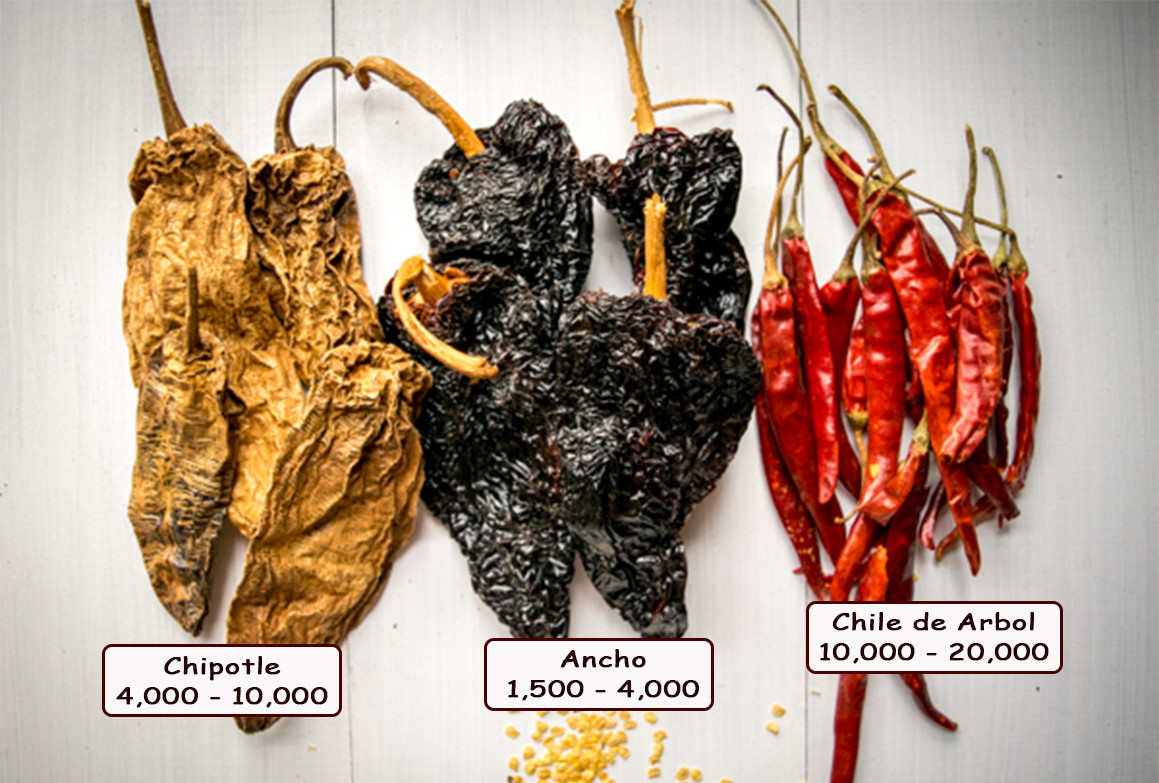 And not pictured are Hatch chiles. I've been getting loads of questions about Hatch chiles recently and wanted to mention that they are typically somewhere in the 5,000 SHU range, so somewhere between a Poblano and a Jalapeno. More info on Hatch chiles.
Okay, I hope this article was helpful! Feel free to get in touch if you have any more questions about the Scoville Scale. And if you want more info on the individual chile peppers I'll put some links below (most will include recipes):
Buen Provecho!
To get up-to-date recipes follow me on Instagram, Facebook, or Pinterest.
Still hungry?!
Want to receive Mexican Please recipes via email when they are posted?  Sign up below to subscribe.  All recipes are spam free.