If you've ever wondered how hot habanero peppers are then take a look at this Scoville table -- it ranks chili peppers from hottest to mildest: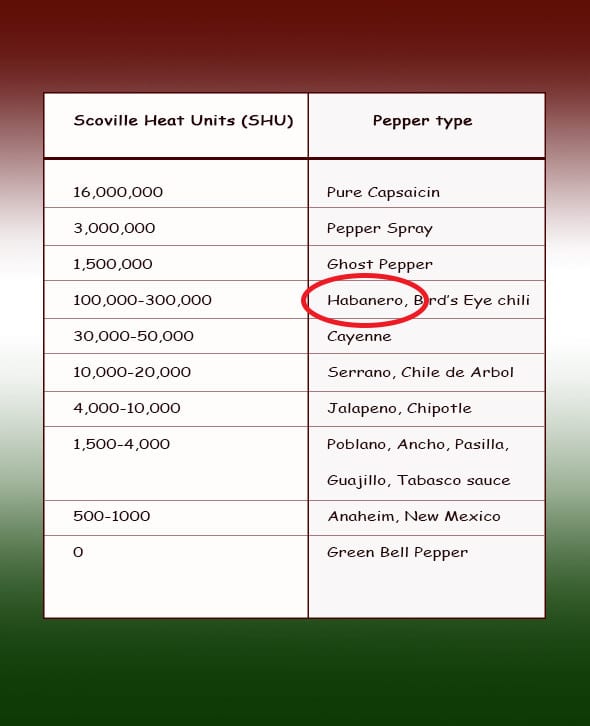 Note that habaneros have a Scoville measurement about 20-30 higher than jalapenos.
In other words...habaneros are blazing hot!
As is usually the case, the smaller the pepper the hotter it gets. Put another way, smaller peppers tend to have higher concentrations of capsaicin. Much higher! (What is Capsaicin?)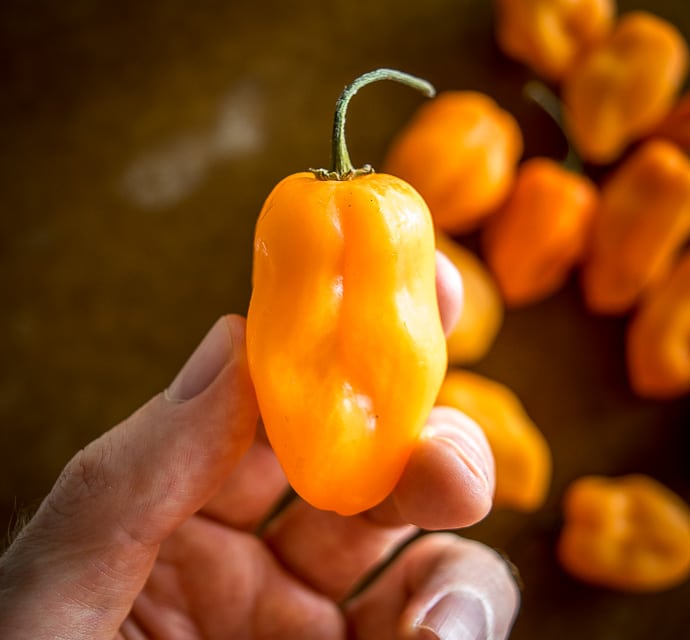 Habaneros are typically only about an inch long, but don't let their unassuming appearance deceive you as they pack a real punch!
Habaneros turn orange as they ripen and that's usually how they are sold.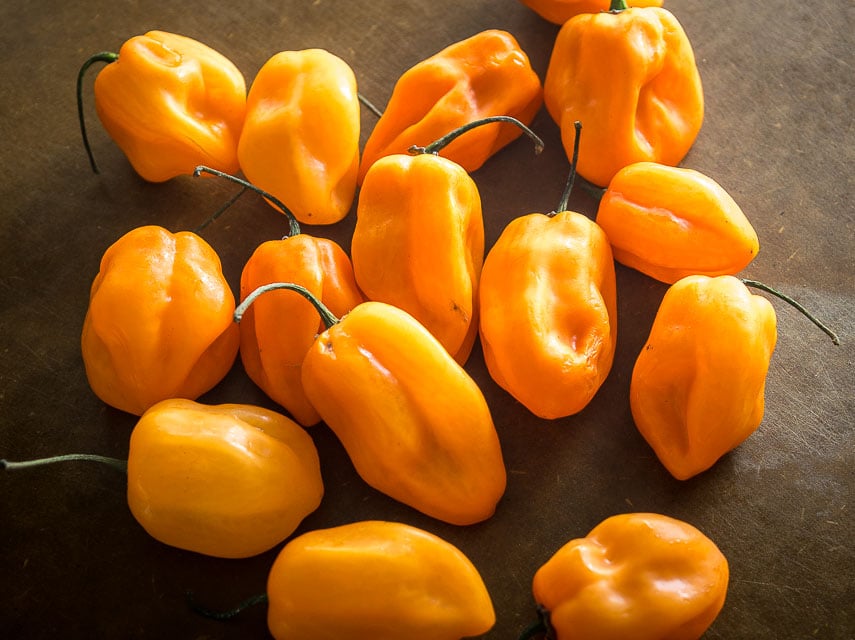 You'll frequently see them next to the jalapenos in the produce section. Try to buy the ones that have taut skin -- if they are wrinkly they are probably past their prime.
Keep in mind that you should use caution when cutting open and handling habaneros. If you touch your eyes or nose after working with them you'll get a burning sensation, almost like a preview of being pepper sprayed.
Since habaneros have such high levels of capsaicin you'll frequently hear people recommend to use gloves when handling them. This is especially true if you have open wounds on your hands or have sensitive skin. If you are careful you can get away without using gloves, just be sure to wash your hands (and knife) thoroughly after touching them. (How To Handle Hot Chili Peppers.)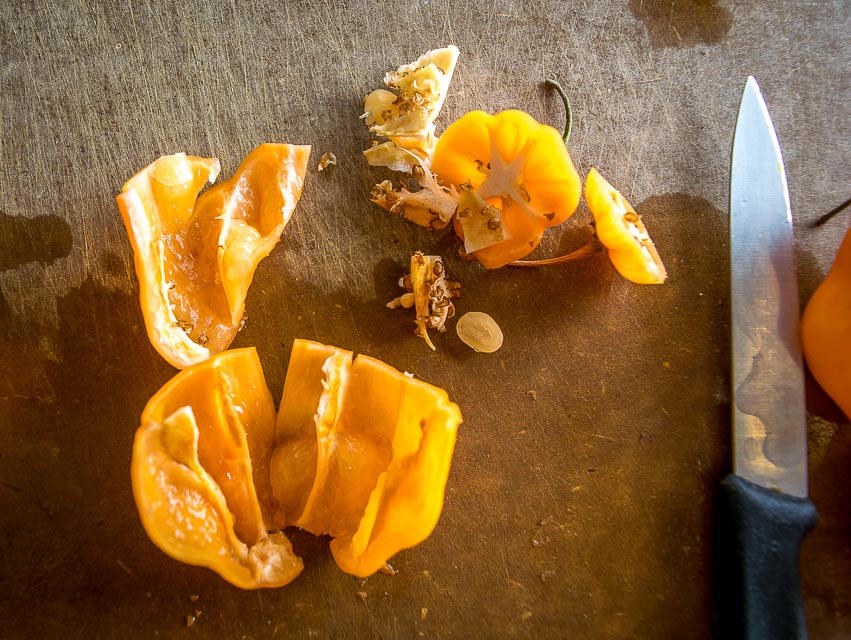 The highest concentration of capsaicin is usually in the veins and seeds, so you can chop these out and discard them if you want to tame the heat of the habanero.
Habaneros have a more fruity flavor compared to other chili peppers. I think that's why you'll frequently see them paired with peach or mango to create a "tropical" flavor with searing heat. We use that combo in our Habanero Hot Sauce and it works wonders on Fish Tacos.
We also use habaneros in our Sikil P'ak (Mayan Pumpkinseed Dip).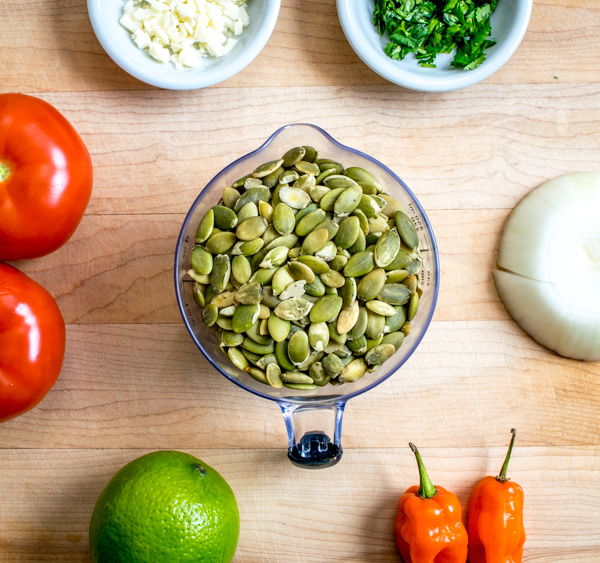 Truth be told, I used to fear habanero peppers because of their blazing heat -- but not any more!
Once you get comfortable handling them they are a great ingredient to add to your kitchen repertoire.
Keep in mind that you'll also see them sold in dried form (as seen below) but I rarely buy dried habaneros, I almost always buy the fresh ones. Keep them in a plastic bag or Ziploc in the fridge and they will keep for at least a week if not longer.
Okay, let me know if you have any other questions about habaneros. They can be a real asset to your home kitchen if you just give 'em a chance!
Buen Provecho.
To get up-to-date recipes follow me on Instagram, Facebook, or Pinterest.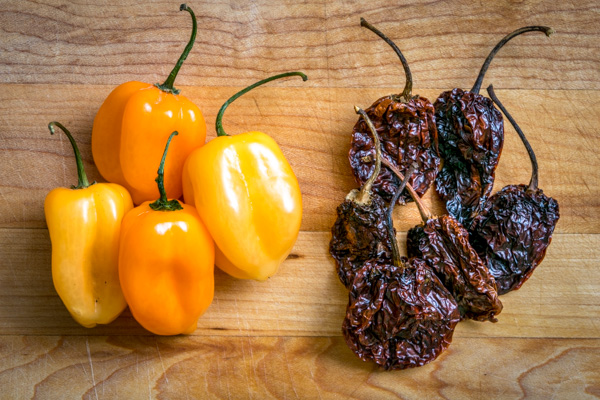 Still hungry?!
Want to receive Mexican Please recipes via email when they are posted?  Sign up below to subscribe.  All recipes are spam free.