I get this question all the time, and the quick answer is...
Kind of.
Which is a disappointing answer at first, but it's also accurate because you have to take into account how many chiles are being used and what you're combining them with.
But if you want to just take a bite then here's where Hatch chiles stack up heat-wise against the other chili peppers: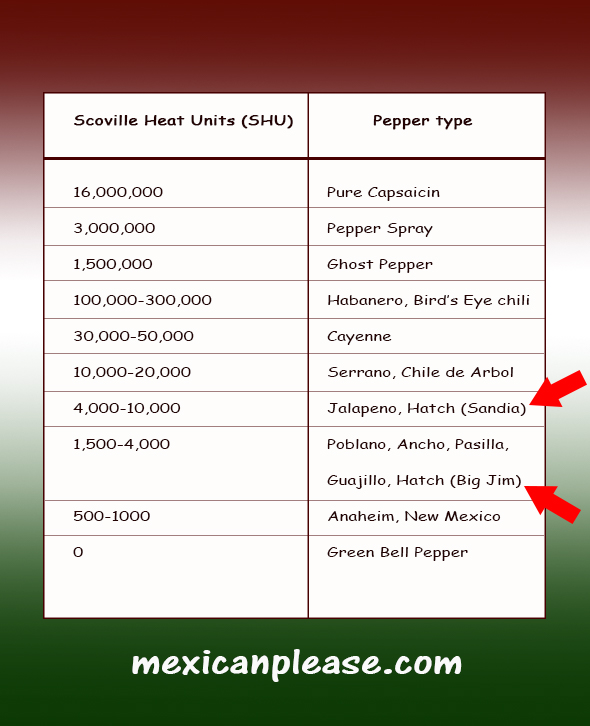 See how the Hatch falls in the same Scoville region as the Poblano chile? That puts them in the "relatively mild" category.
And it's no coincidence that Hatch chiles are approximately the same size as Poblanos. Size is a telling clue for a chile's heat level; smaller chiles tend to be hotter, and larger chiles tend to milder.
Keep in mind that you might frequently see Hatch chiles labeled as Big Jim or Sandia -- these are varieties grown in the Hatch region that will have similar flavor but with different heat levels. Typically the Sandia chiles will be the hottest.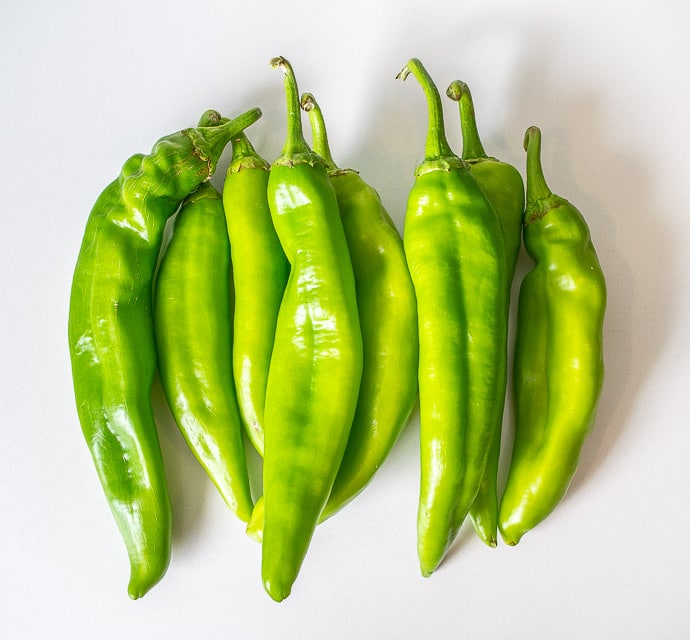 Okay, so let's take a look at a couple recipes to give you a better idea of how fiery your Hatch dishes will be.
In our Hatch Enchiladas Recipe we use 8 fresh Hatch chiles. Yes, 8!
These chiles are roasted and combined with only a single cup of stock. Since the chiles aren't diluted much the sauce will have ample heat, somewhere in the "medium" realm and probably a little more heat than you were expecting!
It's the same idea with our Poblano Soup. Poblanos are similarly mild, but when you use a bunch of them and don't dilute them much then you're going to have some heat!
And now compare that to our Hatch Chile Salsa where we combine the chiles with some roasted tomatoes.
This Salsa tends to be milder because the heat gets diluted by the tomatoes.
Which brings up a good point...
It's always easier to add heat to a dish then it is to take it away. That's why I frequently recommend adding the chiles incrementally the first time you make a Salsa or sauce.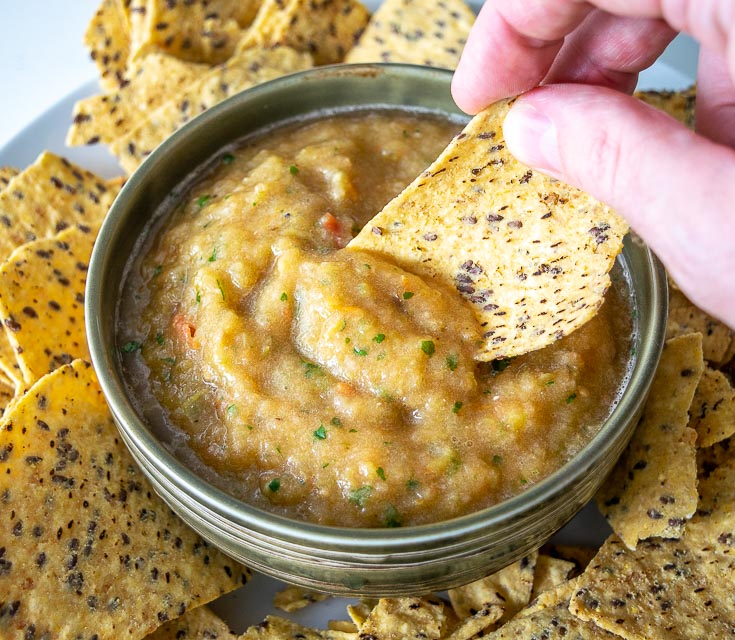 For example, if you are particularly sensitive to spicy foods then I would recommend roasting all of the chiles for the Hatch Salsa but only using half of them at first. After you combine them with the tomatoes you can take a taste. If you want more heat and more chile flavor then simply add more of the chiles.
Easy right?
Just keep in mind that Hatch chiles are relatively mild when compared to other chiles, but that doesn't mean they can't bring the heat! As with other chili peppers in the Mexican realm, it always depends on how you're using them.
Wait a sec, what exactly are Hatch chiles?
Hatch chiles are grown in the Hatch valley region of New Mexico, so if you want your chiles to fall under the Hatch umbrella then they need to have their roots in the Hatch valley.
The terrain is unique in that region and this will give you chili peppers that have one-of-a-kind flavor.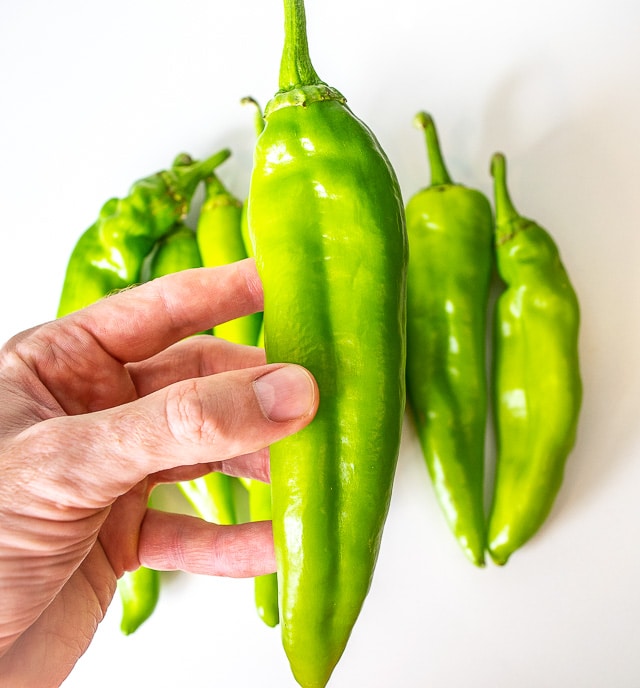 Sure, you can eat them raw, but roasted Hatch chiles are the real star. Roasting the chiles gives them a wonderfully smoky, sweet, buttery flavor that you won't get from other chiles.
Roasting them on the grill is a good option but you can just as easily plop them in the oven for 20-30 minutes and you'll get an equally good result. That's what I did with this batch and here's how they looked after 25 minutes (350F):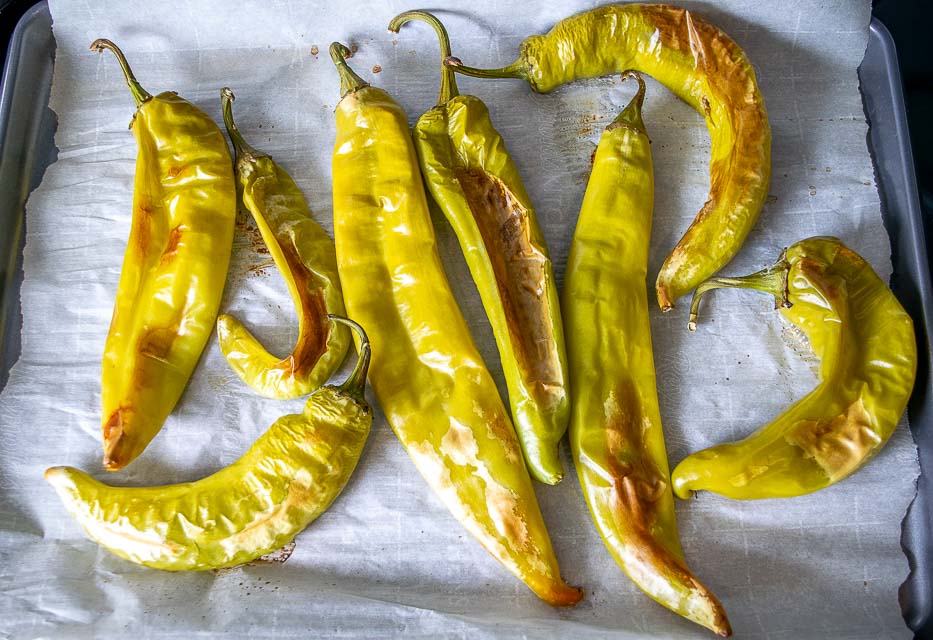 If the skins are peeling off you can get rid of them, but don't worry about it too much as it doesn't have much effect on the flavor. I usually just remove as much skin as I can and leave the rest.
Okay, I hope that helps solve Hatch chiles for you! Feel free to get in touch if you have any questions about them.
For reference, here are the Hatch recipes on this site:
Hatch Chicken Chile Verde. New!!
Buen Provecho.
Want the latest recipe? Click your favorite from these options and follow me: Instagram, Facebook, Pinterest, TikTok, YouTube.
Still hungry?!
Want to receive Mexican Please recipes via email when they are posted?  Sign up below to subscribe.  All recipes are spam free.