This Roasted Poblano Soup is proof that poblano peppers are introverts.  They don't do so well in groups and seem to prefer hanging out with one or two good friends.
And in this case, it's a final dash of acidity that gets the call.  That's all you need here to make the poblanos thrive, so don't worry about loading up the soup itself with lots of other ingredients.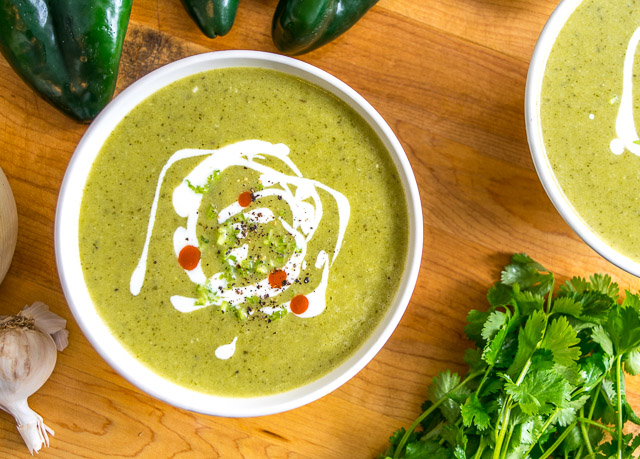 Roasted Poblano Soup Recipe
Not pictured is the smell of roasted poblanos wafting through your house.  But trust me, it's included with this recipe and it has the ability to instantly change your mood.
4-5 poblanos seems to be the sweet spot for this recipe.  Poblanos don't have much heat in them but it is possible to use too many.  This photographed version used six poblanos and was right on the threshold of too spicy for most of us.  (More info in our Are Poblano Peppers Hot? article.)
Give the poblanos a good rinse and roast them in the oven at 400F.  15 minutes later they'll look like this: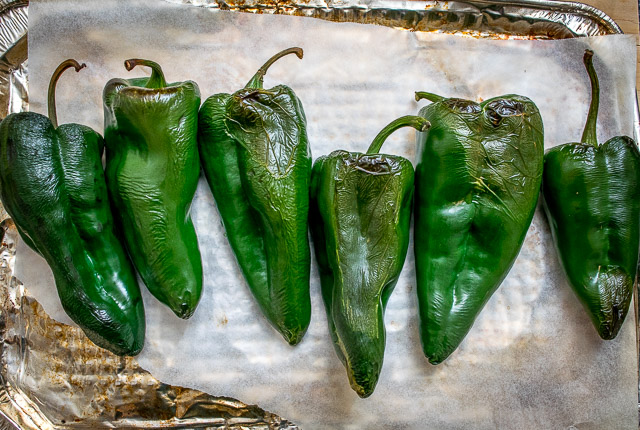 I usually give them a flip and put them back in the oven for as long as my stomach will wait: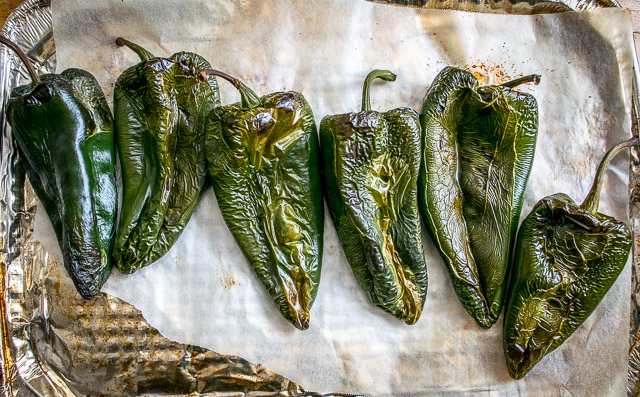 So that's about 25 minutes total in the oven.  I used to put these in a bag and let them steam up so the skin comes off easier, but not anymore.  Most of the skin will come off as is and I've found that it doesn't matter too much if you leave some of the skin behind.
Meanwhile, get a chopped onion sweating in 3 Tablespoons of butter for 5-7 minutes.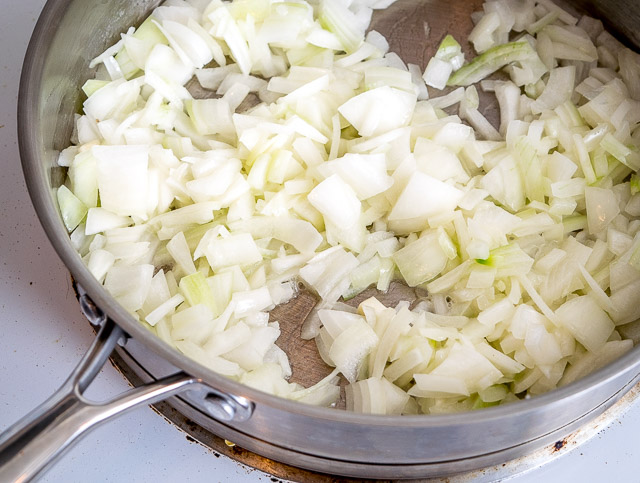 Add 3 cloves of minced garlic and saute for 1-2 minutes.
To thicken up the soup, we'll add 3 Tablespoons of flour and mix well.  Yes, the flour will stick to the onion a bit, but in the end it doesn't seem to matter too much.  A more traditional option would be to clear some space in the pan, add a bit more butter, and then whisk the flour directly into the butter (Thanks Chloe for this tip!).
This would probably get you a higher grade at culinary school, but I've tried both options and didn't notice much of a difference in the final product, i.e. the easy option wins.
Add 4 cups of stock, 1/2 teaspoon of salt, and some freshly cracked pepper.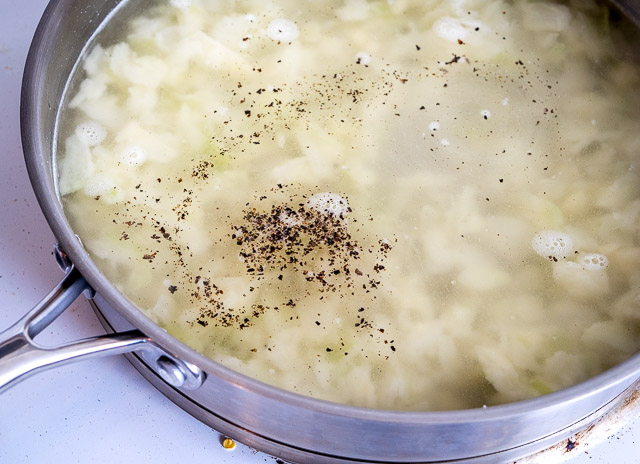 Let simmer for 10 minutes or so.
Once you've pulled as much skin off the peppers as you can, de-stem and de-seed them.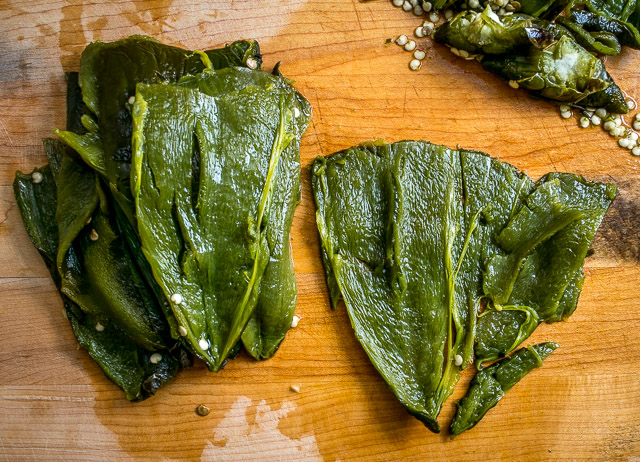 Roughly chop the poblanos and add them to the saucepan.   Simmer to bring everything to a uniform temp and then combine in a blender (or use an immersion blender).
Return soup to the saucepan and taste for salt.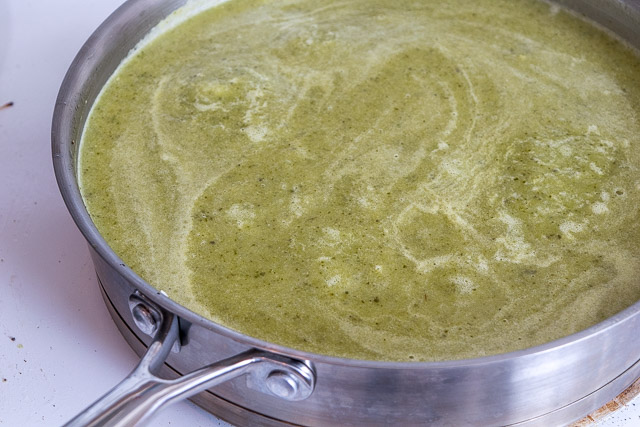 I used a batch of zero-sodium homemade stock so I added another 1/4 teaspoon of salt at this point.  If you are using storebought stock you might not need any additional salt.
You're left with a pan full of velvety goodness that already tastes good, but remember you're only halfway done 🙂
In other words, these poblanos need a good friend to hang out with.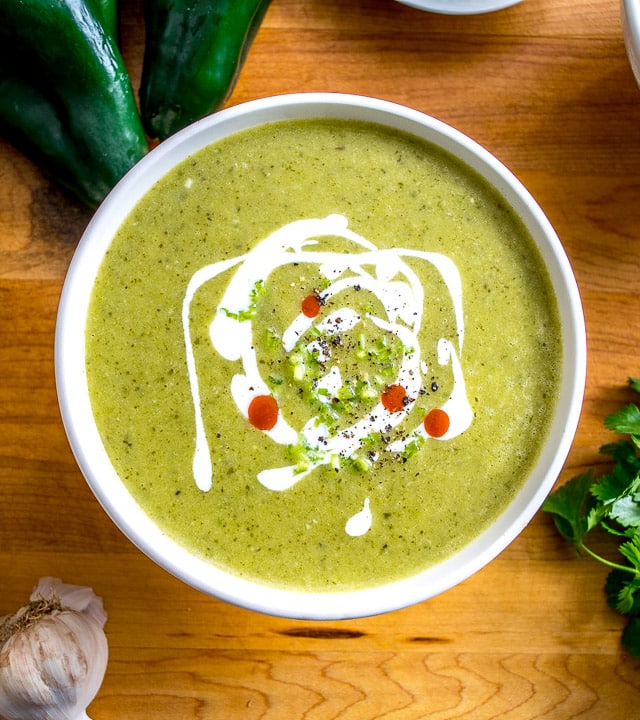 It's amazing what a hint of acidity does to this soup.  I'm using a few drops of Valentina hot sauce, but vinegar or lemon/lime juice would have a similar effect.  The acidity brightens up the flavor and makes everything pop.  So good!
I'm also using Crema, freshly cracked black pepper, and finely chopped cilantro stems.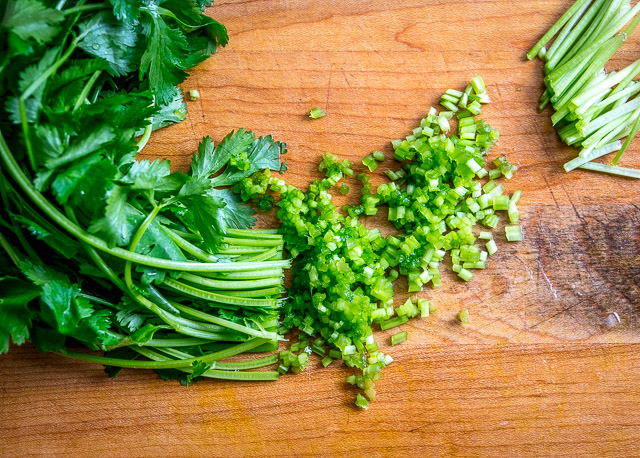 The little crunch of the cilantro stems was far superior to diced cilantro leaves and it forced me to google mouthfeel.  I learned that there are lots of different ways to say "This tastes good."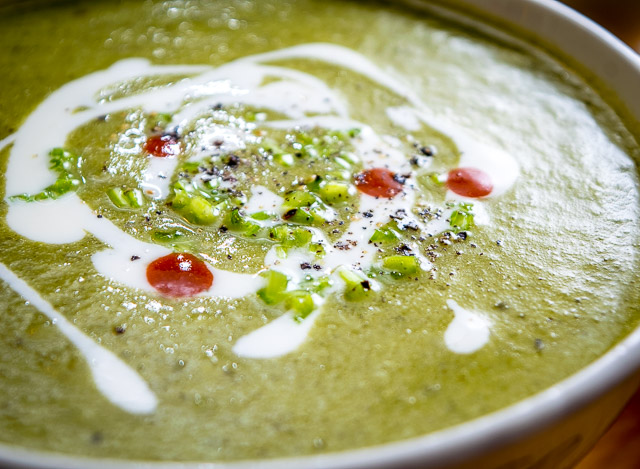 I also wanted to mention that I've tried this recipe with the cream mixed into the soup and found that it dulled the flavor of the poblanos too much.  No bueno.  But garnishing with cream and snagging a bit of it for each bite works wonders.
That means that once you make your way through the top garnish, you have full permission to add another layer.  Think of it as looking out for the well-being of the poblanos.  Everyone needs a bestie right?
Buen Provecho.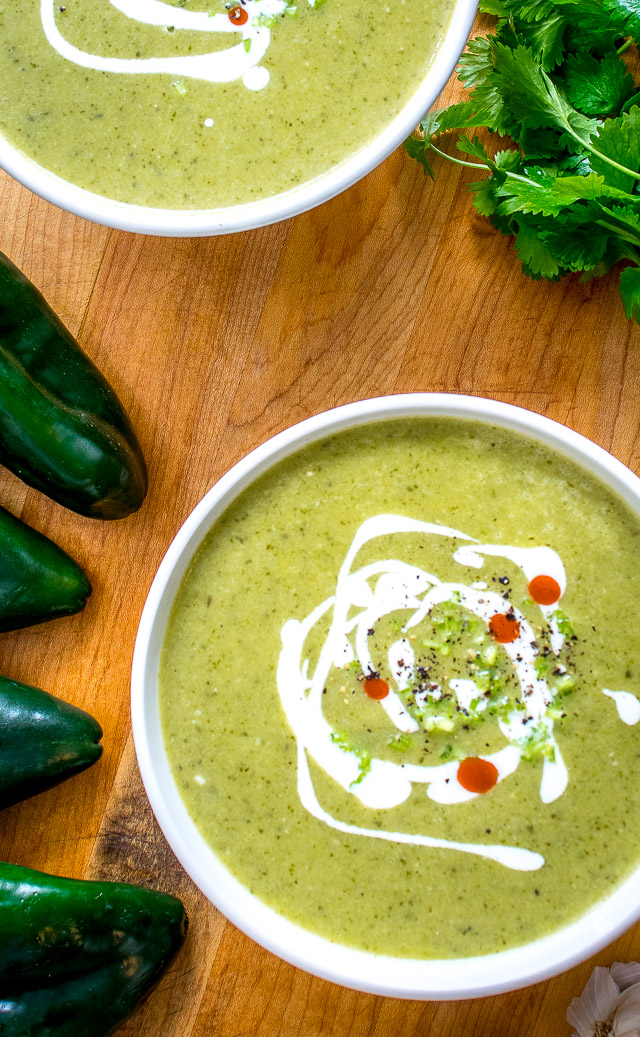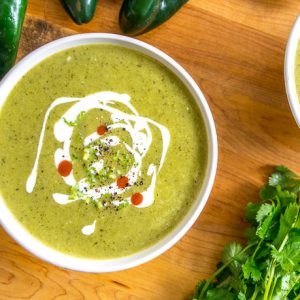 Roasted Poblano Soup
The key to this Roasted Poblano Soup is getting creative with the garnish. Crema, cilantro stems, and a dash of acidity will turn it into something otherworldly. So good!
Print
Pin
Rate
Ingredients
4-5

poblano peppers

1

onion

3

garlic cloves

3

Tablespoons

butter

3

Tablespoons

all purpose flour

4

cups

stock

1/2

teaspoon

salt (plus more to taste)

freshly ground pepper
For the garnish (optional)
finely chopped cilantro stems

Crema

(or heavy cream or sour cream)

hot sauce

freshly ground pepper
Instructions
Rinse the poblanos and roast on a baking tray at 400F. Give them a flip after 15 minutes. They'll be mostly roasted in another 10-15 minutes, so 25-30 minutes total roasting time in the oven.

Add 3 Tablespoons butter to a saucepan on medium heat. Chop an onion and add to the saucepan, sauteing for 5-7 minutes. Mince 3 garlic cloves and add to the onion, cooking for 1-2 minutes

Add 3 Tablespoons flour to the onion mixture and mix well. Add 4 cups of stock along with 1/2 teaspoon salt and freshly cracked pepper. Stir well. Bring to a simmer and cook for 8-10 minutes.

Once the poblano peppers have cooled a bit, pull off as much skin as you can. Then de-stem and de-seed the poblanos.

Roughly chop the poblanos and add them to the saucepan. Cook until everything is at a uniform temp and then combine the mixture in a blender (use caution when blending hot liquids).

Return mixture to the saucepan and simmer for 5-10 minutes. Salt to taste. I added another 1/4 teaspoon of salt.

Serve immediately but don't forget to garnish! I used Crema, finely chopped cilantro stems, freshly ground pepper, and a couple dashes of Valentina hot sauce.

The acidity of the hot sauce pairs well with the poblanos so feel free to re-garnish once you make your way through the top layer.

Store leftovers in an airtight container in the fridge.
Notes
I used
homemade stock
with this recipe. Storebought stock typically has a higher sodium level so adjust accordingly. Poblano size varies. I would suggest using 3-4 if they are larger, and 5-6 if they are smaller. I used Valentina hot sauce to add a hint of acidity but there are lots of options for this: lemon/lime juice, vinegars, or your choice of hot sauce. I tried this recipe with cream mixed into the soup but didn't like it as much. I preferred it when the cream was used as a garnish.
Like this recipe?
Click the stars above to rate it or leave a comment down below! @mexplease
Got leftover Poblanos?  Make some Rajas!  Or check out these Poblano Pepper Recipes.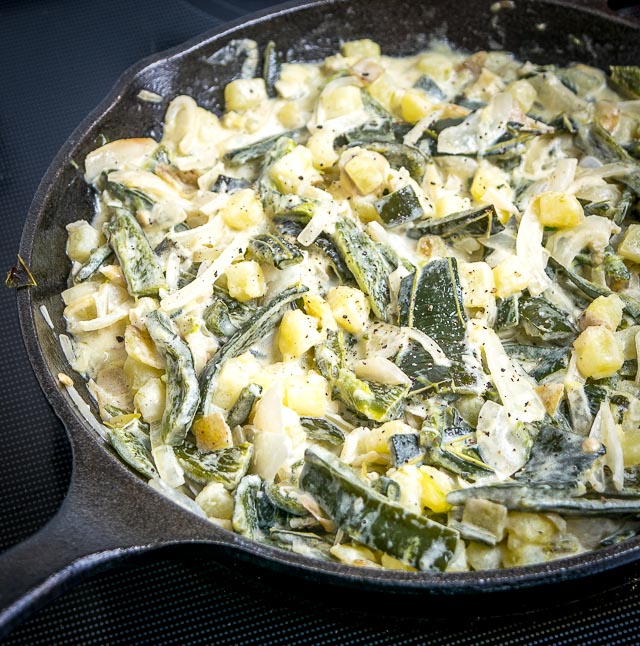 Our latest post is this delicious Avocado Soup.