Warning: super concentrated Hatch flavor lies ahead!
Yes, it's that time of year so keep an eye out for fresh Hatch chiles in your local markets. If you're new to them here's what a few pounds worth looks like: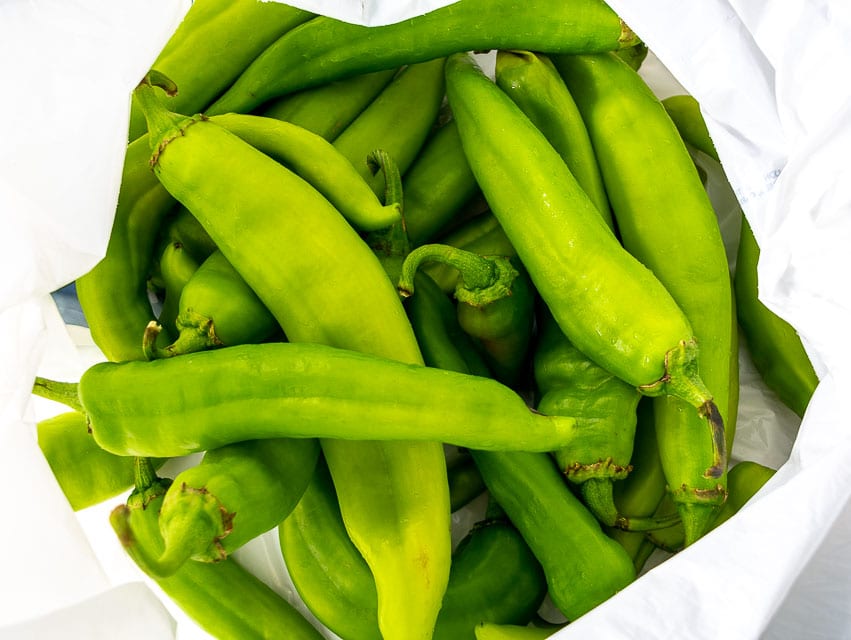 They look similar to Anaheims, but Hatch chiles have a unique flavor that's generated in the Hatch valley of New Mexico. So yes, to officially be a Hatch you must be hatched in Hatch.
Once roasted they'll have a sweet, rustic, almost buttery flavor that has made them quite popular amongst chiliheads.
Note that Hatch chiles are known more for their flavor than their heat. Here's where they stack up in the Scoville Scale: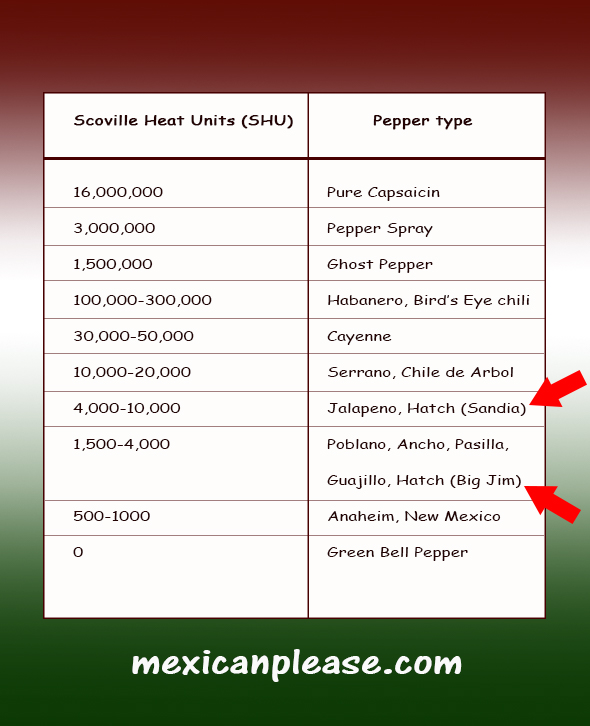 The two Hatch varieties in the above pic are the ones you'll frequently come across in grocery stores: Big Jim and Sandia. They have similar flavor but the Sandia variety is usually hotter.
I'm using the Big Jim Hatch variety for today's Salsa and since these are relatively tame chiles we'll be using 4-5 of them as the base. Here's what they look like after roasting for 25 minutes.
Sure, you can roast these on the grill or over open flame, but the oven is the easiest and that's what I usually do -- 400F for 20-30 minutes. Not pictured is the delightful smell of roasted Hatch chiles filling up your home.
See how the skins are puffing up?
You can peel off and discard the skin if it comes off readily, but don't worry about getting rid of every last bit as it won't affect the flavor too much.
You can also get rid of the stems and seeds at this point. Some tips on handling hot chili peppers.
We'll add the chile pieces to a blender along with:
1-2 roasted plum tomatoes
2 garlic cloves
1/4 onion
6-8 sprigs cilantro (optional)
1/4 teaspoon salt (plus more to taste)
splash of water
I usually start with one tomato, blend, and then do some taste testing.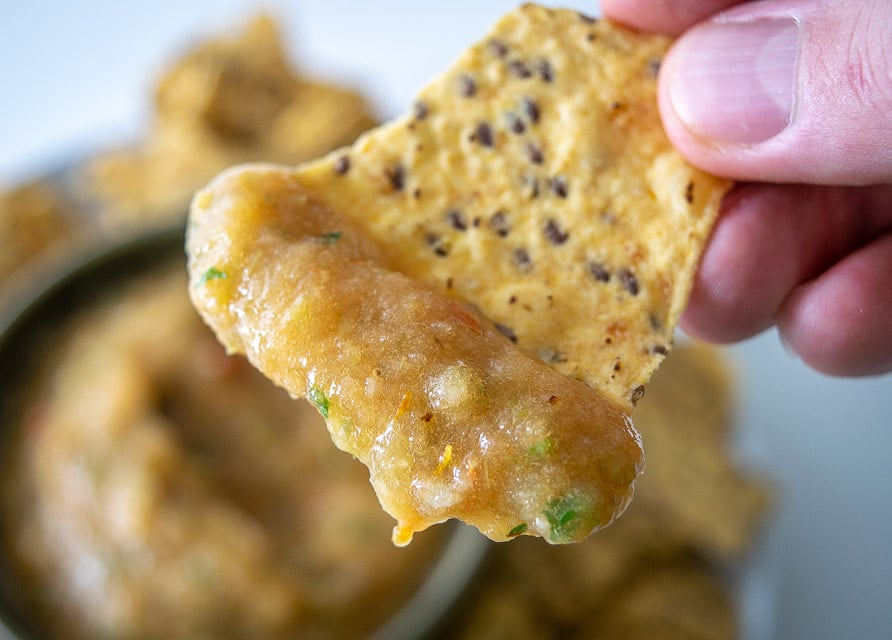 To keep the Hatch flavor at the forefront we're adding the absolute minimum of additional ingredients. I only used one tomato for this batch as I am a sucker for a big, bold roasted chile flavor.
And even though these chiles are relatively mild you'll still get some zip because we are using so many of them. If you prefer things on the milder side then consider roasting all of them but only adding in 2-3 to start with -- then blend together, taste test, and add more if you want.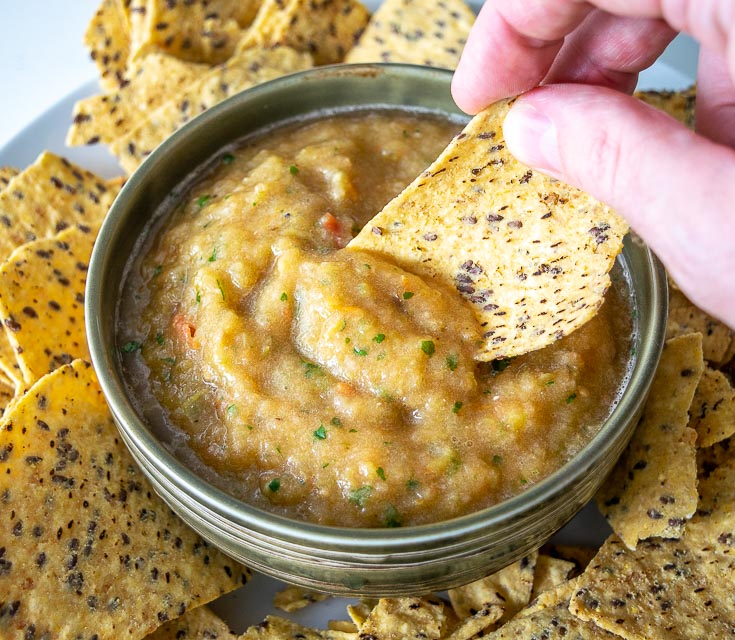 You'll get a bowl full of roasted chile goodness and it's a great introduction to Hatch chiles.
It'll be warm out of the blender and I definitely prefer it that way, so if you are re-using some leftovers I would consider giving them a simmer before serving.
Okay, keep an eye out for some Hatch chiles in your local markets over the next few weeks. Yes, you can usually find frozen, roasted Hatch chiles in today's freezer aisles, but it's definitely worth roasting your own if the opportunity arises.
I'll put up a Hatch Enchilada recipe over the next couple weeks so keep an eye out for that one. Happy Hatch hunting!
Buen Provecho.
Want the latest recipe? Click your favorite from these options and follow me: Instagram, Facebook, Pinterest, TikTok, YouTube.
Roasted Hatch Chile Salsa
This Hatch Chile Salsa recipe is a great introduction to the addictive flavor of Hatch chiles -- sweet, rustic, buttery goodness. Yum!
Print
Pin
Rate
Ingredients
4-5

Hatch green chiles

1-2

plum tomatoes

2

garlic cloves

1/4

onion

5-6

sprigs

cilantro (optional)

1/4

teaspoon

salt (plus more to taste)

splash of

water
Instructions
Start by giving the Hatch chiles and tomatoes a good rinse. Roast the tomatoes and chiles in a 400F oven for 20-30 minutes.

De-stem and de-seed the roasted chiles. You can also pull off and discard any loose bits of skin from the chiles. De-stem the tomatoes as well.

Add the chile pieces and one of the tomatoes to a blender along with 2 peeled garlic cloves, 1/4 onion (I used white onion), 5-6 sprigs of cilantro (optional), 1/4 teaspoon of salt, and a splash of water. Combine well. You can optionally add the second roasted tomato, I only used one for this batch to keep the Hatch flavor at the forefront.

Take a final taste for seasoning, adding more salt if necessary. You can also add another splash of water if you want it a bit thinner.

Serve immediately and store leftovers in an airtight container in the fridge.
Notes
I usually twist off and discard the bottom, thicker portion of the cilantro stems, but use the upper portion that holds the leaves together. 
Roasting the chiles on a grill or over open flame are viable options too. 
More info on the heat level of Hatch chiles. 
Like this recipe?
Click the stars above to rate it or leave a comment down below! @mexplease
Got more Hatch chiles on hand? How about making a batch Hatch Enchiladas?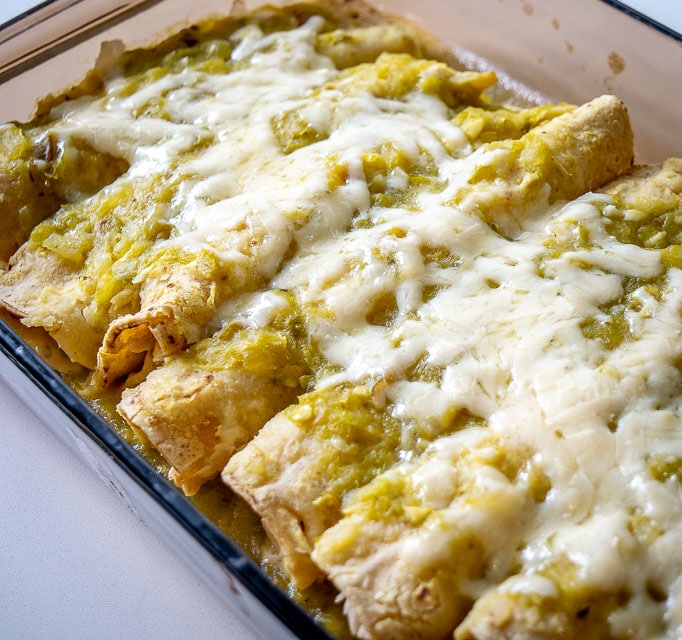 Still hungry?!
Want to receive Mexican Please recipes via email when they are posted?  Sign up below to subscribe.  All recipes are spam free.