Have you tried this Huevos Ahogados recipe yet? It's an old favorite but I wanted to mention that I've been adding some leftover Hatch chile pieces to the broth and it is delish!
Poached eggs swimming in a warm Tomato-Jalapeno broth is a real treat, so consider giving it a go if you're new to it. You can stick to the original recipe and you'll be a happy camper, or if you have Hatch chiles on hand you can add in a few for another layer of flavor.
Either way, give this technique a try and you might find a new favorite dish for breakfast. And lunch. And dinner.
And I promise this will be the last mention of Hatch chiles...until next season 🙂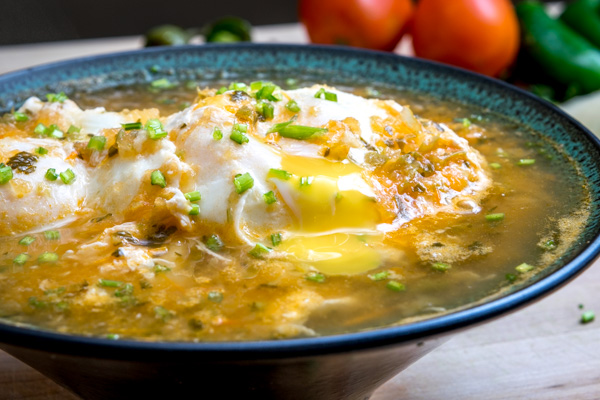 Authentic Huevos Ahogados Recipe
The literal translation of Huevos Ahogados is drowned eggs. In this case, eggs drowned in fresh Tomato-Jalapeno salsa.
If drowned eggs sounds too somber, you can refer to them as Huevos Abrazados, which translates to eggs embraced or hugged (by salsa!).
A traditional tomato-based salsa tinged with some vibrant cilantro is the perfect candidate to hug your eggs.
Here are the dry ingredients for the salsa: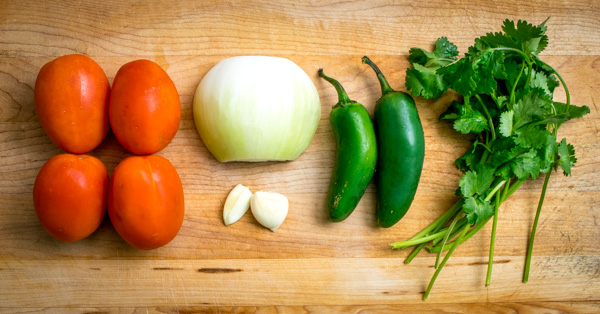 We'll start by roasting the tomatoes and jalapenos to deepen their flavors. You can blacken them on the stovetop if you want, but lately I just throw them in the oven for simplicity (400F). And if you're adding in some Hatch chiles simply roast them along with the tomatoes.
Note: two jalapenos gives this sauce some kick. If you prefer a milder sauce you can omit one of the jalapenos.
In 15-20 minutes they'll look like this: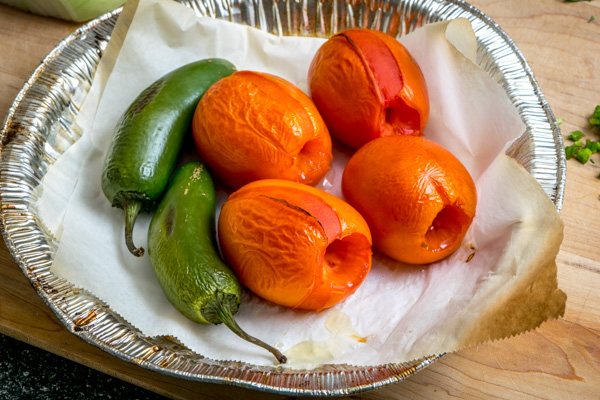 Once roasted, add the tomatoes and de-stemmed jalapenos to a blender along with:
1/2 onion (I used white)
2 cloves garlic
8-10 sprigs cilantro
Pulse blend until you have thick liquid.
Add a dollop of oil to a high-rimmed saucepan on medium heat (I used lard!). The pan needs to be deep enough to allow the eggs room to poach in the liquid.
Saute the salsa for a few minutes until thickened slightly.
Add 2-3 cups of chicken stock along with 1/2 teaspoon salt and bring to a boil.
(I'm pulling a 4 cup container of homemade chicken stock from the freezer, but you can use veggie stock if you want, or even water, just know that you'll probably need a little more liquid than just the salsa for the eggs to have enough depth to poach. Also, adding 1/2 teaspoon of salt might be too much if you are using store-bought stock. I would recommend salting to taste if that's the case.)
It's easiest to add the eggs one at a time to the broth. Cracking them in individual bowls can help with this.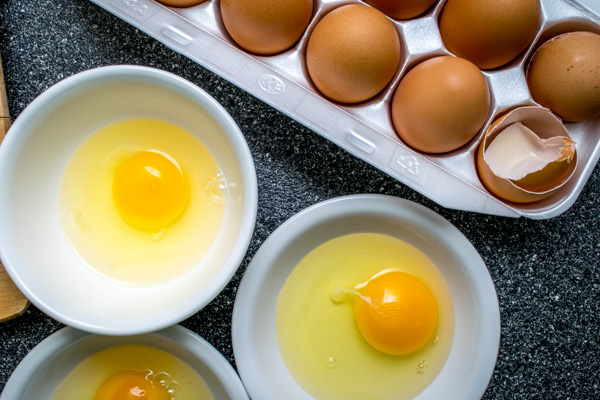 Once the salsa mixture is boiling, reduce heat to maintain a steady simmer.
Add the eggs to the salsa broth.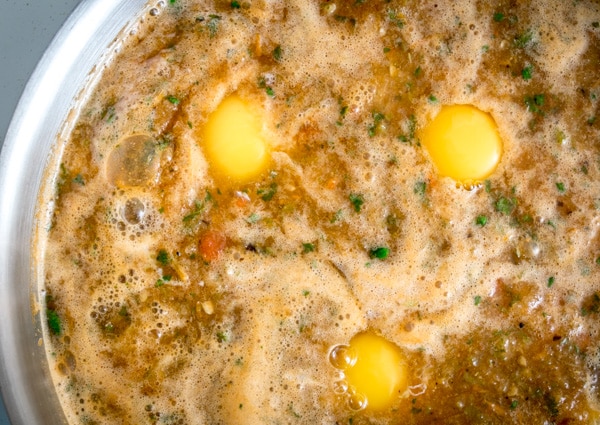 As they start to set, you can spoon some salsa over the top of the eggs to help them set further.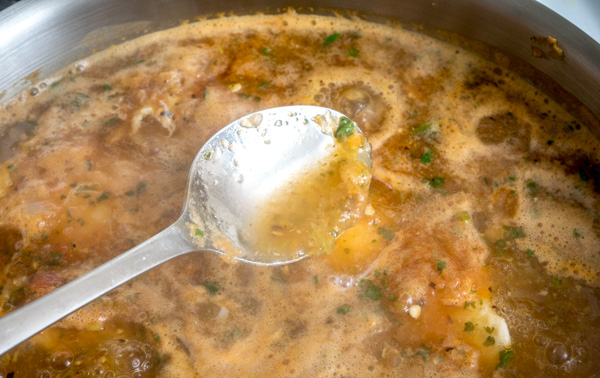 It'll take 5-7 minutes for firm whites and runny yolks, and a couple minutes longer for cooked yolks.
Serve in a dish that lets the eggs sit in plenty of the salsa mixture, because it is delicioso.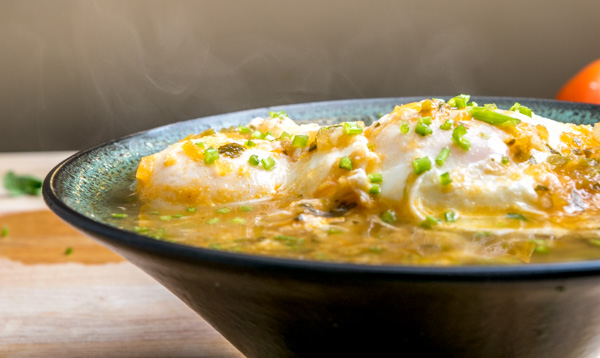 Season with salt and cilantro (optional).
You've got lots of options for sides: warm corn tortillas, toast, even bagels....but my go-to option lately is a bean and cheese quesadilla in a flour tortilla. Simply add some refried beans and cheese to half of a flour tortilla, then fold onto itself and crisp it up in a dry skillet over medium heat.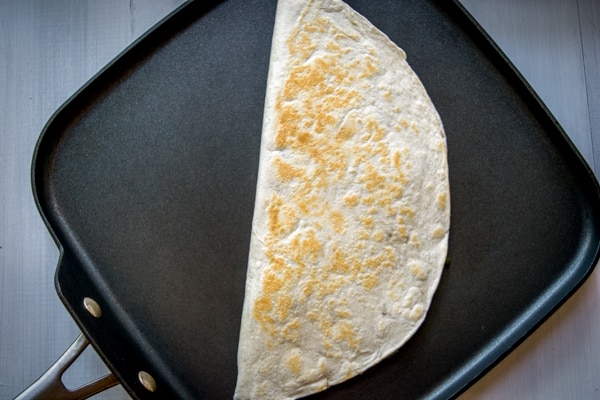 Dipping a crispy quesadilla into the salsa mixture is almost as good as hugging eggs with salsa!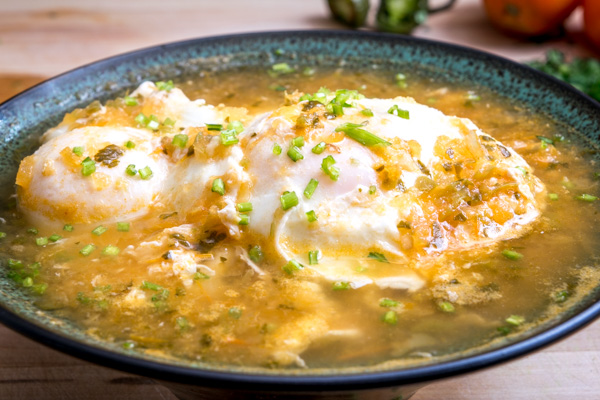 Yum!
Okay let me know if you have any questions about these Huevos Ahogados. It's one of those recipes that seems to fly under the radar but once you try it you'll be hooked. Or hugged. Or happy.
Buen Provecho.
Scroll down for the recipe box, and feel free to use the comments section below if you have questions or want to leave feedback on this recipe. For up-to-date recipes follow us on Facebook, Pinterest, or Instagram.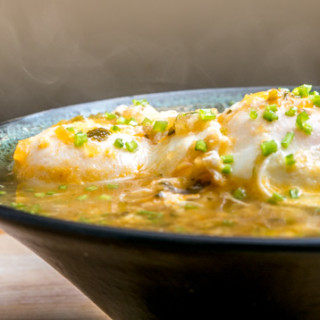 Huevos Ahogados -- Eggs Drowned in Salsa
Eggs poached in a traditional Tomato-Jalapeno salsa can do wonders for grumpy mornings!
Print
Pin
Rate
Ingredients
4

tomatoes

2

jalapenos

(serranos will work too)

1/2

white onion

2

cloves

garlic

10-12

sprigs cilantro

6

eggs

2-3

cups

chicken stock (or veggie stock)

1/2

teaspoon

salt (plus more to taste)

cilantro for garnish

(optional)

2-3

Hatch chiles (optional)
Instructions
Roast the tomatoes and jalapenos in the oven at 400F for 15-20 minutes.

Add the tomatoes, jalapenos (de-stemmed), 1/2 white onion, 2 cloves garlic, and 10-12 sprigs cilantro to a blender. Pulse blend until you have a thick liquid.

Add a dollop of oil (or lard) to a high-rimmed saucepan. Saute the salsa mixture from the blender until slightly thickened, 4-6 minutes.

Add 2-3 cups of stock and 1/2 teaspoon salt. Stir well and bring to a boil. Reduce heat to maintain a steady simmer. Salt to taste.

Cracking the eggs in individual bowls makes it easier to slide them into the broth. Add the eggs to salsa mixture.

Cook the eggs 4-6 minutes for runny yolks, or a couple minutes longer for firm yolks.

Serve the eggs in bowls along with plenty of the salsa broth. Taste for seasoning and garnish with fresh cilantro (optional).

Corn tortillas, toast, or crispy quesadillas are all good options to dip into the delicious broth.
Notes
While traditionally made using chicken stock, any stock will do in this recipe.
Be sure to serve with lots of the salsa mixture, it's delicious!
The exact amount of stock you need to add will depend on the pan you're using.  Just ensure the liquid is deep enough for the eggs to poach in. 
I've been adding 2-3 roasted Hatch chiles to this recipe recently, but that is optional.   You can roast them along with the tomatoes and then de-stem, de-seed, and pull off as much skin as you can before adding them to the blender.
Like this recipe?
Click the stars above to rate it or leave a comment down below! @mexplease
Prefer chipotles? We recently made a batch of Eggs Poached in Chipotle Salsa.
And if you still have eggs on the brain, try making Huevos Divorciados, Huevos Rancheros or Huevos a la Mexicana.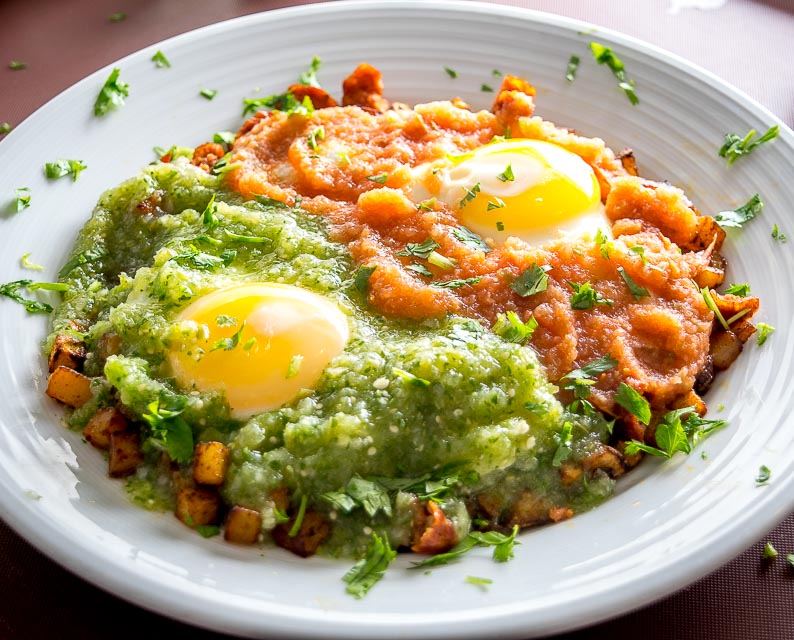 And serve them up with our Skillet Cornbread or our Poblano Breakfast Potatoes.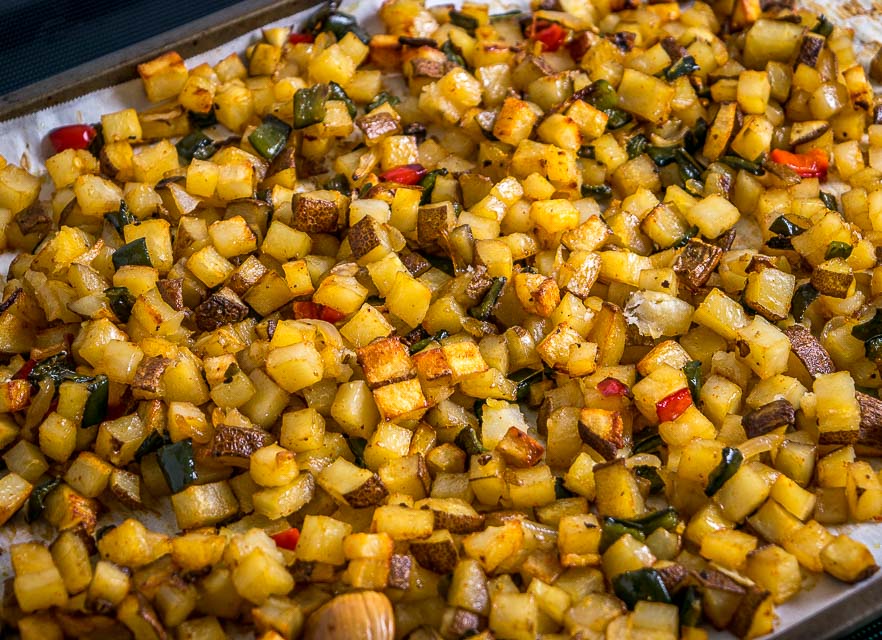 Still hungry?!
Want to receive Mexican Please recipes via email when they are posted?  Sign up below to subscribe.  All recipes are spam free.