I always come back to this Tomato Jalapeno Salsa. Even after dozens of other salsa expeditions to far away flavors, I always come back. A warm salsa blended together moments ago simply cannot be beat.
Don't let the innocent looking ingredient list fool you. It's one of the simplest Mexican recipes in existence, but it also happens to be one of the most satisfying. Roasting the tomatoes is the hidden step that will have you boycotting your grocer's salsa aisle.
For anyone new to home-cooked Mexican, or anyone sick of their local taco joint, I always recommend starting with this salsa. It's the perfect example of the sum being far greater than the parts.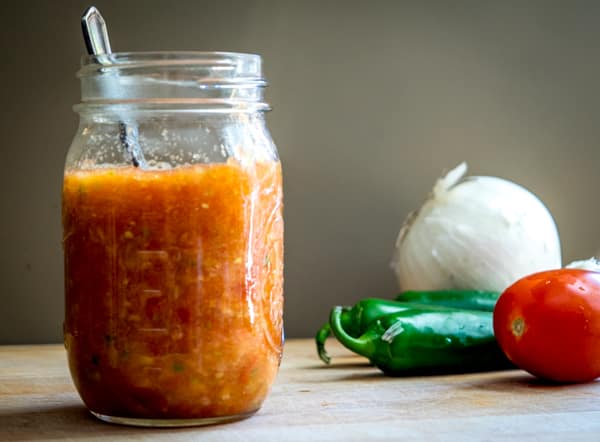 Tomato Jalapeno Salsa Recipe
Here is your ingredient list for 2 cups worth of delicious Salsa Roja: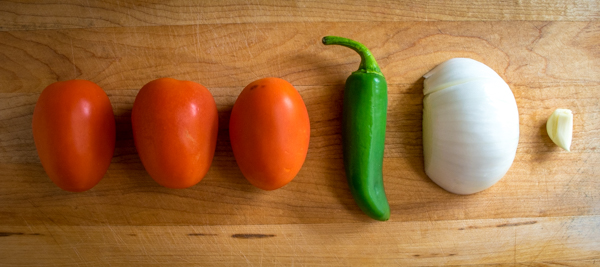 Not pictured is the absolutely crucial step that I've already hinted at. You MUST roast the tomatoes if you want the salsa to taste authentic. This sweetens them up, lowers the acidity, and makes the salsa warm (yes!).
I usually put them in the oven at 400F for 20 minutes or so. I recommend you start by trying that method too. (Other ways to roast tomatoes.)
Start by rinsing the tomatoes and cutting out the stems. Leaving the stems is fine too but I'm in the habit of cutting them out.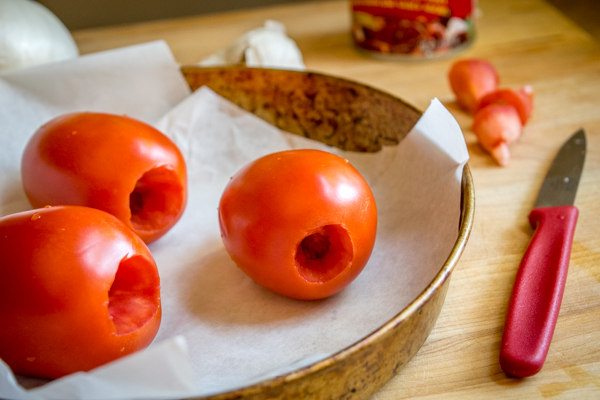 Put them in the oven at 400F. After 20 minutes or so they'll look like this: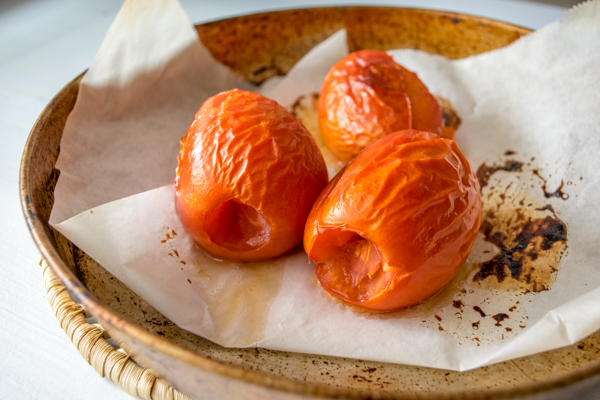 You can leave the skins on; it won't affect the flavor too much either way. But if the skins char considerably then I tend to pull them off.
Into the blender they go, along with ½ onion, 1 clove garlic, and if it's your first time making this salsa, add only one quarter of the jalapeno for now. (Do I use white or yellow onion?)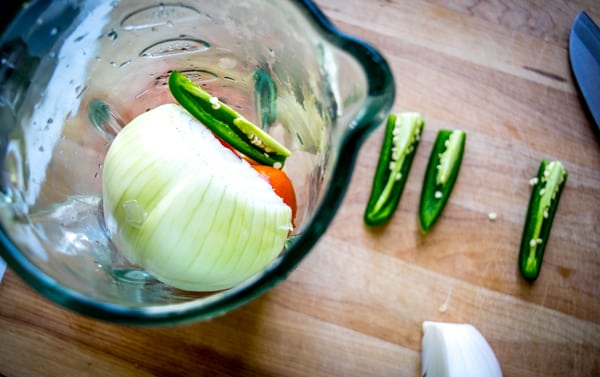 Start by pulse blending. We don't want to blend it 'til it's thin and frothy. It'll taste better if it's left chunky.
And now the most important part: taste it! Be honest about the heat level. Not enough? Just right?
Most people will say not enough. If so, add in another ¼ of the jalapeno, give it a pulse blend and try it again. Heat level good? (More info on heat and capsaicin here.)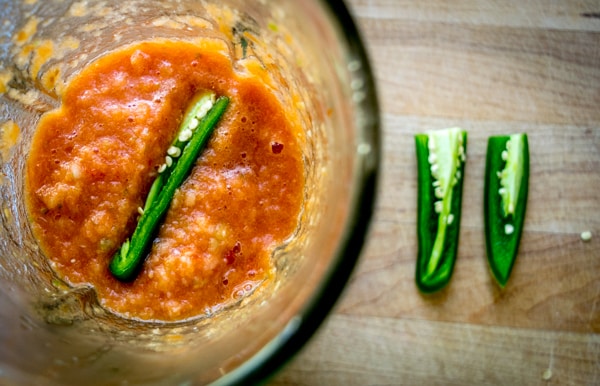 Keep going until it tastes right to you. Everyone's taste buds are different and most salsa recipes overlook this. It's worth it to add the heat incrementally the first time you make it.
Eventually you'll get good at knowing your preferred heat/spice level and can streamline this process in the future. For example, I usually start by adding ½ of the jalapeno, tasting, and then adding more if necessary
OK, you've got the heat level you like, the sauce is pureed roughly, and now you can add some salt to taste. The majority of the time I make this salsa I don't add salt because the flavor is already rich enough for me. If you have tomatoes that were struggling, a pinch of salt may enhance them.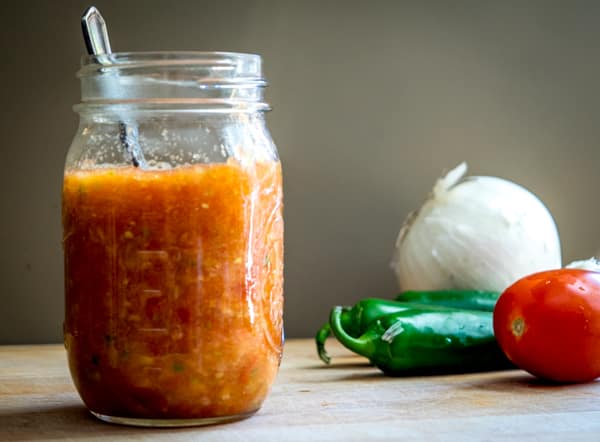 And that's it! This is the world's easiest salsa to make but it also happens to create one of the most unique flavors across all cuisines.
Not shown in the above photo is your friends and family's reaction to tasting a warm salsa after eating cold-salsa-from-the-jar their entire lives. Be warned.
Roasting the tomatoes and adding the heat incrementally are two techniques that will become a permanent part of your Mexican weaponry. Even after trudging through salsa recipes with 15 ingredients there's a good chance you'll always come back to the flavor of this one.
Buen Provecho.
Want the latest recipe? Click your favorite from these options and follow me: Instagram, Facebook, Pinterest, TikTok, YouTube.
Tomato Jalapeno Salsa
Roasting the tomatoes and adding the jalapeno incrementally is the key to finding your perfect homemade salsa!
Print
Pin
Rate
Ingredients
3

tomatoes

1/2

small onion

1

jalapeno

1

garlic clove

salt to taste
Instructions
Rinse and de-stem the tomatoes. Roast the tomatoes in the oven at 400F for 20-30 minutes.

Add the roasted tomatoes to a blender along with 1/2 onion, 1 garlic clove, and only 1/4 of the jalapeno. Pulse blend until combined.

Taste for heat level. Add another 1/4 of the jalapeno if you want additional heat. Keep adding additional quarters of the jalapeno until you find a heat level that works for your taste buds.

Salt to taste. Serve immediately.

Store leftovers in an airtight container in the refrigerator.
Notes
A quick simmer can bring this Salsa to life if you are dealing with out of season tomatoes.  Simply add a dollop of oil to a skillet over medium heat and simmer the Salsa for 5-10 minutes.
I highly recommend adding the jalapeno pepper incrementally the first few times you make this Salsa.  This will give you a good idea of the heat level your palate prefers.
Typically I do not add salt to this salsa but it depends on the tomatoes.
Pan roasting the tomatoes works too if you don't want to roast them in the oven.
You can always substitute a serrano for the jalapeno, just know that it's got more heat.  Serrano vs. Jalapeno:  What's the Difference?
Want to add tomatillos?  See our Roasted Tomato and Tomatillo Salsa.
Like this recipe?
Click the stars above to rate it or leave a comment down below! @mexplease
We use this Tomato Jalapeno Salsa to make an epic batch of Chicken Tacos. Or you can see more jalapeno recipes here.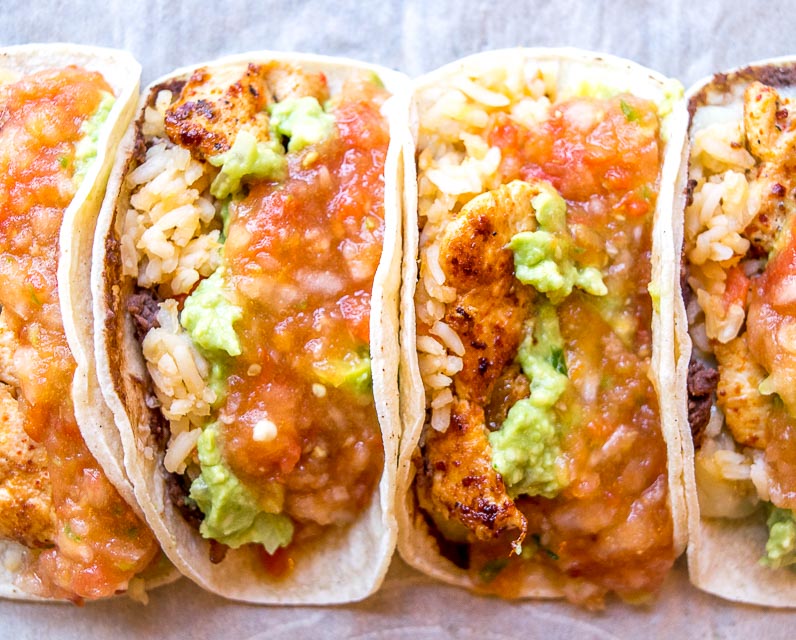 If you have access to a molcajete (mortar and pestle) it's worth trying it with this recipe. Here are details on using a molcajete.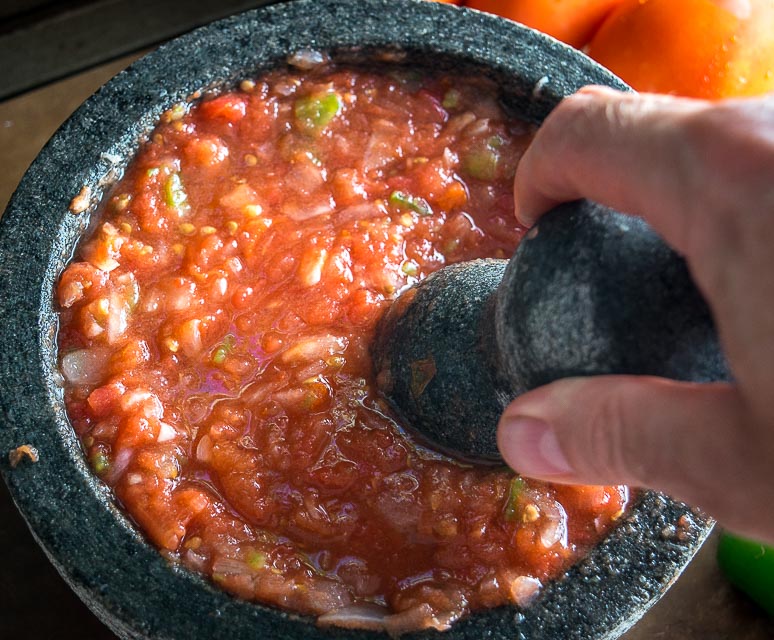 And our latest article shows how to make the same Salsa four different ways.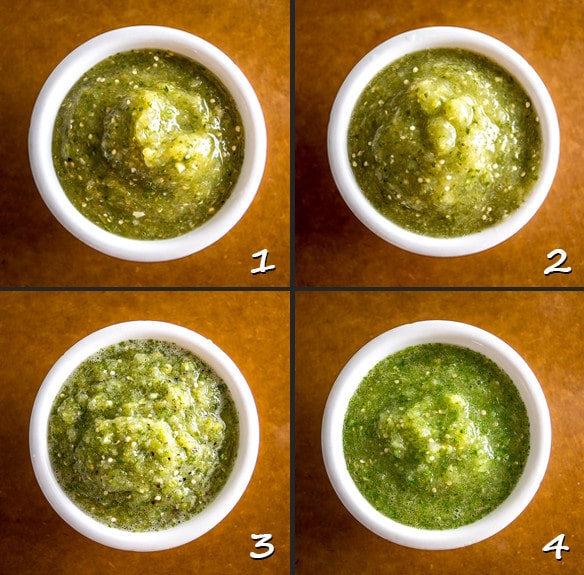 Still hungry?!
Want to receive Mexican Please recipes via email when they are posted?  Sign up below to subscribe.  All recipes are spam free.