Avocado Salsa Verde usually inspires a gushing "What is this?" from those who've never made it at home before.  It has such a vibrant, distinct flavor that people assume there are some big-time chef skills involved in producing this masterpiece.
But there's not.  It happens to be one of the easiest of Mexican sauces to make, and once it's part of your repertoire you'll come back to it time and time again.
In addition to being the ultimate you complete me partner for dishes like Spicy Black Bean Nachos, this Avocado Salsa Verde  will instantly improve just about anything you pair it with.
This is Recipe #13 of our free
Mexican Cooking Survival Guide
that details 27 droolworthy Mexican recipes you can make from a simple, inexpensive pantry list.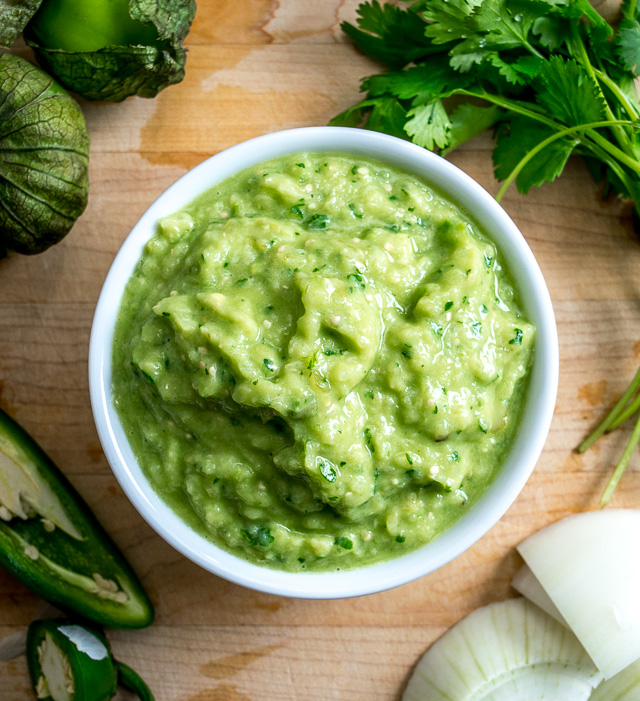 Avocado Salsa Verde Recipe
After serving this to your loved ones and accepting all forms of compliments, you might feel a pang of guilt for not giving credit to Mother Nature for the two gems that make this magic happen.
Particularly, a ripe avocado.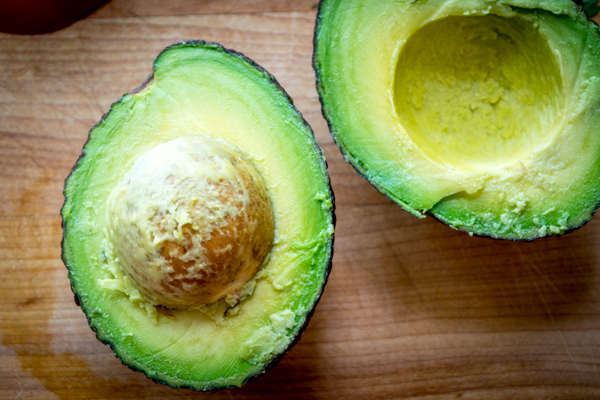 And some fresh tomatillos.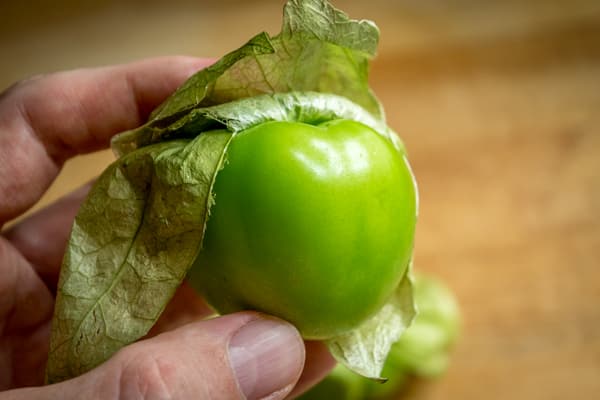 If you've never bought tomatillos before, you can usually find them near the jalapenos in the produce section.  Take a peek under the husk and buy the ones that are taut and green on the inside.
Of course, some markets don't carry them at all as the dreaded salsa aisle is constantly reducing demand for the real deal.  If you can't find them at your go-to grocer, it's worth trying a gourmet store or a Latin market.
And don't forget that you can always default to using canned tomatillos.  You'll still end up with a sauce that's far superior to anything you can buy pre-made.   You'll find canned tomatillos in any market that has a Latin goods section.
Okay, assuming you've got 4-5 fresh tomatillos on hand, first pull off the husks.  They'll be sticky on the inside so give them a good rinse.
Uncooked tomatillos are tart and acidic, so we'll roast them to sweeten them up and lower their acidity.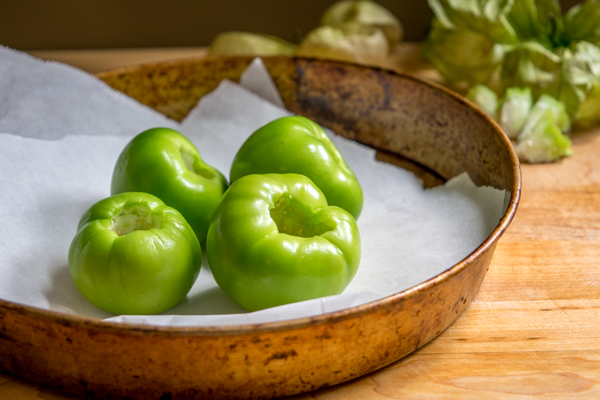 My default method is to put them in the oven at 400F.  I typically cut out the stem portion but you can consider this optional.
10-15 minutes later they'll start to shrivel and turn army green.  Done!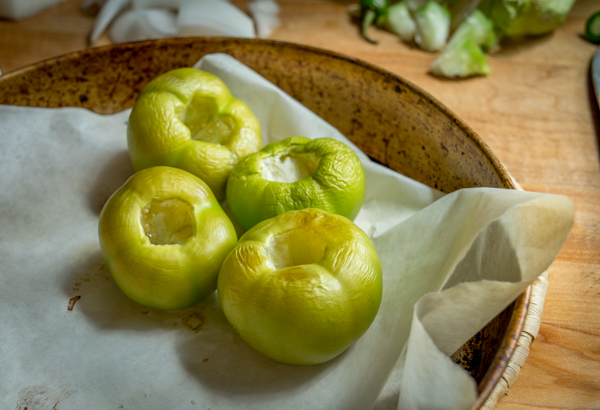 If you're using canned tomatillos, you don't have to roast them as it won't have the same effect on them.
Add the tomatillos to a blender or food processor along with 1/2 onion, 1 garlic clove, 1/2 jalapeno pepper (or serrano), and 10-12 sprigs of cilantro.  Pulse blend the ingredients and give a taste for heat level.  If it's not spicy enough for you add the other half of the jalapeno (or serrano).
Note that Salsa Verde is typically made with serrano peppers but we are using jalapenos here.  Serranos are sharper and have a slightly different flavor than jalapenos.  But they are so closely related that 75 percent of the time I make Salsa Verde I am using jalapenos.  So don't sweat it if it's hard to find serranos in your neighborhood as jalapenos will give you an equally good result.
Once you're happy with the heat level add the avocado and blend together.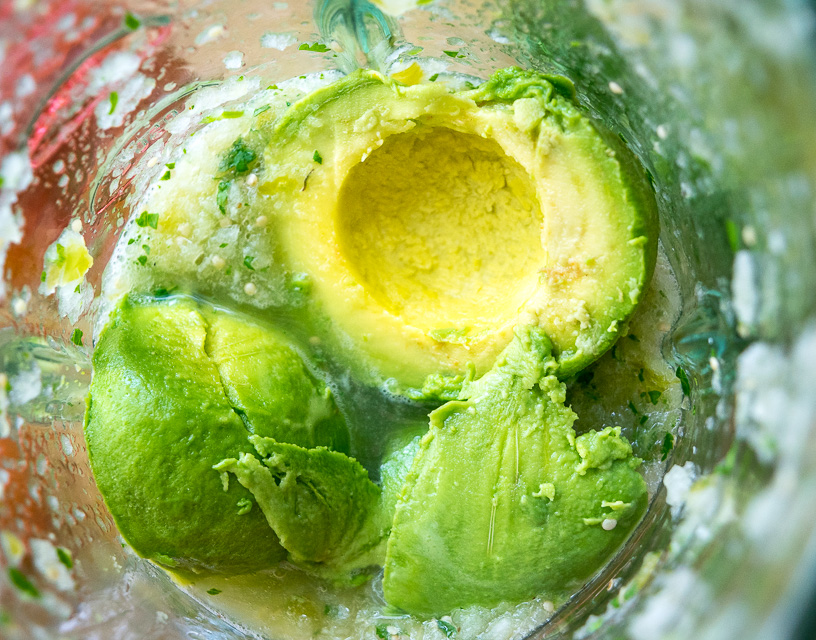 Take a taste and thank the heavens for this delightful combo.
If you found the heat level got diminished a bit by adding the avocado, feel free to add more jalapeno.  And you can salt to taste here too, sometimes a pinch gives it a boost.
While adding this beauty to a serving bowl it's best to start coming up with a potential answer for the big question that is already on its way....
What is this?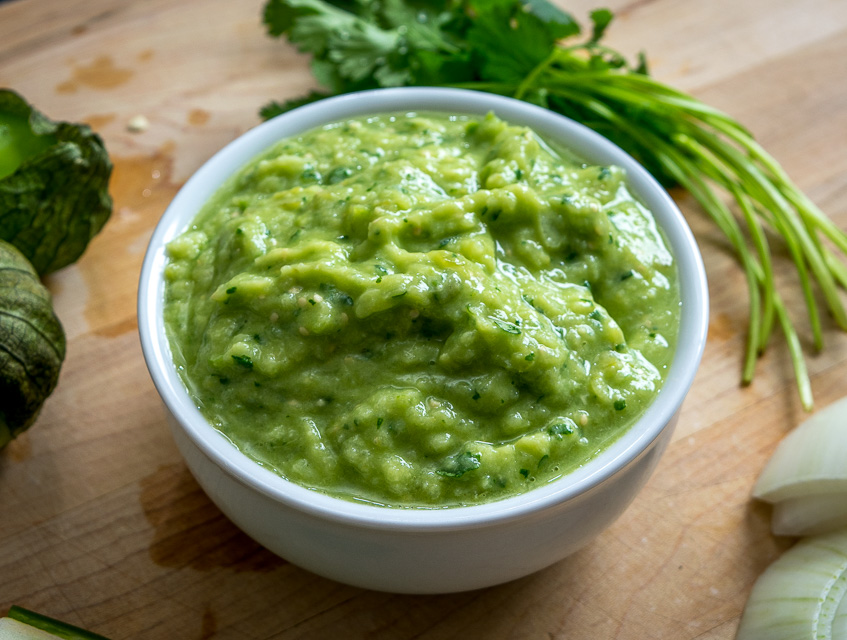 Buen Provecho.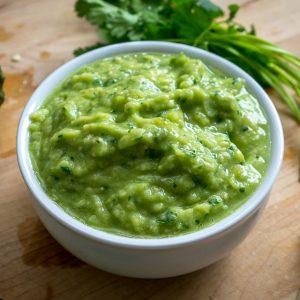 Avocado Salsa Verde
Avocado Salsa Verde has one of the best flavor-to-effort ratios in all of Mexican cuisine. You'll get incredible flavor from very little effort by using just a few key ingredients.
Print
Pin
Rate
Ingredients
4

tomatillos

1

jalapeno

(or 1 serrano)

1/2

onion

1

garlic clove

10-12

sprigs cilantro

1

avocado

salt to taste
Instructions
Pull the husks off the tomatillos and give them a good rinse.

Cut the stems out of the tomatillos if you want.

Roast the tomatillos in the oven for 10-15 minutes or until they start to turn army green

Add tomatillos to a blender or food processor along with ½ onion, 1 garlic clove, 10-12 sprigs cilantro, and ½ of the jalapeno

Pulse blend and taste for heat level

If you want more spice add more jalapeno (either ¼ or ½ more)

Once happy with the heat level, add the avocado to the blender and combine well

Salt to taste

Serve immediately
Notes
As described in the instructions, I always recommend adding the jalapeno pepper incrementally the first few times you make this sauce. This gives you a good idea of your preferred heat level. If you are sensitive to spicy foods you can start by adding ¼ of the jalapeno at first and tasting for heat level.
If you are using canned tomatillos, don't bother roasting them. It doesn't have the same effect on tomatillos that have been resting in liquid.
Using the cilantro stems is common in Mexico. I typically twist off the thicker, bottom portion of the stems but keep the upper portion of the stem that connects the leaves.
Like this recipe?
Click the stars above to rate it or leave a comment down below! @mexplease
We also like to serve this Avocado Salsa Verde with our Roasted Poblano Quesadilla, our Chicken Tingadillas, and most recently these Spicy Beef and Cheese Empanadas.
For an even lighter consistency, try making Salsa de Aguacate.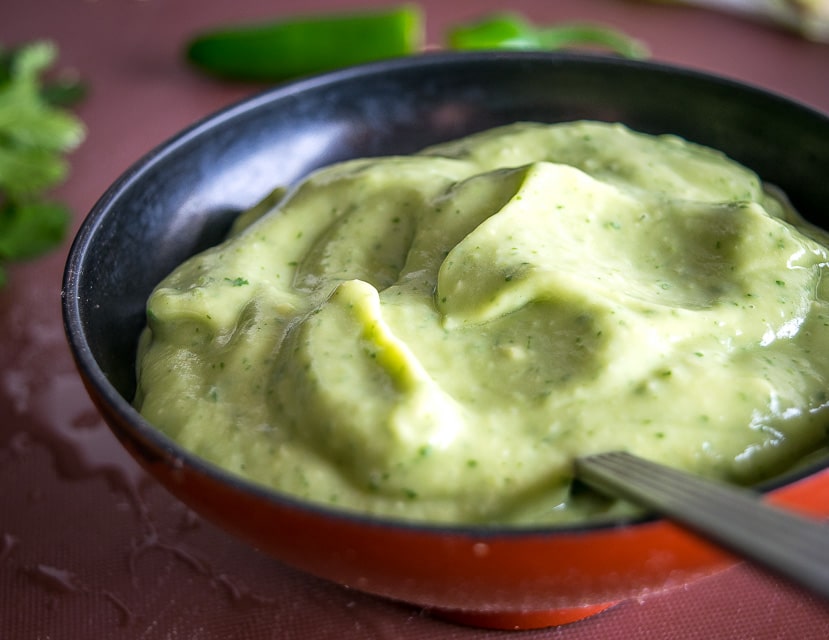 Still hungry?!
Want to receive Mexican Please recipes via email when they are posted?  Sign up below to subscribe.  All recipes are spam free.