Opening up the fridge and seeing some leftover Chicken Tinga leads to one of man's most coveted dilemmas:  Tinga Tacos or Tingadillas?
You can consider the Tingadilla a slightly more decadent version of the Tinga Taco.  Hold it in reserve for those days when you are relying on some gooey savoriness to save your day.

Recipe for Cheesy Chicken Tinga Quesadillas (with Green Sauce)
You can read about building Tinga Tacos here, but this post will be dedicated to Mexican cuisine's favorite portmanteau, i.e. Tingadillas.  (I just found out what portmanteau means!)
Once again the key to this batch of Tinga is using a few of these beauties: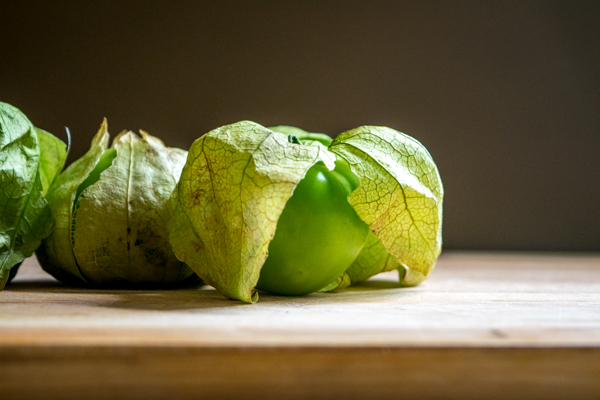 Tomatillos will lend a tartness to Tinga that is sorely missed if you are using only tomatoes.  If you're in an area where fresh tomatillos are rare, don't fret!   I've made this exact recipe with canned tomatillos and had equally good results.
If you are buying canned tomatillos you might as well keep an eye out for chipotles in adobo because you're going to need them too: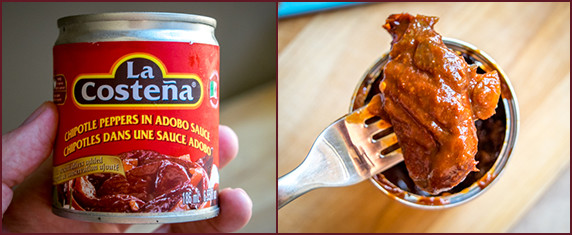 If you're new to chipotles in adobo, you'll find them just a few feet away from the canned tomatillos in specialty markets and well-stocked general grocers.  These dried, smoky jalapenos are the hidden driver in this Tinga sauce.  They can also be used to make killer salsa so keeping a few cans in the pantry will go a long way.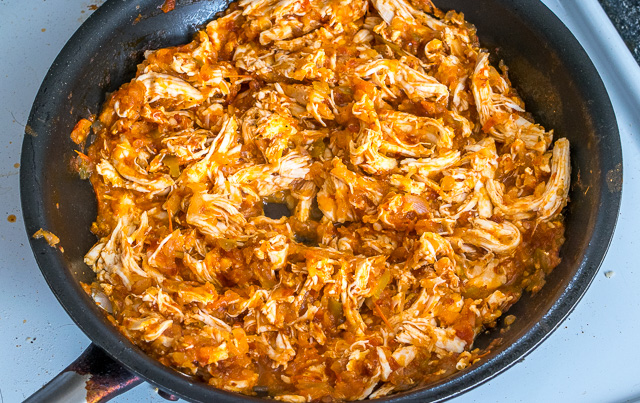 This Tinga batch was 4 tomatillos, 2 roma tomatoes, 1/2 onion, 2 garlic cloves, and 3 chipotles in adobo — this gets simmered with a 1/2 cup of stock, 1/8 teaspoon of oregano, a dash of cumin, and then mixed with two shredded chicken breasts. (Step-by-step instructions are in the printable recipe sheet below.)
Load up half of a tortilla with the Chicken Tinga along with plenty of cheese (I used Monterey Jack).  Onion and cilantro are worthy options for extra filler if you want.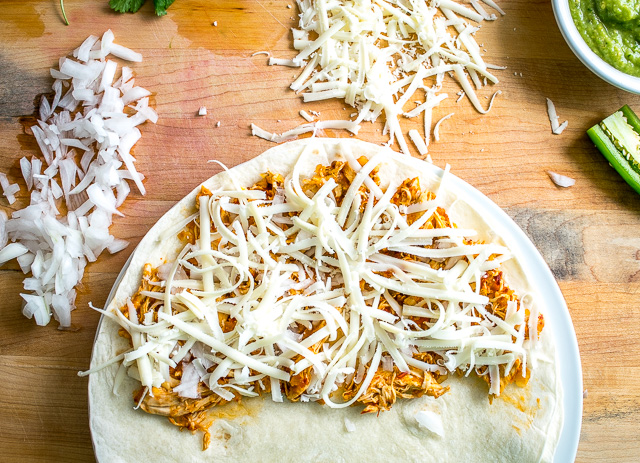 Fold onto itself and cook in a skillet or comal over medium-high heat until you get plenty of brown spots on the tortilla.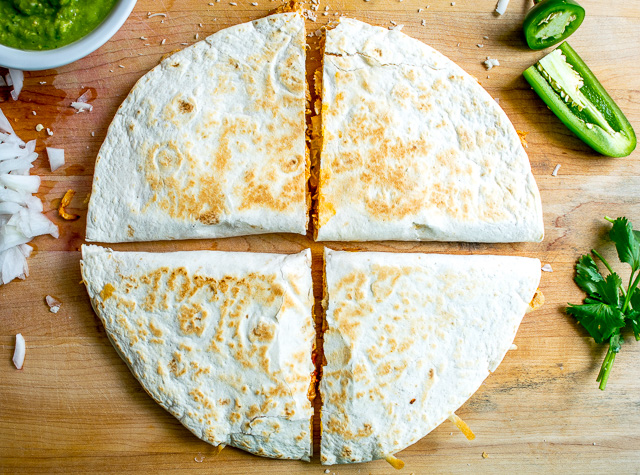 This Tingadilla is already loaded with flavor so it doesn't need much else, but if are making the Tinga from scratch you've probably already got the ingredients on hand for an Avocado Salsa Verde 🙂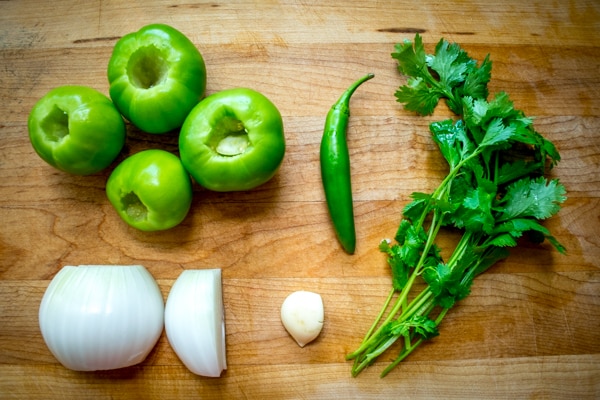 Again, don't fret if you don't have fresh tomatillos as canned will work too.  (Note:  for fresh tomatillos I recommend roasting them for 10 minutes or so until they start to turn army green.  Canned tomatillos don't need to be roasted.)
Then it's just a matter of adding an avocado to the blended salsa verde ingredients: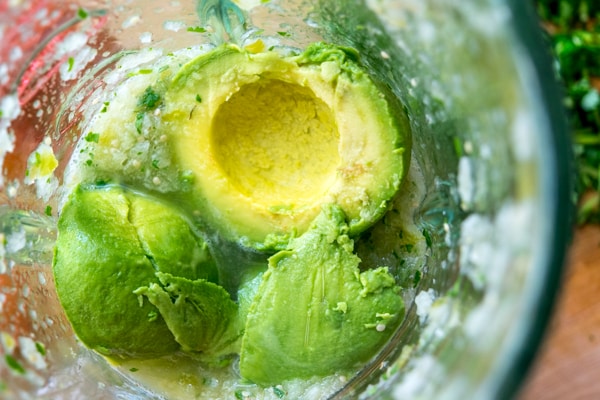 And suddenly this Chicken Tingadilla has found it's ideal dance partner.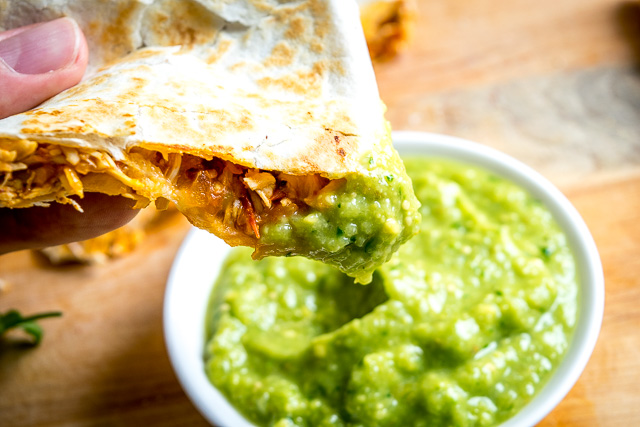 The melty cheesy bites are delicious, so if it's your first time making these Tingadillas feel free to make them as gooey and cheesy as you want.  Better to go too far the first time and scale back later 🙂
Buen Provecho.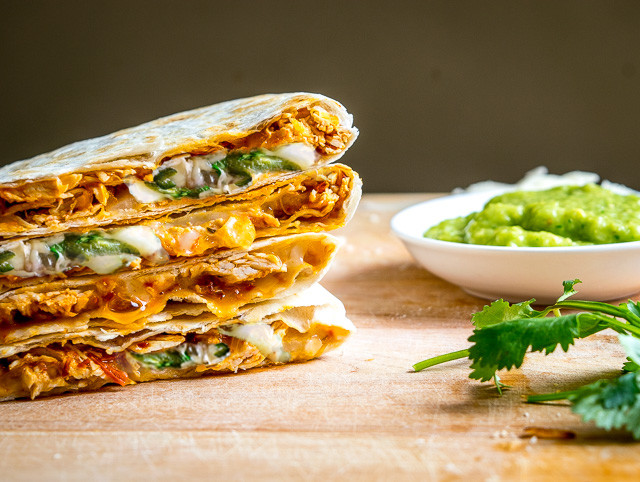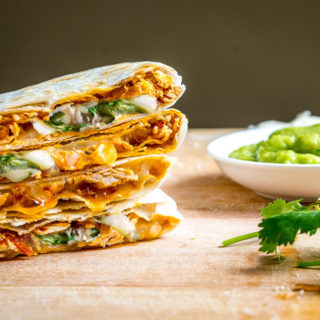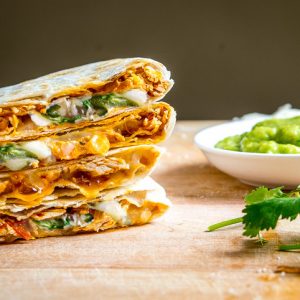 Tingadillas -- Cheesy Chicken Tinga Quesadillas
These Cheesy Chicken Tingadillas are the perfect way to use any leftover Tinga laying around.
Print
Pin
Rate
Ingredients
4

tomatillos

2

roma tomatoes

1/2

onion

2

garlic cloves

3

chipotles in adobo

1/2

cup

stock

1/8

teaspoon

oregano

(use Mexican if you have it)

salt

dash cumin

2

chicken breasts

(or rotisserie chicken)

4

flour tortillas

Monterey Jack cheese

(or Mozzarella)
For the optional Avocado Salsa Verde:
4

tomatillos

1/2

onion

1

garlic clove

1

serrano pepper

(or jalapeno)

10

sprigs cilantro

1

avocado
Instructions
If you are cooking the chicken, cover 2 chicken breasts with water in a saucepan. Bring to a boil and simmer for 20-25 minutes or until the chicken is no longer pink inside.

Roughly chop ½ an onion and peel 2 garlic cloves

Cook the onion and whole garlic cloves in a dollop of oil on medium heat until the onion is just starting to brown

You can pan roast the tomatoes and tomatillos if you want, but I usually just use the oven. Roast the tomatoes in the oven at 400F for 15-20 minutes. Add the tomatillos to the tomatoes about halfway through the roasting period as they need less time to roast than the tomatoes

Add the onion, garlic, tomatoes and tomatillos to a blender along with 3 chipotles in adobo (I usually scrape out the veins and seeds of the chipotles)

Pulse blend until combined well

Simmer this sauce in a dollop of oil on medium heat.

Add ½ cup stock, ⅛ teaspoon oregano, a dash of cumin, and a pinch of salt to the sauce.

Let reduce for 5-10 minutes

Add the shredded chicken and combine well with the sauce, bringing everything to a uniform temp.

Give a final taste before serving and add more adobo sauce if you want more heat, and add salt to taste.

Cover half of a flour tortilla with the Tinga mixture and add a healthy layer of shredded cheese.

Fold onto itself and cook each side over medium-high heat until crispy and brown spots are forming, approximately 3-4 minutes each side

Cut in half and serve immediately

For the Avocado Salsa Verde, fresh tomatillos will taste best if roasted in the oven at 400F until they turn army green, 10 minutes or so. No need to roast canned tomatillos.

Gather the 4 tomatillos, 1/2 onion, 1 garlic clove, 1 serrano (or jalapeno) and 10 sprigs of cilantro and pulse blend together

Add the avocado to the blender and pulse blend until combined

Salt to taste and add additional heat if desired (more serrano or jalapeno)
Notes
Canned tomatillos will disintegrate if you roast them so you can skip the roasting step if using canned.
Raw onion and cilantro are good options for extra Tingadilla filler if you want.
The Avocado Salsa Verde sometimes needs a few tablespoons of water to blend properly.
Like this recipe?
Click the stars above to rate it or leave a comment down below! @mexplease
Still hungry?!
Want to receive Mexican Please recipes via email when they are posted?  Sign up below to subscribe.  All recipes are spam free.