(This post is a proud participant in Paleta Week 2016 put on by Lola's Cocina.  Lola has put together a fabulous collection of authentic paleta recipes that will keep your freezer stocked all summer.  You can check it out here.  Thanks Lola!)
The following photo is proof that your kitchen is already capable of making a delicious batch of authentic paletas.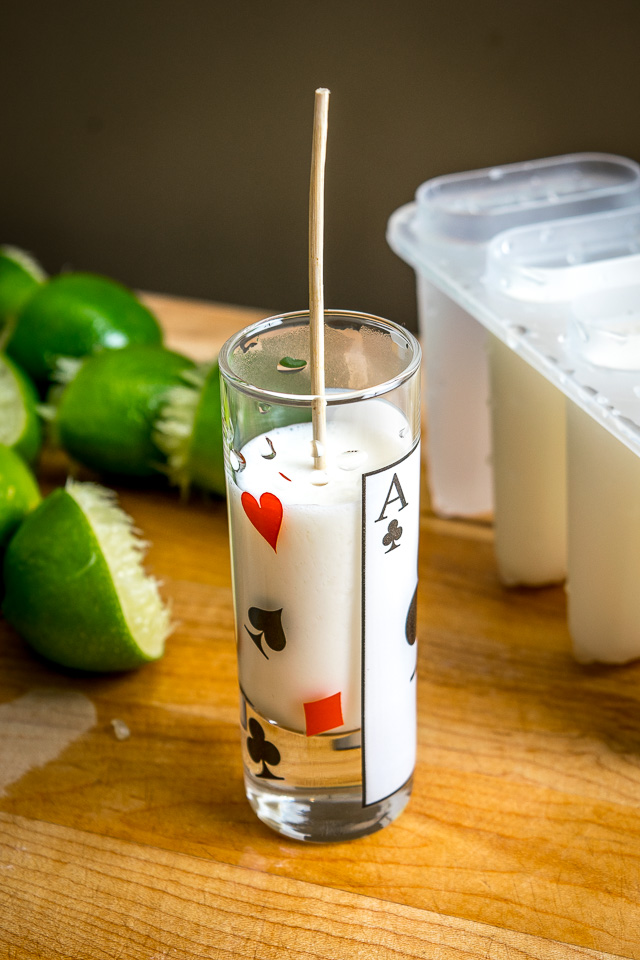 That's a cheesy, unused shot glass acting as an impromptu paleta kit.  Put this in the freezer for 5-6 hours....
....and you've got a homemade treat that will rival anything you can get from a Mexican paleteria.
Classic Lime Paleta (Popsicle) Recipe
Limes get significantly cheaper as you get closer to the source, i.e. Mexico.
Combine that with the tropical heat and it's no wonder that Lime Paletas are one of the country's most popular chilled treats.
Luckily you can easily sample these chilled delights at a new, authentic Mexican paleteria that's opening up in your neighborhood (actually it's your kitchen).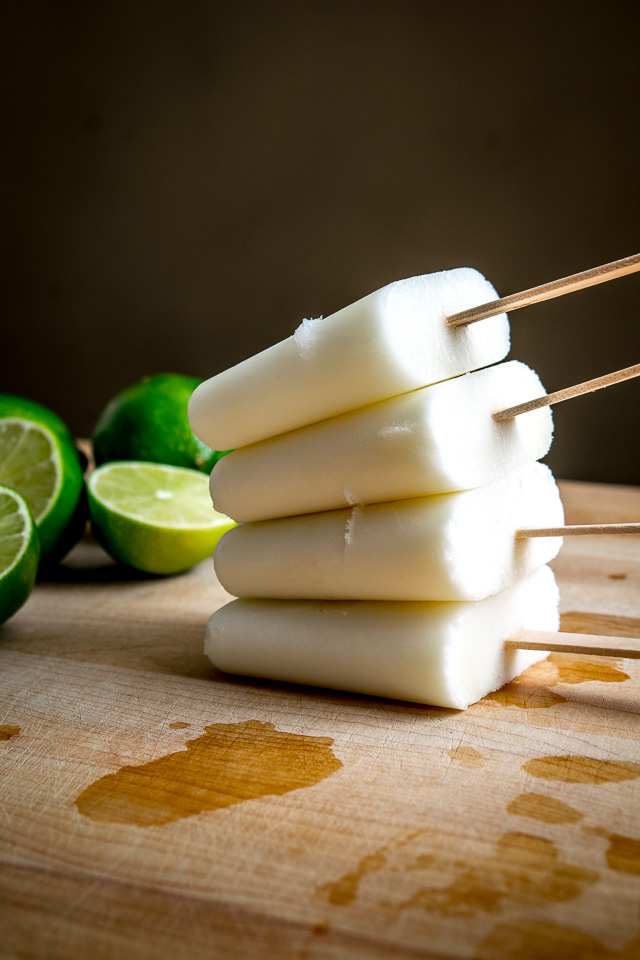 This simple recipe lets the limes and the freezer do most of the work.  Your job is to be the taste tester.
For a batch of 8-10 paletas, start by juicing 10 limes.
You'll end up with a bit less than one cup of lime juice.
In a blender, combine the lime juice with 1 cup plain unsweetened Greek yogurt, 3/4 cup of water, and 4 Tablespoons of honey.   Give it a light blend.
This mixture can go into just about any type of holder/container.  Just don't use anything that has a narrower width at top compared to the bottom 🙂  Traditional popsicle molds work too.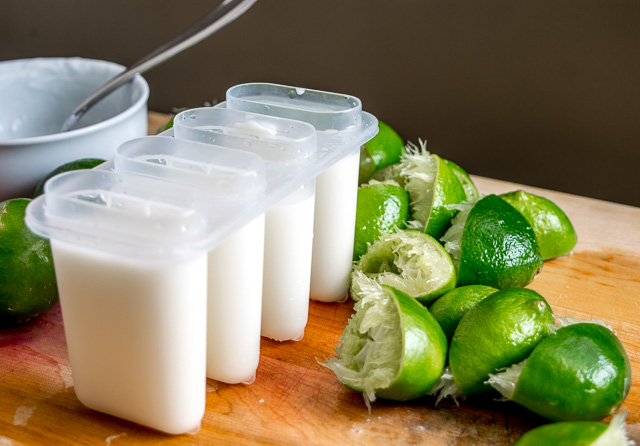 You can tightly wrap some tinfoil over the top and use that to keep the popsicle sticks upright, but if you're home it's easier to insert the sticks in an hour once the mixture slushes up a bit in the freezer.
Then in about 5-6 hours you have an official Lime Paleta (plus a little yogurt).
Run some water over the mold and let rest at room temperature for a minute or two.  Eventually you'll be able to slide them right out of the container.
The yogurt gives these a creamy consistency that is delicioso.
There's one other big decision you have to make before opening your paleteria for business.  Traditional paletas are typically off the charts on the sweet meter, but this version is less sweet, using only 4 tablespoons of honey to keep the flavor of the lime at the forefront.  If you (or your little ones) have sweet teeth than you always have the option of amping them up.
A traditional method would be to dissolve 1/4 cup of sugar into the water to give the paleta a syrupy base. To do this, heat up 1 cup of water in a saucepan, add sugar, and cook for a couple minutes until it dissolves.  Then after cooled, combine this water mixture with the other ingredients as described above.
My teeth ain't so sweet so I prefer the honey-only version.
But wherever you lie on the sweet scale, you are still ending up with chilled lime goodness that can immediately alter the course of your day.
OK, take a look around your kitchen.  Got any cheesy shot glasses lying around looking lonely?
Buen Provecho.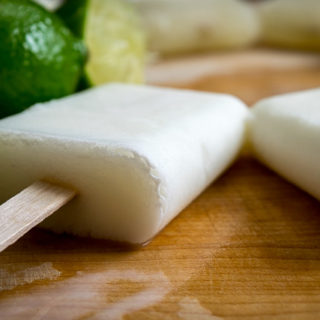 Classic Lime Paletas (Plus a Little Yogurt)
These light, refreshing Lime Yogurt Paletas are the perfect salvation from a hot summer day.
Print
Pin
Rate
Servings:
4
(8-10 paletas)
Ingredients
8-10

limes

1

cup

unsweetened plain Greek yogurt

1

cup

water

4

Tablespoons

honey

1/4

cup

sugar

(optional)

popsicle sticks

(or wooden skewers)
Instructions
Juice 8-10 limes. You'll end up with just under 1 cup lime juice

Combine lime juice with 1 cup yogurt, 1 cup water, and 4 Tablespoons honey in a blender

Lightly blend the ingredients

Pour mixture into a popsicle mold or homemade paleta kit and put into the freezer

In an hour, insert popsicle sticks into the mixture

After 5-6 hours in the freezer they'll be ready to eat

Run some warm water over the mold

After letting them rest at room temp for a minute or two you'll be able to slide them out of the mold

Store in the freezer in an airtight freezer bag
Notes
Using only 4 Tablespoons of honey gives these a mild sweetness. If you want them sweeter you can add 1/4 cup of sugar to the water to create a syrupy base. Heat up 1 cup water in a saucepan and add 1/4 cup of sugar. Cook until the sugar dissolves and after cooled use this water mixture as described above.
Like this recipe?
Click the stars above to rate it or leave a comment down below! @mexplease
We recently made a batch of Coconut Horchata Paletas.
Still hungry?!
Want to receive Mexican Please recipes via email when they are posted?  Sign up below to subscribe.  All recipes are spam free.