For months I've been saying "You can substitute Feta if you don't have Cotija."
And now I can finally say "You can substitute Cotija if you don't have Feta."
That's what happens when your kitchen is brimming with Mexican cooking ingredients -- they find ways to improve other dishes that aren't typically labeled 'Mexican'.
That's the case here with this Quinoa Avocado Salad.  You can also sneak a jalapeno into the Lime-Cilantro Dressing and you've quickly achieved that elusive quinoa combo:  healthy and delicious.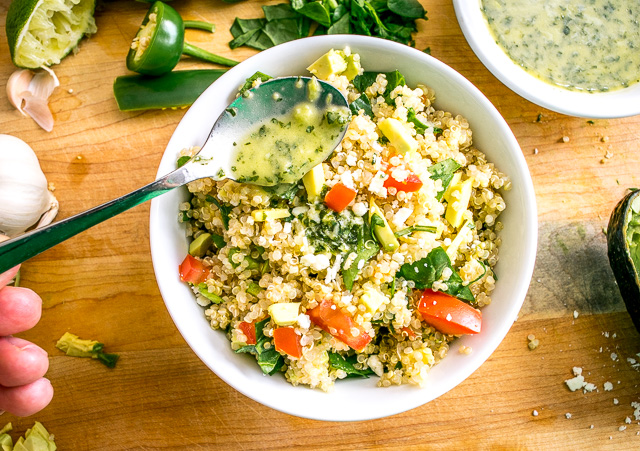 Quinoa Avocado Salad with Lime-Cilantro Dressing Recipe
Quinoa was harvested for human consumption starting about three thousand years ago in the Andean region of South America.  It's been a global ambassador for the plant family ever since; Chenopodium Quinoa.  (Awesome article on the health benefits of quinoa.)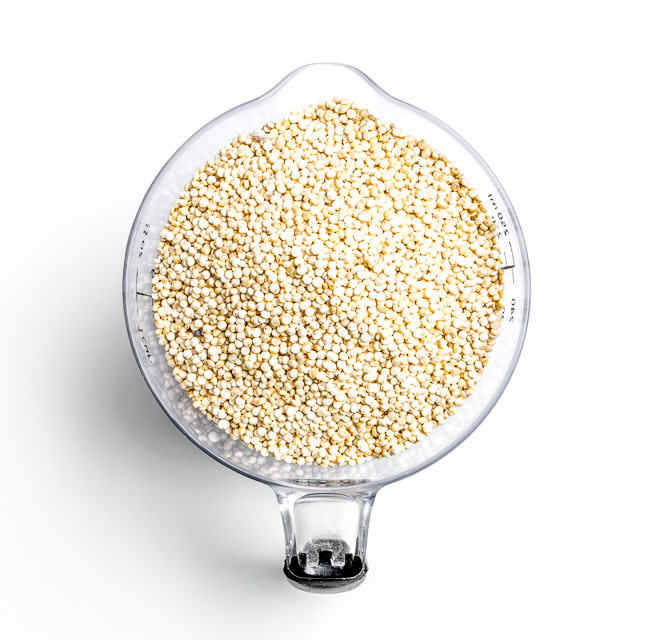 But it's got some decidedly human characteristics as well:
It's picky about who it works with.  It prefers to co-exist with those who complement it.  And it has disdain for those who try to compete with its unique flavor.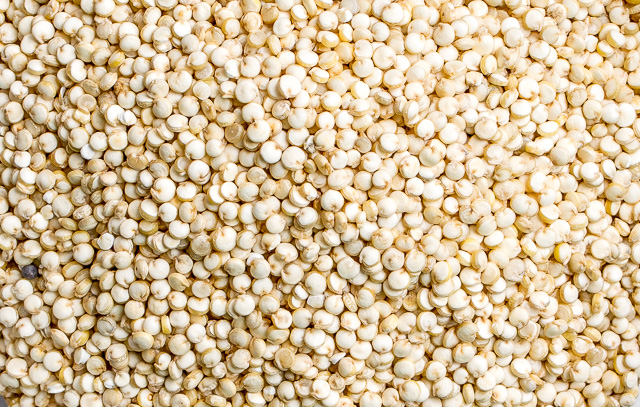 If you're cooking the quinoa, add 1 cup of rinsed quinoa to 2 cups of water (or stock!) along with 1/2 teaspoon of salt.  Bring to a boil and then let simmer until all the liquid is absorbed, about 10-12 minutes.
(Note that this dish tastes best when the quinoa is chilled, so if you are serving it soon then once cooked you can set it in the fridge for a bit.)
Take a taste of the cooked quinoa....it's already got a surprisingly complete flavor right?
Now add a few quinoa-approved fresh ingredients....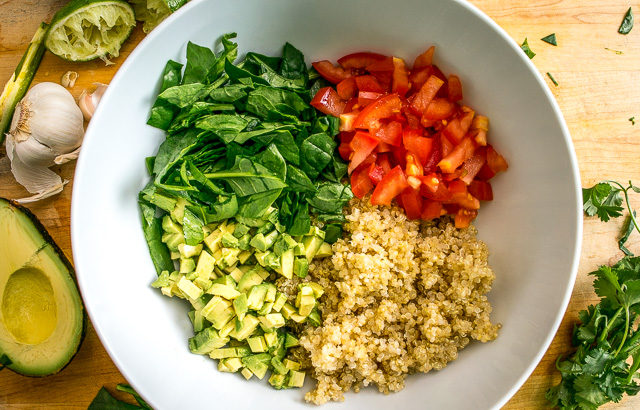 .....and you've got a meal that is off the charts healthy and can nearly be eaten on its own.
Nearly.
Adding a tart dressing seems to be the perfect complement to the dominant flavor of the quinoa.  (We use this Lime Cilantro Dressing in our Avocado Salad as well.)
Combine 1/4 cup of olive oil, the juice of one lime, one garlic clove, 1/2 jalapeno, 1/2 teaspoon salt, and 10-15 sprigs of cilantro in a blender or food processor.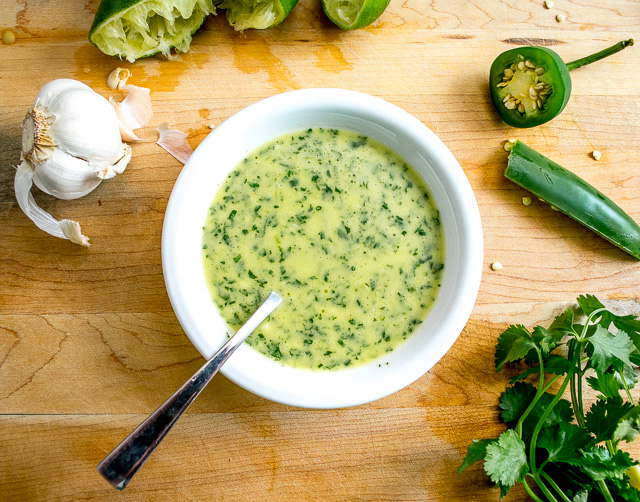 Taste for seasoning and add more salt (or jalapeno) to the dressing.  The zip from the jalapeno livens up the room and its inclusion in the salad was instantly approved by the boss (quinoa).  Note:  you could also consider using this Chipotle Honey Vinaigrette Dressing.
Mix all the fresh ingredients together.
And now here's your chance Cotija lovers!
Sprinkle as much Cotija on top as you want (or you can substitute Feta!), along with another round of fresh avocado if desired.
Drizzle with the Lime-Cilantro Dressing, leaving plenty in reserve for quickly approaching future bites.
And with that final coating of Lime-Cilantro goodness, the mercurial quinoa would like you to know that it feels happy, alive, and thrilled that its full potential is bursting into the world.
Buen Provecho.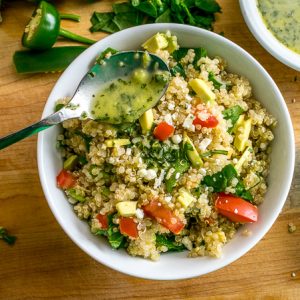 Quinoa Avocado Salad with Lime-Cilantro Dressing
This Quinoa Avocado salad is good even without the dressing. Adding in a tart Lime-Cilantro dressing takes it to another level.
Print
Pin
Rate
Ingredients
1

cup

uncooked quinoa

(2+ cups cooked)

1/2

avocado

1

Roma tomato

1

cup

chopped spinach

Cotija cheese

(or Feta)
Lime Cilantro Dressing:
1/4

cup

olive oil

juice of 1 lime

(1Tablespoon+)

1/2

jalapeno pepper

1/2

teaspoon

salt

1

garlic clove

10-15

sprigs cilantro
Instructions
If you are cooking the quinoa, rinse 1 cup quinoa and add to a saucepan along with 2 cups water (or stock) and 1/2 teaspoon salt

Bring to a boil, reduce heat and let simmer until the liquid is absorbed, 10-12 minutes

Set quinoa aside and if serving soon, put it in the fridge to cool it down

Meanwhile, finely chop half an avocado, 1 Roma tomato, and 1 cup spinach

For the dressing, add 1/4 cup olive oil to a blender or food processor along with the juice of 1 lime, 1/2 jalapeno pepper, 1 garlic clove, 1/2 teaspoon salt, and 10-15 sprigs cilantro

Pulse blend and taste for heat and seasoning. If desired, you can a bit more jalapeno or salt

Combine the quinoa, tomato, avocado and spinach in a bowl.

Garnish with cheese (Cotija!) and additional avocado if you want

Drizzle Lime-Cilantro dressing over the top
Notes
This tastes best when the quinoa is chilled. If you are cooking the quinoa you can put it in the fridge for a bit before serving.
You've also got the option of blending any remaining avocado into the dressing. This creates a creamier, less tart dressing that is equally delicious.
Like this recipe?
Click the stars above to rate it or leave a comment down below! @mexplease
Like this dish?  Then you'll probably like our Avocado Hummus Tostadas.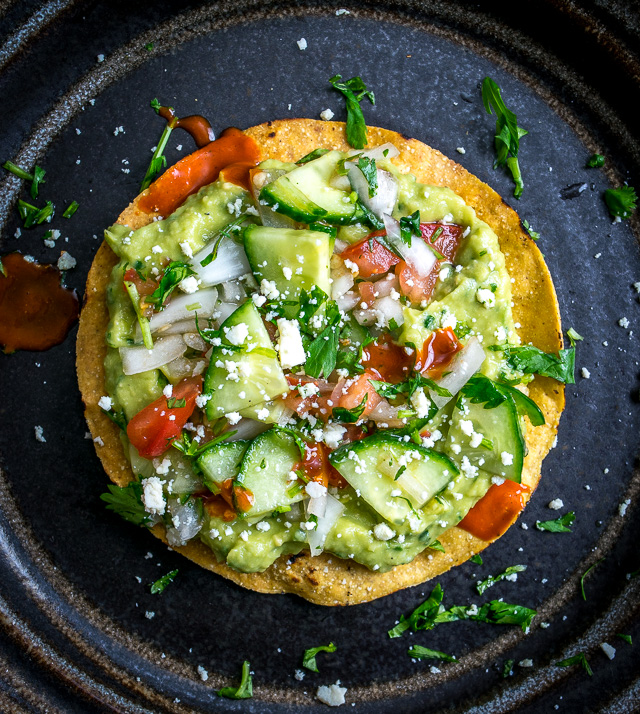 And our Spicy Kale and Quinoa Salad.
Still hungry?!
Want to receive Mexican Please recipes via email when they are posted?  Sign up below to subscribe.  All recipes are spam free.