This Kale and Quinoa Salad is another potential entry in a Closet Mexican Vegetarian recipe book.  The complete protein of the quinoa and the superpowers of the kale make it one of the most nutritious meals you could possibly make.
But the real question is....does it taste good?
Kale and Quinoa Salad Recipe
Luckily this dish also addresses other pressing concerns you might have along the lines of 'Will it keep me full?' or 'Is the main course cheeseburgers?!'
Not only is quinoa a complete protein with all of the essential amino acids, but kale has plenty of benefits of its own.  A few simple tricks will break down kale's tough guy reputation and ensure that you get a light, delicious batch of greens that will quickly vanquish any cheeseburger thoughts.
We're starting with one bunch of curly kale.  This is probably the most common type in supermarkets, but I would think that this recipe would work well with other kale varieties too.
Start by pulling the leaves off and discarding the thicker rib-like stalks.  Give the leaves a good rinse and add to a large mixing bowl.
And now the most important part.  Kale, like all of us, desperately needs a deep tissue massage in order to live up to its full potential.  Breaking down the cell structure will soften the kale and reduce some of the bitterness.
Add a drizzle of olive oil, the juice of half a lemon, and dashes of salt and freshly cracked pepper.  Use your hands to squeeze the kale, as if you were wringing water out of it.
A few minutes later you'll have a more relaxed, softened version that is less bitter about its place in the world.
It also tastes surprisingly good even with just this lemon-oil drizzle on it.
Add 2 cups of cooked quinoa, 1 minced jalapeno, 1/4 cup sunflower seeds, and 1/2 cup of carrots.  Feel free to get creative and add additional salad ingredients at this point.   Combine well.
I'm dicing up some of these Mexican Pickled Carrots, but they certainly aren't required for this recipe.
But it does seem like a bit of acidity works really well in this salad.  The vinegar in the pickled carrots took care of that for me, but there are lots of other ways to include some acidity (pickled onions, lemon/lime juice, hot sauce).
For the dressing, we're using a slightly watered down version of the ridiculously good Creamy Avocado Sauce from our Burrito Bowls.   Here's a quick snapshot of the ingredients: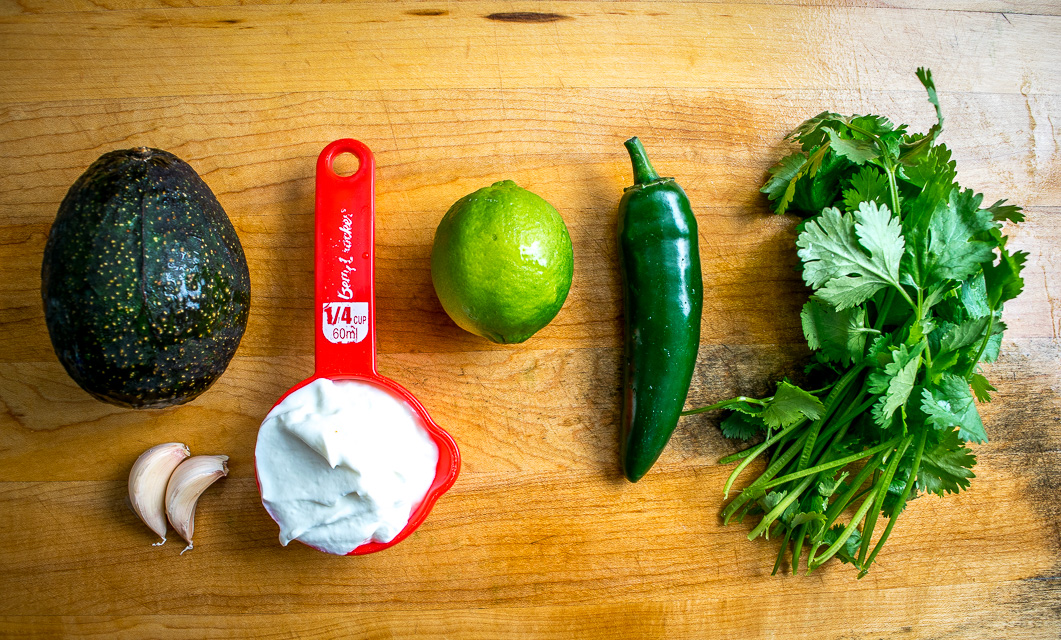 And yes, that is yogurt that you see.  It's a similar concept that we use with our Chipotle Crema.  Instead of using all fat, we use mostly Greek yogurt along with a hint of fat.   This gives you an equally good flavor while at the same time making it a bit healthier.  In this case I added a tablespoon of Mexican Crema, but you can use cream or mayonnaise and get an equally good result.
So in a blender or food processor, combine:
1 avocado
2 garlic cloves
1/4 cup plain Greek yogurt
juice of 1 lime
1/2 jalapeno
15-20 sprigs cilantro
2 tablespoons olive oil
1/4 teaspoon salt
freshly cracked black pepper
1/2 cup water
1 tablespoon Crema (or heavy cream or mayonnaise)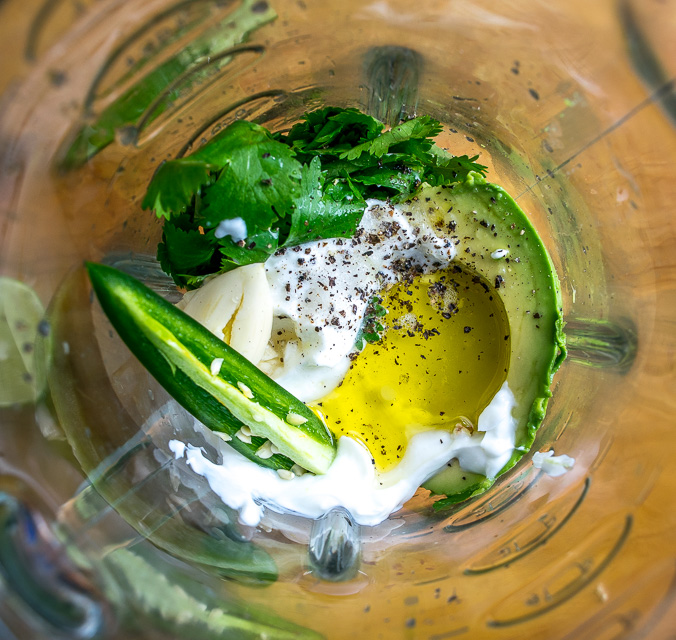 Mix well and take a taste.  Since we are watering it down for a thinner consistency, you might need to add a bit more seasoning.  I added another healthy pinch of salt, more lime juice, and another 1/2 jalapeno to make it a little more fiery.  You can also add additional splashes of water if you want to make it thinner.
You're left with creamy avocado goodness that needs no massage.
Drizzle this dressing over your freshly built Kale and Quinoa Salad and dinner is served.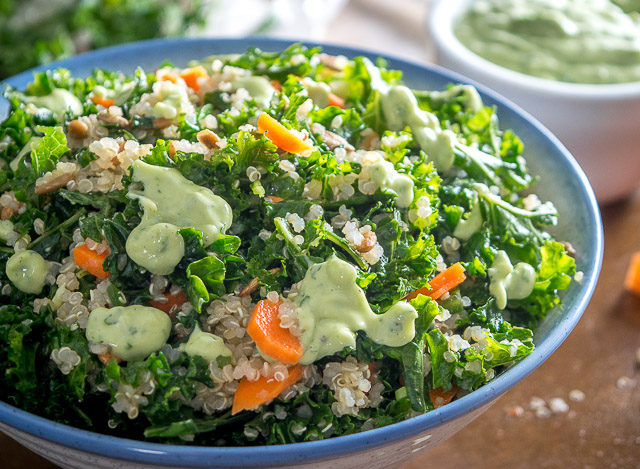 And now to answer the most important question...
Yes, not only is it beyond healthy, but it tastes good too.   Real good.  And after a few bites you won't be thinking about cheeseburgers anymore.
There's also some pretty good evidence that kale is tougher than other greens and won't wilt as much once dressed.  I haven't tried it yet, but having a big batch coated with the lemon-oil drizzle on standby in the fridge sounds appealing.  Let me know if you try that.
Okay, don't forget that the most important part of this recipe is treating yourself to a massage.  Err, the kale that is.  It's a gamechanger and it's the quickest way to incorporate more of kale's superpowers into your diet.
Buen Provecho.
Spicy Kale and Quinoa Salad with Creamy Avocado Dressing
A light, zippy Kale and Quinoa Salad drenched in a yogurt based Creamy Avocado Dressing. As healthy as it gets and loaded with flavor. So good!
Print
Pin
Rate
Ingredients
1

bunch

kale

2

cups

cooked quinoa

1

jalapeno

1/2

cup

carrots (I used pickled carrots)

1/4

cup

sunflower seeds

1

lemon

salt

freshly cracked black pepper

olive oil
For the Creamy Avocado Dressing:
1

avocado

1/4

cup

plain Greek yogurt

1/2

jalapeno

2

garlic cloves

15-20

sprigs

cilantro

1

lime

2

tablespoons

olive oil

1/4

teaspoon

salt

freshly cracked black pepper

1/2

cup

water

1

tablespoon

crema (or heavy cream or mayonnaise)
Instructions
If you are cooking the quinoa, rinse 1 cup quinoa and add to a saucepan along with 2 cups water (or stock) and 1/2 teaspoon salt.

Bring to a boil, reduce heat and let simmer until the liquid is absorbed, 10-15 minutes.

Pull off the kale leaves and discard the thicker rib-like stalks. Give the kale a good rinse under cold water.

Add the kale to a mixing bowl along with a drizzle of olive oil, the juice of half a lemon, and pinches of salt and pepper. Use your hands to massage the kale for a few minutes, squeezing it as if you were wringing water out of it.

Add 2 cups cooked quinoa to the kale, along with 1 minced jalapeno, 1/2 cup carrots, and 1/4 cup sunflower seeds. Mix well and add additional seasoning if you want.

For the Creamy Avocado Dressing,

add the following ingredients to a blender or food processor: 1 avocado, 1/4 cup plain greek yogurt, 1 tablespoon cream (or mayonnaise), 1/2 jalapeno, 2 garlic cloves, 15-20 sprigs cilantro, juice of 1 lime, 2 Tablespoons olive oil, 1/4 teaspoon salt, freshly ground pepper, and 1/2 cup of water.

Combine together and taste test, adding additional salt and lime if you want. You can also add additional water if you want it thinner.

Drizzle the Avocado Dressing over the Kale and Quinoa mixture, serving immediately. Store leftovers in an airtight container in the fridge.
Notes
I used Pickled Carrots for this recipe.  Their acidity seems to work well in this salad but there are plenty of other ways to add acidity if you don't have easy access to pickled carrots, like pickled onions, lemon/lime juice, or hot sauce. 
Like this recipe?
Click the stars above to rate it or leave a comment down below! @mexplease
P.S. I was super excited to try this Kale and Quinoa Salad with our Chipotle Honey Vinaigrette.  Alas, it was not a match made in heaven.  While both the salad and dressing are excellent on their own, the sweetness from the honey didn't seem to combine well with the quinoa.  At least for me that is, but of course you are welcome to experiment with it 🙂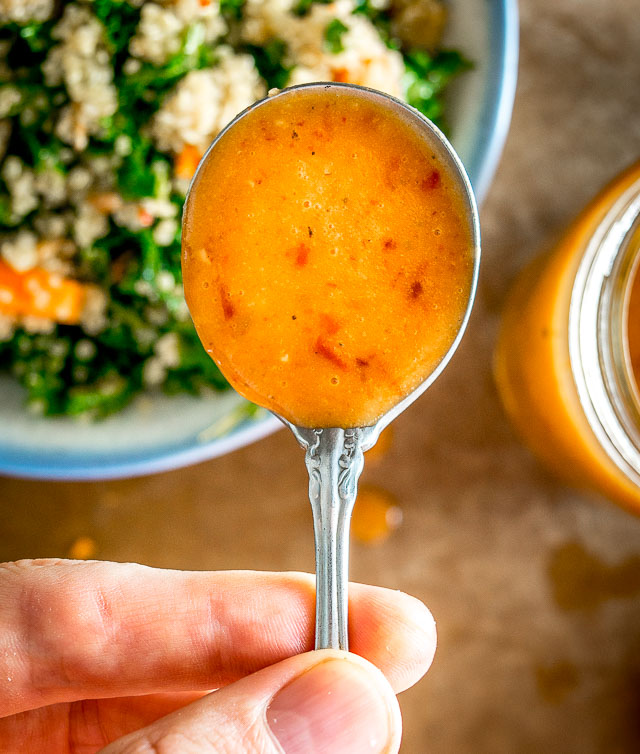 You might also like our Avocado Salad.
Still hungry?!
Want to receive Mexican Please recipes via email when they are posted?  Sign up below to subscribe.  All recipes are spam free.