Take a quick look at this awesome menu board from the old Sabores location in Cozumel:
See that Milanesa de Pollo on the left column?   You'd be surprised how often you see these breaded, fried meat cutlets in Mexico's Comida Corrida restaurants; typically served with veggies, soup of the day, and an agua fresca.  For about 60 pesos.
Milanesas can also make incredible Tortas (sandwiches) with endless variations sprouting up in different regions.
Your particular region, errr kitchen, is about to become known for a Baked Torta de Milanesa loaded with Avocado, Pico de Gallo, and Chipotle Mayo, for much less than 60 pesos.
Got these ingredients on hand? Here's the other 26
recipes
you can make.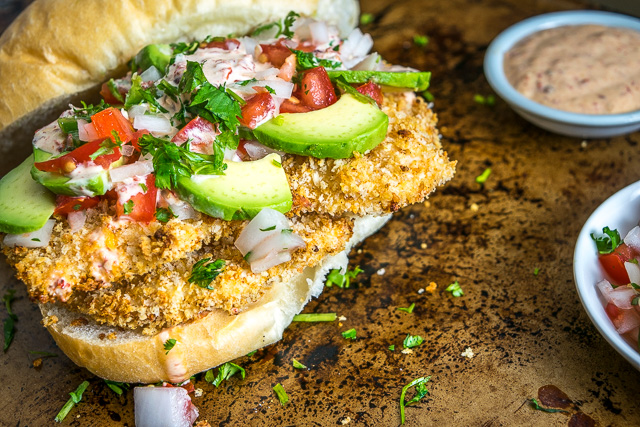 Recipe for Baked Torta de Milanesa Chicken Sandwich
Butchers go out of their way to upsell chicken cutlets, but it's just as easy to slice a chicken breast in half horizontally and pound them down yourself.
Place the sliced chicken breast between two pieces of plastic or wax paper.  If your kitchen doesn't have a Thor hammer you can use the bottom of a skillet to get the cutlets down to 1/4 inch thickness.
Then it's time to set up your Milanesa assembly line.
Each cutlet gets a thin layer of flour, a coating of egg, and an even layer of bread crumbs.
These Tortas will be loaded with flavor from the toppings, so the actual cutlet doesn't need that much seasoning.  Of course, a sprinkling of Cotija never hurts: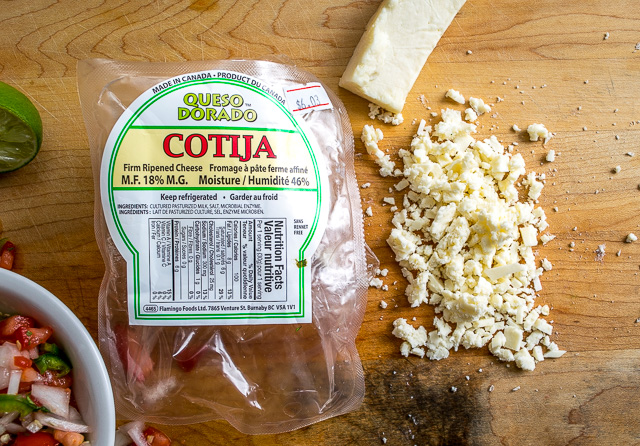 So we'll add that to the breadcrumbs along with 1/2 teaspoon of chipotle powder and a generous pinch of salt.  (Here's a more specific recipe for Spicy Breaded Chicken Cutlets.)
But don't worry about chasing down those ingredients if you don't have them.  Most of the flavor in this dish will come from the Pico de Gallo and Chipotle Mayo.
You'll get 4 sandwich sized cutlets from the 2 chicken breasts.
These will take about 15-20 minutes to bake in the oven at 400F, dependent on their thickness.  I used one of those wire racks that suspends them an inch above the baking sheet.  You can also cook them directly on the baking sheet using a bit of oil (and flipping them once during baking).
While the cutlets are crisping up we'll build the fixings.
The Chipotle Mayo is 1/4 cup mayonnaise, 1 chipotle in adobo, 1 garlic clove, a pinch of salt, and a squeeze of lime juice.  You can always sub out some of the mayo for Greek yogurt if you want a lighter version.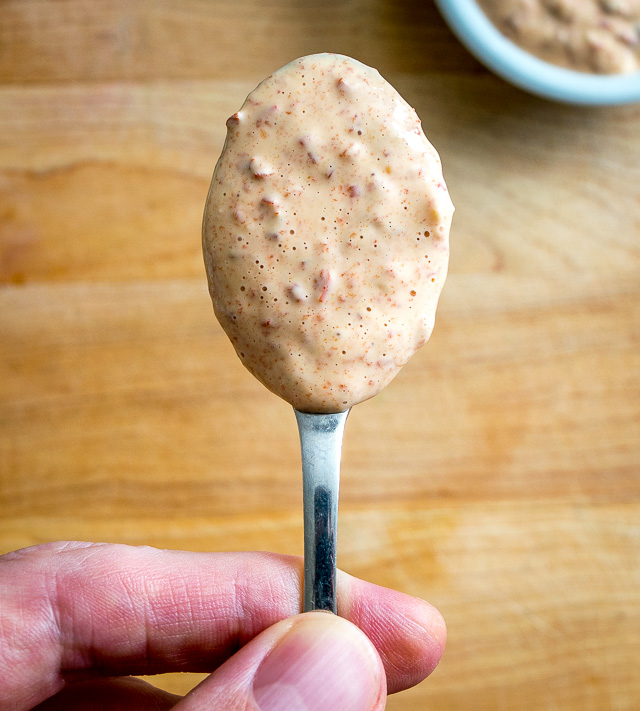 And to make a quick Pico de Gallo chop up 1 Roma tomato, 1/4 of an onion, 1/2 of a jalapeno, and 8-10 cilantro sprigs.  Mix well and add a generous pinch of salt and the juice of half a lime.
Tortas are traditionally served in bolillos, which might sound exotic but it's basically just an oblong white sandwich roll, so there's lots of leeway on bread choice here.  (Here's our easy bolillos recipe.)
OK, cutlets done and after a quick toasting of the bread roll you can build your Torta de Milanesa as you see fit.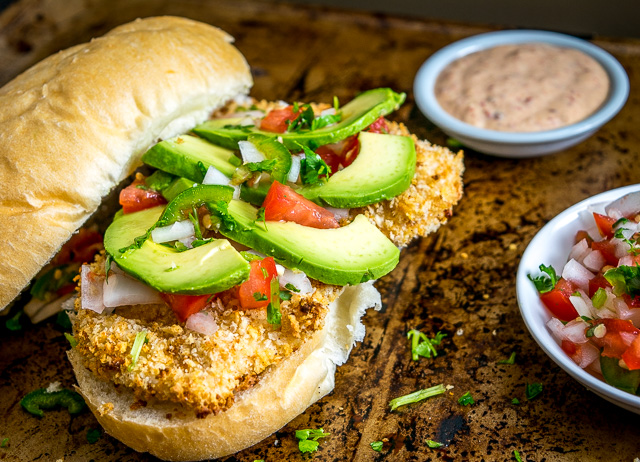 One cutlet with the fixings is usually enough for a meal, but since these are baked and not fried, feel free to use two 🙂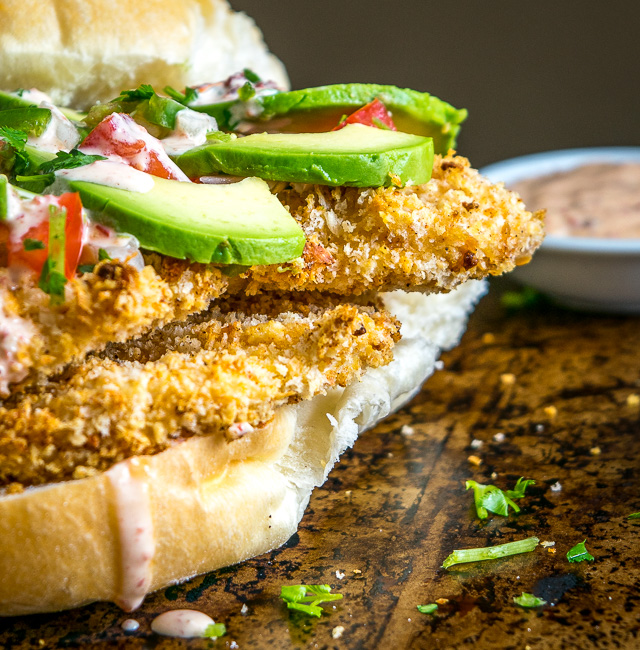 You also have permission to goop them up with as many fixings as possible.  Because they're baked and not fried!
But be careful who you serve them to.  They are beyond delicioso and soon you might find people on your doorstep with 60 pesos in hand for your Comida Corrida.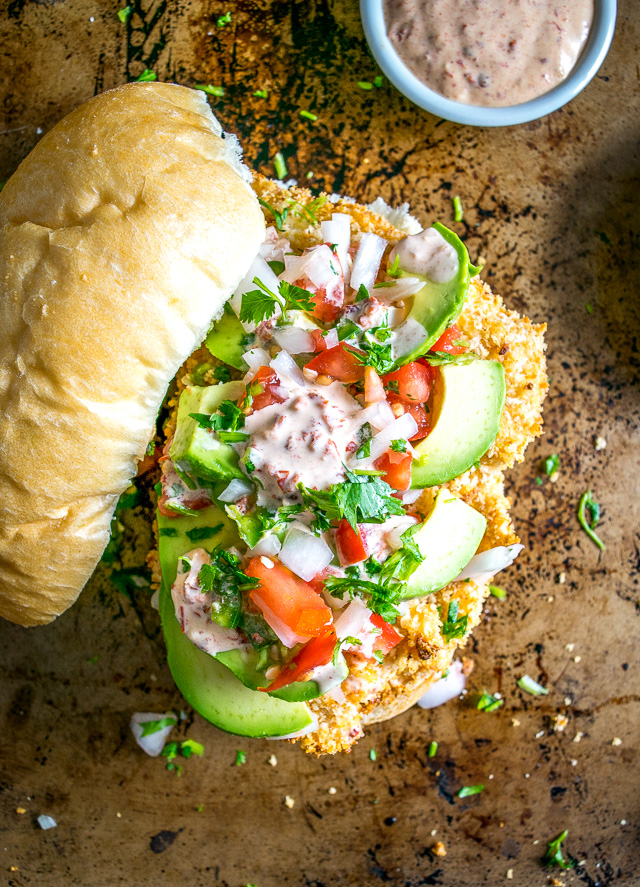 Buen Provecho.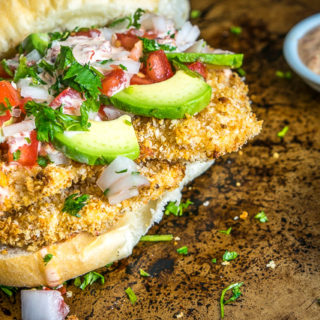 Torta de Milanesa -- Baked Chicken Cutlet Sandwich with Avocado, Pico de Gallo and Chipotle Mayo
Keep some of these breaded chicken cutlets in the freezer and you'll always have the option of making a classic Torta de Milanesa.
Print
Pin
Rate
Ingredients
2

chicken breasts

1/2

cup

flour

2

eggs

1.5

cups

breadcrumbs

Cotija cheese

(optional)

1/2

teaspoon

chipotle powder

(optional)

1

avocado

4

sandwich rolls
Pico de Gallo
1

Roma tomato

1/4

onion

1/2

jalapeno

10

sprigs cilantro

juice of half a lime

salt
Chipotle Mayo
1/4

cup

mayonnaise

1

chipotle in adobo

1

garlic clove

squeeze of lime juice

pinch of salt
Instructions
If you are using chicken breasts, start by slicing the breasts in half horizontally.

Place each half between plastic or wax paper and pound them out using a cleaver (or skillet)

Build your Milanesa assembly station using a handful of flour, 2 eggs, and 1.5 cups of breadcrumbs

If seasoning the breadcrumbs (optional), add a handful of Cotija cheese, 1/2 teaspoon chipotle powder and a generous pinch of salt

Dredge each cutlet in flour, egg, and breadcrumbs

Bake the cutlets for 15-20 minutes at 400F or until the chicken is cooked through. (This batch took about 18 minutes.)

For the chipotle mayonnaise, combine the following ingredients in a blender or food processor: 1/4 cup mayonnaise, 1 chipotle in adobo, 1 garlic clove, a squeeze of lime juice, and a pinch of salt.

Add a dash of water if the ingredients don't combine readily

For the Pico de Gallo, finely chop 1 Roma tomato, 1/4 onion, 1/2 jalapeno, and 10 sprigs of cilantro.

Mix well and add the juice of half a lime and a pinch of salt

Slice an avocado into thin strips for the sandwiches

Briefly toast the sandwich rolls

Each Milanesa de Torta gets a chicken cutlet (or two!), avocado, Pico de Gallo and chipotle mayonnaise.

Serve immediately.
Notes
Keep in mind that the exact baking time will depend on the thickness of the chicken cutlets, the thinner they are the less time they'll need in the oven.  This batch took about 18 minutes. 
Like this recipe?
Click the stars above to rate it or leave a comment down below! @mexplease
Once you've got these Milanesa cutlets on hand it's easy to make these Crispy Chicken Tacos.
Or you could use them in our Chicken Torta with Cilantro Lime Mayo sandwiches.
Still hungry?!
Want to receive Mexican Please recipes via email when they are posted?  Sign up below to subscribe.  All recipes are spam free.