For the next ten seconds, let this Spicy Breaded Chicken Cutlet be your object of meditation: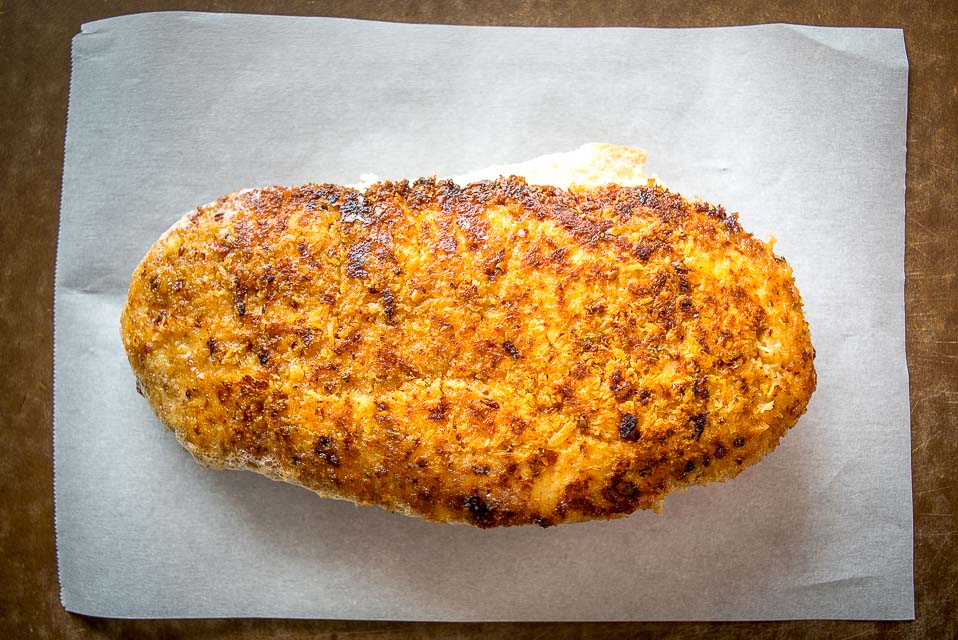 What pops in your head?
Two pieces of bread to give it a home?  A green sauce it can swim in?  Easy meals for the coming week with no dishes to wash?!!
That's the benefit of keeping this simple chicken cutlets recipe in mind.   You can use them in an infinite number of ways and keeping a few on standby in the fridge/freezer can drastically simplify your life.
Spicy Breaded Chicken Cutlets Recipe
Don't worry about re-creating the exact spice mixture we're using as there are lots of ways to skin a jalapeno.  As long as you've got plenty of heat and cheese in the breading then you'll be a happy camper.
Here's what our spice bowl for this batch looks like: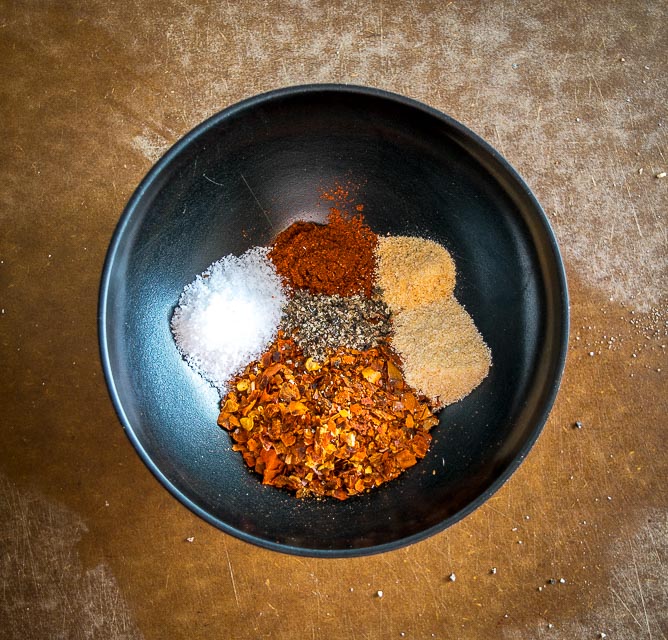 So in the above pic you've got:
2 tablespoons crushed New Mexican chile
1 teaspoon chipotle powder
1/2 teaspoon garlic powder
1/2 teaspoon onion powder
1 teaspoon salt
freshly cracked black pepper (approx. 1/2 teaspoon)
Our article on Chili Powder ingredients will fill in details on that crushed New Mexican chile if you're curious about it.  If you're working with a bare bones pantry and getting hangry you could always use standard chili powder (approx. 2 tablespoons) along with a pinch of cayenne and you wouldn't be too far away from the above mixture.
Probably more important then the specifics of the spice mixture is the cheese that injects some serious flava into the breading.  Cotija cheese has built a condo in the lower shelf of my refrigerator door so I will always grab that first.  And since Cotija is frequently referred to as the Parmesan of Mexico a good alternative would be driving across town to buy some Cotija (errr Parmesan is awesome too).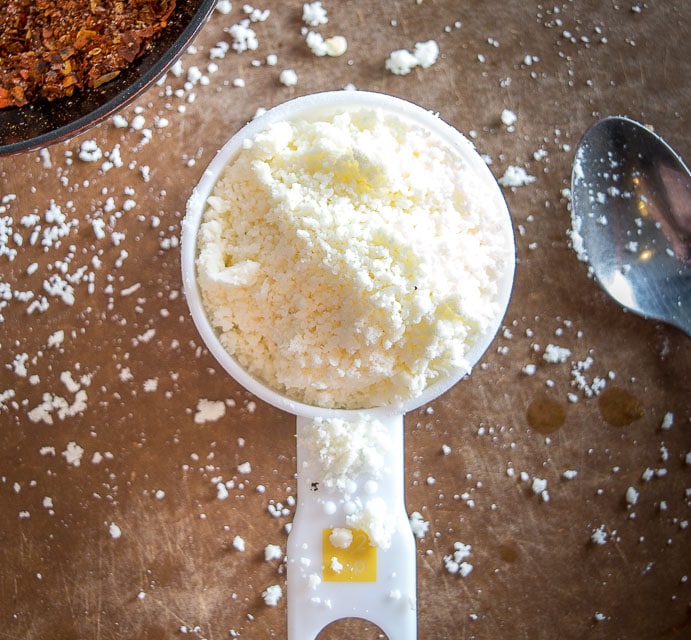 You'll need about a half cup for this recipe.  If you add more cheese than that to the bread crumbs there's a good chance that only positive things will come from it.
Add this cheese to 2 cups of bread crumbs along with the spice mixture.   I used Panko for this batch but feel free to get creative with the bread crumbs (crushed corn flakes, crackers, pretzels?!!).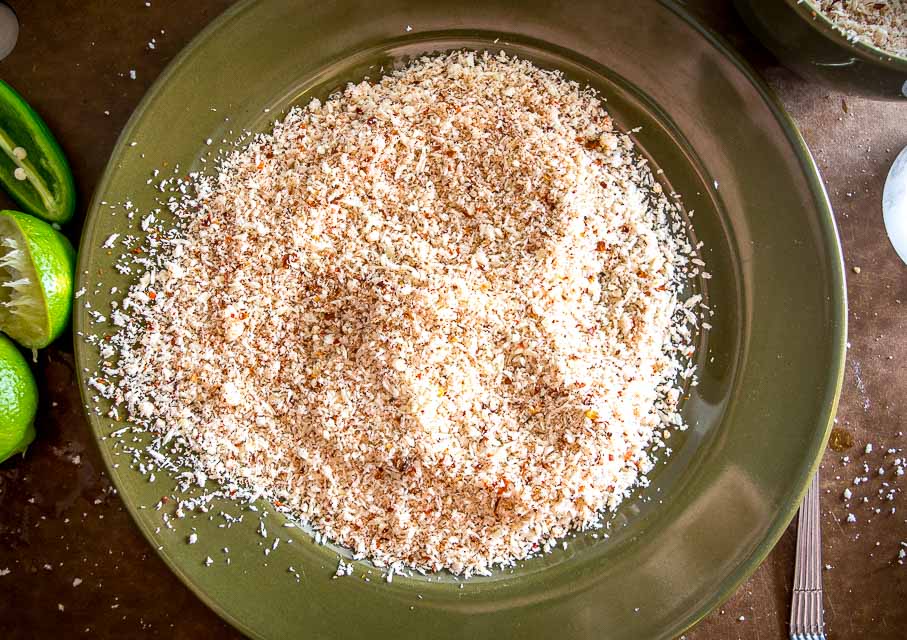 It's also worth pounding out the chicken before breading it.   This will help it cook evenly and when they are super thin it's easy to crisp them up without worrying about the chicken cooking through.
This recipe uses two chicken breasts horizontally cut in half;  you'll end up with four chicken cutlets total.  Surround the individual cutlets with plastic or parchment paper and use a mallet (or skillet) to pound them down to an even thickness.
Then it's time to build your assembly line.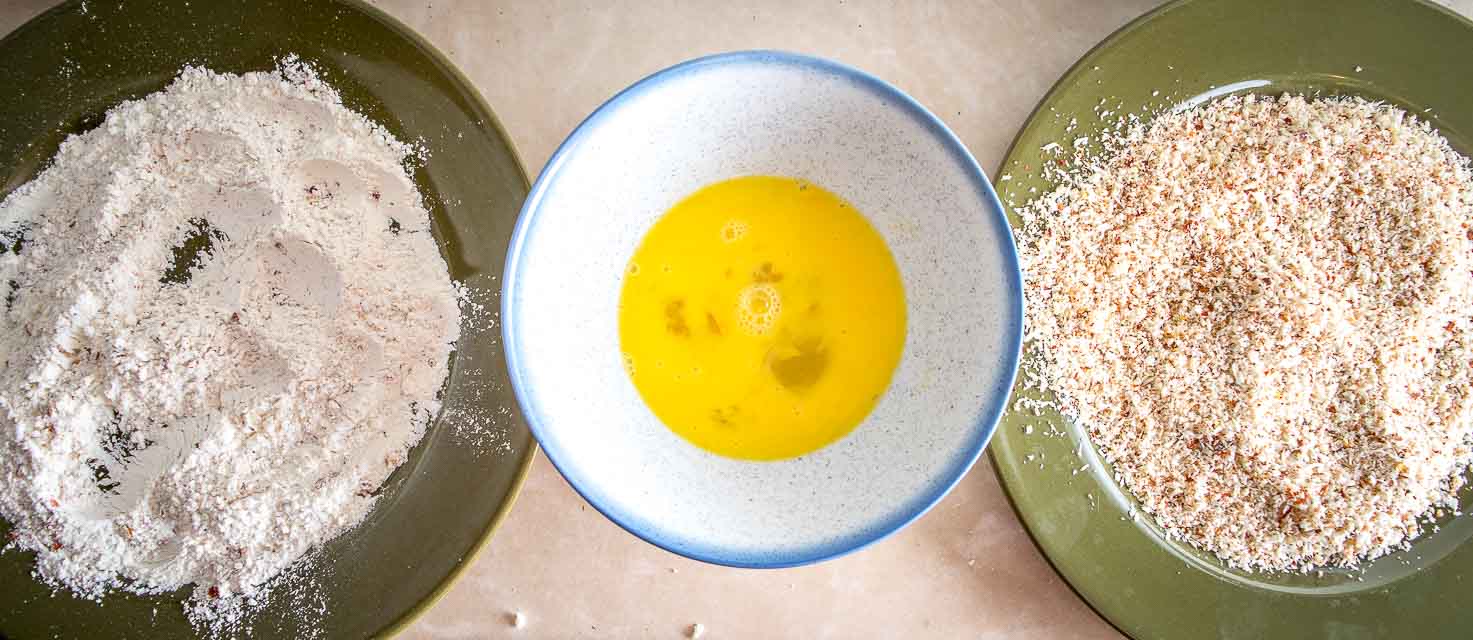 That's 1/2 cup of flour at the starting line on the left, with 2 eggs and the bread crumbs on deck.  You can add a bit of the spice mixture to the flour if you want but that is mostly dependent on your mood.
Each chicken cutlet gets a light dusting of flour followed by an egg bath and an even coating of breadcrumbs.  Be sure to press the breadcrumbs into the chicken as this will help create an even layer.    I find it easiest to use a fork to move the cutlets down the assembly line.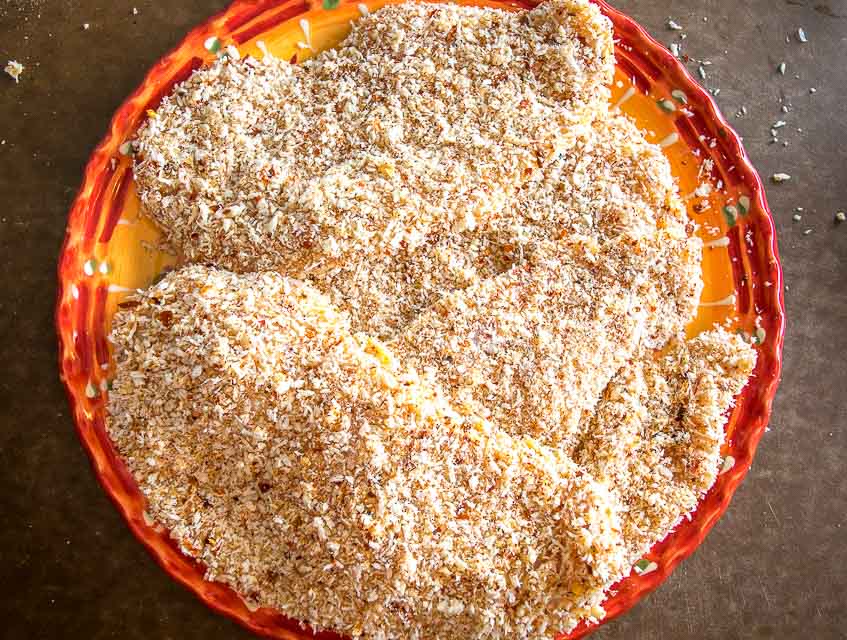 If any of these cutlets are heading to the fridge/freezer, consider wrapping them in parchment paper and then foil.  A layer of parchment paper can help prevent sticking if you're in a pinch and just want to throw the whole thing in the oven.
Speaking of the oven, you are welcome to bake these and you'll still end with a delicious batch of cutlets.  We baked them for our Torta de Milanesa recipe (more details here).  It'll take 15-25 minutes in a 400F oven, depending on their thickness.
But of course, it's easier to get them nice and crispy when cooking them in a skillet so that's what we're doing with this batch.   Heat up a thin layer of oil in a pan over medium-high heat.  You want the pan hot and on the verge of smoking before you add the cutlets.
If you feel compelled to add a knob of butter before putting in the cutlet I would be the last person on Earth to stop you.
These will need about 2-3 minutes per side.  It's kinda dependent on how thick they are, and of course that's assuming the pan is piping hot before putting them in.   This batch took about 3 minutes per side.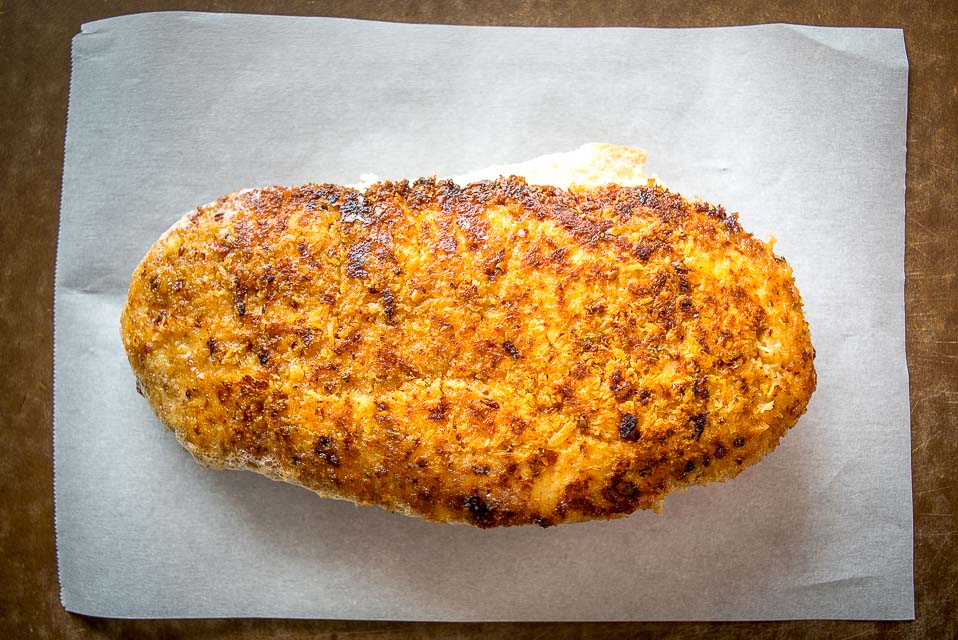 And here we are, back to your object of meditation.  What do you see?
These can easily be eaten on their own and I'll be the first to admit that sometimes I eat half of it before figuring out what I want to serve it with.
But lately my default is to use them for some otherworldly Chicken Tortas.
Fresh avocado and a Cilantro Lime Sauce are the perfect accompaniment, but of course there are loads of ways your taste buds will want to use these Spicy Breaded Chicken Cutlets.
What sounds good to you?
Spicy Breaded Chicken Cutlets
Here's a great recipe to keep in mind for a spicy batch of Breaded Chicken Cutlets. Feel free to substitute Parmesan for the Cotija cheese. So good!
Print
Pin
Rate
Ingredients
2

chicken breasts

1/2

cup

flour

2

eggs

2

cups

breadcrumbs (I used Panko)

1/2

cup

Cotija cheese

oil

butter (optional)
For the spice mixture:
2

tablespoons

crushed New Mexican chile

1

teaspoon

chipotle powder

1/2

teaspoon

onion powder

1/2

teaspoon

garlic powder

1

teaspoon

salt

freshly cracked black pepper
Instructions
Start by preparing the chicken. Each chicken breast gets cut in half horizontally and pounded down with a mallet or skillet. Use plastic or parchment paper to surround the cutlets when pounding them down. Ideally you end up with four even thickness chicken cutlets.

Add the listed spice mixture ingredients to a bowl and combine well. (Keep in mind that there's lots of leeway on the spice mixture so feel free to use what you have.)

Combine the spice mixture with 2 cups of bread crumbs and 1/2 cup of crumbled Cotija cheese.

Your cutlet assembly line will have three stops. The first is a plate with 1/2 cup of flour, followed by a bowl with 2 whisked eggs, and then the seasoned breadcrumbs. Dredge each cutlet in the flour, eggs, and breadcrumbs. Be sure to push the breadcrumbs into the chicken to create an even layer.

Heat up a skillet over medium-high heat. Add a thin layer of oil (you can optionally add a knob of butter). When the pan is hot cook the chicken cutlets for 2-3 minutes per side.

Let the chicken rest for a few minutes and then serve immediately.
Notes
The exact cooking time in the skillet will depend on the thickness of the cutlets.  This batch took about 3 minutes per side. 
Alternatively, you can bake them in the oven where they'll take about 15-25 minutes to cook through, dependent on their thickness. 
Feel free to get creative on the spice mixture as the exact combo isn't important.  As long as you have some heat and cheese in the breading you'll be a happy camper. 
For storage I wrap the cutlets individually in parchment paper and foil. 
Like this recipe?
Click the stars above to rate it or leave a comment down below! @mexplease
Our latest recipe is this One Pot Mexican Lentils and Rice dish: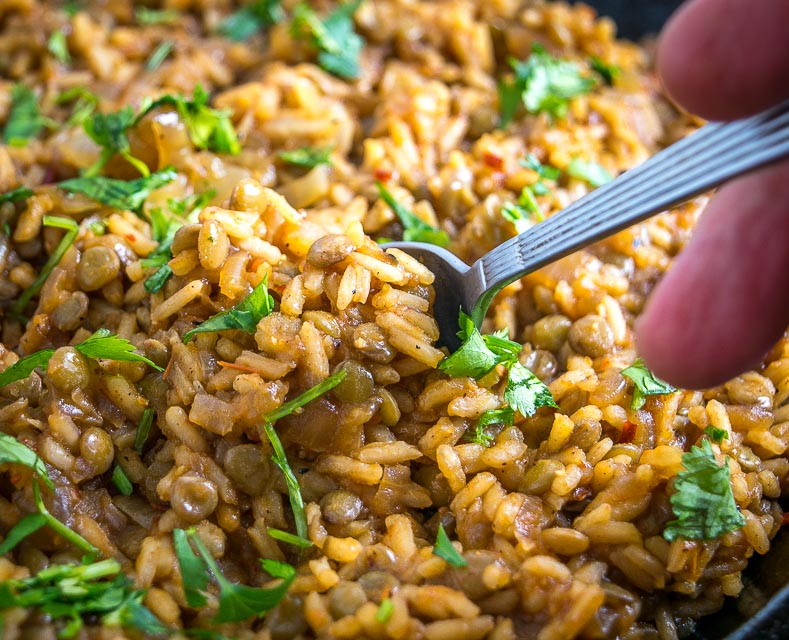 Still hungry?!
Want to receive Mexican Please recipes via email when they are posted?  Sign up below to subscribe.  All recipes are spam free.