"Tinga" denotes torn or shredded meat in Spanish, but to Western ears Teeengaaaa rolls off the tongue like an exotic dish you can pay good money for, but make at home?!  Never!
Taquerias north of the border have responded by making Tinga Tacos the star attraction, but the long trip up from Mexico has left these popular tacos struggling to reclaim their identity, and not tasting nearly as Tingalicious as they could be.
Luckily it's easy to make your own batch of Teeengaaaa, and doing so will once and for all confirm that they can taste just as good as they sound.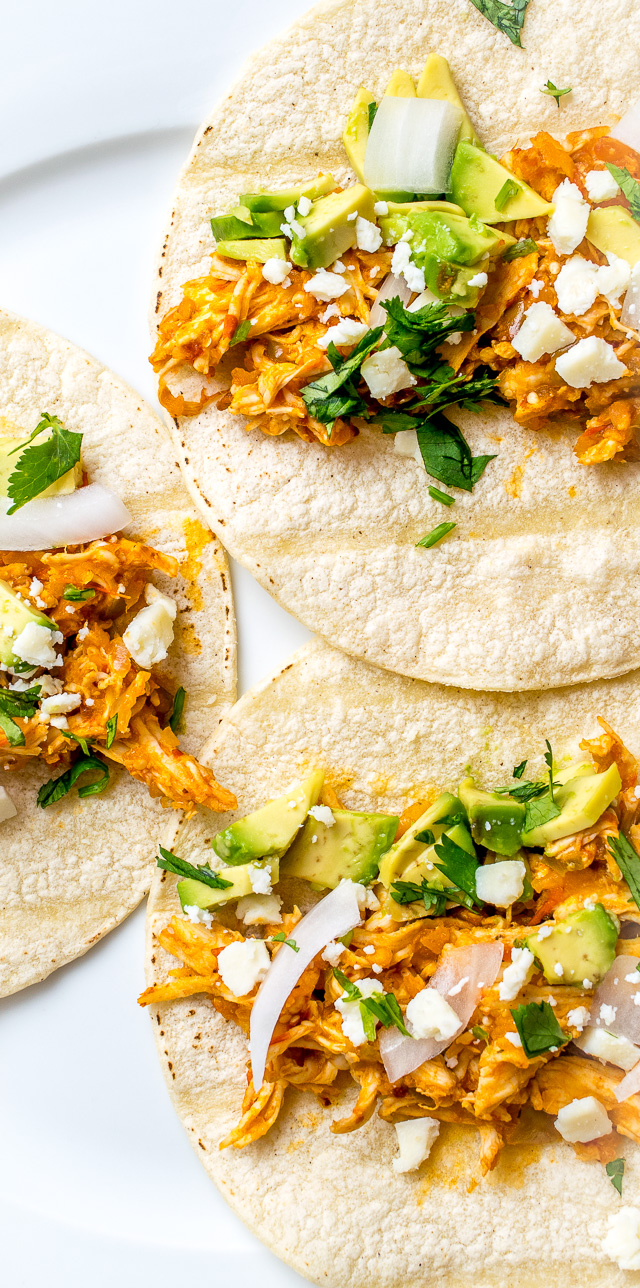 Tinga Recipe
If you've ever come across a Tinga recipe there's a good chance it relied on tomatoes as the base.  While this will produce a sauce that ain't so bad the first few times you have it, I think it whiffs on the true potential of the dish.
Pairing the tomato with a few of these beauties....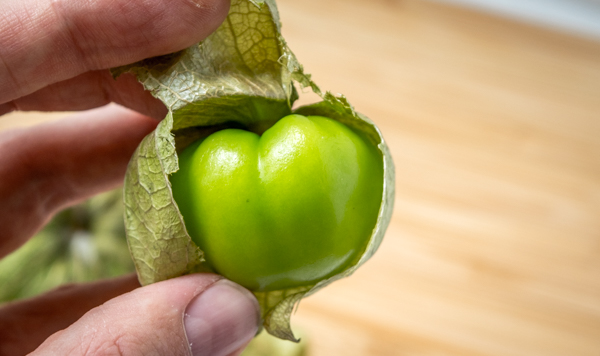 ...gives the sauce a sharp tartness that goes missing if you are only using tomatoes as the base.
Now add the smoky heat of chipotles....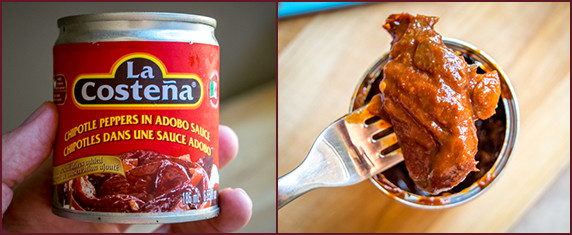 .....and you've got a rich, complex sauce that will outperform anything you can get from your local taqueria.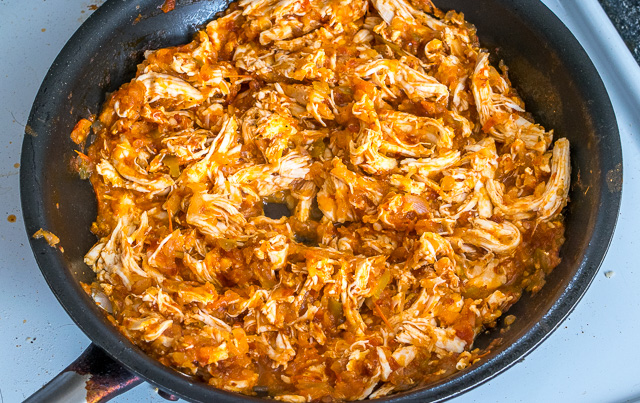 This batch was 4 tomatillos, 2 roma tomatoes, 1/2 onion, 2 garlic cloves, and 3 chipotles in adobo -- this gets simmered with a 1/2 cup of stock, 1/8 teaspoon of oregano, a dash of cumin, and then mixed with two shredded chicken breasts.
Keep some of the adobo sauce on standby as the initial heat of the sauce can sometimes get diluted once you add the chicken.
I added approximately 2 tablespoons of adobo sauce and a few more pinches of salt to the above pan.
Serving with a stack of warm corn tortillas is totally acceptable, but it's worth trying them with the tortillas crisped up if you have the luxury of eating them as you make them.
Using a comal or skillet, cook for 2-3 minutes on medium-high heat or until brown spots start to appear on the underside.
This slightly crispy version lies somewhere between a taco and a tostada and it is delicioso.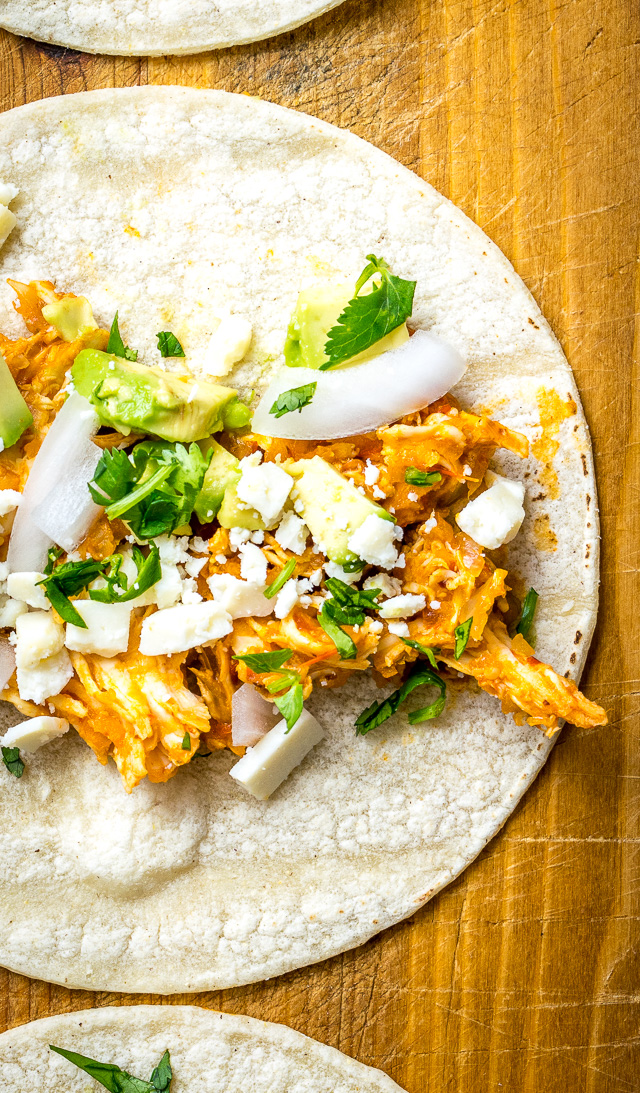 Normally I'm a big fan of customizing the toppings to your liking, but there is one specific combo that is worth trying at least once in your life, and there's a chance it will be the end boss of Tinga toppings for you.
Avocado bits, finely chopped raw onion, and crumbled cheese pair with the crisp, Tinga loaded tortilla as if they are all a pack of old buddies.  Cotija and Monterey Jack are good choices for cheese.  Pickled onions would work good too. 
Not pictured is the squeeze of lime juice that officially sends this combo into the Tingalicious category and will keep people coming back to the most authentic taqueria in town (yours).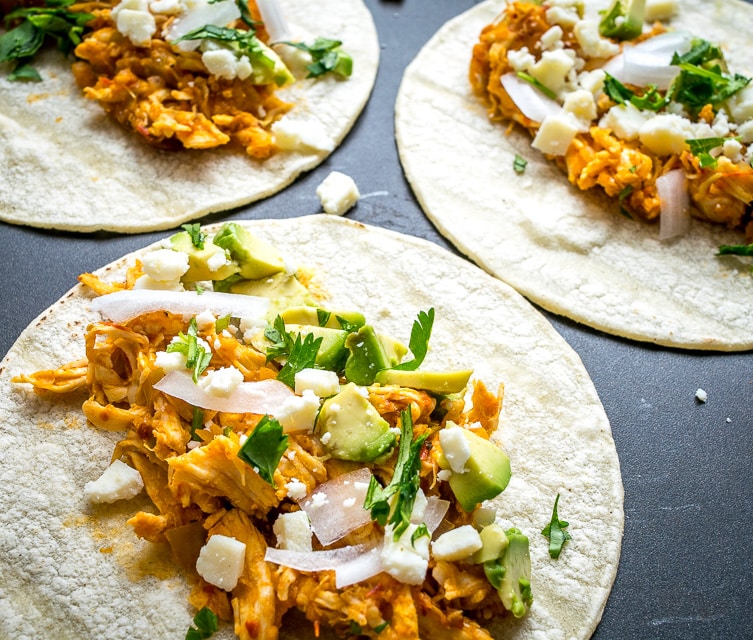 Buen Provecho.
(Update:  we just put up a recipe for a fiery, saucy version of this Chicken Tinga.  Details here.)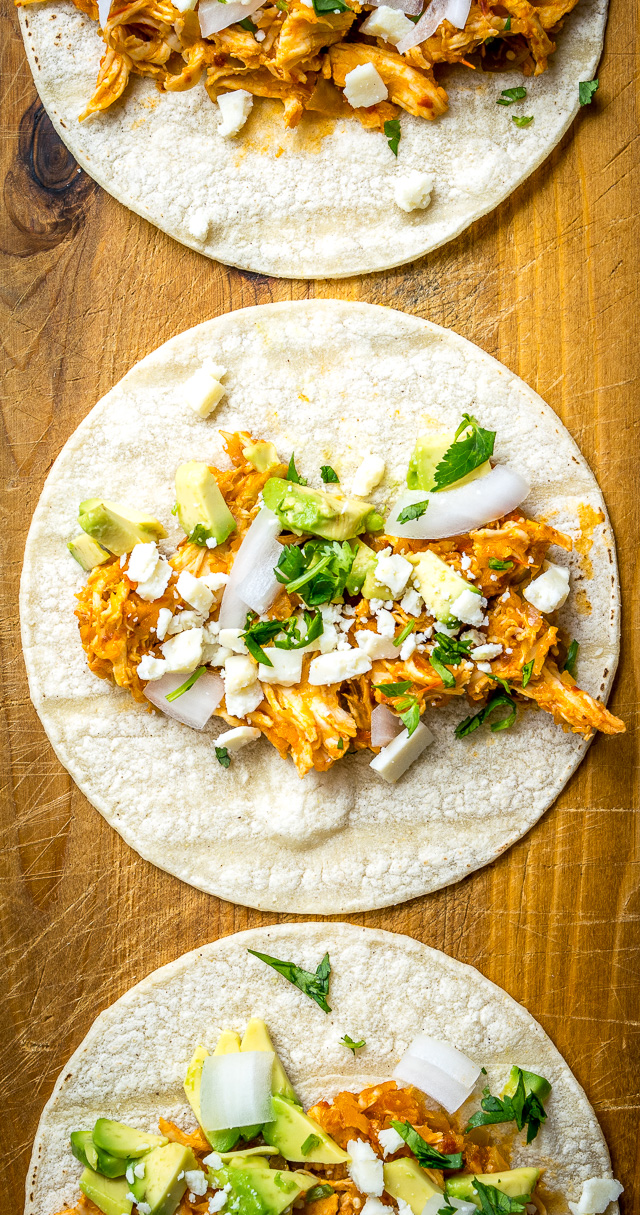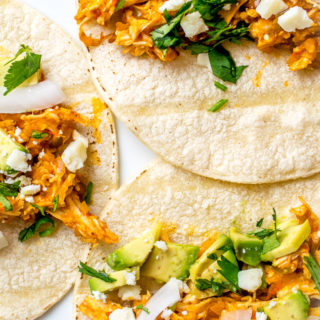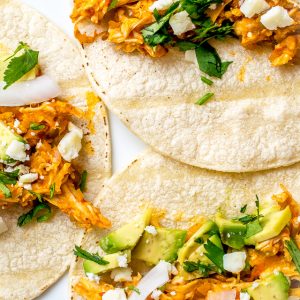 Chicken Tinga Tacos (Are Everywhere)
Using tomatillos in these Chicken Tinga Tacos gives them an authentic flavor that is tough to beat.
Print
Pin
Rate
Ingredients
4

tomatillos

2

roma tomatoes

1/2

onion

2

garlic cloves

3

chipotles in adobo

1/2

cup

stock

1/8

teaspoon

oregano

(use Mexican if you have it)

salt

dash cumin

2

chicken breasts

(or rotisserie chicken)

8-12

corn tortillas

1

avocado

finely chopped onion for garnish

cheese

(Monterey Jack or Cotija)

lime wedges
Instructions
If you are cooking the chicken, cover 2 chicken breasts with water in a saucepan. Bring to a boil and simmer for 20-25 minutes or until the chicken is no longer pink inside.

Roughly chop 1/2 an onion and peel 2 garlic cloves

Cook the onion and whole garlic cloves in a dollop of oil on medium heat until the onion is just starting to brown

You can pan roast the tomatoes and tomatillos if you want, but I usually just use the oven. Roast the tomatoes in the oven at 400F for 15-20 minutes. Add the tomatillos to the tomatoes about halfway through the roasting period as they need less time to roast than the tomatoes

Add the onion, garlic, tomatoes and tomatillos to a blender along with 3 chipotles in adobo (I usually scrape out the veins and seeds of the chipotles)

Pulse blend until combined well

Simmer this sauce in a dollop of oil on medium heat.

Add 1/2 cup stock, 1/8 teaspoon oregano, a dash of cumin, and a pinch of salt to the sauce.

Let reduce for 5-10 minutes

Add the shredded chicken and combine well with the sauce, bringing everything to a uniform temp.

Give a final taste before serving and add more adobo sauce if you want more heat, and add salt to taste.

Garnish with finely chopped avocado bits, cheese, diced onion, and a sprinkle of lime juice.

If crisping up the tortillas, add the tinga mixture to a tortilla and cook on a skillet or comal over medium-high heat until brown spots appear on the underside (2-3 minutes).
Notes
If you don't have fresh tomatillos, you can use canned tomatillos and get a similar result. Don't worry about roasting the tomatillos if you are using canned as it doesn't have the same effect on tomatillos that have been resting in liquid.
Like this recipe?
Click the stars above to rate it or leave a comment down below! @mexplease
Still hungry?  You can make Tingadillas with your leftover Tinga!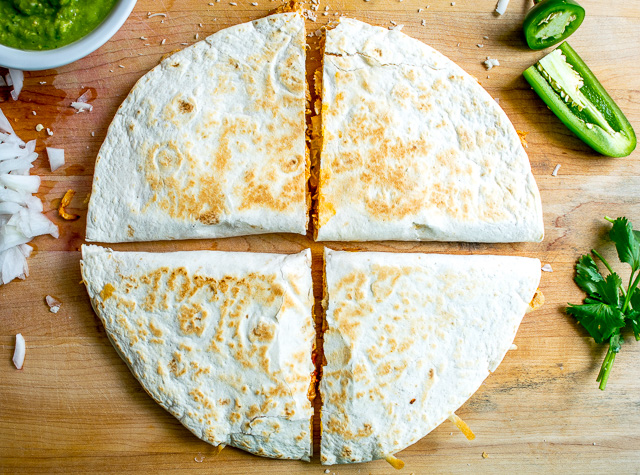 Or here's another option for some Easy Chicken Tacos.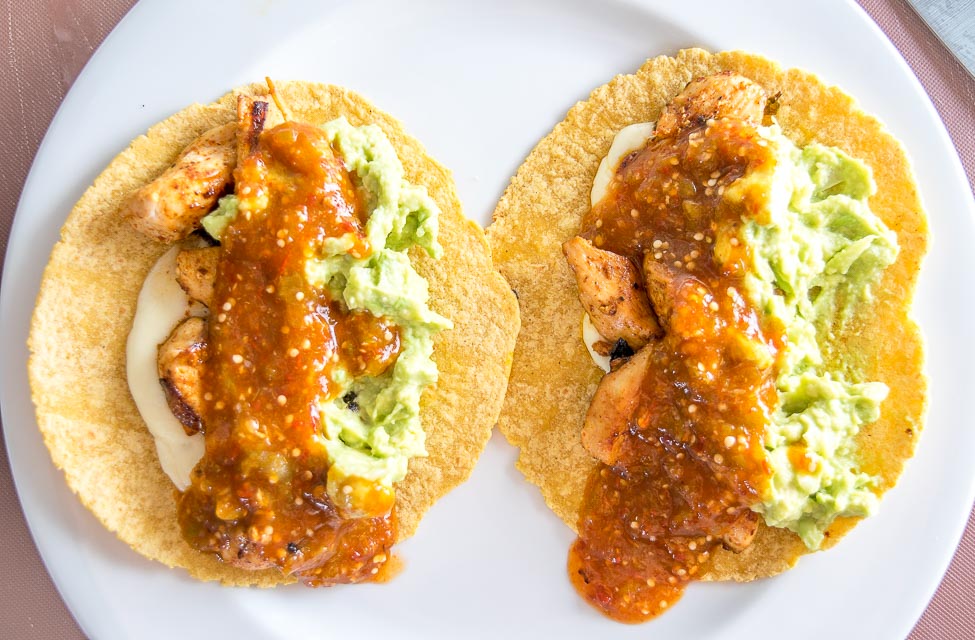 Still hungry?!
Want to receive Mexican Please recipes via email when they are posted?  Sign up below to subscribe.  All recipes are spam free.