A few months ago I fried up some taco shells at home by dipping corn tortillas in a skillet full of hot oil.
Then I tried baking them instead of frying them, and I haven't gone back to the frying pan since.
You've got lots of options on how to bake a batch, so here are some of the key details to keep in mind if you want a healthier version of the classic hard taco shell.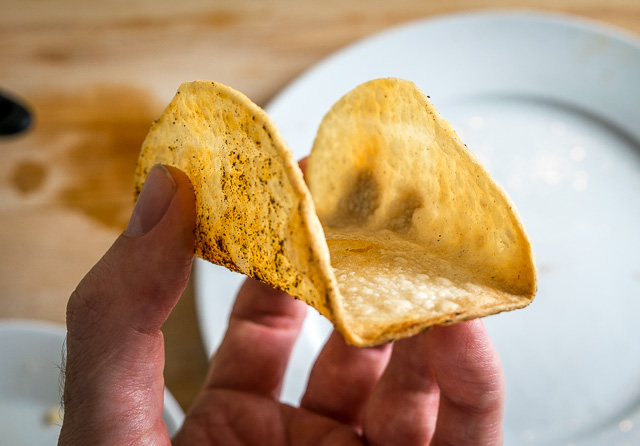 Baked Taco Shells Recipe
Older tortillas tend to crisp up more readily. If using newer tortillas, let them dry out on the counter for a bit before putting them in the oven.
Then the idea is to give them a light coating of oil and use the oven rungs to give them shape as they crisp up.
For the oil, you can either use cooking spray or you can brush on some neutral vegetable oil. I brushed on some canola oil for this batch.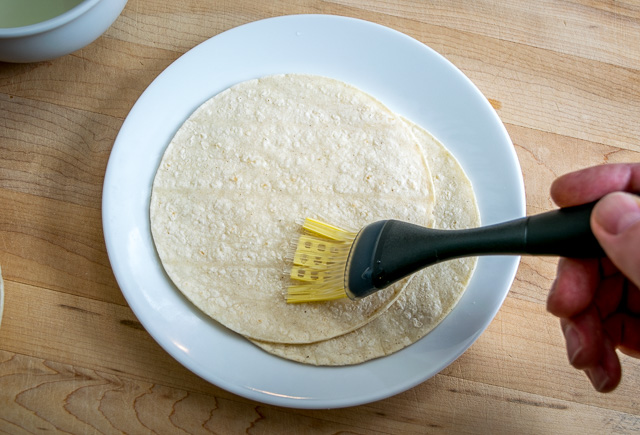 These tortillas then get draped over two rungs in the oven.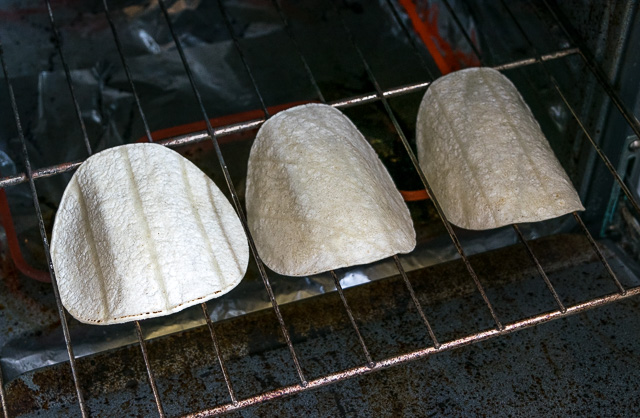 They'll bow awkwardly at first but over time the sides will drop.
10 minutes later at 375F they'll look like this: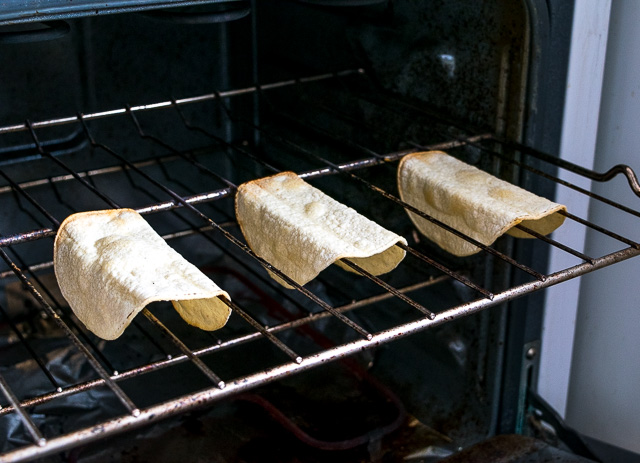 See the light browning on the edges? That's probably when you want to take out your first batch.
10 minutes at 375F will give you a shell that has crispy edges but is still pliable in the middle.
12-13 minutes at 375F will give you a shell that is crispier but at the expense of being a little drier.
I like the crispy but slightly pliable version best and usually default to that, but your taco shell mileage may vary.
It's also easy to give them a hint of flavoring if you want.
A shake of chipotle powder (or regular chili powder) along with a dash of salt is a good option to liven them up a little.
Put the flavored side up when baking as that will be the outside of the final product.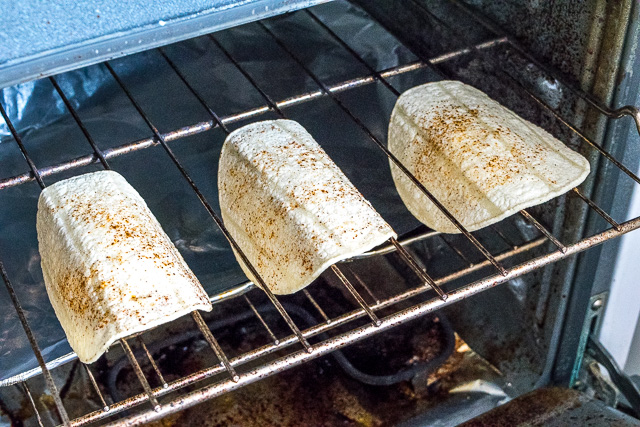 And for the Chili-Lime addicts out there, I had the same impulse and thought that a Chili-Lime coating would be the perfect hint of flavor on these shells.
After spreading some lime juice and chili powder on them and baking for 10 minutes they were absolutely......disappointing. The lime juice combined with oil gave them an odd flavor and they didn't really crisp up. Bummer!
OK, a couple more things to keep in mind.....
The crispy yet pliable version is best eaten as soon as possible. If they sit on the table for awhile they'll get chewy. Luckily you can always pop them back in the oven for 30-60 seconds and this brings them back to life.
If you are making a big batch it's probably best to put a roasting pan or sheet underneath them in the oven as they will drip a bit.
And to answer a last possible question...Will this work on flour tortillas?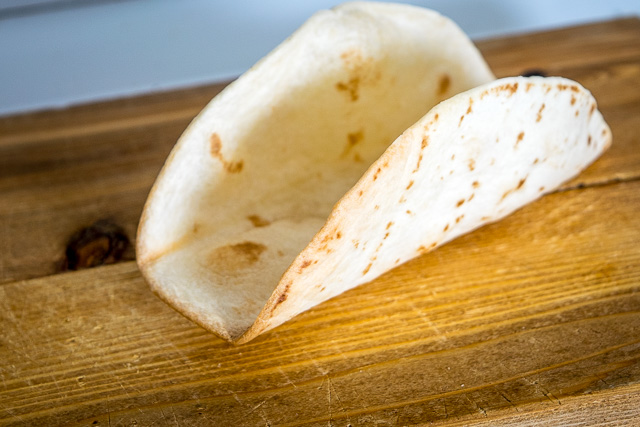 While it may look appetizing, the flour tortilla tasted a bit pastry-like after baking and didn't really crisp up. No bueno.
OK, got your freshly baked batch of hard taco shells handy?
Now the best part.....deciding what to put in them. We made Classic Ground Beef Tacos out of this batch. Yum!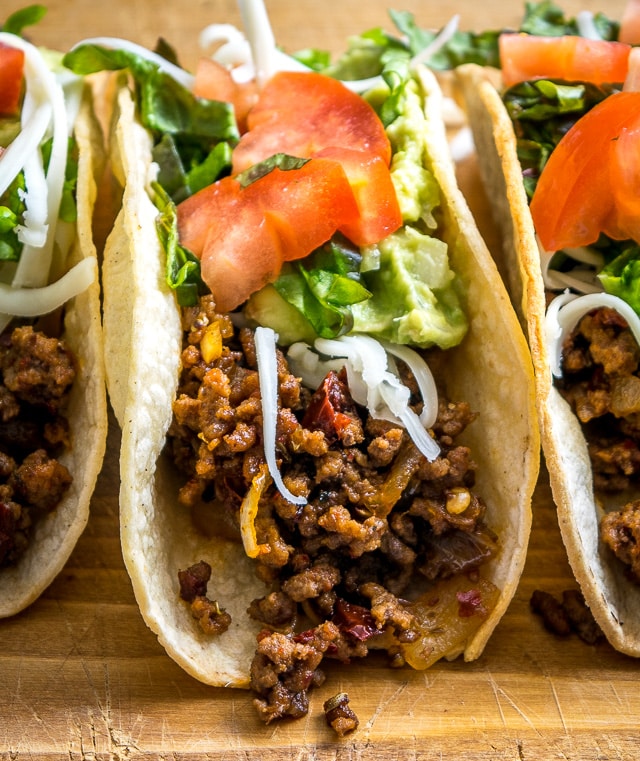 Buen Provecho.
For up-to-date recipes follow me on Instagram, Facebook, Pinterest, TikTok, YouTube.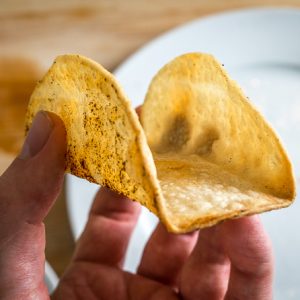 Baked Taco Shells Are Just as Good as Fried
These baked taco shells are much healthier than the fried version, plus they are super easy to make.
Print
Pin
Rate
Ingredients
6-8

corn tortillas

oil

(or cooking spray)

chili powder

(optional)

salt

(optional)
Instructions
Brush a light coating of oil onto the tortillas (or use cooking spray).

If you want to give them some flavoring, add dashes of chili powder and salt.

Place each tortilla over two oven rungs. (You can optionally place a roasting pan or foil on a lower rack to catch any oil dripping down.)

Bake for 10 minutes at 375F for a crispy but pliable version.

Bake for 12-13 minutes for a crispier version.
Notes
Old tortillas will crisp up more readily than new tortillas.  If you're using newer tortillas, let them sit on the counter and dry out for a bit before putting them in the oven.
Keep a close eye on them the first time you make them as ovens can vary.
Depending on how much oil you use, they might drip a little.  You can optionally use a roasting pan or foil on a lower rack to catch the oil if you want.
They are best served immediately. If they've been sitting for awhile they'll get chewy, but you can always put them back in the oven for an additional 30-60 seconds.
Like this recipe?
Click the stars above to rate it or leave a comment down below! @mexplease
You can use a similar technique to make a batch of Baked Tortilla Chips.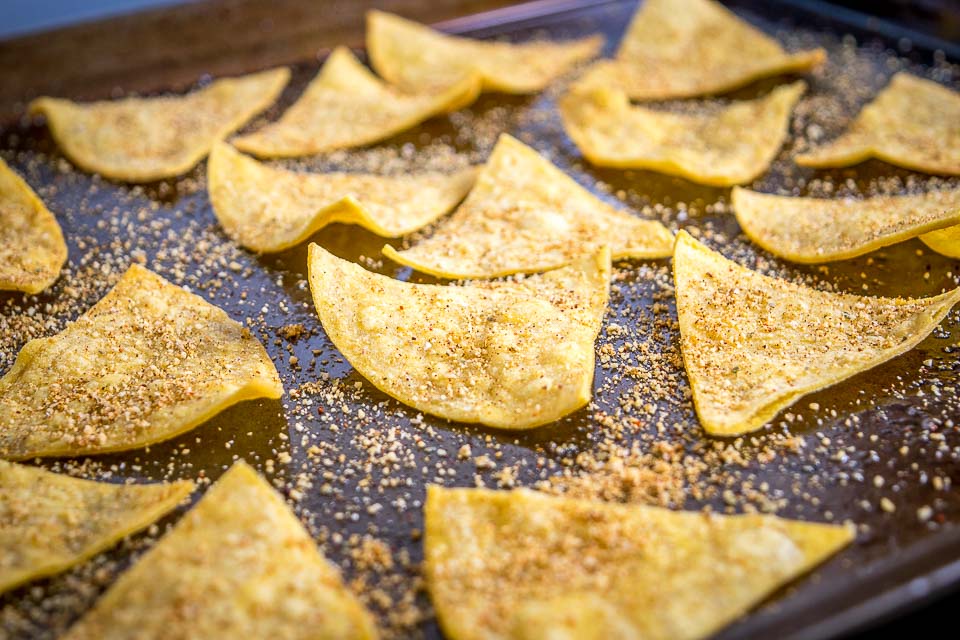 Still hungry?!
Want to receive Mexican Please recipes via email when they are posted?  Sign up below to subscribe.  All recipes are spam free.