I've been getting some questions about the Tomato Chipotle Salsa used in the latest burrito post, so here's a step-by-step account showing the easiest way to make it.
It's the perfect example of a salsa that has become multiuso. Not only does it work in the aforementioned burrito, but it can improve just about anything else you want to goop it on, including your finger.
Keep some chipotles-in-adobo in the pantry and you'll always be 20 minutes away from something delicious.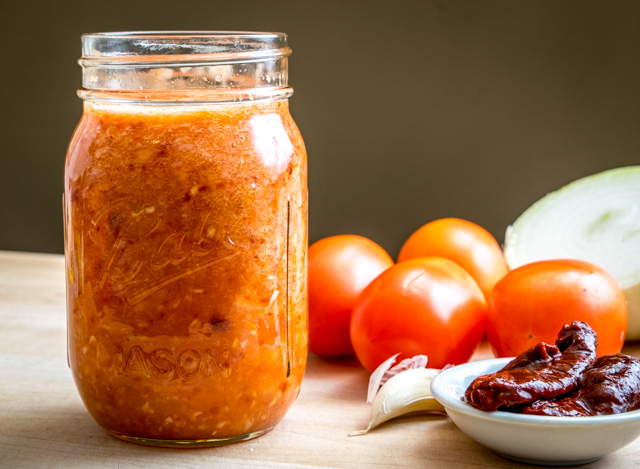 Tomato Chipotle Salsa Recipe Step by Step
OK first, do these look familiar?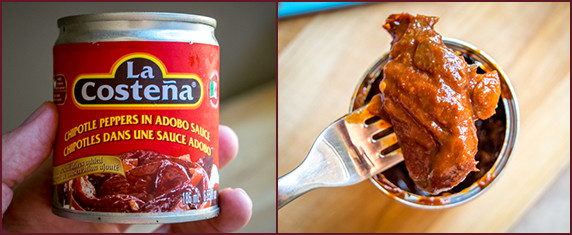 Dried chipotle peppers are canned in a tangy vinegar sauce that sweetens them up over time.
If you've never bought them before, keep an eye out in the ethnic food aisles of the big chains. If no luck there, gourmet stores and Latin markets will have loads of them to choose from.
Each can has around 6-8 chipotles inside. They have real kick so you'll probably only need one or two at a time. After opening, I usually dump them in a small tupperware container and store them in the back of the fridge where they'll keep for weeks if not longer.
I think it's best to cut off the stem and remove the seeds the first time you use them.
This is a good way to learn how much 'heat' you like in your Tomato-Chipotle sauce. If you already know you prefer the spicier side, then it's OK to leave the seeds in.
Must Roast Tomatoes!
Aside from the darling chipotle there's one other key to this salsa: roasting the tomatoes. This lowers their acidity and turns them a little sweeter.
I find it's easiest to use the oven at 400F.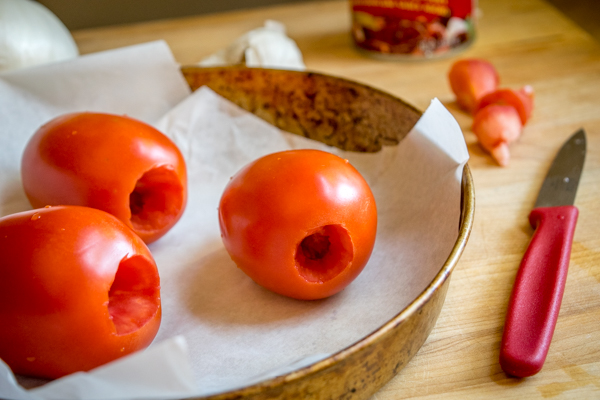 In about 20 minutes they'll look like this: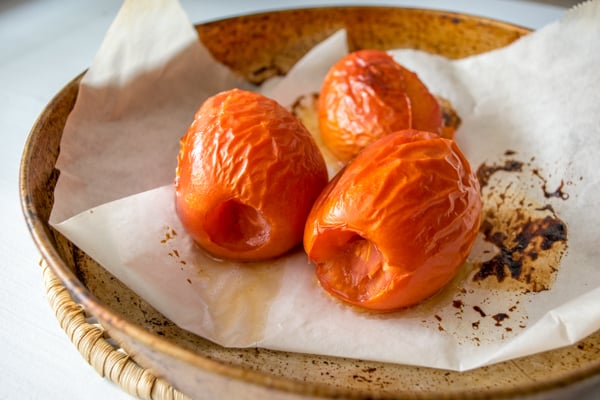 Add to a blender along with 1/2 white onion and 1 clove of garlic.
If you've never used chipotles-in-adobo before, slice the chipotle into quarters and add only 1/4 of it to the blender.
Pulse blend.
And now the best part: taste it!
Most people want a little more heat. Add another quarter, or half, of the chipotle.
Pulse blend and keep adding chipotle until you like it. For me, that means adding a full chipotle to a 3 tomato batch, but everyone's preferred heat level is unique.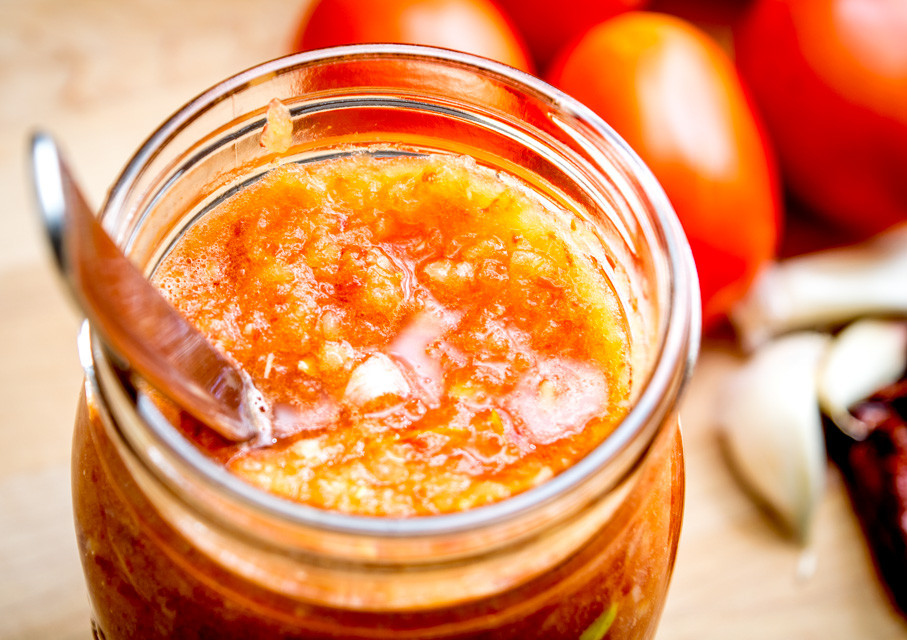 Serve immediately with your choice of tacos, quesadillas, fingers, etc.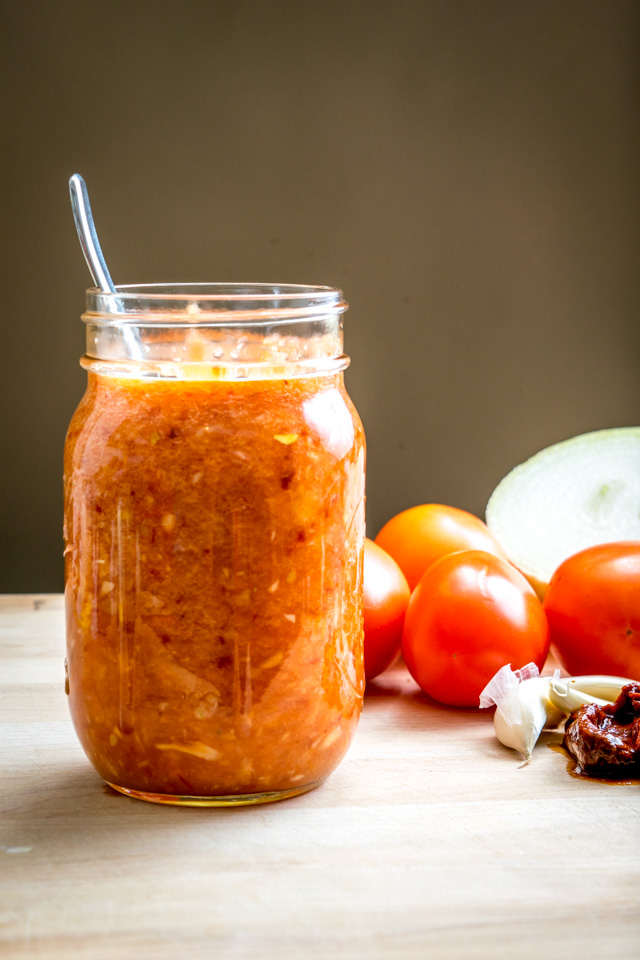 This delicioso Tomato Chipotle Salsa will keep in the fridge for a few days, after that I usually just make a new batch. You will too once you see how easy it is.
And there's one other reason that I won't hesitate to make a fresh batch anytime I have the opportunity. Roasting the tomatoes makes the salsa warm. Yes! This adds another dimension to this salsa that you'll rarely find in your local taco shacks.
And now you're an expert at it.
Use the comments section below if you have any questions and I'll get back to you pronto.
Buen Provecho.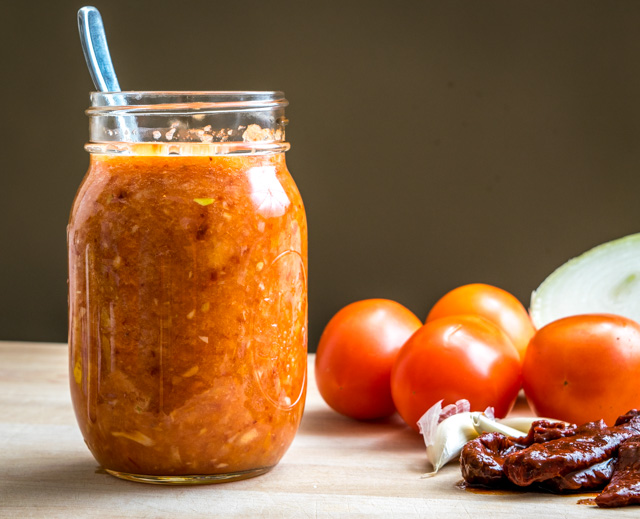 Tomato-Chipotle Salsa Step-by-Step
Keep some chipotles-in-adobo in your pantry and you'll always be 20 minutes away from a rich, warm Tomato-Chipotle Salsa.
Print
Pin
Rate
Ingredients
3

tomatoes

1/2

white onion

1

clove

garlic

1-2

chipotles in adobo

salt to taste
Instructions
Rinse and de-stem the tomatoes. Roast the tomatoes in the oven at 400F for 20-25 minutes.

De-stem and de-seed the chipotles in adobo.

When the tomatoes are done roasting (20 minutes or so), add them to the blender along with 1/2 white onion and 1 garlic clove. Add only 1/4 of the chipotle in adobo. Pulse blend and taste for heat level.

If you want more heat, add another 1/4 or 1/2 of the chipotle. Keep adding chipotle until it tastes "right" to you.

Serve immediately and store leftovers in an airtight container in the fridge.
Notes
Store the chipotles-in-adobo in a sealed tupperware container in the fridge where they'll keep for weeks, if not longer. 
A quick simmer can bring this Salsa to life if you are dealing with out of season tomatoes.  Simply add a dollop of oil to a skillet over medium heat and simmer the Salsa for 5-10 minutes.
Like this recipe?
Click the stars above to rate it or leave a comment down below! @mexplease
This Tomato Chipotle Salsa works great in Huevos Rancheros and Baked Taquitos.
And if you've got chipotles on hand you can easily make our Chipotle Burgers with Creamy Avocado Sauce.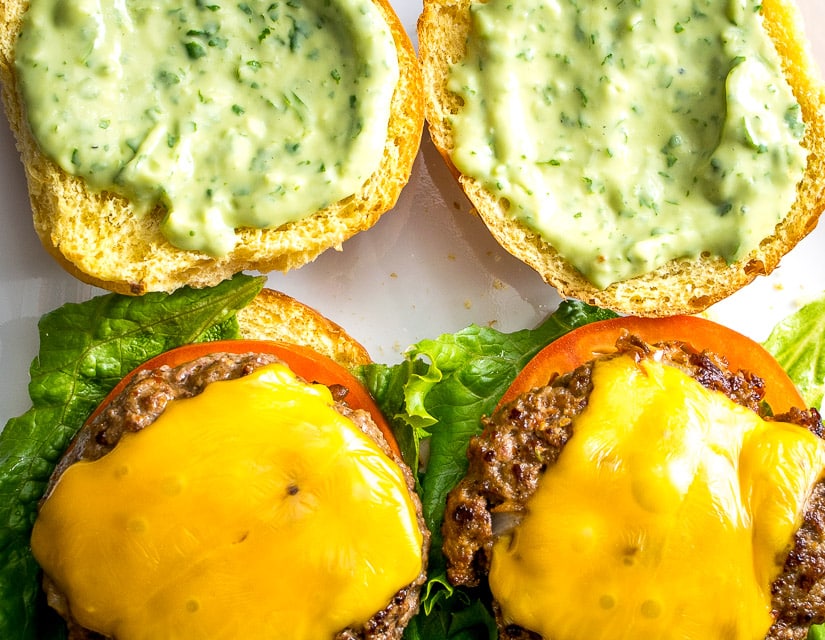 Still hungry?!
Want to receive Mexican Please recipes via email when they are posted?  Sign up below to subscribe.  All recipes are spam free.