Originating in the rural heartland of Mexico, Huevos Rancheros has now made its way onto brunch menus around the world.  And for good reason.  When done right, it simply cannot be beat.
But people can be finicky in the morning right?  (And afternoon, and evening).
So the idea here is to give your peeps the option of building their own personal version of Huevos Rancheros using all the goodies in the skillet.   Not only is it delicioso, but the 'build your own' aspect will allow you to take all the credit for one of Mexican cuisine's most satisfying combinations.
Huevos Rancheros Recipe
Refried beans, crispy potatoes, warm corn tortillas, poached eggs drenched in Tomato Chipotle Salsa, avocado slices…..
It may look like the components have equal weighting, but one of them is more important than the rest (Hint:  it's red.)
Making a quick homemade salsa will keep you coming back to this combo again and again, so consider it the head Huevo.  While you can substitute and expand on the rest of the goodies at will, I think a warm, roasted salsa is a must to give it the rich taste of an authentic Huevos Rancheros.
There are loads of versions of Ranchera sauce out there to choose from.  Here, we are building an on-the-fly Tomato-Chipotle Salsa, for a couple reasons.  One, it's fast.  You're hungry right?  And two, the smoky punch of the chipotle does wonders in the Egg-Bean-Salsa bites.  (Note:  if you don't have chipotles handy a single jalapeno is a good substitute.)
Here's what you'll need for the salsa:
First thing is to get those tomatoes roasting in the oven at 400F.  They'll be ready in 20 minutes or so.
And since we're roasting the tomatoes I think it's easiest to bake the potatoes as they'll take about the same amount of time.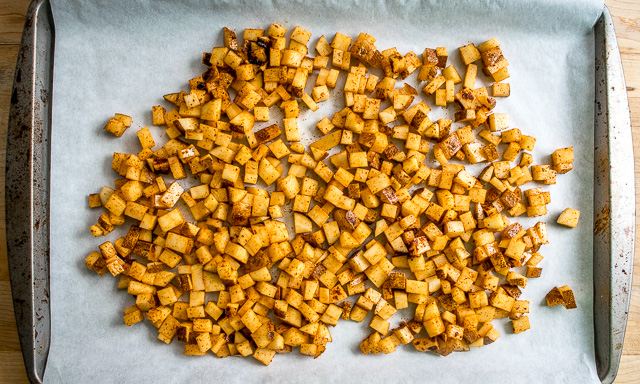 That's a single potato diced fine and tossed with salt, pepper, a dollop of oil, and 1 teaspoon of chipotle powder (standard chili powder works too).
I'm using 2 cups of Frijoles de Olla pinto beans, sauteed in a bit of lard (lard!), but canned beans is a viable option here.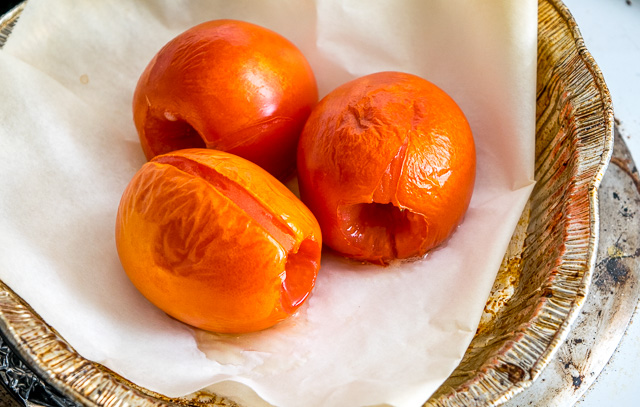 After the tomatoes are done roasting, add to a blender along with the onion, garlic and chipotle.  If you want a milder salsa you can start by adding just half of the chipotle.  Pulse blend and taste for heat level.
This will give you two cups of rich, warm salsa with otherworldly flavor.
Poaching the eggs works good but you can fry them up if you want.  For poaching, add the eggs individually to simmering water and cook for 4-6 minutes.
Warm the corn tortillas and slice some avocado and you are there.
Gathering everything in an oven-safe pan gives you the option of warming everything up for a couple minutes if you want.
Cilantro, Cotija cheese, and sour cream are all good choices for garnishes.
The enduring Ranchero partnerhsip is eggs, salsa, beans and tortillas — so try to get a version of that combo in your first few bites as a starting point.
And after that, if you customize a combo you really like don't forget to take all the credit for re-inventing this classic Mexican dish 🙂
Buen Provecho.
If you'd prefer to keep buying greasy tacos from your local Mexican joint, do not click
this link
.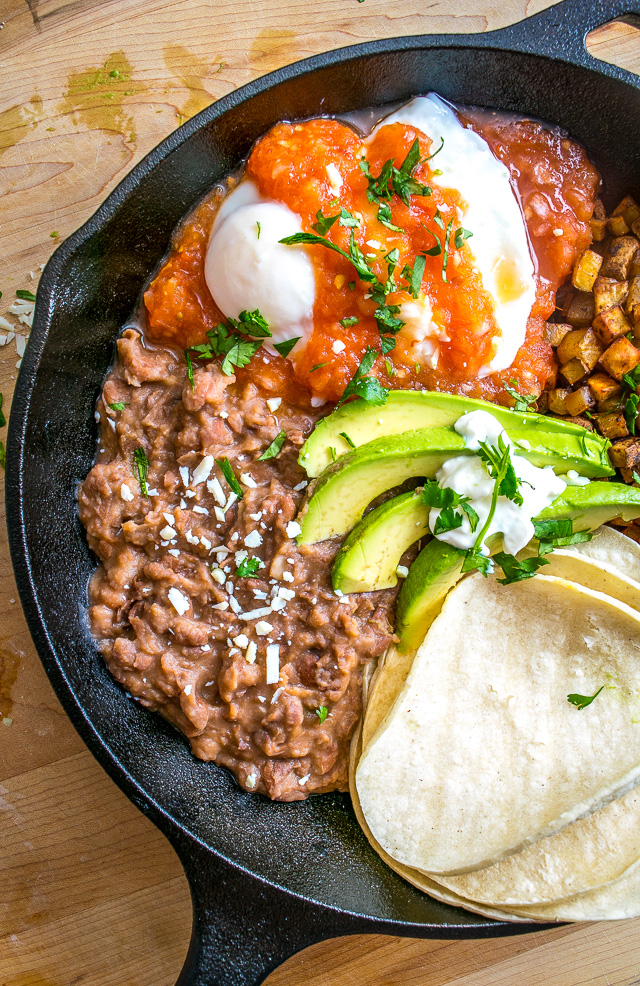 'Come and Get It' Huevos Rancheros Skillet
These easy Skillet Huevos Rancheros have a 'build your own' aspect that will you keep you coming back again and again.
Ingredients
3

tomatoes

1/2

white onion

2

cloves

garlic

1-2

chipotles in adobo

1

potato

1

teaspoon

chili powder

(or chipotle powder)

1

avocado

5-6

eggs

8

corn tortillas

2

cups

refried beans

cilantro

(optional)

Cotija cheese

(optional)

sour cream

(optional)
Instructions
Wash and de-stem the tomatoes

Roast tomatoes in oven at 400F for 15-20 minutes

Dice a potato and toss with salt, pepper, a dollop of oil, and 1 teaspoon chili powder (or chipotle powder)

Bake diced potatoes in oven for 20-25 minutes

Heat up 2 cups refried beans (I sauteed them in a bit of lard)

For poached eggs, bring a pot of water to boil and reduce to a simmer

Add salt and a dollop of vinegar (optional) to the simmering water

Slide the eggs into the water individually and let cook for 4-6 minutes

When tomatoes are done roasting, add to a blender along with 1/2 white onion, 2 cloves garlic, and 1 chipotle in adobo. Pulse blend and taste for heat level.

Warm up the corn tortillas (I use the oven for 1-2 minutes)

Slice the avocado

Prepare the optional garnishes: chopped cilantro, Cotija cheese, sour cream

Serve immediately
Recipe Notes
Gathering everything in a cast iron pan or baking dish gives you the option of warming everything up for a couple minutes just before serving

If you want a a milder salsa, start by adding just one half of the chipotle and taste for heat level