You know that telephone game where you whisper a message to the first person and then go around the ring to see how close the final message is to the original?
Well, Ranchera Sauce has been around the telephone ring a few times and it's taken on all sorts of idiosyncrasies from the players.
Taking a look at the essential traits of an authentic Ranchera Sauce will give you flexibility next time you see a dish call for it, so here are the most common iterations to have in your arsenal.
Ranchera Sauce key ingredients
Although nobody knows exactly where it comes from, we do know what it comes from: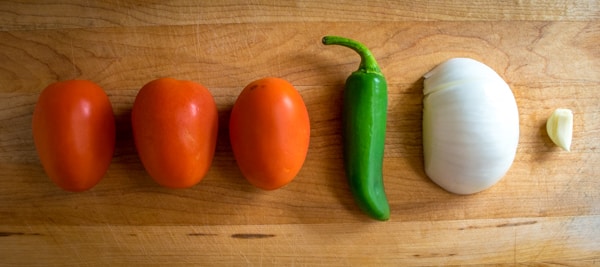 Tomatoes, onions and chili peppers will always be the starting point for a go-to Ranchera Sauce.  After that, it can head in a number of directions.
If you combine the above ingredients in raw form you'll end up with the starting point for Pico de Gallo.  But once you start cooking the ingredients then you are entering the Ranchera Sauce realm.
So, for example, putting these tomatoes in the oven for 15-20 minutes will sweeten them up and reduce the acidity.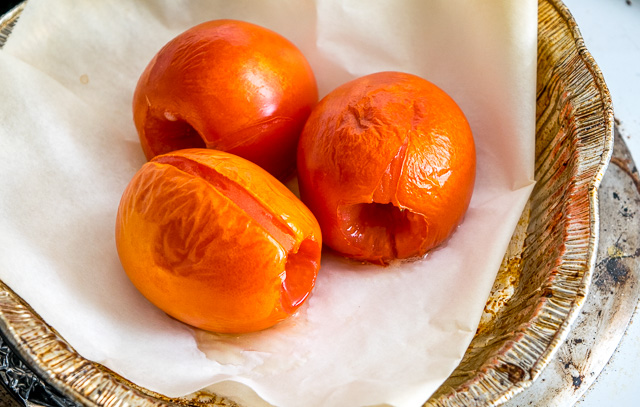 Blend the roasted tomatoes with the onion, garlic, and jalapeno (or serrano) and you've got a Tomato-Jalapeno Salsa that is on the fringe of the Ranchera estate.
The next iteration would be to saute the onion first in a dollop of oil (or even better, lard).
Then add the blended tomato, jalapeno, and garlic.
Cooking the ingredients this way will reduce the sharpness of the raw ingredients and bring everything to a more uniform temp and flavor profile.
This cooked salsa method is probably the most common incarnation of Ranchera Sauce north of the border.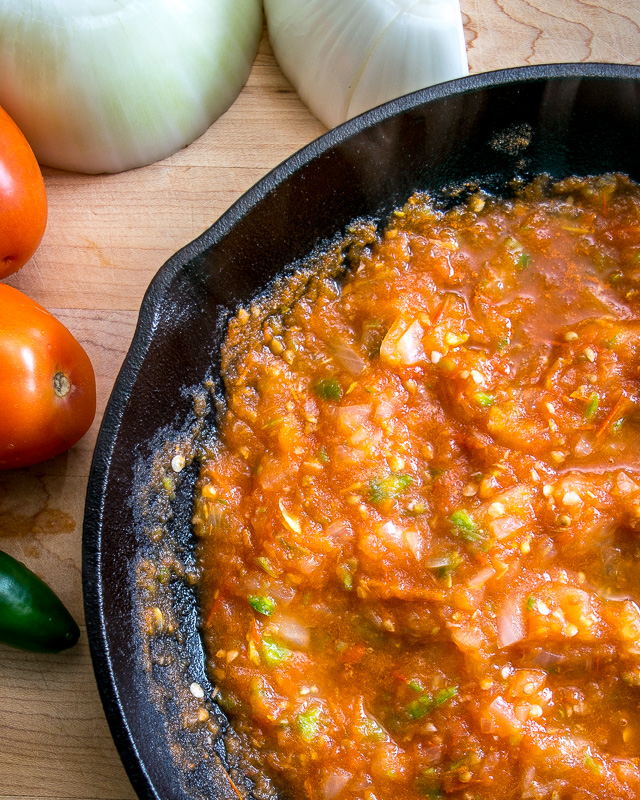 A further variation of this reduces the emphasis of the tomatoes by adding additional chilis and/or thinning it out with some stock.
Poblano peppers are the most common addition.   You can start by roasting the tomatoes and poblano.
These are then blended with the onion and garlic (and sometimes a jalapeno).
And sauteed in a dollop of oil (or lard).
This is thinned even further by adding a cup of stock.
Let this simmer for 20-30 minutes, salt to taste, and the result is a mild but surprisingly flavorful Ranchera Sauce that you'll see frequently in dishes like Huevos Rancheros.
Thinning out the sauce with stock reduces the dominance of the tomatoes and results in a quieter sauce that is less like traditional salsas.   These versions are probably more common south of the border than on the other side.
So next time someone whispers Ranchera Sauce in your ear, know that you've got lots of good options to choose from.
You can think of it on a spectrum, with a sharp Tomato-Jalapeno Salsa using roasted tomatoes on one end, and a milder, thinned out version on the other end.
Finding your sweet spot on the spectrum is the fun part.
Buen Provecho.