Cozumel's blazing sun can eat up your energy muy rapido.  When sunset finally rolls around there's a chance you'll end up looking like this:
If I'm beached like that my first choice for instant energy would always be a big handful of cacahuates.  Preferably with limon.
Peanuts play a surprisingly substantial role in Mexican cuisine.  You'll see them combined with traditional salsas to make thick, hearty sauces, but you'll also see an infinite array of cacahuates whose sole purpose is to get you to the next meal.
Most of these variations riff on the central Chili-Lime theme, and for good reason as it's one of the most satisfying culinary combinations known to man (and dog).
Luckily it's easy to make these at home and the result is a snack that you'll be reaching for even on the cloudy days.
Cacahuates Enchilados - Chili Lime Peanuts Recipe
Don't worry about getting an exact chili powder combination set in stone before you make these.  I'm using chipotle powder and cayenne, but there are lots of combos you can use to get similar results.
Add the following ingredients to a mixing bowl:
1 teaspoon chipotle powder, 1/8 teaspoon cayenne powder, 1 tablespoon lime juice, 1 teaspoon lime zest, 1/2 tablespoon of oil, and 1 teaspoon of salt.
Mix well and add 1 cup peanuts (I'm using cashews but regular peanuts work too).  Stir to coat.
Since I'm using nuts that are already roasted, all we need to do is dry out the Chili-Lime mixture a little bit.  This will make for easier storage.
(If starting with unroasted nuts I would probably roast them first and then add the Chili-Lime mixture afterwards.)
Preheat oven to 300F.  Add peanuts to a lined baking sheet.
Put them in the oven and then turn off the heat.  The residual heat is enough to dry them out.
It will take 10-15 minutes for them to dry.  You can stir them once if you want.
Once dry let them cool on a plate (or anything besides the baking sheet).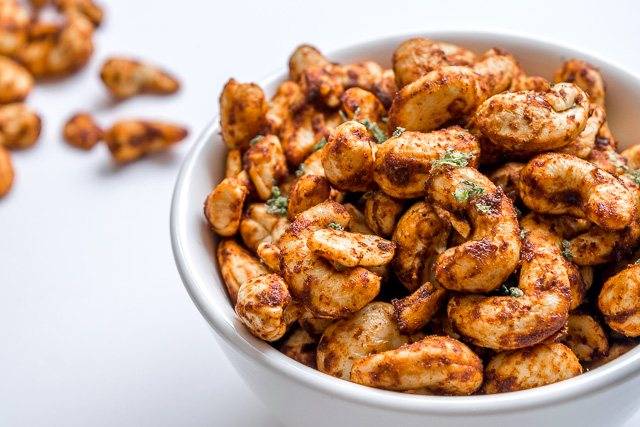 You can store these in an airtight container but most likely they'll be gone pretty soon.  The burst of Chili-Lime goodness is addictive and justifies gobbling them up.
Have a bit more energy now?
Chili-Lime Peanuts -- Cacahuates Enchilados
These Chili-Lime peanuts are the perfect snack for some instant energy.
Print
Pin
Rate
Ingredients
1

cup

roasted cashews

(or peanuts)

1

teaspoon

chipotle powder

1/8

teaspoon

cayenne powder

1/2

tablespoon

oil

1

tablespoon

fresh squeezed lime juice

1

teaspoon

lime zest

1

teaspoon

salt
Instructions
Preheat oven to 300F

Add all ingredients for the Chili-Lime mixture to a bowl and mix well

Add the nuts and stir to coat

Add nuts to a lined baking sheet and add to oven

Turn off oven heat and let residual heat dry out the nuts

Keep in oven until dry, approximately 10-15 minutes

Serve immediately or store in an airtight container
Notes
This recipe is for 1 cup of nuts but it can be double or tripled at will.
I used roasted nuts here. If you want to use unroasted, I would probably roast them first and then add the Chili-Lime mixture afterwards.
Like this recipe?
Click the stars above to rate it or leave a comment down below! @mexplease
Still hungry?!
Want to receive Mexican Please recipes via email when they are posted?  Sign up below to subscribe.  All recipes are spam free.