This post is for all of you who are diehard fans of that mysterious, creamy green sauce at your local taqueria.
It's not guacamole, and it doesn't even seem like Salsa, but it's strangely addictive and it works wonders on tacos, so what is it?!
And more importantly, how do I make it?!!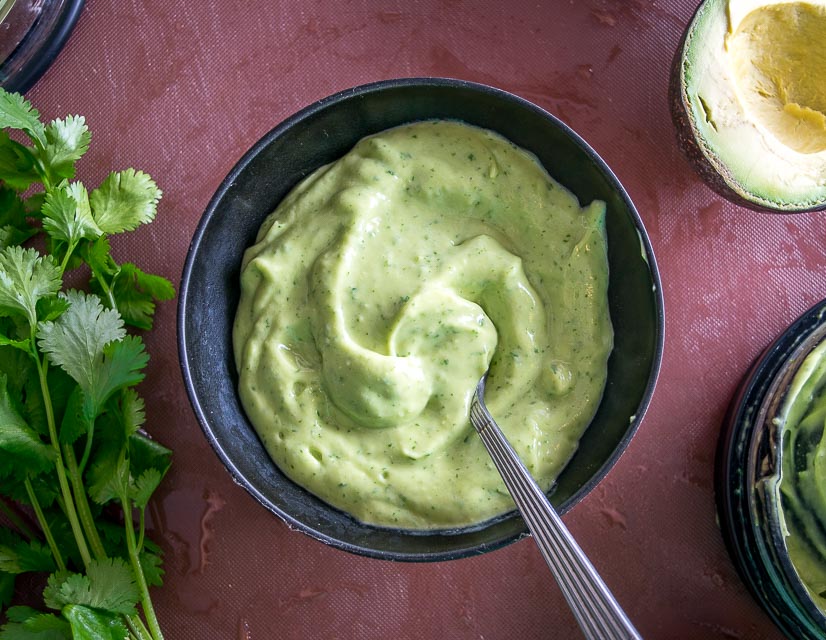 How To Make Salsa de Aguacate (Avocado Salsa)
Liquefy some barely seasoned avocados and you've nailed down the essence of Salsa de Aguacate. It's meant to be light and mildly flavored, the ideal accompaniment to bold and spicy tacos.
But before we make it let's first see where it falls on the Avocado Spectrum.
There are four avocado sauces (or Salsas) that you'll come across most frequently in Mexican cuisine.
Up first, of course, is guacamole. Mash up some avocados, add some seasoning, and you've got a thick, chunky delight that will gladly be the star attraction of your meal.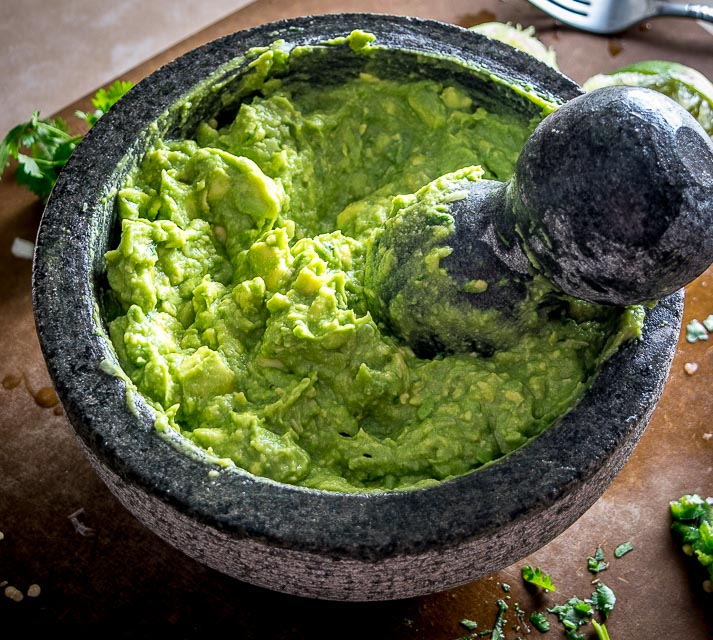 Or you can combine the avocado with yogurt and seasoning (or mayo/cream) and you've got a creamy avocado sauce on your hands that you can use as a dressing or spread.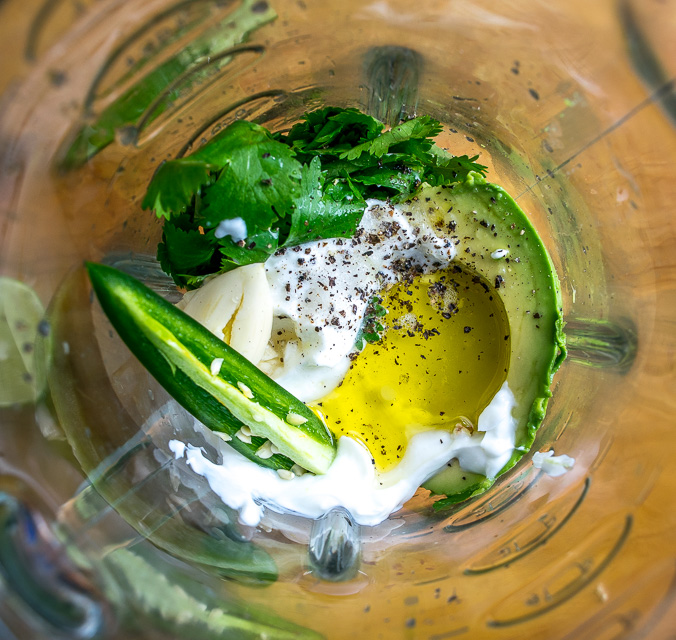 We use that sauce in our Burrito Bowls and Chipotle Burgers. It's thinner than Guac but it still has some weight to it.
Next, you can add an avocado to a traditional green Salsa and you've got a delicious Avocado Salsa Verde on your hands.
Avocado Salsa Verde is much thinner than traditional Guac and the addition of tomatillos gives it a unique flavor. It works well in burritos, nachos, quesadillas, etc.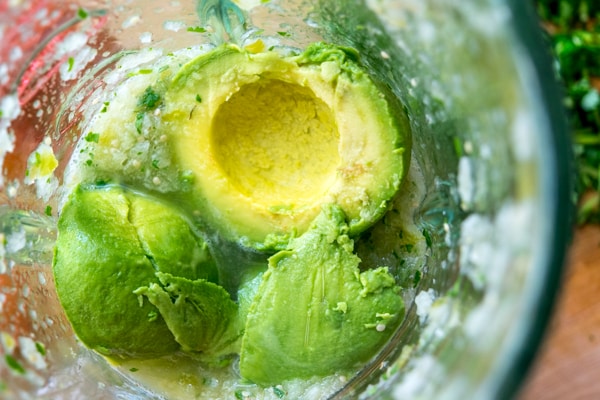 And finally, if you combine an avocado with water and lime juice you'll get an even thinner sauce that is slightly creamy. And strangely addictive.
Hello Salsa de Aguacate!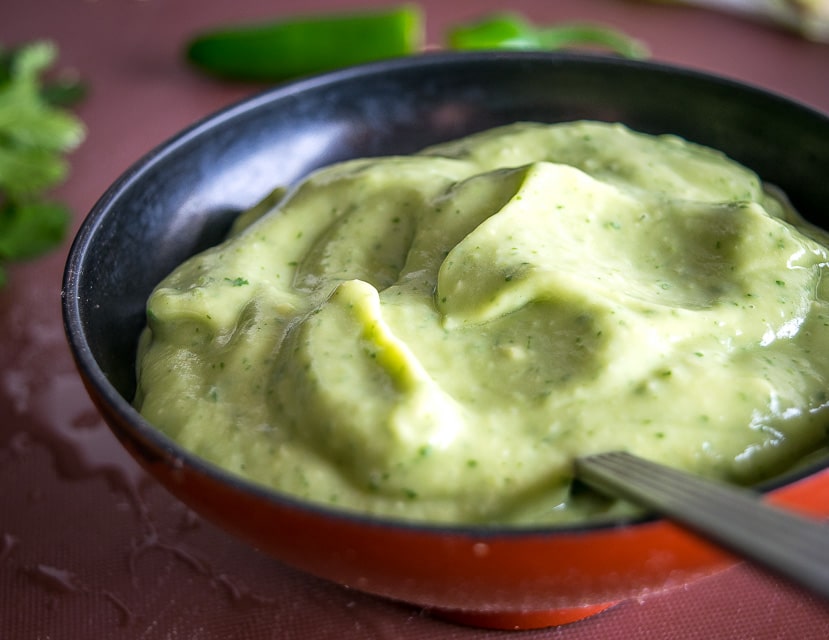 This sauce is on the opposite end of the spectrum from guacamole. It has a light texture and just a hint of seasoning.
And it's super easy to make too!
Simply add the following ingredients to a blender or food processor:
1 avocado
1/4 cup water
juice of 1 lime (approx. 2 tablespoons)
4-5 sprigs cilantro
1/2 garlic clove
1/4 teaspoon salt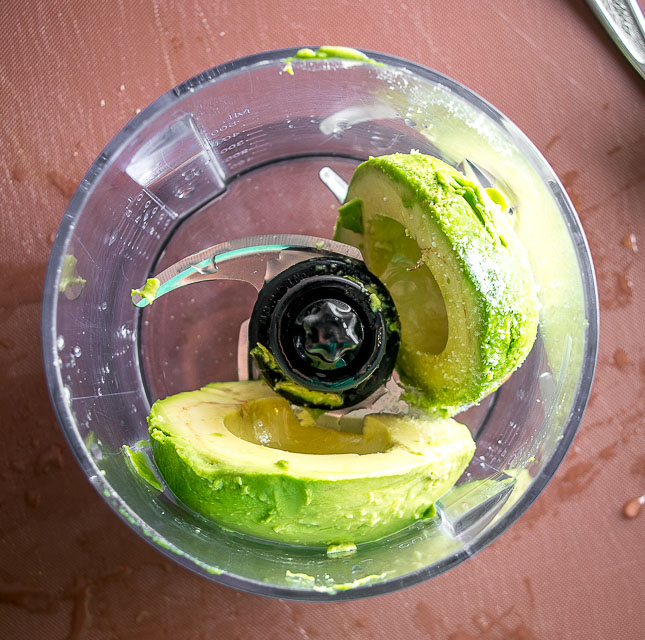 And combine well.
You might have to scrape down the sides of the blender, but there should be enough liquid in there to get it to combine quite easily.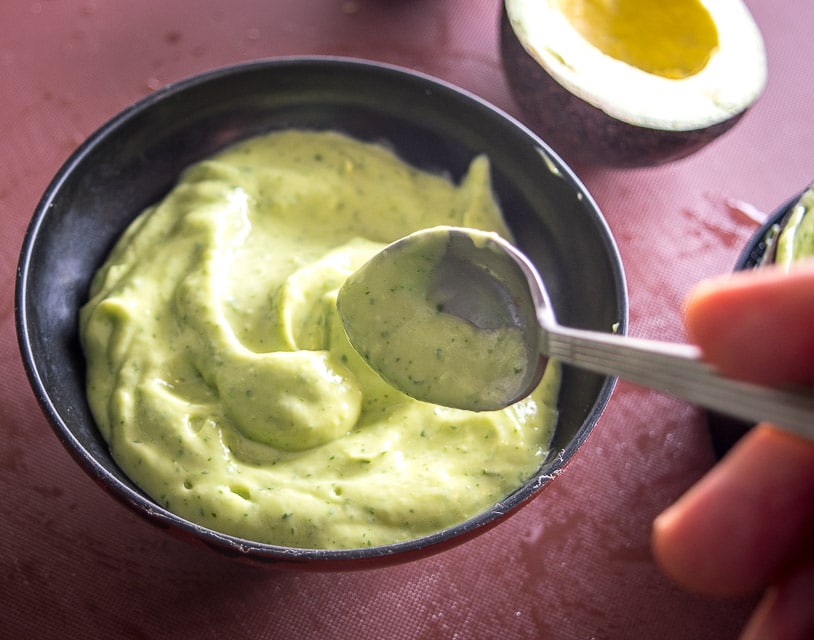 And that's it. Easy right?
And yes, it's meant to be mildly flavored. It's designed to be the ideal dance partner for spicy meats like Birria de Res (Beef Birria) or Carne Asada Tacos.
That's how I use it -- spooned on top of big, bold tacos to provide some cool green relief. If you get a chance, chill it before serving as this makes it even better.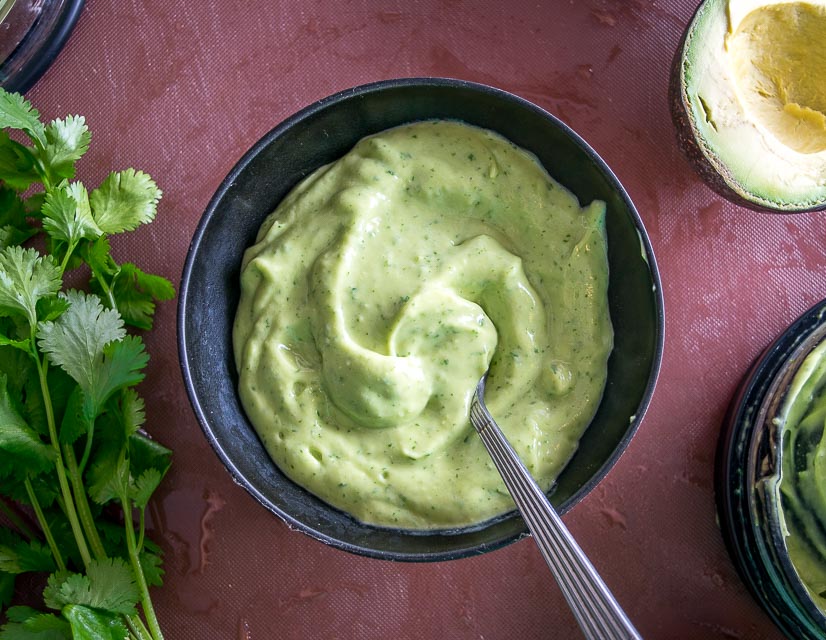 Of course, you are welcome to jazz it up if you want to use it on its own. Sometimes I'll add some dime-sized slivers of serrano for heat and then dip veggies in it.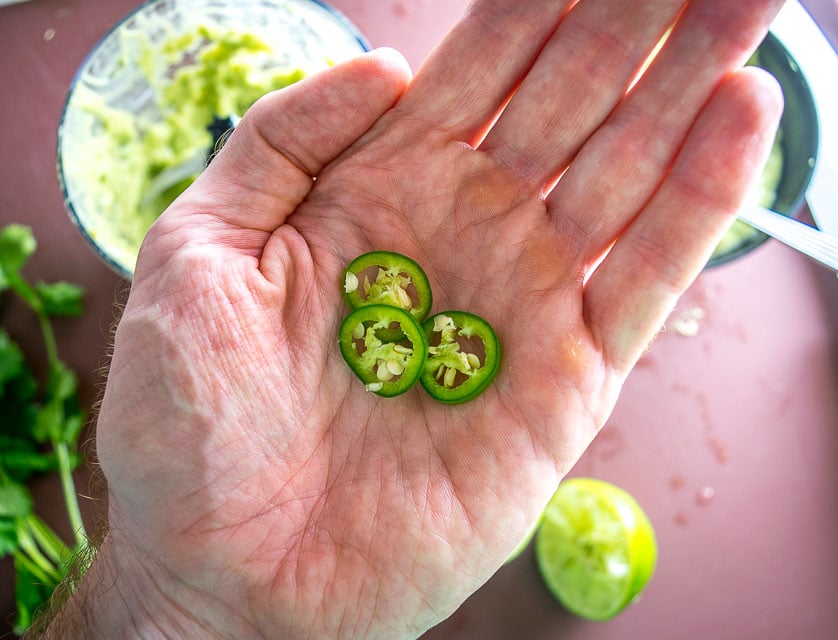 But I would say more often than not I keep it mild and simple.
To summarize:
Guacamole -->
Creamy Avocado Sauce -->
Avocado Salsa Verde -->
Salsa de Aguacate
That's the general progression to keep in mind, with Salsa de Aguacate being the lightest, thinnest option. And depending on what you're eating, sometimes it's the best option too!
Okay, I hope this solves the mystery of the creamy green sauce that you keep seeing at your favorite taco joint. I'll put the recipe box below but feel free to get in touch if you have questions about any of these delicious options.
Enjoy!
For up-to-date recipes follow me on Instagram, Facebook, or Pinterest.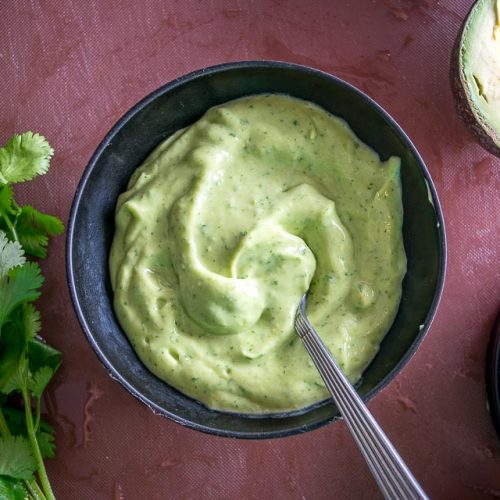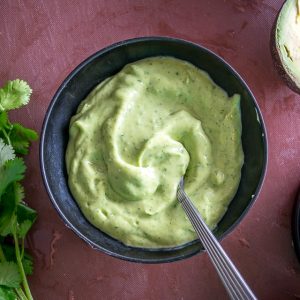 Salsa de Aguacate (Avocado Salsa)
Here's a great recipe for that light, creamy green sauce that you keep coming across at your favorite taco joints! Hello Salsa de Aguacate!!
Print
Pin
Rate
Ingredients
1

avocado

1/4

cup

water

juice of 1

lime

4-5

sprigs

cilantro

1/2

garlic clove

1/4

teaspoon

salt
Instructions
In a blender or food processor, combine the following ingredients: the flesh of a ripe avocado, 1/4 cup water, juice of 1 lime, 4-5 sprigs of cilantro, 1/2 peeled garlic clove, and 1/4 teaspoon salt. Combine well. For a thinner consistency add additional splashes of water.

Serve immediately. Or if you have time, chill in the fridge before serving.

Store leftovers in an airtight container in the fridge.
Notes
This sauce is meant to be mild and is the perfect accompaniment for bold, spicy tacos.   If serving on its own you can increase the seasoning and optionally add slivers of serrano for heat. 
I usually twist off and discard the thicker, bottom portion of the cilantro stems, but use the upper stems that hold the leaves together.
Like this recipe?
Click the stars above to rate it or leave a comment down below! @mexplease
Like this post? Then you'll love our Mexican Cooking Crash Course.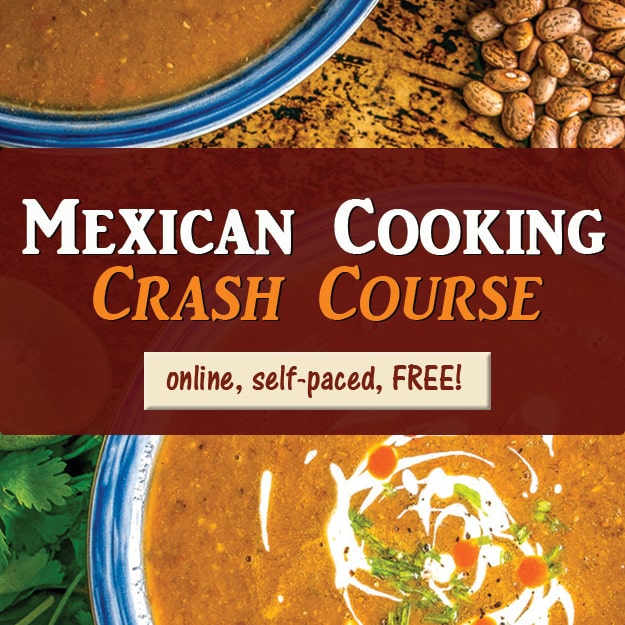 We also recently put together a roadmap for the different types of Salsa.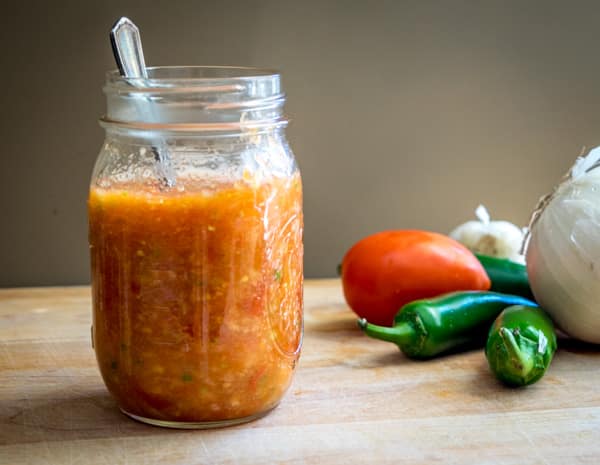 And our latest recipe is this Pasilla Chile Salsa.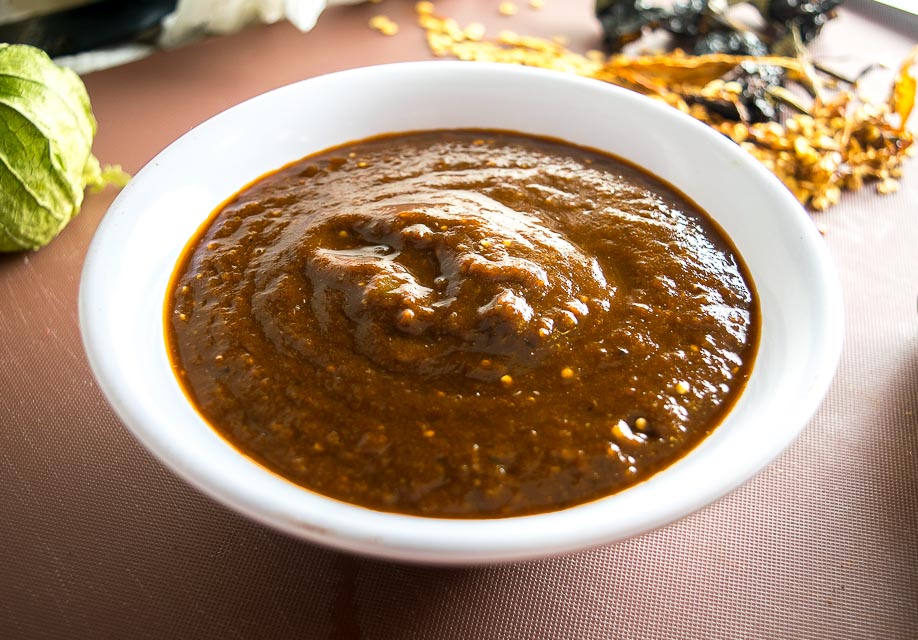 Still hungry?!
Want to receive Mexican Please recipes via email when they are posted?  Sign up below to subscribe.  All recipes are spam free.