So what's the easiest way to get your kitchen familiar with some new chiles?
Use them to make a simple salsa and not only will you get a snapshot of the chile's flavor profile, but you'll get a lip-smacking Salsa that you can use on tacos, eggs, or even just with some chips.
That's what we're doing with these Pasilla chiles today.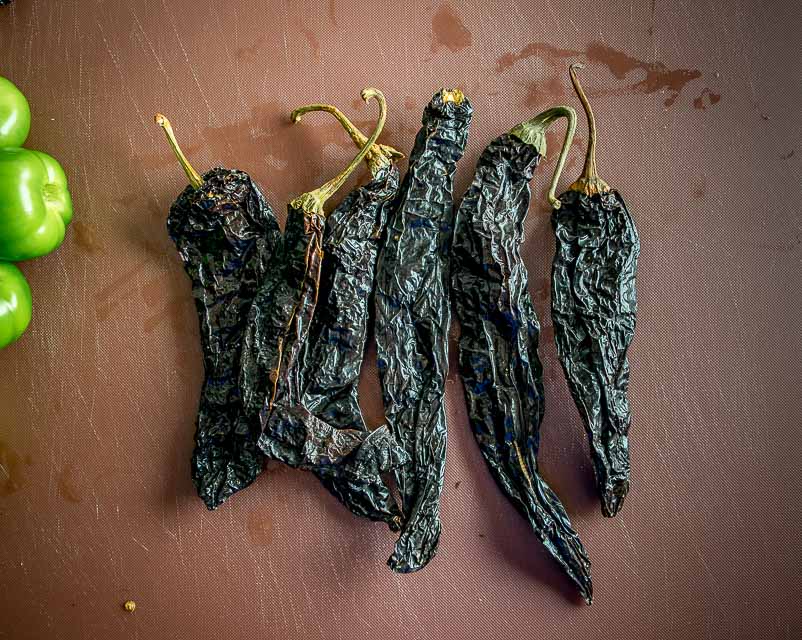 Have you used Pasillas before?  They're a workhorse chile that will frequently pop up in traditional Mexican sauces and salsas.
Like most dried chiles, they have a different name than their fresh counterpart.  So to get a Pasilla chile you need to start with a ripe Chilaca chile.  De-hydrate it and you've got a Pasilla on your hands.
You may also see Pasillas referred to as Pasilla Negro chiles or Chile Negros.
They have a mild heat compared to other chiles.  Here's where they land on the Scoville scale: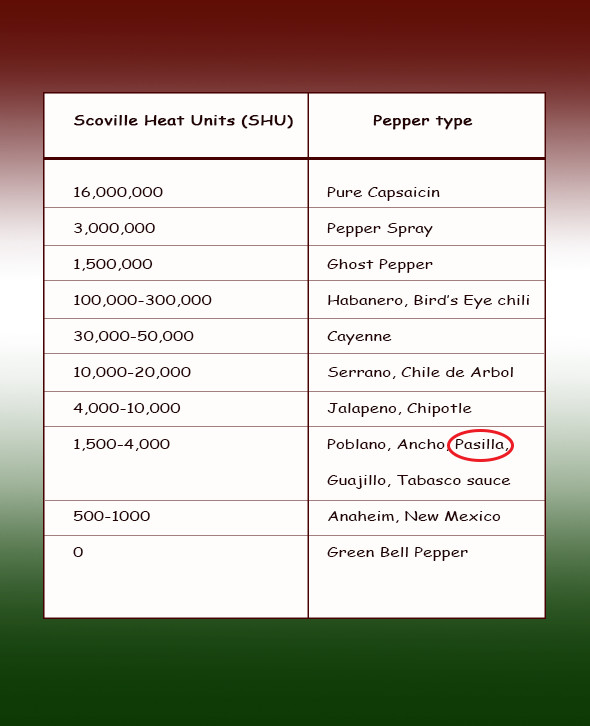 So yes, since they're towards the bottom of that chart they're going to have a relatively mild heat.
You might also notice they have a similar heat profile to Anchos, and that's partly why people confuse the two peppers.  You can see the two next to each other in the pic below: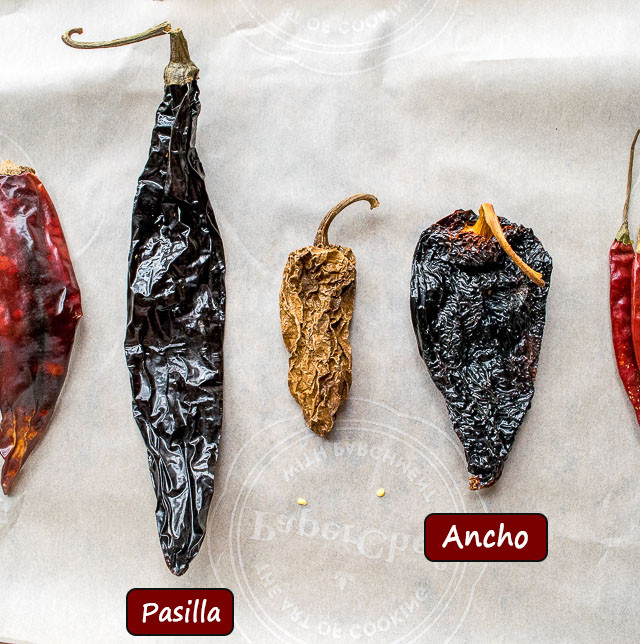 Pasillas will typically be longer and thinner, and Anchos will mimic the shape of a Poblano.
It's also worth mentioning that you'll frequently see these two chiles mislabeled in the States.  Anchos are dried Poblanos, and Pasillas are dried Chilacas -- but for some reason you'll frequently see fresh Poblanos labeled as Pasillas when North of the border.  Ahh the gringos.
So how do they taste?
They have a similar flavor profile to Ancho chiles, but to me Pasillas always taste a bit more earthy and less sweet.  You might also get hints of cocoa in their flavor.
But it's much more effective to let the taste buds explore them so let's make some Salsa!
We'll start by de-stemming and de-seeding the Pasillas.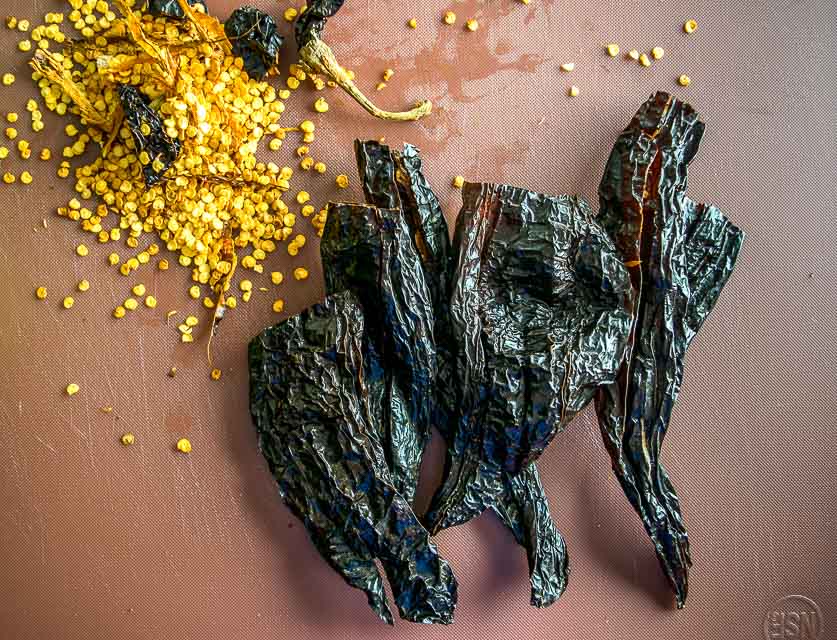 I usually cut off the stems and make a slit lengthwise on the chiles, then dumping out the seeds and veins.  But don't worry about getting rid of every last seed as it won't affect the flavor too much.  (More info on working with dried chiles.)
It's always best to wake up dried chiles with a blast of heat and lately I just plop the chili pieces in a pre-heated oven for 1-2 minutes.  You can alternatively flash roast them on a hot, dry skillet for 15-30 seconds per side.
Then we'll reconstitute these in hot tap water for 20-30 minutes.  If they float to the surface you can use a small bowl or plate to keep them submerged.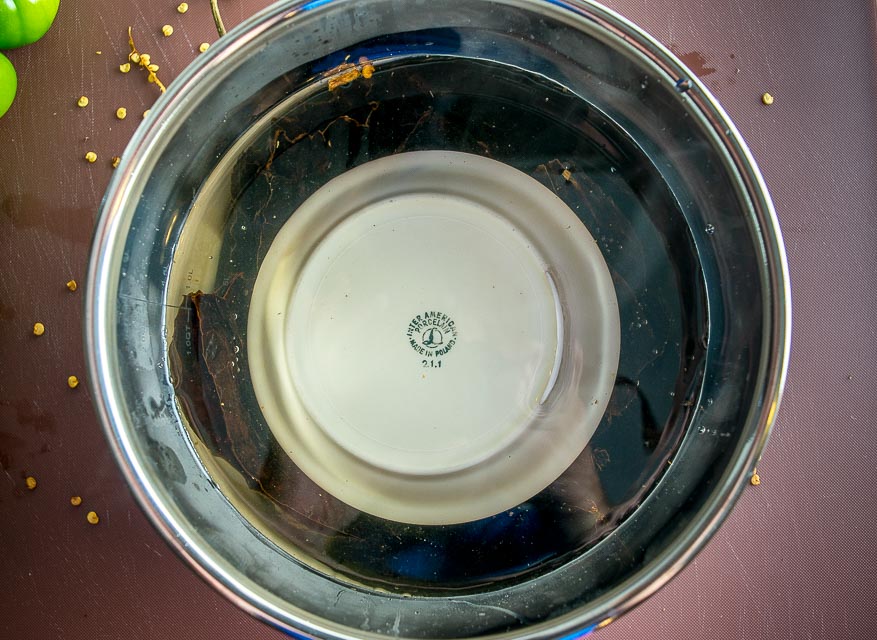 Meanwhile, we'll roast 4 tomatillos in the oven for 15 minutes or so.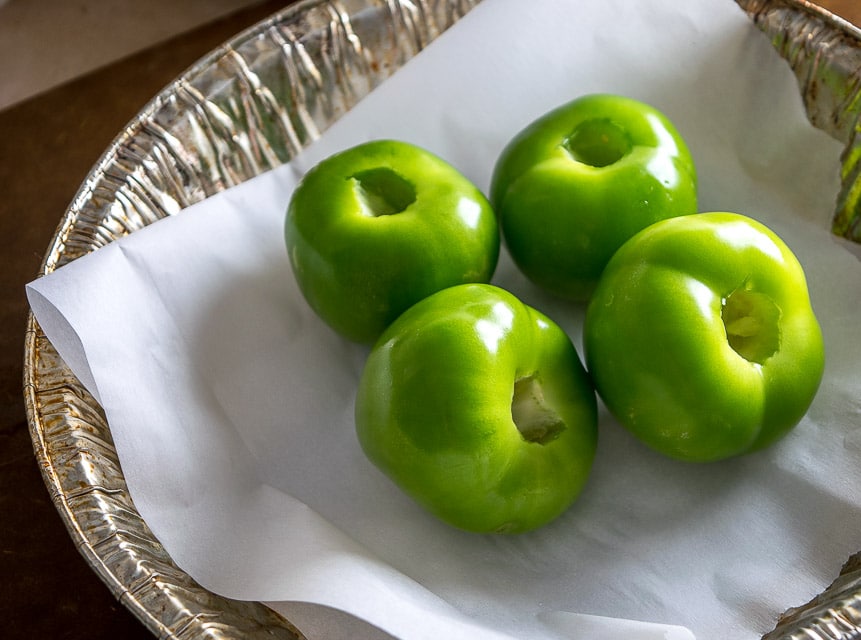 Yes, you can use other methods to roast the tomatillos, but the oven is the most hands-off and I default to that lately.
Once the chiles have reconstituted you can drain them and add them to a blender along with 2 peeled garlic cloves and the roasted tomatillos.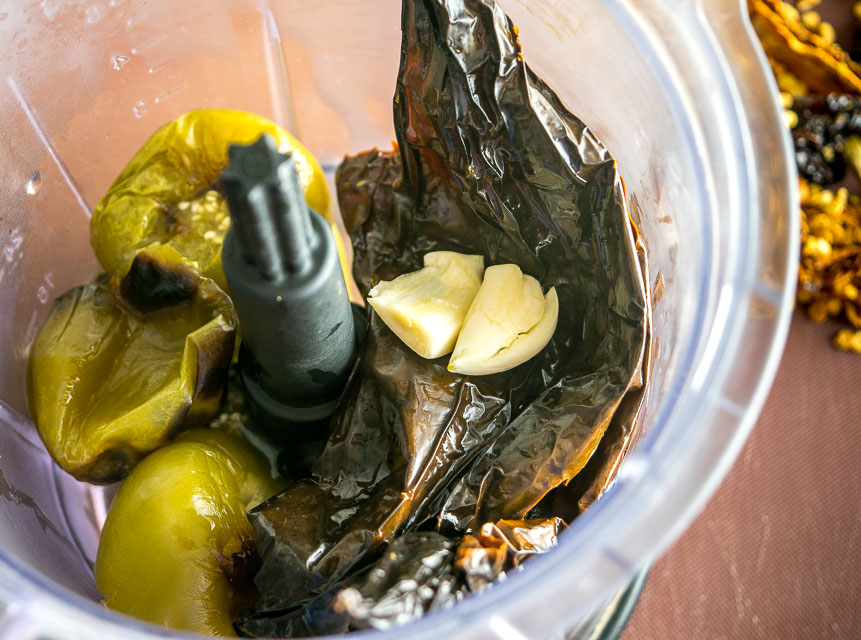 Add a splash of water and give it a whirl.
This is the world's simplest Salsa but you'll be surprised at how much flavor you can get from it.
(We use a similar recipe for Cascabel Chile Salsa and Tomatillo Chipotle Salsa.)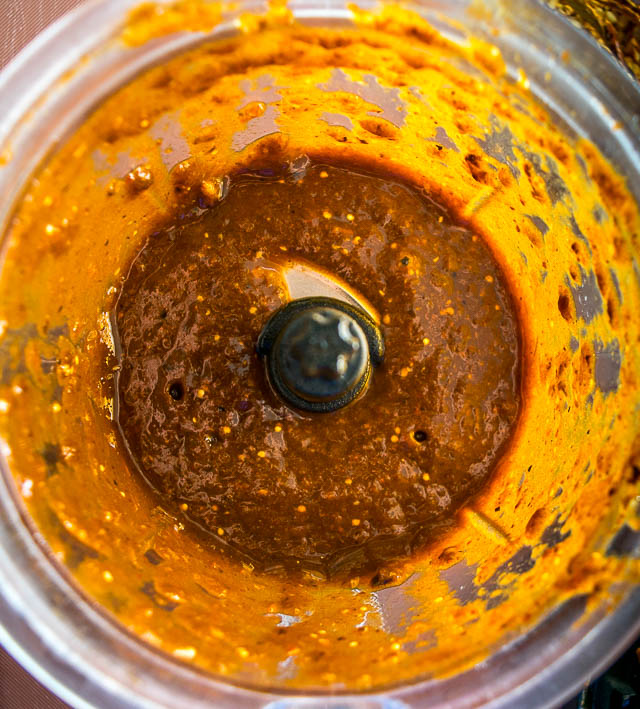 And now take a taste.  Hello Pasilla chiles!
It will probably have a rich, earthy, slightly fruity flavor to you, with mild but present heat.  You can salt to taste at this point but I usually only add a small pinch.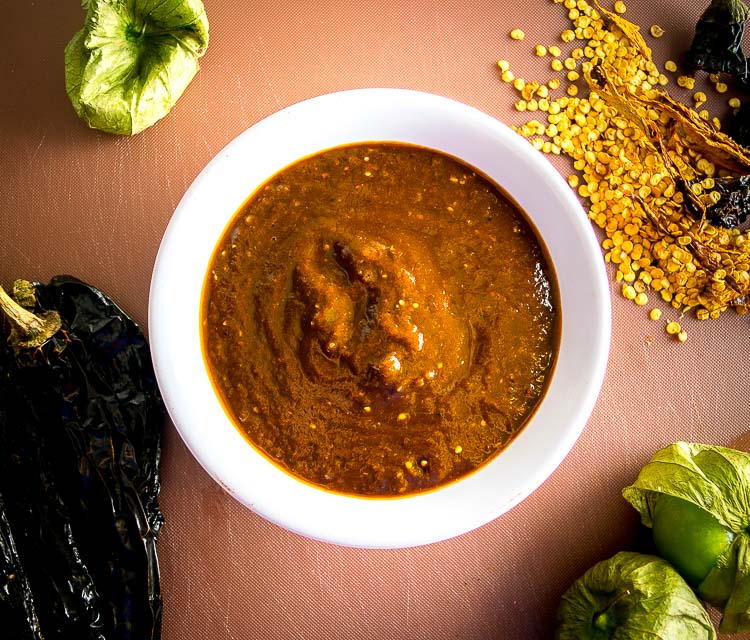 And now the most important question...
Does it taste bitter at all to you?  Some will say yes, some will say no, it depends on your palate.
I am probably more sensitive to bitter flavors than most peeps, so I usually reserve the option to balance chile-heavy sauces with a bit of sweetness as it makes them taste complete to me.  That's why you'll see me add adobo sauce and chocolate to dishes like Colorado Enchiladas.  Similarly, I like the Ancho Enchilada Sauce best when it has some sweetness from the roasted tomatoes.
A chipotle in adobo is the perfect complement for this salsa and will sweeten it up a touch if you want it to taste less earthy.   But please keep in mind that this is optional as I know some of you crave that rustic, earthy flavor!
Either way, you'll end up with an enchantingly colored Salsa that works wonders on tacos but can also hold its own next to a bowl of chips.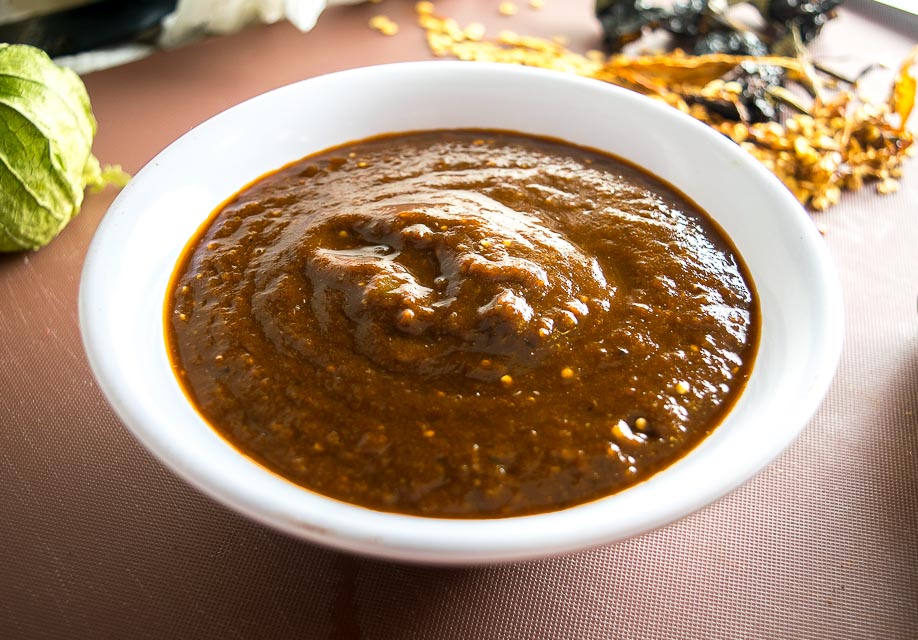 I'm also partial to adding a chipotle because it ends up giving you a similar flavor profile to Salsa made with Pasillas de Oaxaca.
Yes, there is another type of Pasilla out there that originates from the Oaxaca region in Mexico and it is smoked (just like chipotles).   Traditional Pasillas are not smoked.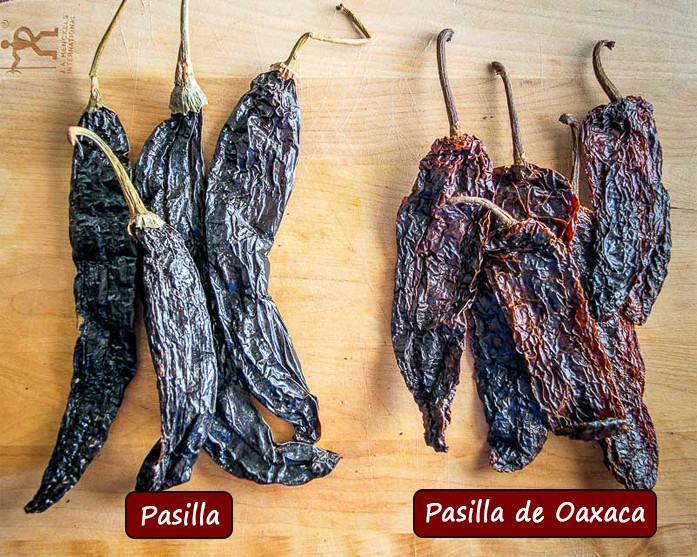 So when you're buying Pasillas keep in mind that nomenclature -- if it's labeled as Pasilla de Oaxaca then it's going to be smoked and will have a slightly different flavor profile than traditional Pasillas.  (See here for our Pasilla de Oaxaca Salsa.)
For now though, consider adding traditional Pasillas to your arsenal.  It's worth getting familiar with them because you'll see them pop up in some heavy hitter Mexican recipes.  And in particular -- mole sauces.  (Yes, I have a Mole Poblano recipe coming but it's a monster so I'm still fiddling with it!)
Okay, let me know if you have any questions about these Pasilla chiles.  If you have a good source for dried chiles in your area then most likely you'll see them there as they are becoming quite common in the States.   If not then you can easily find them on Amazon.
Buen Provecho.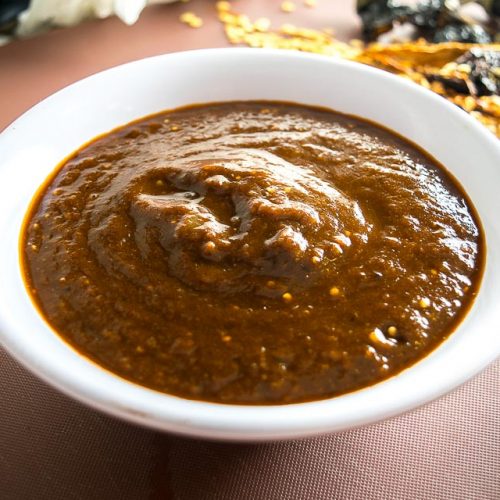 Pasilla Chile Salsa
This is a great Salsa to get you familiar with the flavor of Pasilla Chiles -- earthy, fruity, with a mild heat profile.
Print
Pin
Rate
Ingredients
4-5

tomatillos

3-4

Pasilla chiles

2

garlic cloves

1/2

cup

water (plus more if necessary)

salt to taste

1

chipotle in adobo (optional)

1

tablespoon

adobo sauce (optional)
Instructions
Wipe off any dusty crevasses on the Pasillas using a wet paper towel, then de-stem and de-seed them. Roast them in the oven at 400F for 1-2 minutes. Add the roasted Pasillas to a bowl and cover them with the hottest tap water you've got. Let them reconstitute for 20-30 minutes


Pull the husks off the tomatillos and give them a good rinse. I usually cut the stems out knowing that any juice leftover in the roasting pan will go in the blender. Roast the tomatillos in a 400F oven for 10-20 minutes or until they turn army green in color.

Drain the reconstituted chiles and add the chile pieces to a blender along with the roasted tomatillos, 2 peeled garlic cloves, and 1/2 cup water. Combine well, adding more water to thin it out if necessary.

Salt to taste and if you want to balance the earthy flavor then add a single chipotle in adobo and 1 tablespoon adobo sauce, combining well in the blender.

Serve immediately and store leftovers in an airtight container in the fridge.
Notes
I'm in the habit of roasting chile pieces in the oven for a couple minutes, but you can also flash roast them on a hot, dry skillet for 15-30 seconds per side. 
I use the chipotle to sweeten up the salsa but this is optional.
Pasilla de Oaxacas are smoked chiles with more heat than traditional Pasillas.  See our Fiery Pasilla de Oaxaca Salsa for more details. 
Like this recipe?
Click the stars above to rate it or leave a comment down below! @mexplease
Disclaimer:  There are affiliate product links on this page.  That means I get a small percentage of the sale if you decide to try it at no additional cost to you.  But my opinion is not for sale and I only recommend products that I actually use and trust.  Please email me if you have questions about this! 
Our latest recipe is a homemade batch of chipotles in adobo sauce.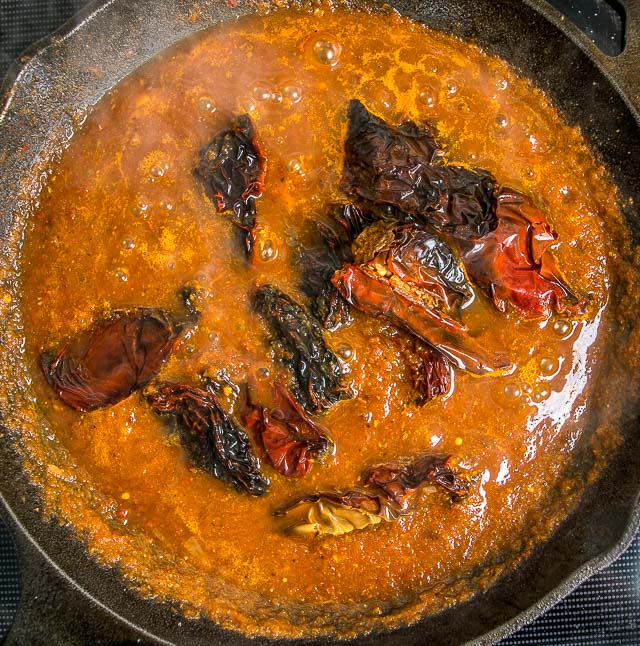 Still hungry?!
Want to receive Mexican Please recipes via email when they are posted?  Sign up below to subscribe.  All recipes are spam free.