I've been experimenting with these Pasilla de Oaxaca chiles and wanted to offer up a recipe that is slightly different than the Pasilla Salsa from a few weeks ago.
If that sentence sounds strange then take a look at this pic: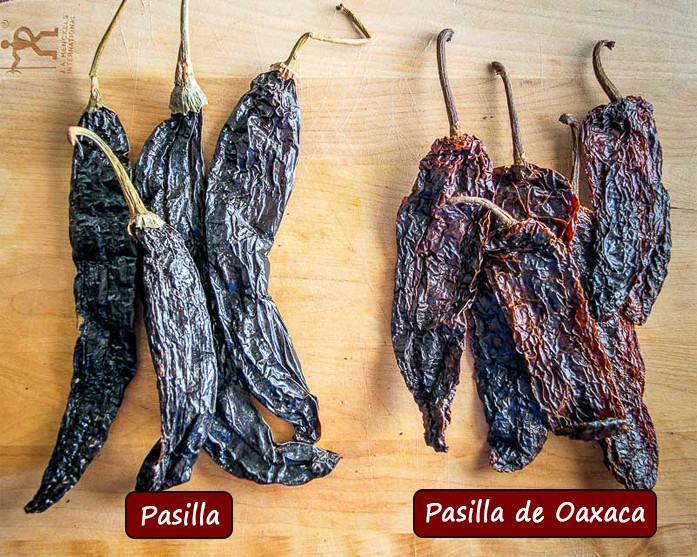 There's a traditional Pasilla chile (above, left) that starts life as a fresh Chilaca chile. It's the most common Pasilla you'll come across when North of the Border.
But there's a Pasilla from the Oaxaca region that starts life as a slightly different pepper. I'm 90 percent sure it's referred to as a Pasilla Mixe when on the vine, but I've yet to come across fresh ones so I'm still waiting to confirm this.
As the fresh Mixe peppers are dried they are also heavily smoked, whereas traditional Pasillas are not smoked.
This results in a smokey powerhouse with their reddish undertones giving away their Oaxaca origins. These Oaxaca chiles also seem to have significantly more heat than traditional Pasillas.
So yes, they are a slightly different bird and you'd be lucky to come across them outside of Mexico, but you can frequently find them online and that's how I got this batch. See our article Where To Buy Pasilla de Oaxacas? for a list of current options, with World Spice and Chile Guy showing them in stock as of this writing.
I've come to crave the fiery flavor of this Salsa so I make it borderline volcanic, but you can always create a milder version by dialing back on the chiles if you want.
As is usually the case, I start by wiping off any dusty crevasses on the chiles.
After de-stemming and de-seeding I will usually wake them up in the oven for a couple minutes. Sure, you can flash roast them on a skillet, but lately I just plop them in the oven for a bit.
Cover the chili pieces with the hottest tap water you've got and let them reconstitute for 20-30 minutes.
As the chiles are reconstituting we'll roast the tomatillos.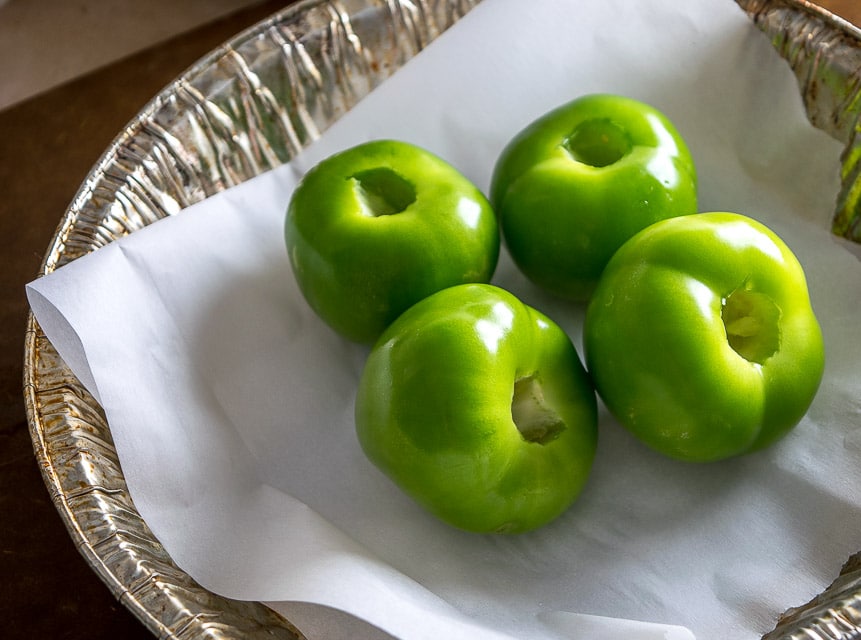 These will need about 15 minutes or so in a 400F oven. (Other ways to roast tomatillos.)
Once the tomatillos are roasted we'll add them to a blender along with:
2 drained Pasilla de Oaxacas
2 peeled garlic cloves
a pinch of salt
a sliver of onion
Give it a whirl and take a taste.
Smoky, fiery Salsa bomb?!
I'm always amazed how much flavor you can get from this simple ingredient list. It's similar to our Tomatillo-Chipotle Salsa where the smokiness combines so effortlessly with the garlic and tomatillos.
By the way, after much nibbling on the recent Roasted Tomato and Tomatillo Salsa over the past few weeks, I thought it would be worth trying the Pasilla de Oaxacas with a similar tomato and tomatillo base. But no, it was a dud as that combo seemed to mute some of the smoky flavor and I didn't like it nearly as much as the tomatillo version.
So I recommend sticking with the tomatillos as the base for this Salsa. Something about their flavor works so well with smoked chiles, with chipotles in adobo and Moritas being other common pairings.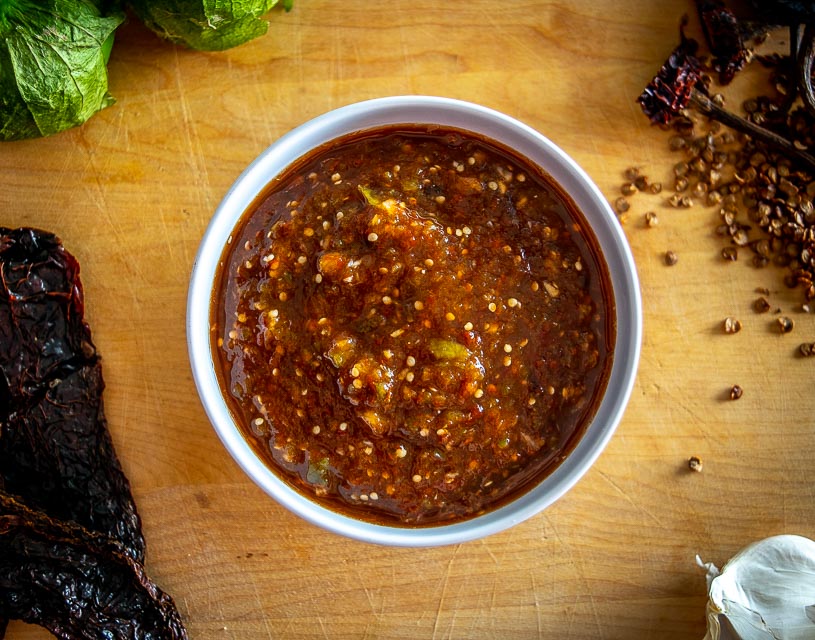 So how to use this Pasilla de Oaxaca Salsa?
The first time you make it I think it's worth just sticking it next to a bowl of chips to get familiar with the flavor.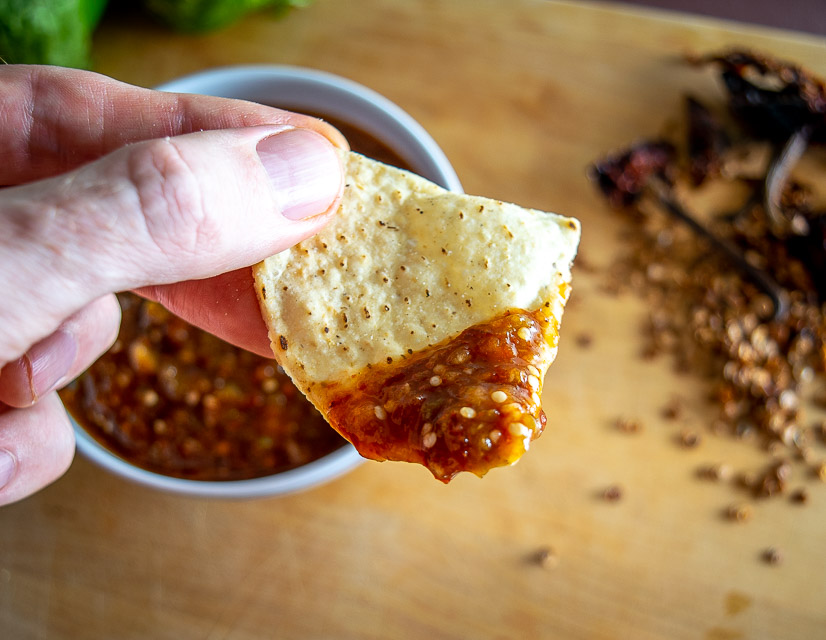 And then I would consider using it anywhere you've been using Tomatillo Chipotle Salsa. That means all of these dishes are a good option:
Okay, I hope you get to experiment with these Pasilla de Oaxacas sometime soon. If you see them at a local Hispanic market then consider yourself lucky! If you're camping in the northern hills of Oaxaca...even luckier! But most of us will just buy them online and that works too 🙂
Buen Provecho.
Fiery Pasilla de Oaxaca Salsa
Here's an easy recipe for the fiery, smoky Pasilla de Oaxaca Salsa. I like it borderline volcanic, but you can always dial back on the heat by reducing the chile amount.
Print
Pin
Rate
Ingredients
4-5

tomatillos

2

Pasilla de Oaxaca chiles

2

garlic cloves

sliver of

onion (approx. 1/8 onion)

pinch of

salt
Instructions
Husk and rinse the tomatillos, cutting out the stems. Roast the tomatillos in the oven at 400F for 15 minutes or so.

Wipe off any dusty crevasses on the Pasilla de Oaxacas using a wet paper towel, then de-stem and de-seed them. Roast the chili pieces in the oven at 400F for 1-2 minutes. Add the roasted chile pieces to a bowl and cover them with the hottest tap water you've got. Let them reconstitute for 20-30 minutes

Drain the reconstituted chiles and add the chile pieces to a blender along with the roasted tomatillos, 2 peeled garlic cloves, a sliver of onion, and a pinch of salt. Combine well, tasting for salt and heat level.

Serve immediately and store leftovers in an airtight container in the fridge.
Notes
Similar to the Tomatillo Chipotle Salsa, I go back and forth on adding onion to this Salsa.  I added a sliver to this batch (approximately 1/8 onion) but you can always experiment with less or no onion.   The onion will dilute the flavor a bit and when I want it volcanic I will omit the onion. 
Like this recipe?
Click the stars above to rate it or leave a comment down below! @mexplease
Our latest recipe is a batch of Pickled Everything!
Still hungry?!
Want to receive Mexican Please recipes via email when they are posted?  Sign up below to subscribe.  All recipes are spam free.