This recipe is evidence that Chilaquiles are best served with a dose of improvisation.
What you've got in your kitchen is far more important than what the recipe states, so feel free to listen to your palate when the time comes. I'm serving this batch with Black Beans, Avocado, Pickled Jalapenos and a sprinkling of Cotija cheese -- perfect!
Of course, all of this is assuming that you're coating the tortillas with a homemade Salsa. If you skip that step then you risk killing the Quiles, so don't do it!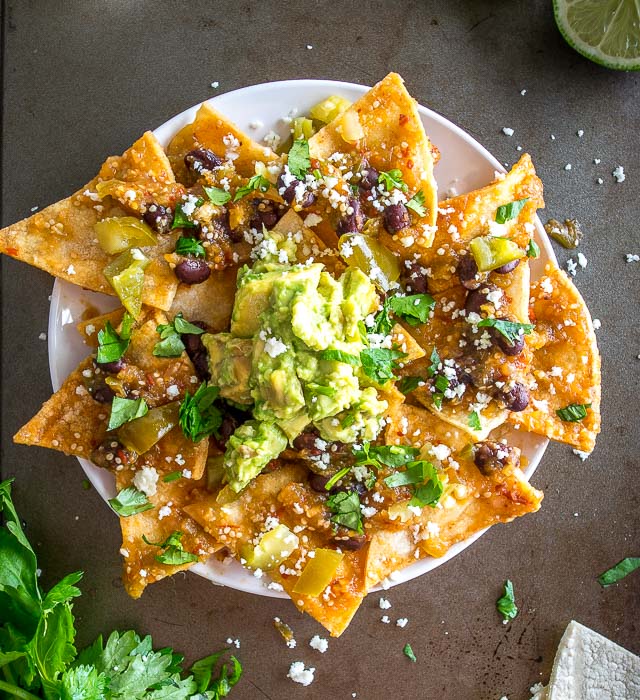 How To Make Black Bean and Avocado Chilaquiles
We're sticking with the Tomatillo-Chipotle Salsa for this batch. The chipotle flavor works great with the crispy tortilla pieces and it's my default for Chilaquiles lately. A freshly made Salsa Verde is a good option too.
Start by roasting 4-5 tomatillos in the oven at 350F for 15 minutes or so.
Once they turn army green in color you can add them to a blender along with:
1/2 onion
2 peeled garlic cloves
2 chipotles in adobo
I usually scrape out the seeds of the chipotles but this is optional. (More info on chipotles here.)
Combine well and take a taste. It should be plenty hot but you can always amp it up by adding another chipotle or some of the adobo sauce.
We're also sticking with baked tortilla chips for this batch. I prefer the baked option lately but keep in mind that you can always shallow fry your tortilla pieces if you prefer that.
Once you cut the tortillas into pieces, add them to an oiled sheet pan and give 'em a splash of oil on top as well. You can use an olive oil sprayer for this or simply rub some oil into each of the tortilla pieces using your fingers.
Bake for 10-15 minutes at 350F. This batch took about 13 minutes.
As the tortillas are baking you can start warming up the Salsa.
Add a splash of oil to a skillet or saucepan over medium heat and cook the Salsa until it's heated through.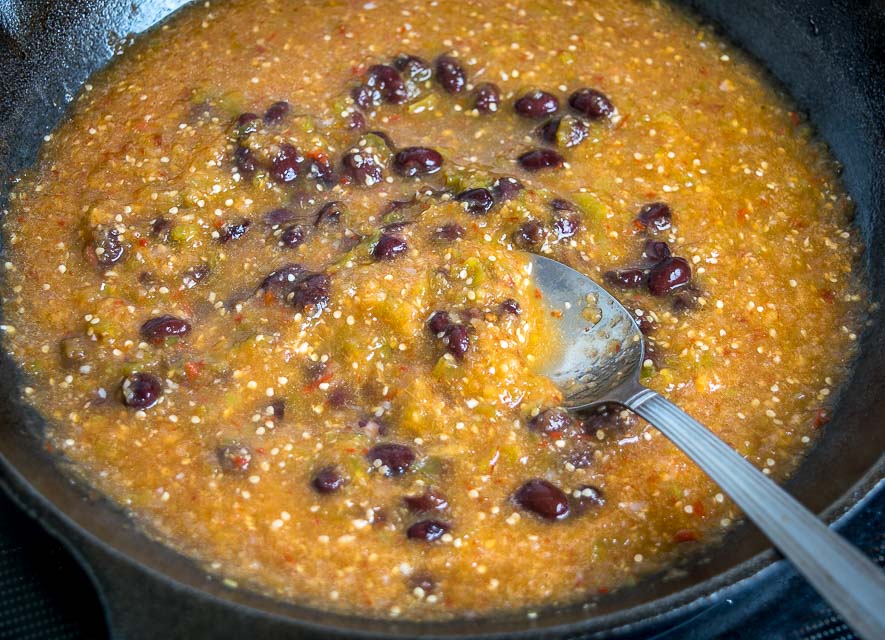 The beans will heat up quickly in the warm Salsa so I usually plop them in at the last minute.
I used canned beans for this batch, but of course if you have some homemade Pot Beans on hand you'll get an upgrade in flavor.
Before you coat the tortillas with the Salsa it's best to have all your other fixings ready. Why? Because chilaquiles always taste best to me when the chips are still semi-crispy. If you let them sit in the Salsa for too long they get soggy.
For this batch that means dicing up the avocado.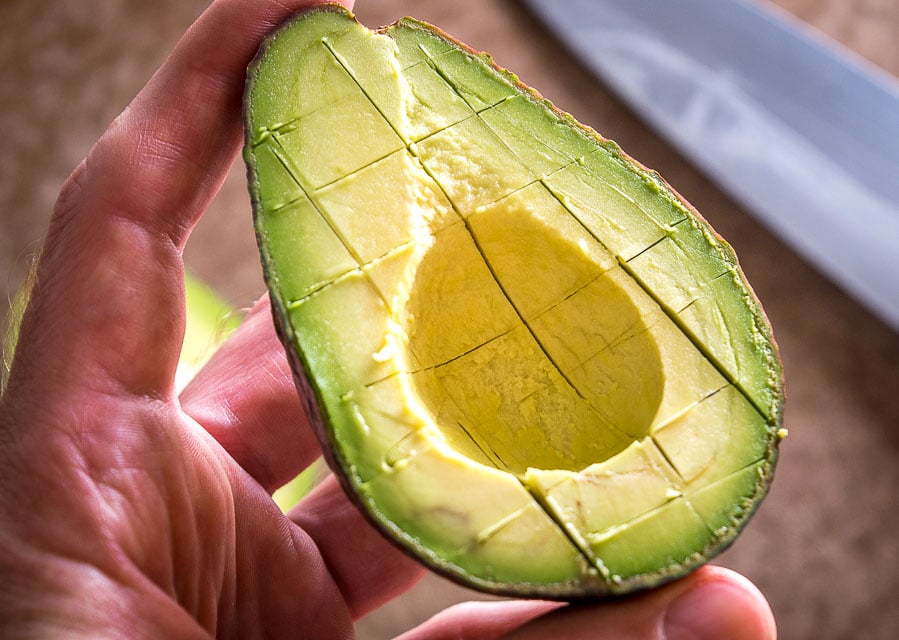 And tossing it with a pinch of salt and some lime juice.
I also diced up 1/4 cup of these Pickled Jalapenos for this batch.
Don't sweat it if you don't have pickled jalapenos on hand. It's not crucial to the recipe but I do think it's worth making a batch at some point if you're new to them (recipe here). A final squeeze of lime or some hot sauce would be a good acidity substitute.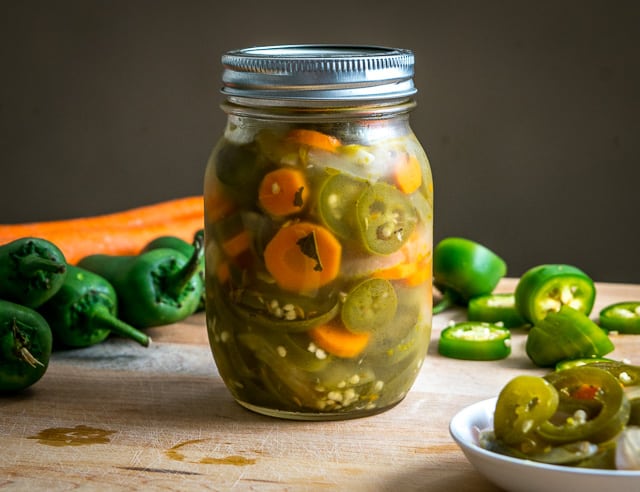 I also crumbled up some Cotija cheese for this batch.
I find it easiest to chop off a chunk and then pull the knife across it to quickly crumble it up. (More info on Cotija.)
Once those fixings are ready to go then you can plop your chips in the warm Salsa.
Don't leave them in the pan for too long or they'll get soggy. Just give 'em a quick toss to coat them with the fiery Salsa.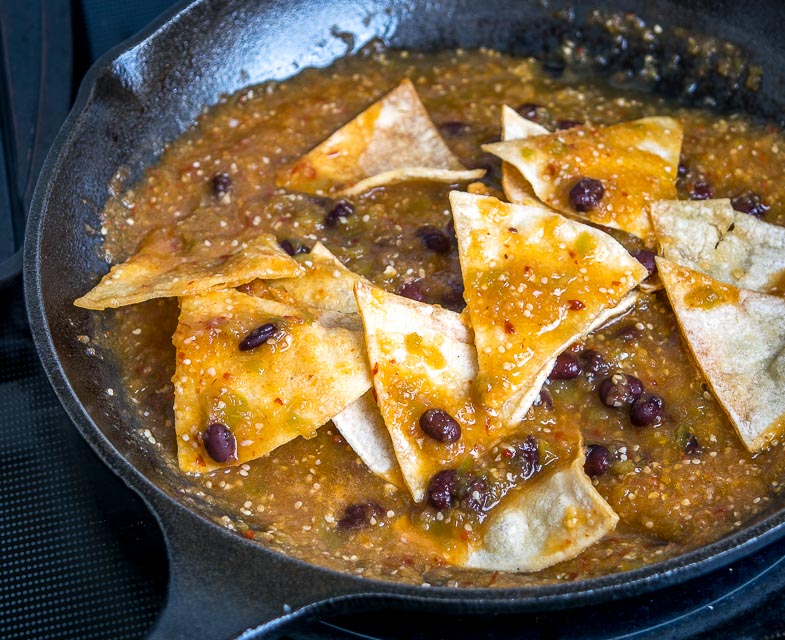 Create a layer of Salsa drenched tortillas on a plate and top with your preferred fixings.
My final fixings list included:
Black Beans
Avocado
Pickled Jalapenos
Cotija cheese
freshly chopped Cilantro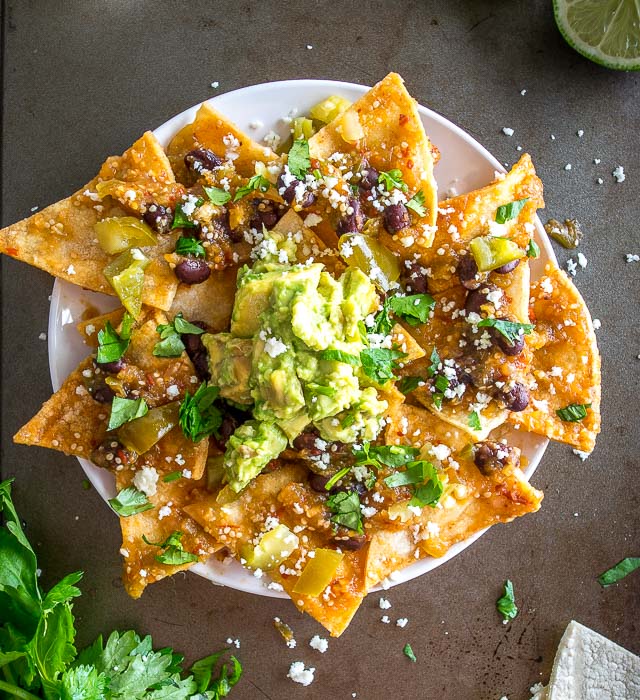 Yum!
Note that I only added 1/2 cup of black beans to the Salsa but you can always add more at the end if you want a heartier version.
These Chilaquiles are best eaten right away, so in addition to having your fixings on standby you'll need to have your peeps on standby too. Make sure they're at the table or close by when the chips get drenched with the Salsa, trust me they will appreciate it!
Okay if you have questions about any of the elements I used for this batch feel free to use the comments sections down below.
But don't forget that you can improvise and still end up with a tasty batch. Once you've got the homemade Salsa coating the warm tortillas then everything else is just a bonus.
Buen Provecho.
Want the latest recipe? Click your favorite from these options and follow me: Instagram, Facebook, Pinterest, TikTok, YouTube.
Chilaquiles With Black Beans, Avocado, and Pickled Jalapenos
This recipe is proof that Chilaquiles are wildly versatile. I'm using Black Beans, Avocado and Pickled Jalapenos for this batch -- along with a homemade Tomatillo Chipotle Salsa!
Print
Pin
Rate
Ingredients
5-6

corn tortillas

olive oil

1

avocado

1/2

cup

black beans (or more to taste)

1/4

cup

pickled jalapenos

Cotija cheese (optional)

freshly chopped cilantro (optional)

1

lime

salt
For the Tomatillo Chipotle Salsa:
4-5

tomatillos

1/2

onion

2

garlic cloves

2

chipotles in adobo

salt to taste
Instructions
Start by husking and rinsing the tomatillos. I usually de-stem them as well. Roast the tomatillos in a 350F oven for 15-20 minutes or until they turn army green in color.

Once the tomatillos are roasted, put them in a blender along with 1/2 onion, 2 peeled garlic cloves, and 2 chipotles in adobo. Combine well.

I usually cut the tortillas into sixths, but cutting them into quarters will work too. Add a thin layer of oil to a sheet pan and rub the tortillla pieces in the oil. Add a layer of oil to the tops of the tortilla pieces too -- I usually use an olive sprayer for this but a pastry brush or your fingers will work too.

Bake the tortillas in the 350F oven for 10-15 minutes or until they are turning golden brown. This batch took 13 minutes.

Add a dollop of oil to a skillet over medium heat and cook the Salsa for a few minutes until bubbly. When close to serving I will add 1/2 cup black beans directly to the Salsa to warm them up. When using canned beans I usually drain and rinse them first.

At this stage, be sure to have your other fixings in order. We don't want to leave the tortilla pieces coated with Salsa for too long or they'll get soggy.

Dice up the avocado and toss it in a bowl along with a squeeze of lime and a pinch of salt.

Crumble up some Cotija cheese. I usually slice off a chunk and pull the knife across it.

Rinse and finely chop some cilantro. I usually twist off and discard the bottom, thicker portion of the stems but use the upper stems that holds the leaves together.

Once your fixings are in order, add the baked tortilla chips to the warm Salsa. Toss to coat (but no longer!) and then create a single layer of the tortilla pieces on a plate and top with your preferred fixings. Along with the black beans that are already in the Salsa, I topped with Avocado, Pickled Jalapenos, Cotija cheese, and freshly chopped cilantro. Serve immediately.
Notes
This recipe is designed for two people.  Chilaquiles do not store well so I tend to only make what will be eaten that day.
I like the baked tortilla pieces best when the edges are crispy and the center is still slightly pliable.  If you cook them longer in hopes of getting the center crispy then they become too brittle.  (More tips on baked tortilla chips.) 
If the Salsa seems thick out of the blender you can always add 1/4 cup water or stock to thin it out. 
I used these Pickled Jalapenos for this batch. 
I normally roast tomatillos at 400-425F to get there quicker, but I'm in the habit of baking tortilla chips at 350F so I kept the oven at that temp for this recipe. 
Like this recipe?
Click the stars above to rate it or leave a comment down below! @mexplease
Our latest recipe is a batch of Easy Pozole Verde.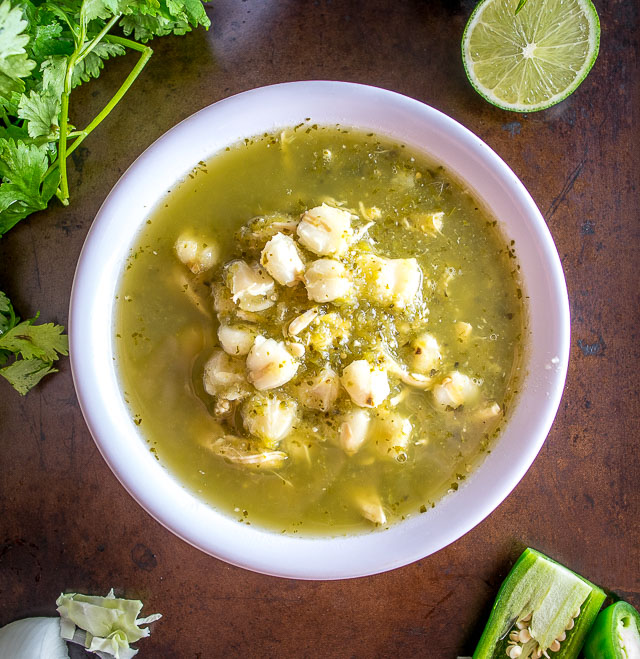 And by the way, these Chilaquiles made our list of Top Recipes of 2018.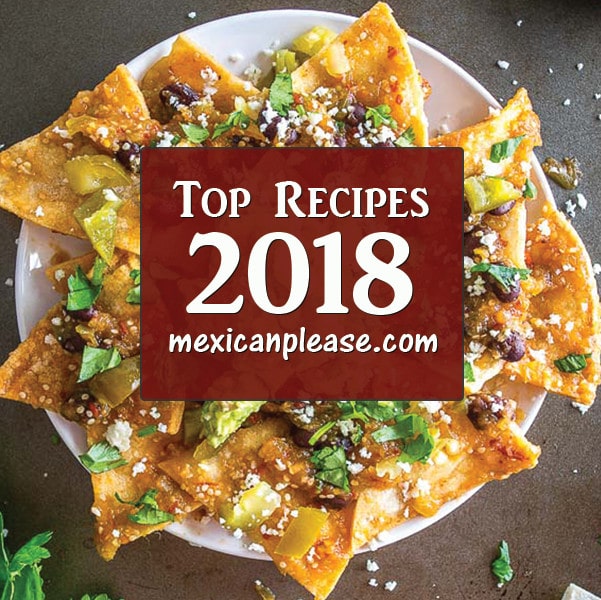 Still hungry?!
Want to receive Mexican Please recipes via email when they are posted?  Sign up below to subscribe.  All recipes are spam free.