Admit it.  For months (years!) you were guilty of bypassing the bowl of mundane looking pickled jalapenos and carrots served up at your local taqueria.  What could those possibly do for me?  Next.
And then you tried one.   Now when you're scoping out a new taco joint you give a terminator-like scan for your beloved pickled goodies.
Luckily it's easy to whip up a batch of these at home, ensuring that your perfectly balanced taco bite is always within arm's reach.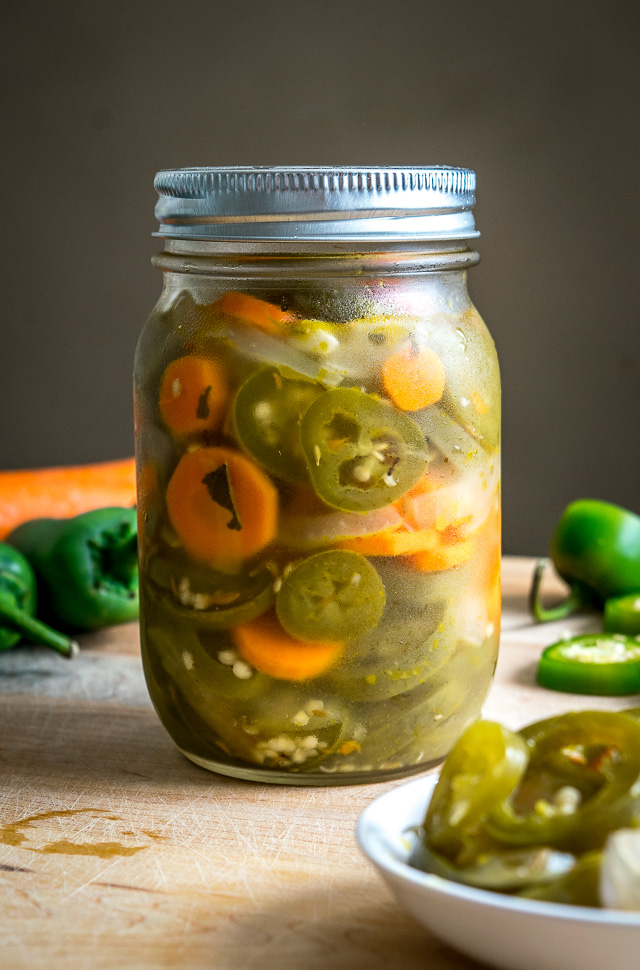 Recipe and Ingredients for Taqueria Style Pickled Jalapenos and Carrots
This batch will make two pint-sized jars full of pure zip.  You can also double or triple the recipe if you want.   (Note:  these instructions are not designed for long term canning.)
Please consider the following ingredient pic a reference point only.  The veggies and vinegar are doing most of the heavy lifting, so if you don't have all the spices on hand go ahead and make them anyway; most likely you'll be happy with the results.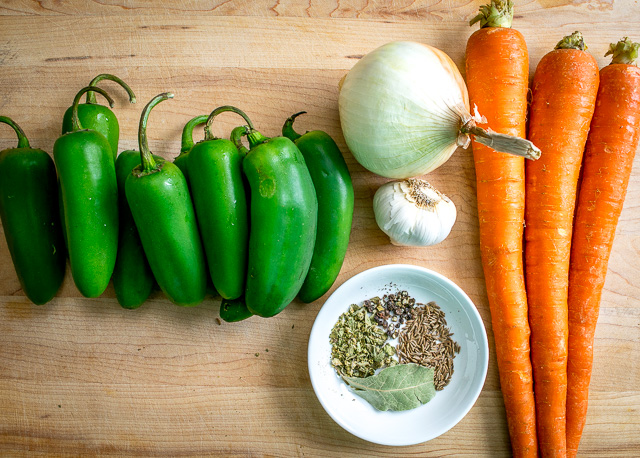 Give the jalapenos a good rinse and peel the carrots, cutting both into 1/4 inch sized coins.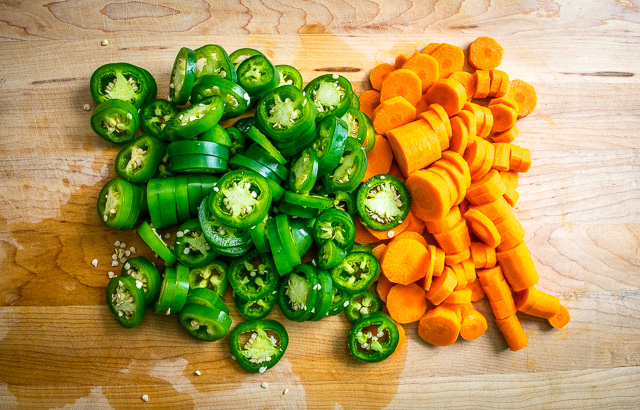 Saute a sliced onion and 4-6 roughly chopped garlic cloves in a big dollop of oil.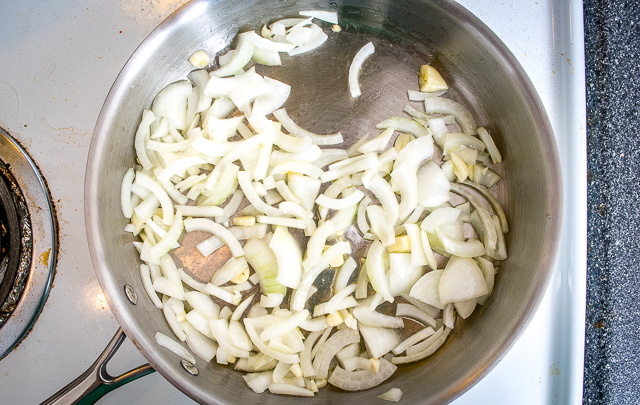 As this sautes for a couple minutes, gather the dry ingredients.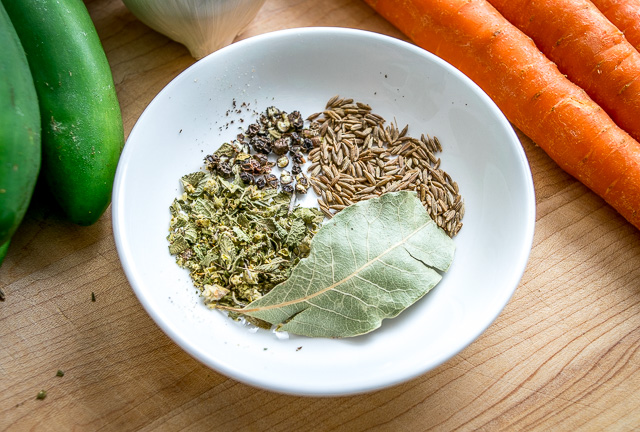 That's 8-10 cracked black peppercorns, 1/2 teaspoon cumin seeds, 1 bay leaf, and 1/2 teaspoon Mexican oregano (regular oregano is fine too).
Add the jalpenos and carrots to the saucepan.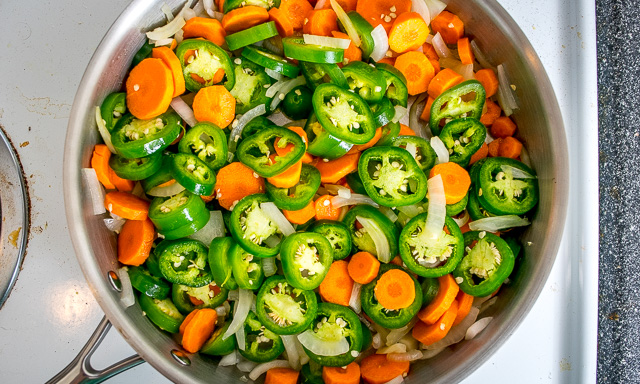 Along with the spices.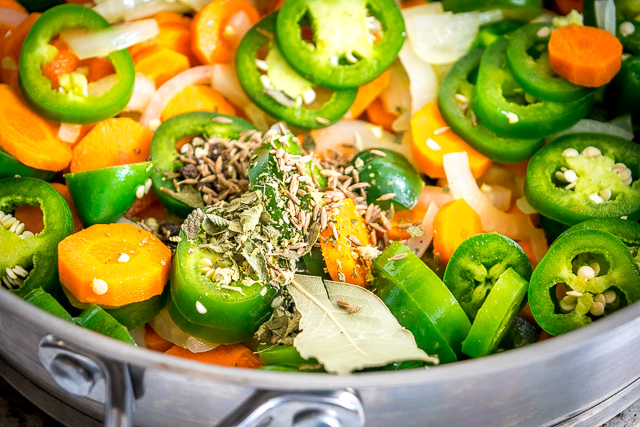 Saute briefly and then add 1.5 cups of white vinegar, 1 cup water, and 1 Tablespoon of salt.  Note that Kosher or pure sea salt are most commonly used for pickling.  The additives in iodized salt will sometimes affect the brine so it isn't recommended.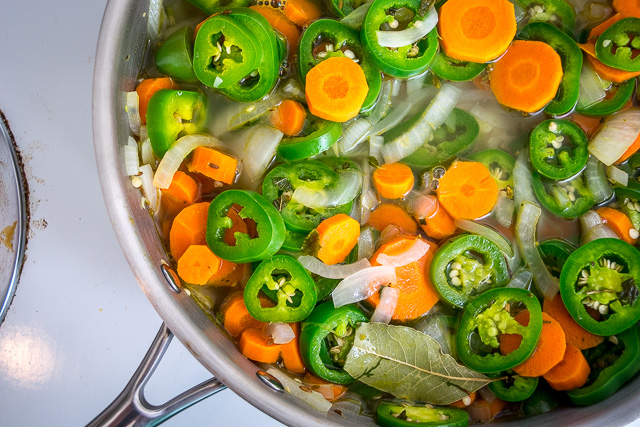 Bring to a boil and then reduce heat to a simmer.
Let simmer for 10-15 minutes or until the jalapenos turn army green.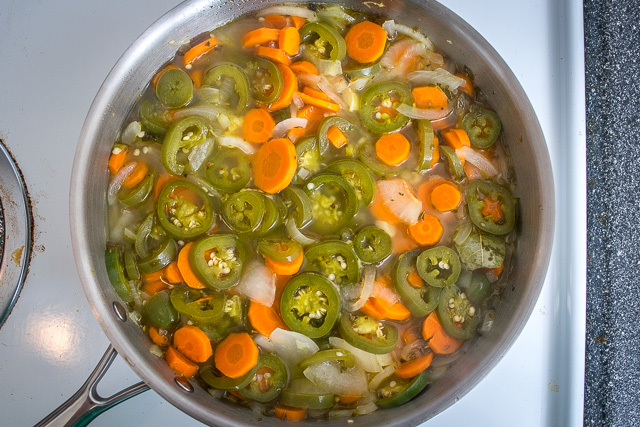 Each pint-sized jar gets loaded with jalapenos, carrots and topped with the brine.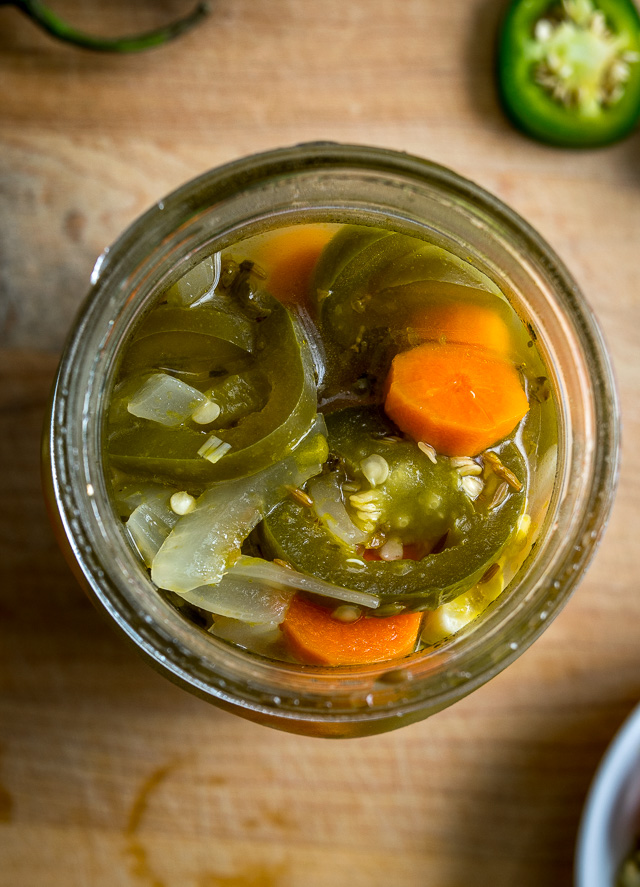 I let them cool on the counter a bit before putting them in the fridge.  After a few hours of resting in the brine they'll be ready for some taste testing.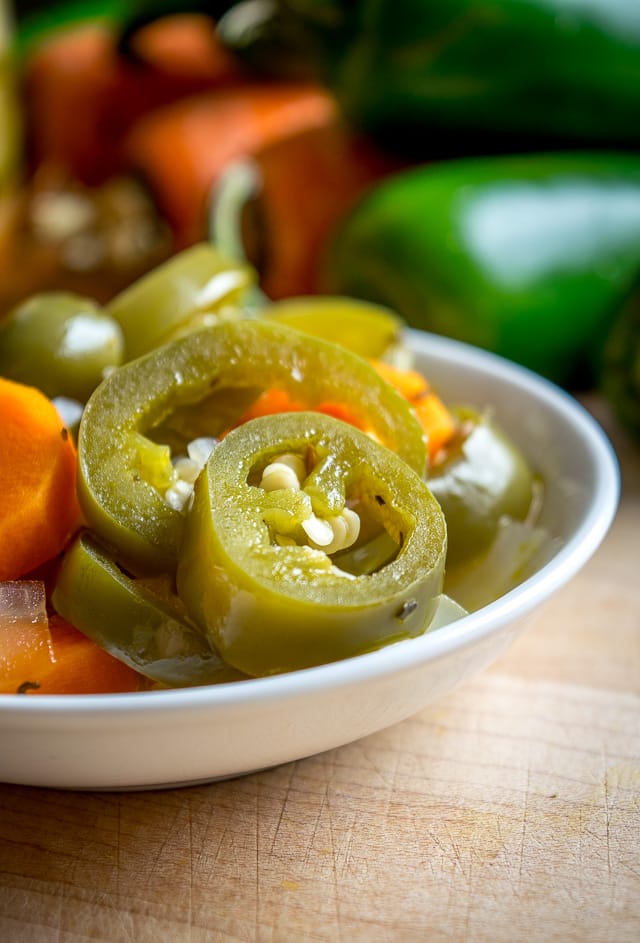 Zippppp!  So good.
These pickled jalapenos will keep in the fridge for a month or so, after which you can take the afternoon off of work to make a new batch.  Priorities right?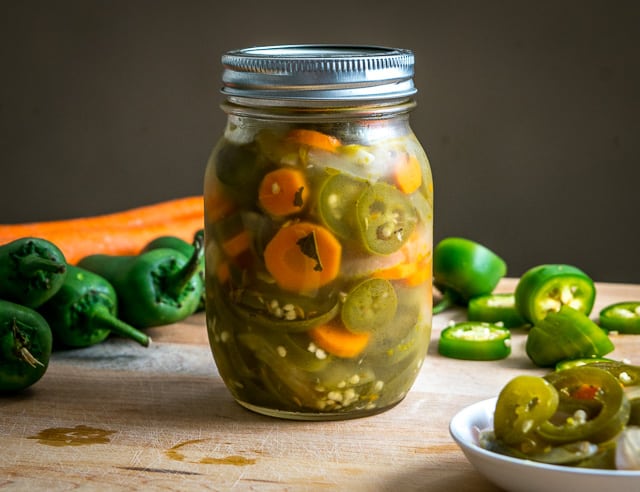 Buen Provecho.
P.S. Now that you've got them in hand you can make our Spicy Chicken and Pickled Jalapeno Pizza.
You can easily modify the above recipe to create some Mexican Pickled Carrot Sticks.
And here's an easy way to make some Pickled Onions.