A few weeks ago I made a batch of Pickled Jalapenos and my palate was craving more heat from the usual fireballs.
I'm not sure if it was a particularly mild batch of Jalapenos, or if it's my heat tolerance evolving, but either way I wanted to experiment with amping them up a notch or two.
In the comments of the original Pickled Jalapenos post you'll find similar heat seekers who were having success adding Serranos and Habaneros to the pickling jars. Taking a cue from these pickled brethren, here's what my experiment looked like: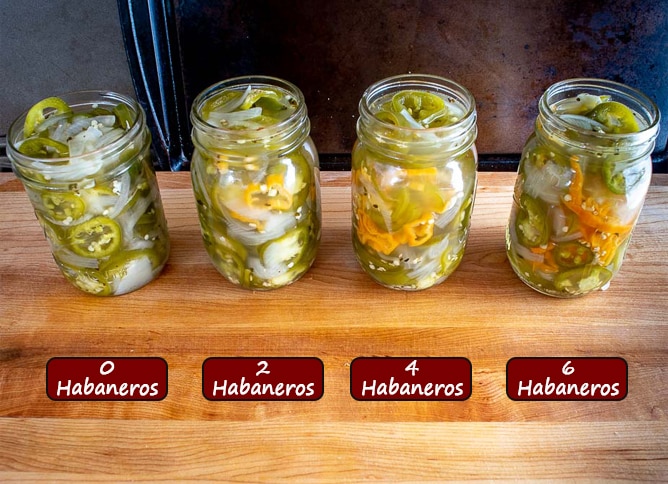 I went straight for the jugular as Habaneros are significantly hotter than both Serranos and Jalapenos. Comparing Habaneros to Serranos.
Here's where Habaneros land on the Scoville scale: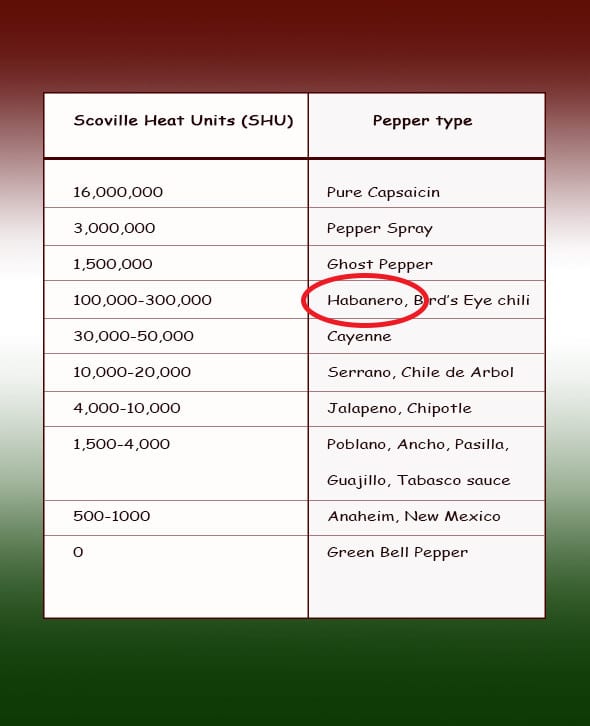 That's some heat!
If you're new to Habaneros you'll frequently find them next to the Jalapenos in the produce section. They turn orange when they ripen and that's usually how they're sold. More info on Habaneros.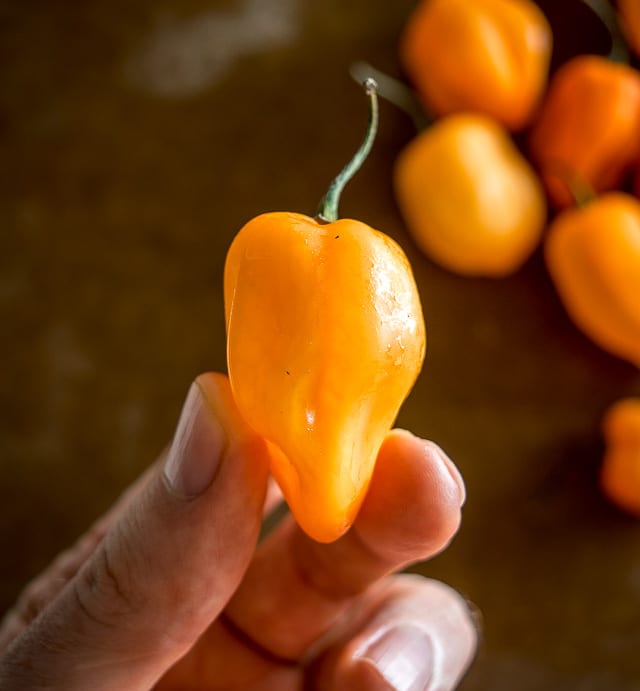 And yes they bring the heat so consider yourself warned!
It's always best to use caution when handling hot chiles. For jalapenos I normally just wash my hands afterwards, but for Habaneros or extensive chile handling I will reach for some gloves and that's what I did with this batch. More info on handling hot chiles.
We'll make a double batch of the usual Pickled Jalapenos and then test out different amounts of Habaneros in each jar. You may already be familiar with the process of quick pickling, but if not I'll briefly go over it here.
Note: these pics are of a huge double batch, so I'm not going to list exact measurements as that will just create confusion. The recipe box below will show measurements for a normal-sized batch and that's what I would recommend starting with.
Start by sweating the onion and garlic in a glug of oil over medium heat.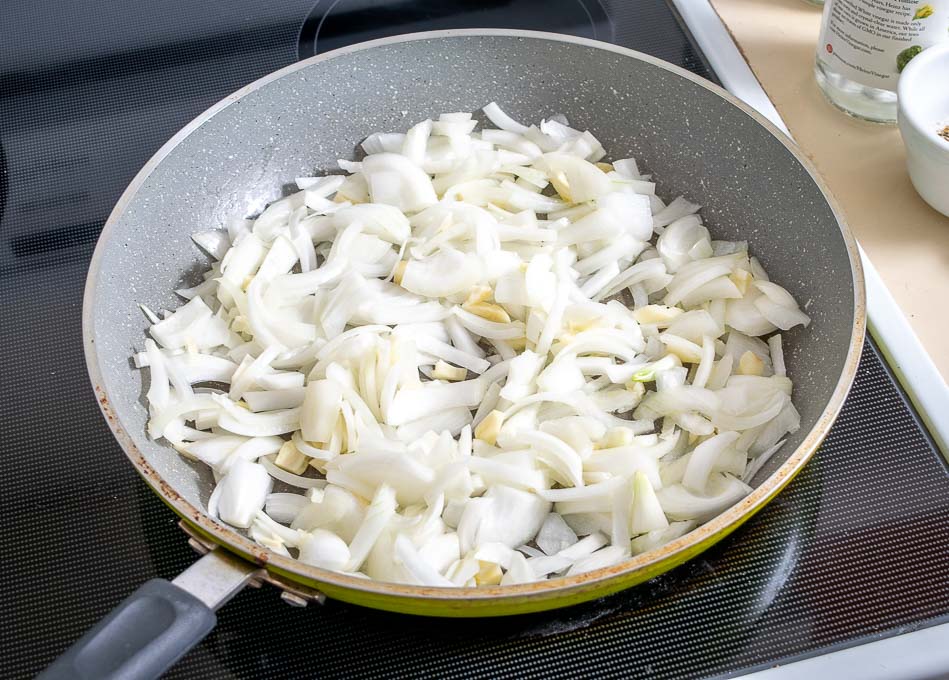 Once the onion has softened you can add the spices:
Cumin
Mexican Oregano
Freshly cracked black pepper
Salt
Briefly cook the spices and then add the remaining ingredients:
Jalapenos
White vinegar
Water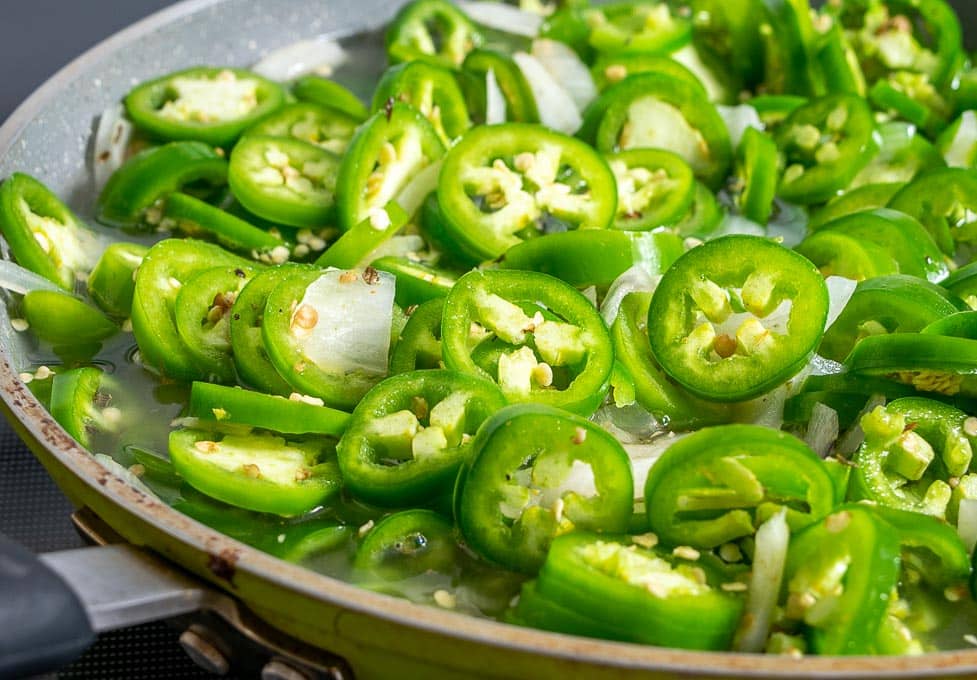 Bring this mixture up to a simmer.
By then the jalapenos will be turning army green and that's a good sign to start filling your jars.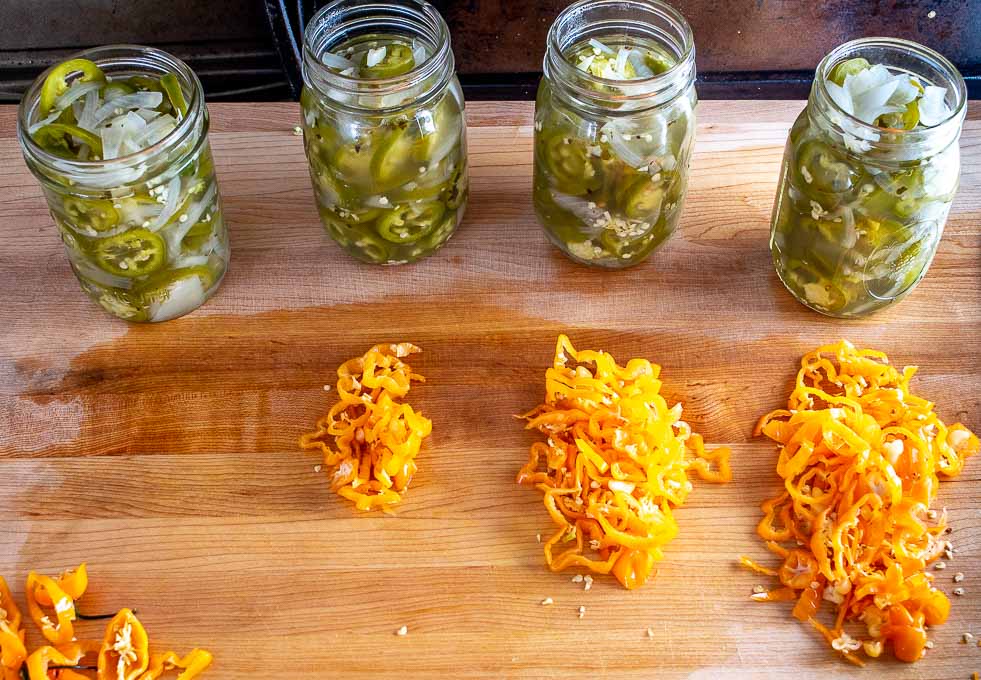 I used 4 pint-sized jars for this batch with varying amounts of Habanero in each jar.
The jar on the left is the control jar with no Habaneros, and then it goes up from there.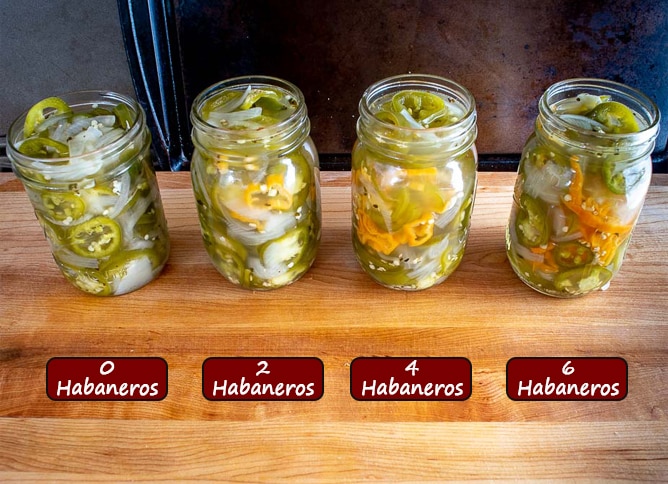 Once these cooled down a bit I capped them and put them in the fridge.
They typically need to rest overnight to get full pickle, so I didn't do any taste testing until the following day.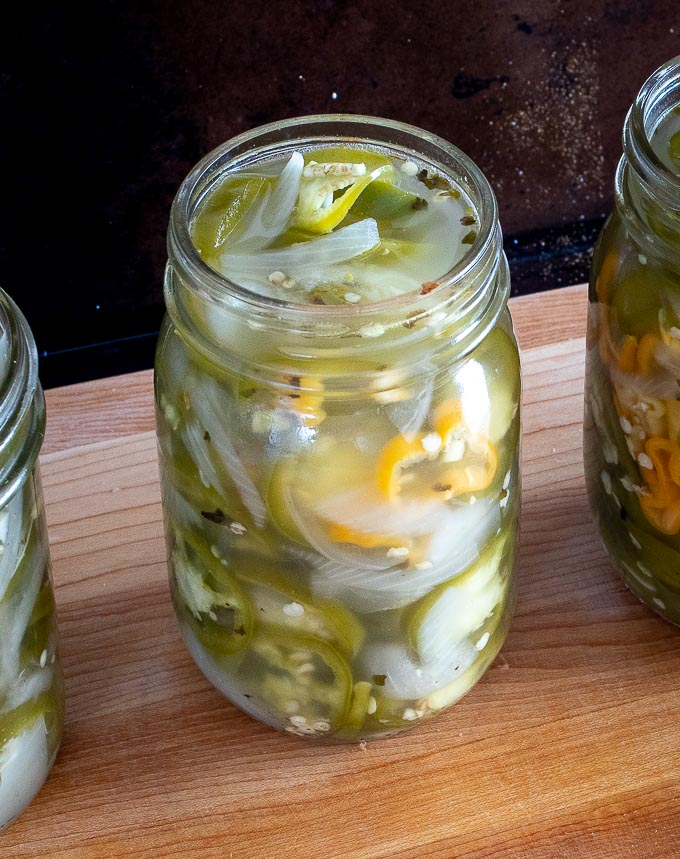 And the results?
Overall I was thrilled that you can impact the Jalapenos so much by just adding some tiny, innocuous-looking orange chiles 🙂
But just because the Habaneros look innocent doesn't mean they are! I was completely overwhelmed by the batch that had 6 Habaneros in it -- they had a searing heat that I think would overwhelm any dish you put them on.
The batch with 4 Habaneros was right on the threshold of too hot for me, but I know there will be some heat seekers out there who prefer a little more heat than I do and this would be a good number to keep in mind.
The jar with 2 Habaneros was the perfect result for my palate. Same flavor as my beloved Pickled Jalapenos but with a fiery spring in its step that will quickly wake you up!
Habaneros have some fruity undertones and I could get a hint of that in the final flavor, but overall their main contribution is HEAT.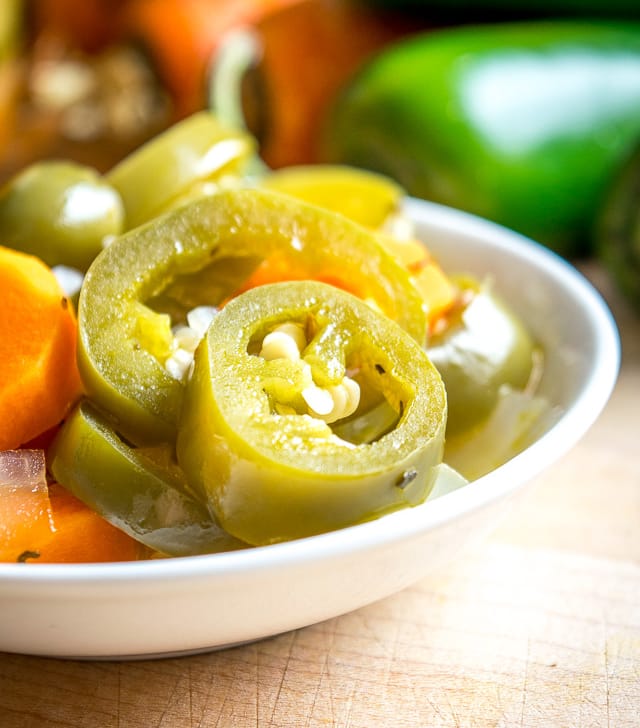 I think adding 2 Habaneros to a pint-sized jar of Pickled Jalapenos is a great way to amp up your next batch if it sounds appealing.
Please keep in mind that the original Pickled Jalapenos recipe is for a pound of jalapenos and this will give you enough for 2 pint-sized jars. That's why you'll see 4 Habaneros in the recipe box below, i.e. 2 Habaneros for each pint-sized jar.
When using the recipe box below, feel free to do your own test batch where you add 2 Habaneros to one of the jars but keep the other one just Jalapenos. If trying that I would just add in the Habaneros after the fact instead of simmering them with the Jalapenos.
Okay, let me know if you have any questions about these fireballs. They're a great way to jump-start your kitchen and it will get you familiar with the awesome benefits of quick pickling 🙂
Buen Provecho.
Want the latest recipe? Click your favorite from these options and follow me: Instagram, Facebook, Pinterest, TikTok, YouTube.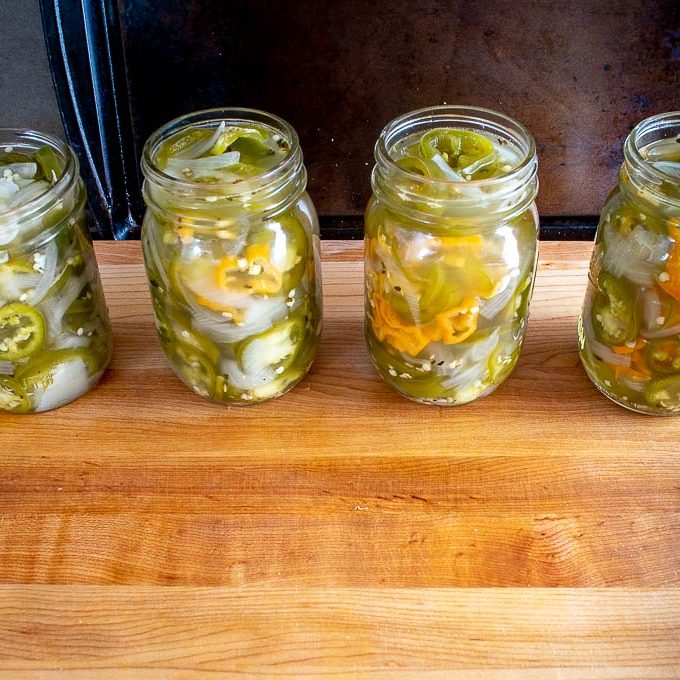 Extra Hot Pickled Jalapenos
If you ever find yourself craving more heat in your Pickled Jalapenos, just add 3-4 Habanero chiles for every pound of Jalapenos.  But consider yourself warned as this will add some real zip!  Note: instructions not meant for long term canning or preserving.
Print
Pin
Rate
Ingredients
1

lb.

Jalapeno peppers (approx. 10 larger jalapenos)

4

Habanero peppers

2

carrots

1

small

onion

4-6

cloves

garlic

1.5

cups

white vinegar

1

cup

water

1

tablespoon

Kosher or sea salt

1/2

teaspoon

Mexican oregano

1/2

teaspoon

cumin seeds (or powdered)

8-10

black peppercorns

olive oil
Instructions
Give the jalapenos a rinse and cut them into 1/4 inch slices.  Peel the carrots and cut into 1/4 inch slices.

Give the habaneros a rinse and cut into thin slices. Warning: always use caution when handling hot chile peppers, especially habaneros. I used gloves when making this batch. More info on handling hot chiles.

Peel and quarter the onion, chopping into thin slices.  Peel and roughly chop the garlic. Heat a glug of oil in a sauce pan over medium heat.  Saute the onion and garlic for a few minutes until softened.

Add the spices to the pan and cook briefly:  1/2 teaspoon cumin seeds, 1/2 teaspoon Mexican oregano, 8-10 black peppercorns.  I usually give the spices a quick crush in the molcajete but this is optional.  And feel free to use powdered spices if you don't have seeds or peppercorns on hand (1/2 teaspoon powdered cumin and 1/4 teaspoon black pepper would be good equivalents.) 

Add the jalapenos, habaneros, and carrots to the pan.  Briefly saute and then add 1.5 cups white vinegar, 1 cup water, and 1 tablespoon kosher or sea salt.  Simmer until the jalapenos are just turning army green in color.

Fill two pint-sized Mason jars with the veggies and fill to the brim with the vinegar mixture.  Try to get an equal distribution of habaneros in each jar. You could also use a single quart-sized Mason jar if available.  You can give them a taste test now for a preview, but they won't have full flavor until they rest overnight in the brine.

I usually let the jars cool on the counter for a bit, then cap them and store in the fridge where they will keep for weeks at a time.
Notes
Please use caution when handling hot chiles!!  Here are some tips on handling hot chile peppers. 
Kosher, sea or pickling salts are the most common salts used for pickling vegetables. Iodized salt isn't recommended as sometimes additives will affect the brine.
Glass containers seem to be the best choice for storage of this vinegar based brine.  Metallic containers not recommended. 
It's also best practice to use a non-reactive pan for simmering the vinegar mixture.  If you use a cast iron pan the acidity will eat away at the pan's seasoning.  
I didn't add carrots to this test batch because I was concerned about having enough space in the jars, but with a small amount of Habaneros you'll have plenty of space for some fiery carrots so I've included them in the recipe. 
Like this recipe?
Click the stars above to rate it or leave a comment down below! @mexplease
Still got jalapenos on the brain? Try a batch of these fiery Chiles Toreados.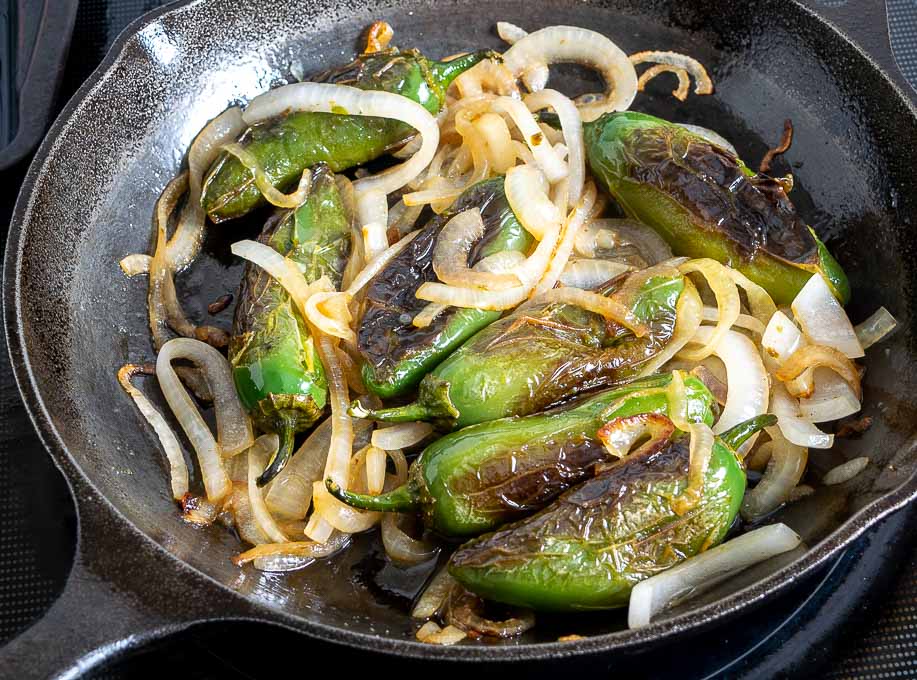 Still hungry?!
Want to receive Mexican Please recipes via email when they are posted?  Sign up below to subscribe.  All recipes are spam free.