You'll frequently see taquerias offering up these Chiles Toreados as a side dish. If you're new to them, just imagine charred, blistered jalapenos hanging out with some caramelized onions and you're right on track.
Spicing up your meal is their most common role, but they are super tasty right out of the pan so I'll sometimes turn them into the main attraction for on-the-fly dinners.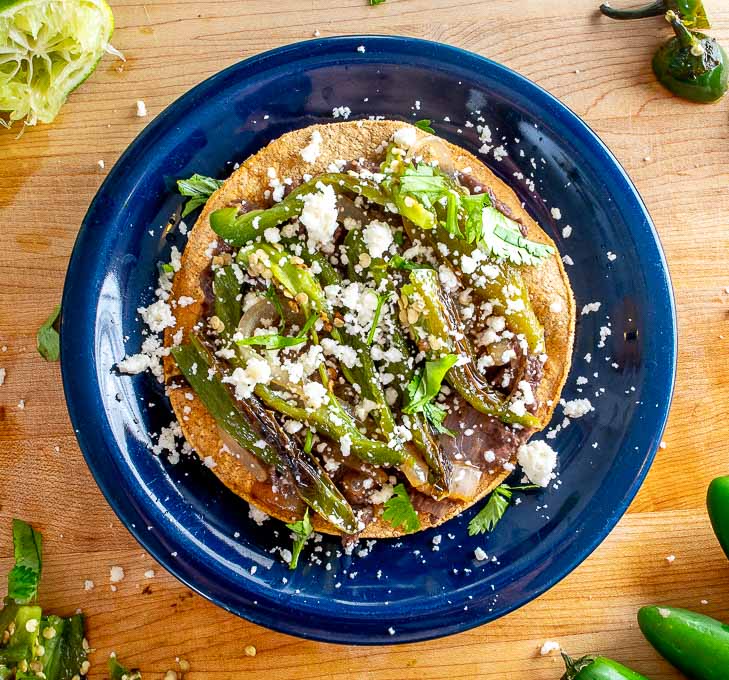 How To Make Chiles Toreados
In a strange twist, these chiles will sometimes be tossed with Worcestershire or soy sauce to enhance their flavor.
This gives them instant umami to balance the heat. It's worth trying this out if you plan on eating them all by their lonesome, but when turning them into a meal I will frequently skip the soy sauce and just fry them up in some lard (or oil).
You'll need 1/2 lb. jalapenos for this recipe -- that's usually around 6-7 medium-sized jalapenos. Feel free to double or triple the recipe for larger groups.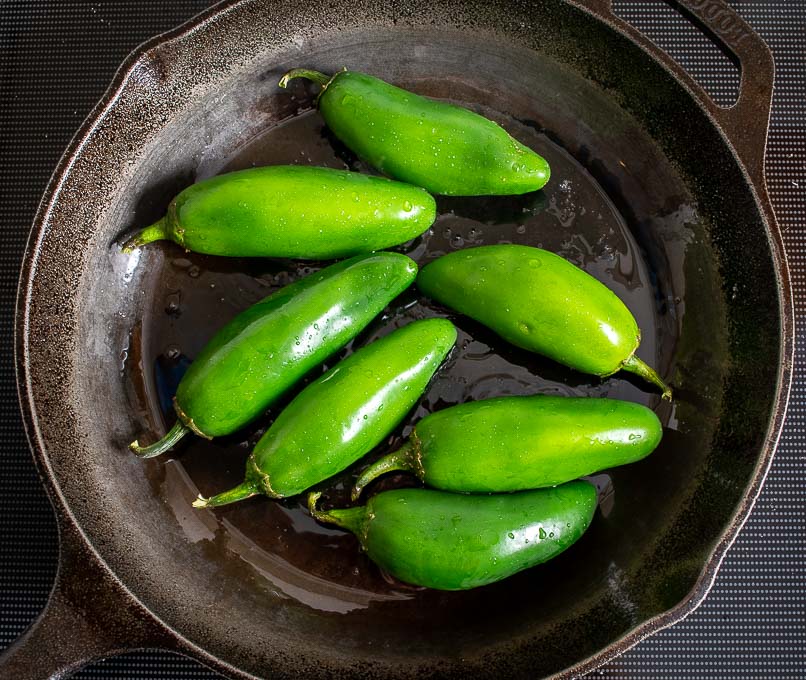 Heat up a tablespoon of lard (or oil) in a skillet over medium heat.
Once hot you can add the rinsed jalapenos. I usually dry them off after rinsing to minimize splattering.
Use tongs to give them some heat on all sides.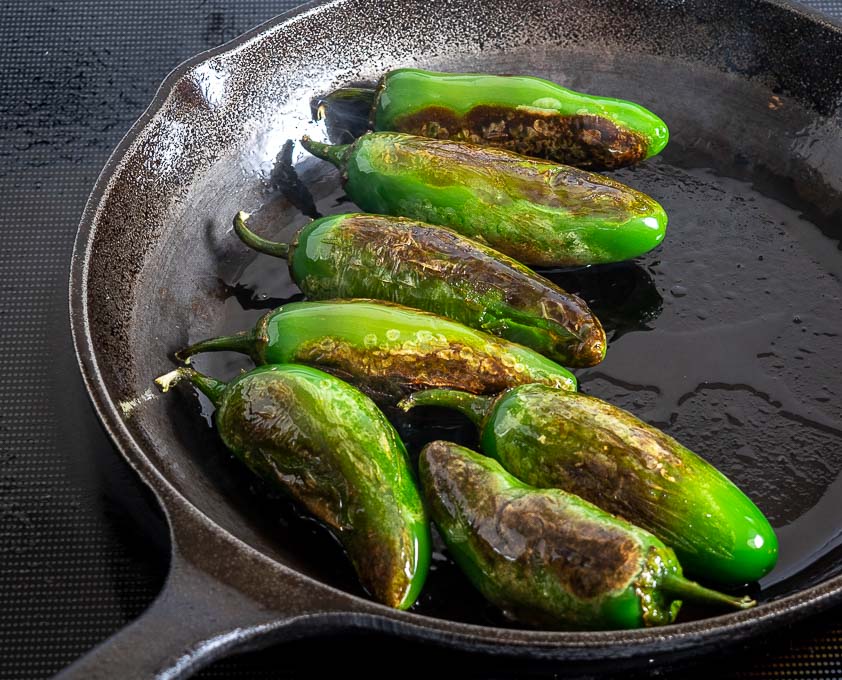 Once they have a decent char on all sides (5-7 minutes) you can add the sliced 1/2 onion.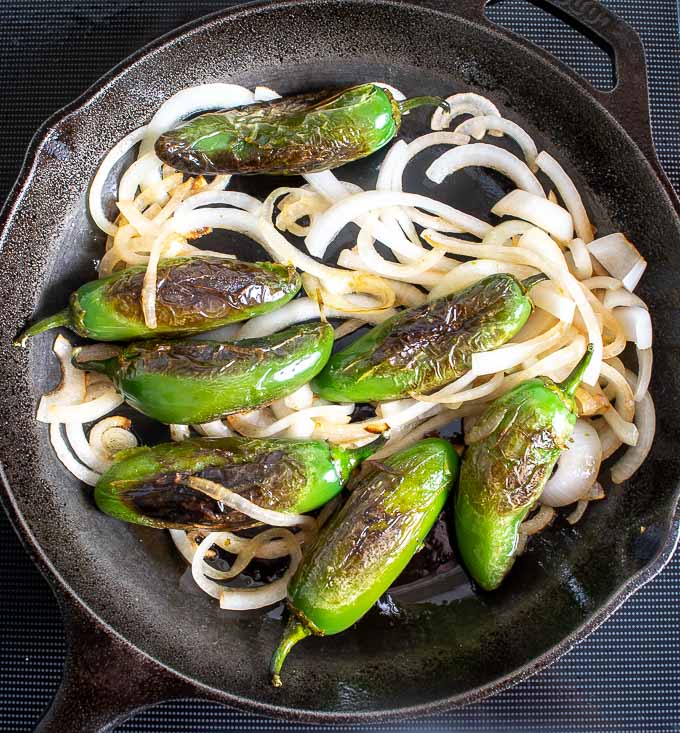 Cook for another few minutes until the onion is starting to brown.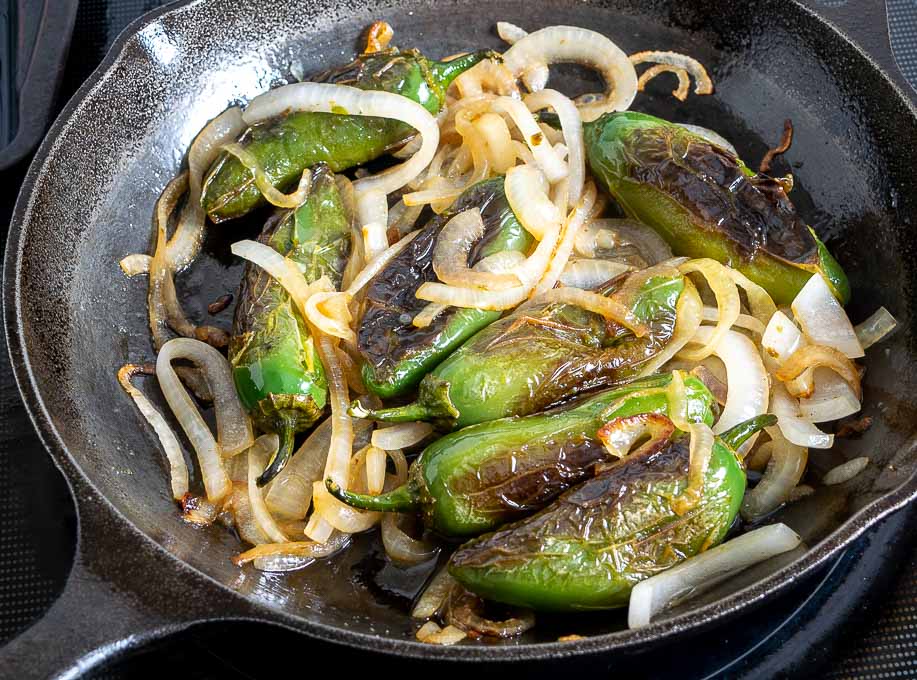 To finish them we'll add:
the juice of 2 limes
1/8 teaspoon salt (or 1 tablespoon soy sauce)
Combine well to coat, remove from heat, and just like that you've got some Chiles Toreados on your hands!
I knew I was turning this batch into a meal, so I went with salt instead of the soy sauce.
I'm still on my Tostada craze, so I added a layer of these refried beans to a home-baked Tostada shell: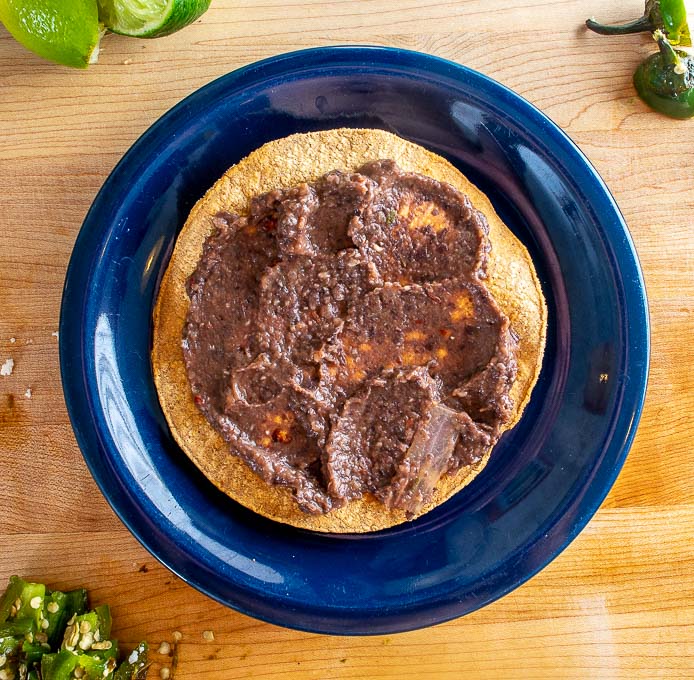 Then sliced up the Chiles Toreados and added a layer to the beans: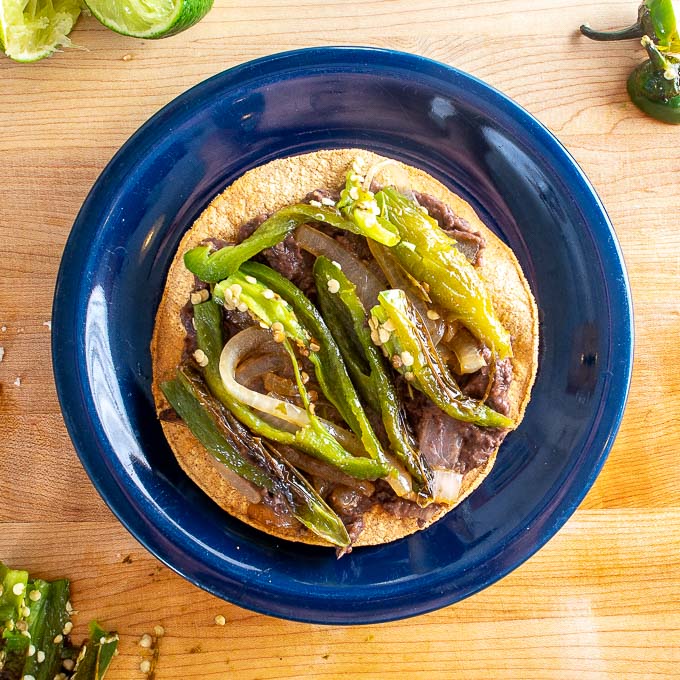 And topped with:
Queso Fresco
freshly chopped cilantro
squeeze of lime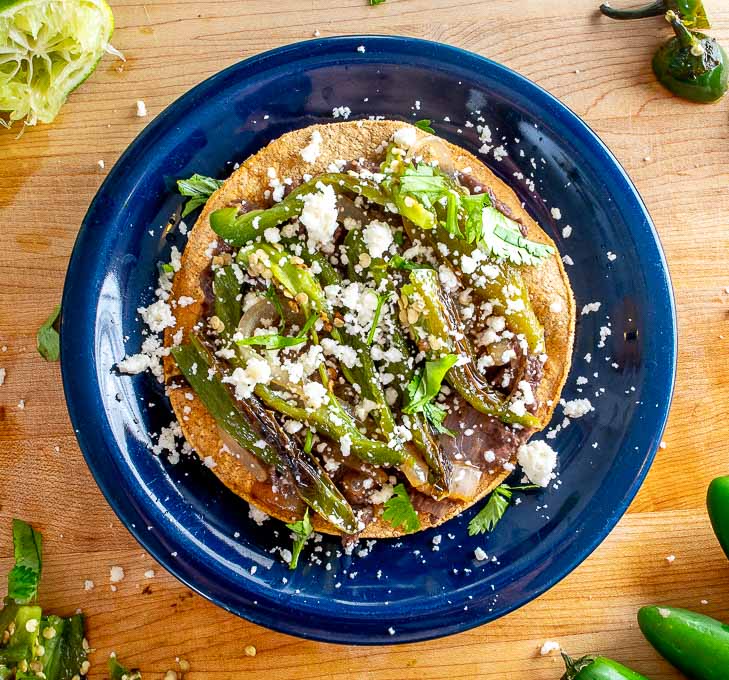 And they were a delicious, fiery change of pace for my kitchen 🙂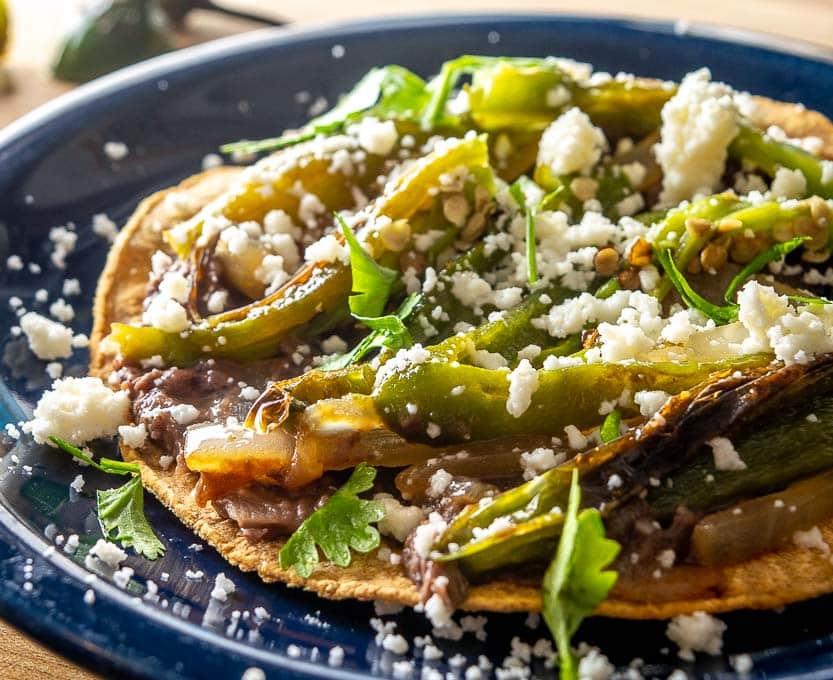 Freshly roasted chiles are a real treat so please don't limit these Chiles Toreados to the side dish realm!
If you'd like to try out the tostada combo, here are some links to make it happen:
The refried beans I always keep in the fridge
Or if you just want to munch on them, it's worth adding the soy sauce to see how your palate reacts.
Buen Provecho.
To get up-to-date recipes follow me on Instagram, Facebook, or Pinterest.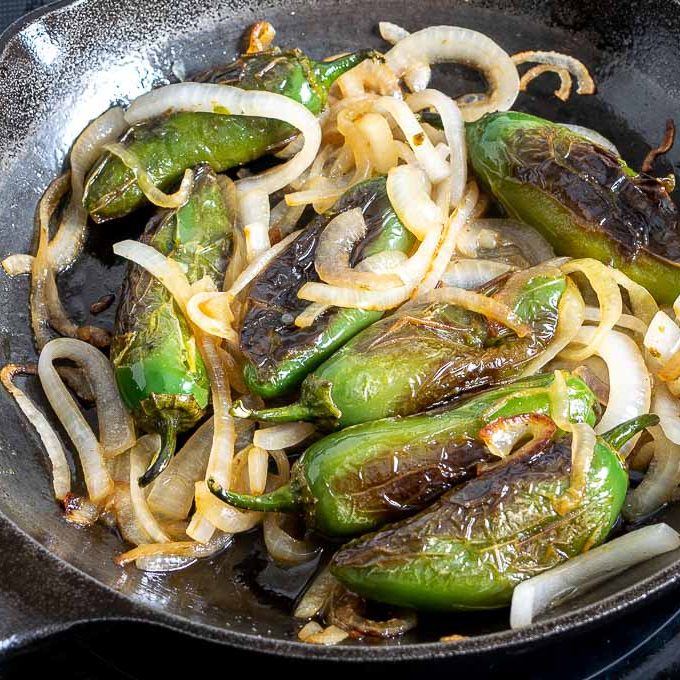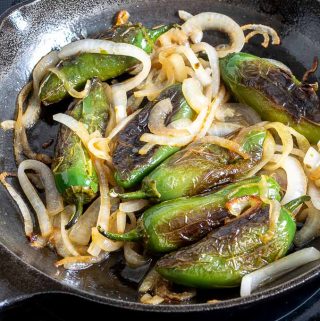 Chiles Toreados
Here's an easy way to make a quick batch of Chiles Toreados!  Soy sauce will enhance their flavor, but if I'm loading them up with fixings I will sometimes skip the soy sauce and just fry them up in lard. 
Print
Pin
Rate
Ingredients
1/2

lb.

jalapeno peppers (approx. 6-7 medium-sized)

1/2

onion

1

tablespoon

lard (or oil)

juice of

2 limes

1

tablespoon

soy sauce (optional)

1/8

teaspoon

salt (plus more to taste)
Tostadas (optional serving style):
6

tostada shells

refried beans

Queso Fresco

freshly chopped cilantro

squeeze of

lime
Instructions
Give the jalapenos a good rinse. I usually leave the stems on when I cook them, but you can de-stem them if you want. I also usually dry them off to reduce splattering. Thinly slice half an onion.

Heat up a tablespoon of lard (or oil) in a skillet over medium heat. Add the jalapenos and give them a good blistering on all sides. I find it easiest to use tongs. Once they've been cooking for 5-7 minutes you can add the sliced onion. Continue cooking until the jalapenos are fully blistered and the onions are starting to brown.

Add the juice of 2 limes along with 1 tablespoon of soy sauce (optional). If skipping the soy sauce you can add 1/8 teaspoon salt and taste from there. Combine well and remove from the heat, serving immediately.

If you want to make the tostadas, start by warming up the tostada shells. I baked my own in the oven. Then add a layer of refried beans, sliced Chiles Toreados along with some onions, Queso Fresco, freshly chopped cilantro, and a squeeze of lime.

Store leftover Chiles Toreados in the fridge where they'll keep for a few days. To reheat, simply add them to a skillet along with a glug of oil and cook until warm.
Notes
If you plan on eating the Chiles Toreados on their own, try them with the soy sauce as it enhances their flavor. 
When turning them into a meal (like in the Tostadas) I usually skip the soy sauce and just fry them up in some lard. 
I used these refried beans for the Tostadas. 
And baked these tostada shells in the oven. 
Like this recipe?
Click the stars above to rate it or leave a comment down below! @mexplease
Want to see our latest post? It's these Corn Tortillas Made From Popcorn Kernels: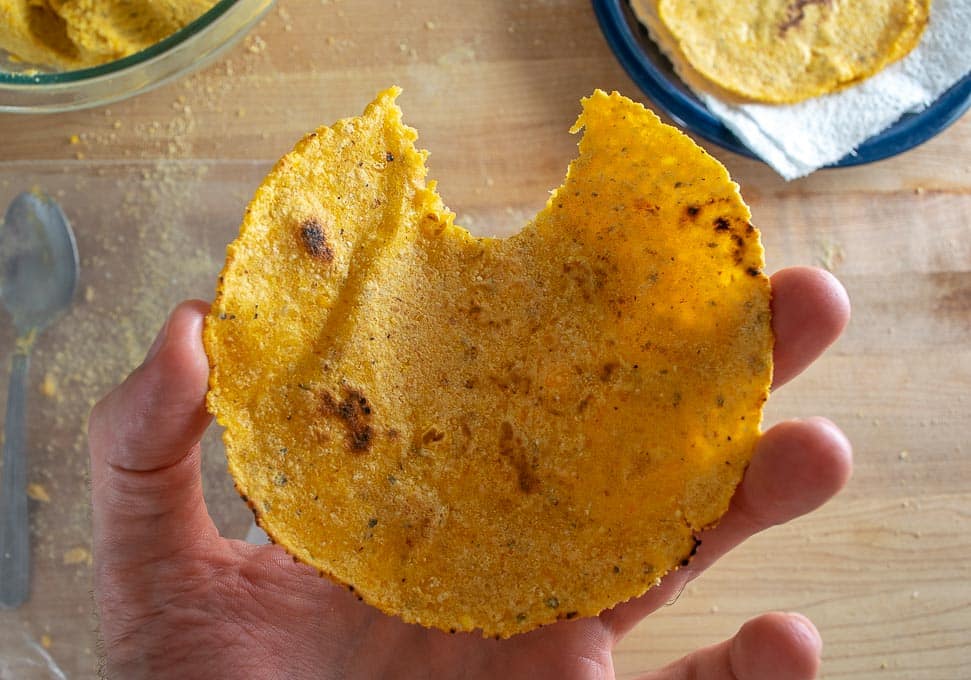 Still hungry?!
Want to receive Mexican Please recipes via email when they are posted?  Sign up below to subscribe.  All recipes are spam free.