The time has finally come to add Mole sauces to the site!
I've had moderate success with Mole sauces in the past, but I always wanted to refine them a little more before sharing. Well...hello refining!
Here's a look at the sauces I'll be fiddling with over the next few weeks:
Mole Negro
Express Mole
If you're new to Mole sauces you're in for a treat! I think they're a great example of Mexican cuisine's boundless creativity. Plus they taste good 🙂
Here's a look at the ingredients I've been gathering to make these sauces. Don't worry about tracking down every last one of these ingredients as there will be some leeway in the final recipes.
Dried Chiles
Dried chiles are the foundation of most Mole sauces. I think Anchos are the most useful so keep an eye out for those.
You'll also frequently see Mulato chiles used in the darker Mole sauces -- I don't use Mulatos in my everyday cooking, but I have some on the way and I'm looking forward to experimenting with them.
Update: I recently tested out various chile combos for Mole sauces. See here.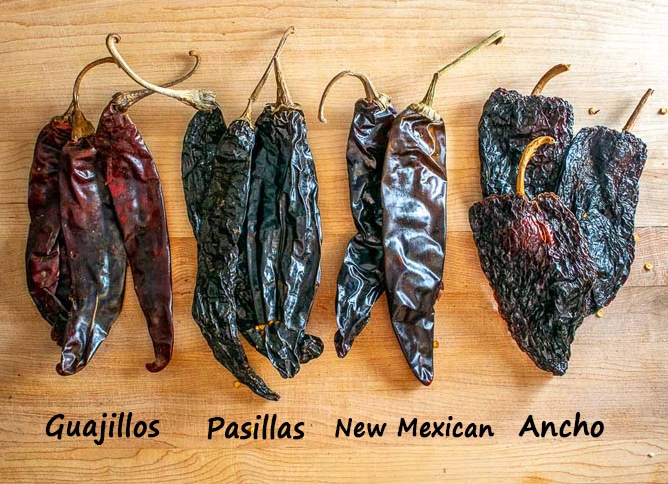 Spices and Aromatics
The extensive use of spices and aromatics is what sets Mole sauces apart from common Enchilada sauces.
If you're familiar with the recent Beef Birria recipe then you've already got a good snapshot of how a few simple additions (like cloves and cinnamon) can take your sauces into delicious new territory. Before making that Birria I was always skeptical about cloves in Mexican cuisine, but not anymore!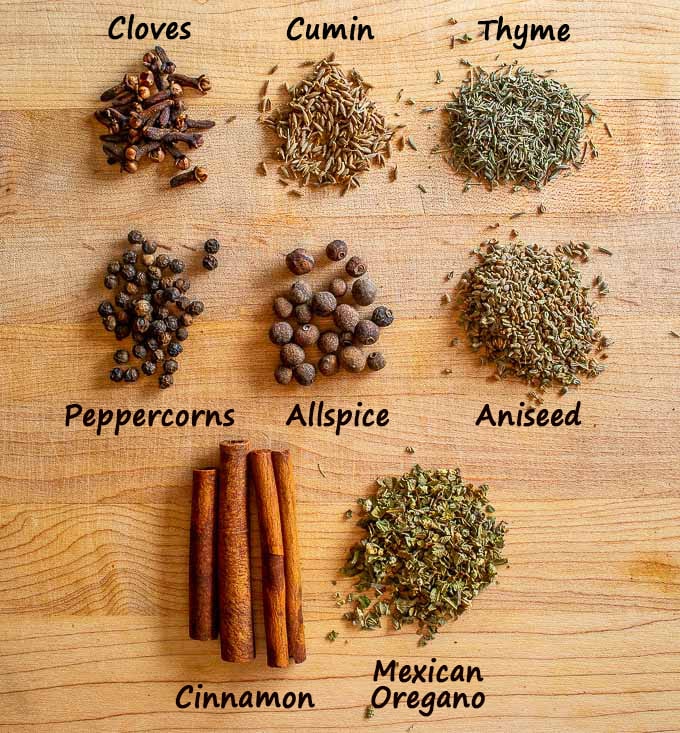 Nuts and seeds
You'll also frequently see nuts and seeds adding some toasty heartiness to these sauces. And raisins too!
Chocolate
And of course, some Mole sauces will finish with chocolate for additional sweetness. You can use any high quality chocolate, or even some of the Mexican chocolate discs.
I should mention that I don't have much of a sweet tooth, so in general you'll probably find that I use less chocolate (and sugar) in these recipes than most peeps -- but a final taste for salt and sugar is always in the cards, so it will be easy to sweeten up these sauces at the end if your palate is craving it.
The Usual Suspects
Most of these Mole sauces will start off with a tomato, onion, garlic combo. Tomatoes are the default, but I might experiment with adding some tomatillos as well.
You'll typically char or roast these veggies before combining them into the sauce.
Does all this sound like a lot of work?!
It's true, at first glance Mole sauces can be intimidating. I used to feel the same way and avoided them for years, but not any more! They are easier than you think and you'll be surprised how satisfying these sauces can be -- even on your first go 🙂
And again...don't sweat it if you can't track down all these ingredients. There will be some leeway on these recipes, so just compare your pantry to the above pics and grab what you can.
Just to give you an idea of how these sauces come together, here's the process for the Mole Coloradito I'm working on.
Start by charring or roasting the tomatoes:
Give the chiles a flash roast and reconstitute them in some hot water:
Char or cook the onion and garlic:
Grind up the spices: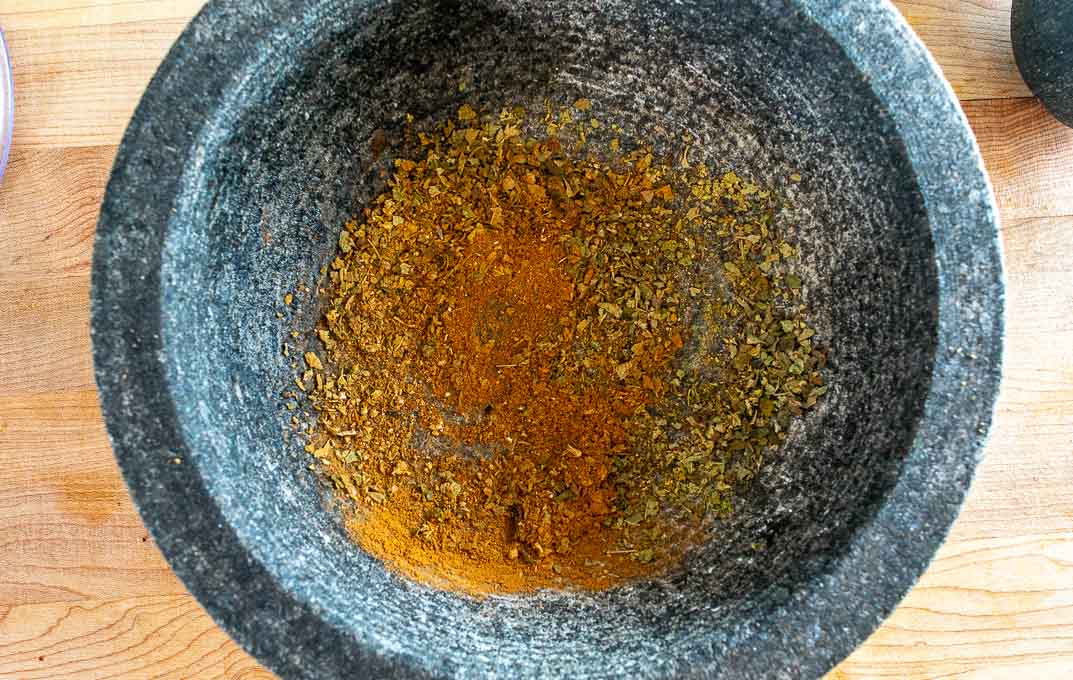 Roast or cook the nuts and seeds:
Combine it all in a blender and fry briefly. Then add stock, final seasonings, and a sliver of chocolate:
So that's an early version of Mole Coloradito in the above pic, but the ratios were a little off in that batch, with the chiles too dominant and covering up the other flavors. It's close though and I hope to have it up on the site in the next couple weeks!
If the Mole Coloradito interests you then here's an initial ingredient list for reference:
Ancho dried chiles
New Mexican dried chiles (or Guajillos)
Roma tomatoes
Onion
Garlic
Sesame seeds
Raisins
Cinnamon
Mexican oregano
Cloves
Black peppercorns
Cumin
Almonds
Chicken stock
Chocolate
Salt
Sugar
Oil (or lard)
If you're not venturing out into public much these days then don't rule out Amazon as it has most of the dried goods in that list.
Okay, I hope this post has put Mole on the brain! Feel free to use the comments section below if you have questions about any of these ingredients.
Buen Provecho.
To get up-to-date recipes follow me on Instagram, Facebook, or Pinterest.
Still hungry?!
Want to receive Mexican Please recipes via email when they are posted?  Sign up below to subscribe.  All recipes are spam free.