I'm back on the Mole Train this week and testing out some dried chile combos.
Ingredient lists for Moh-lay recipes can be intimidating, and these simple tests can give a good sense of a sauce's foundation before doing any fine tuning.
I was thrilled to add Mulato chiles to these experiments, so keep an eye out for those if you're new to them!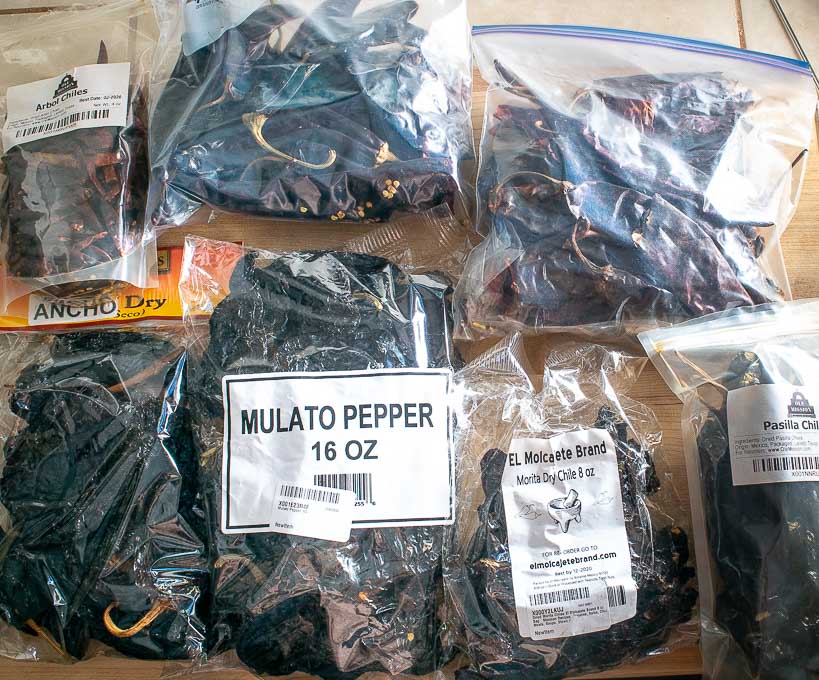 Dried Chile Combos for Mexican Mole Sauces
If you missed the Mole Coloradito from a few weeks ago you can check it out here.
After some fiddling I settled on 4 oz. of dried chiles in that recipe and will be using that as my starting point for these upcoming sauces:
Mole Negro
Express Mole
The Coloradito sauce used Ancho and New Mexican dried chiles.
This is a great, all-purpose flavor combo that I use all the time and you may recognize it from the recent Beef Birria. You could also use it for the Homemade Enchilada Sauce.
Anchos are probably the most common chile used in Mole sauces and you can find them quite readily these days. Try to buy the ones are pliable, like big raisins -- if they're hard and brittle then they're past their prime. More info on Ancho chiles.
I was also excited to add these beauties to the mix: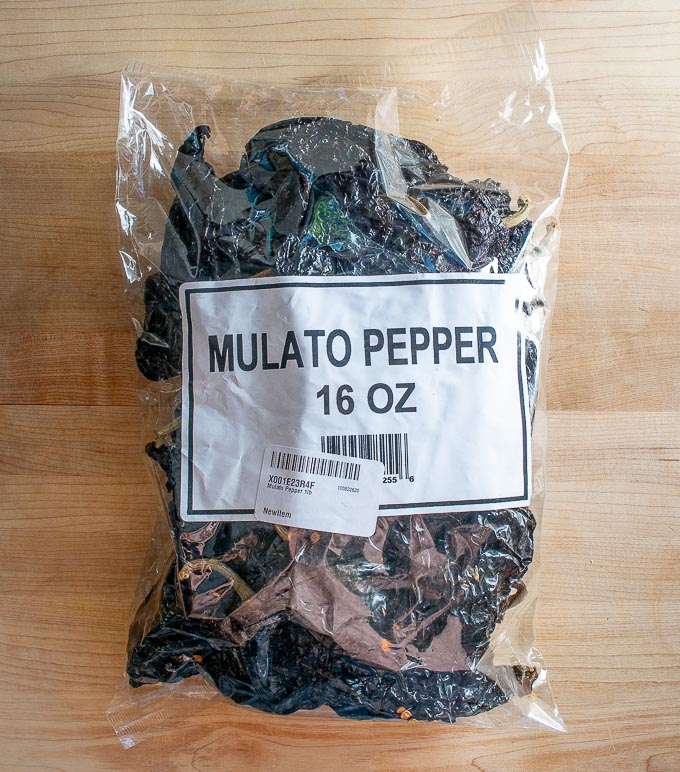 That's a single pound of Mulato dried chiles.
For reference, dried chiles tend to have different names than their fresh counterpart, i.e. an Ancho starts out life as a Poblano pepper.
And so do Mulatos!
But the Mulatos are left on the vine longer and eventually ripen to a brownish color, whereas Anchos are pulled when they turn red.
You can see the difference in this pic: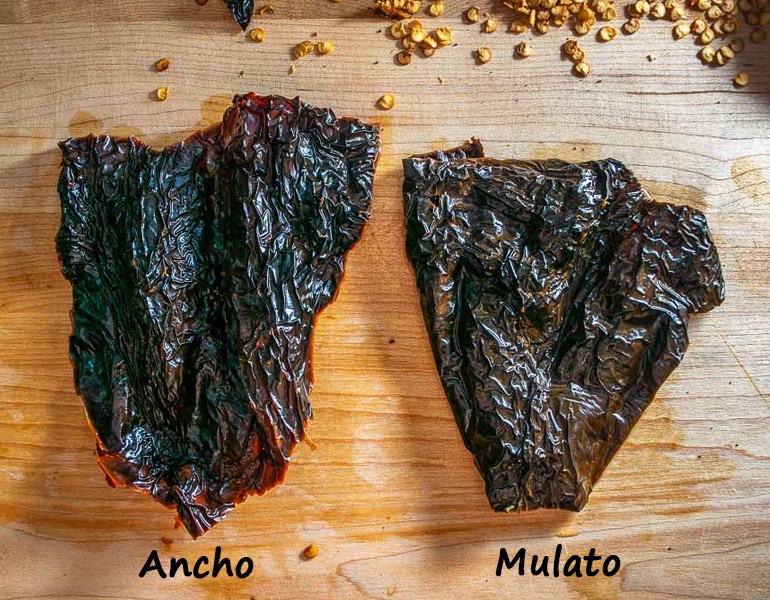 Note the reddish edges of the Ancho, whereas the Mulato has a distinct brownish color. Keep in mind that in the above pic those chiles are reconstituted and that's when you'll notice the color difference -- when in dried form they'll look nearly identical!
And the flavor?
That additional ripening time gives the Mulato a bigger, bolder flavor with subtle hints of tobacco and licorice. Noticeably absent is the fruity undertone you'll get with Anchos.
So why all this Mulato talk?
Mole Poblano frequently uses a combo of dried chiles that's referred to as the Holy Trinity. It looks like this:
So that's 4 oz. of dried chiles, broken down like this:
3 Ancho
3 Pasilla
3 Mulato
If you're new to Pasillas they are the long, thin chiles in the above pic. Pasillas start out as a Chilaca chile, and for my palate they have more of an earthy flavor when compared to Anchos or Mulatos.
To test out the flavor of this lauded Holy Trinity I de-stemmed and de-seeded the dried chiles.
Then gave 'em a flash roast in the oven and reconstituted them in some hot water.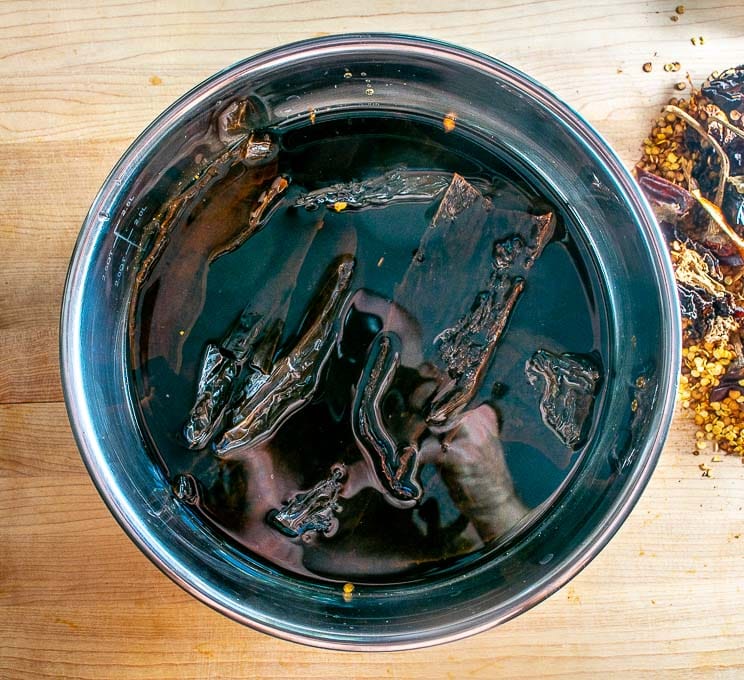 Followed by a quick blend.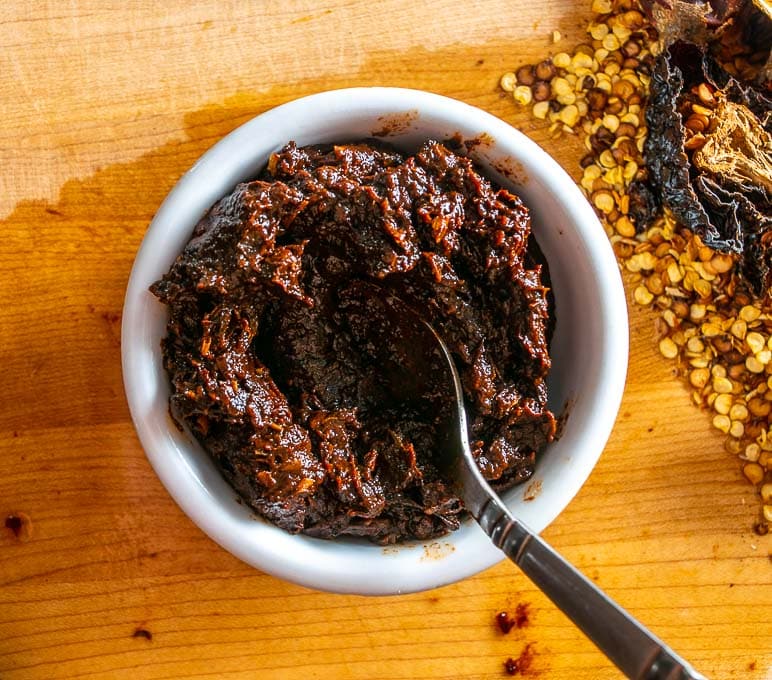 And was instantly elated with the flavor of this combo!
It's a good example of the sum being greater than the parts. It's just three chiles, but you seem to get something completely unique when you combine them -- a rich, complex flavor with sweetness from the Anchos, and some depth and hints of smokiness from the Mulatos and Pasillas.
There was a Comida Corrida near my house in Cozumel that would serve a delicious Mole Poblano over roasted chicken, and I could taste that sauce in this little bowl of blended chiles. Really excited to build a Mole sauce out of this combo 🙂
Next I wanted to try a combination of Anchos and Guajillos.
Guajillos are dried Mirasol chiles and they have a mild, fruity flavor. I consider them to be interchangeable with New Mexican chiles even though they have a slightly different flavor profile.
I combined an ounce of Anchos with an ounce of Guajillos, giving them the same roast and reconstitution treatment.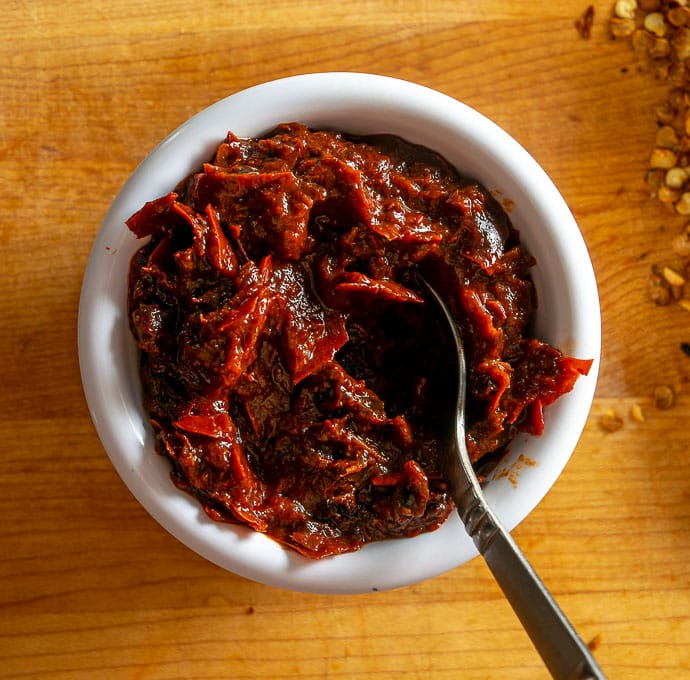 And the result?
This blend has a mild, unassuming, fruity flavor and it's a great counterpoint to the Holy Trinity combo -- not nearly as bold and complex, but there is something equally satisfying about it and I can taste the potential.
You could use this Ancho/Guajillo combo in the Coloradito Mole, but I also might experiment with it in some other red Mole sauces.
And last I wanted to experiment with something even more potent than the Holy Trinity, so I combined some Mulato chiles with a few Morita chiles.
Moritas are smoked jalapenos and they pack some heat! More info on Morita chiles.
This combo had massive flavor and was easily the spiciest of the bunch, but it wasn't as satisfying as the Holy Trinity. The heat and smokiness of the Moritas covered up the flavor of the Mulatos, so if I use this combo going forward I'll lower the amount of Moritas to make them more of a team player.
So what does this all mean?!
That combo of Ancho/Mulato/Pasilla is a revelation for me and I'm super excited to build some Mole Poblano out of it! See here for the Mole Poblano recipe.
So that's probably the next stop on the Mole Train for me. If you want to cook along then keep in mind that you can find all of these dried chiles online:
Where To Buy Dried Chiles Online
And if you want more details on these chiles before buying then check out the individual pages I have for them on the site:
Ancho Chiles
Pasilla Chiles
Morita Chiles
Guajillo Chiles
New Mexican Chiles
Mulato Chiles
Okay I hope this gets Mole on your to-do list! Feel free to use the comments section below if you have any questions about these dried chile combos.
Buen Provecho.
To get up-to-date recipes follow me on Instagram, Facebook, or Pinterest.
Want to see the latest recipe? It's this Pozole Rojo.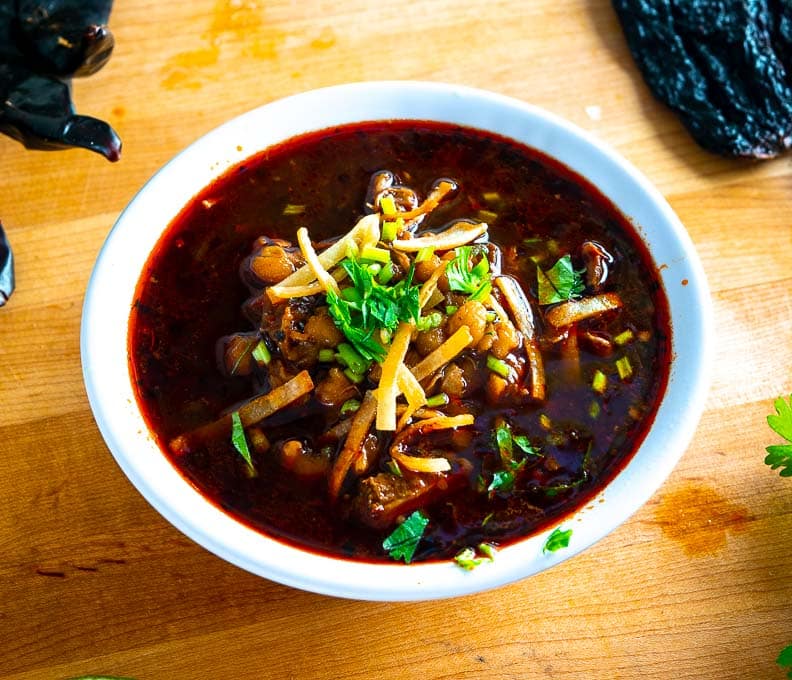 Still hungry?!
Want to receive Mexican Please recipes via email when they are posted?  Sign up below to subscribe.  All recipes are spam free.