I've recently added Mulato chiles to my arsenal and have been getting loads of questions about them. They're less common in the States, but it's worth tracking some down if you're starting to crave more traditional Mexican flavors.
Here's the skinny on Mulatos...
What are Mulato Chiles?
Like most dried chiles, Mulatos have a different name than their fresh counterpart.
Mulatos start out life as a Poblano chile: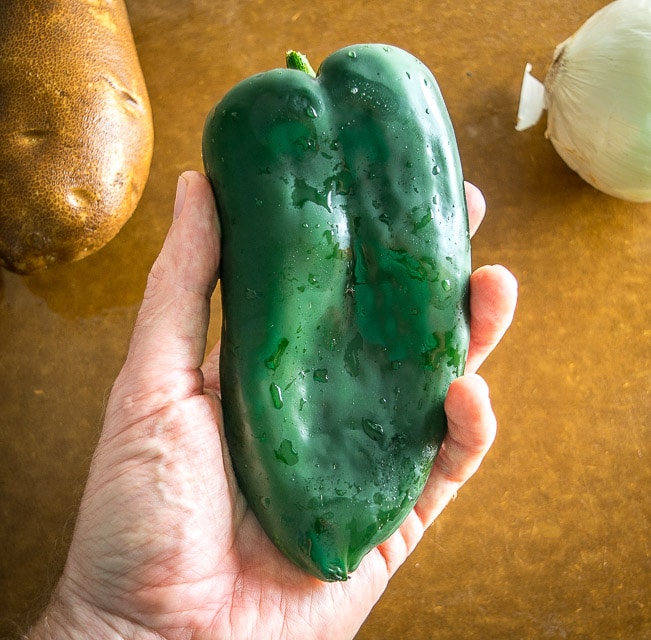 Poblanos will turn red if left on the vine long enough -- when these are picked and dried they're referred to as Ancho chiles.
But if you leave the Poblanos on the vine a bit longer they'll turn brown -- once dried these are the beloved Mulato chiles.
It's subtle, but you can see the difference in color in this pic: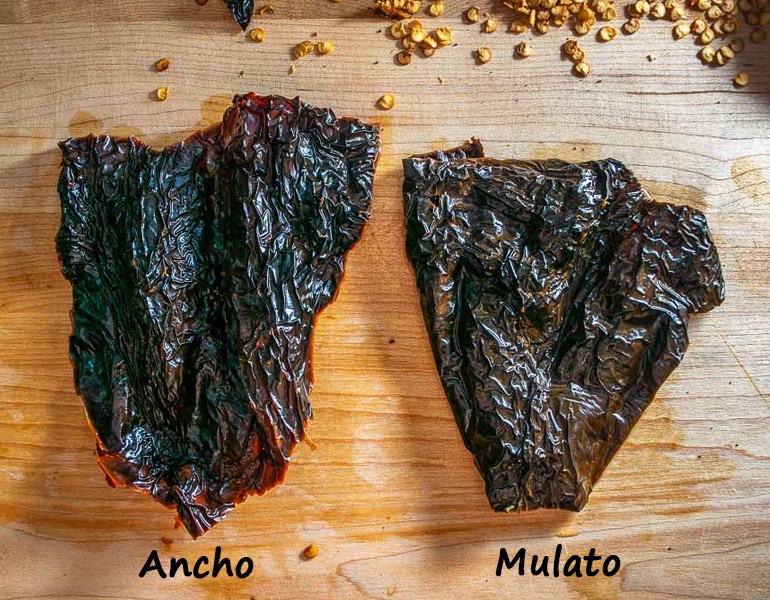 Note the reddish edges of the Ancho on the left, whereas the Mulato has a distinct brownish color. Keep in mind that the chiles in the above pic are reconstituted and that's when the color difference is most apparent — when in dried form they'll look nearly identical!
And the flavor?
The additional ripening time gives the Mulato a bigger, bolder flavor with subtle hints of tobacco and licorice. Noticeably absent is the fruity undertone you'll get with Anchos.
How Hot Are Mulato Chiles?
As usual, the larger the chile the milder it tends to be.
Note in the pic below that the larger Poblano has significantly less heat than a plain ol' Jalapeno.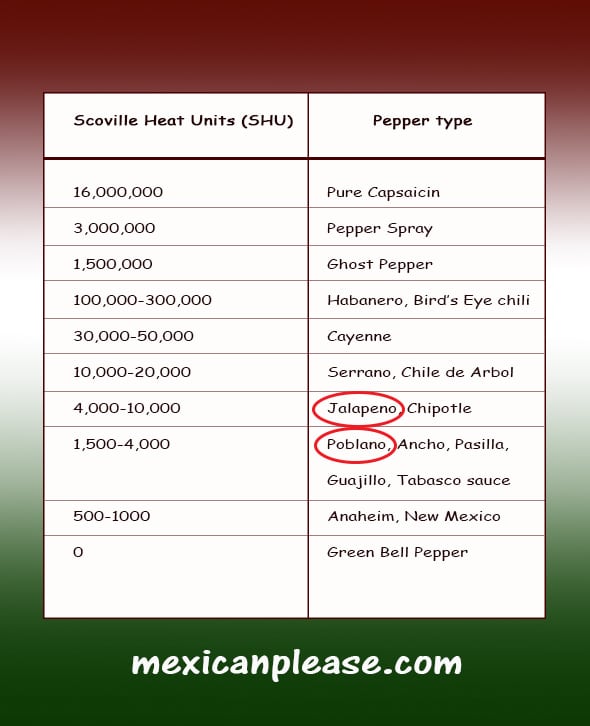 And while this means you'll only get mild heat when working with Mulato and Ancho chiles, if you use a bunch of them in a recipe you'll still get some zip in your dish!
Working with Mulato Chiles
As with most dried chiles, you'll want to start by giving them a blast of heat to wake 'em up.
I usually use the oven (400F) for 1-2 minutes, but you could also flash roast them in a dry skillet for 15-30 seconds per side.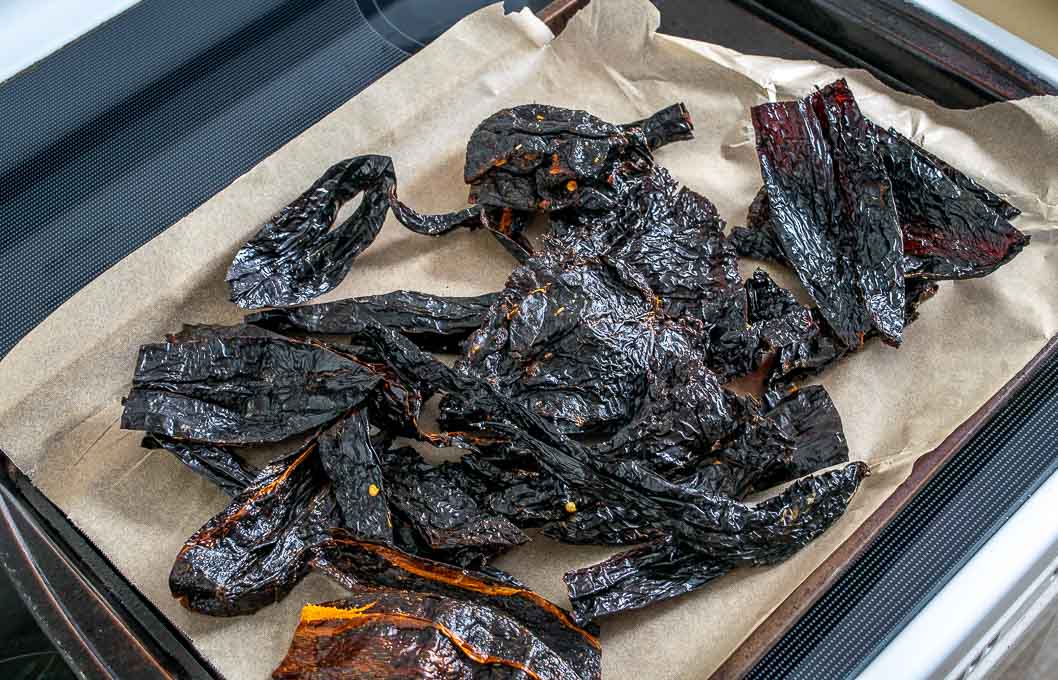 Then you'll want to reconstitute them -- this makes them easier to grind up and will help infuse their flavor in your delicious sauces.
To reconstitute, simply cover them with the hottest tap water you've got and let them soak for 20-30 minutes.
Once reconstituted, you'll drain them and blend them into your sauces.
But before you drain them be sure to take a taste of the chiles' soaking liquid! If you like the flavor you can use it to liquefy the sauce. If you think it tastes bitter then you can discard it and use stock in its place.
Where To Buy Mulato Chiles
You probably won't have much success finding Mulato chiles locally unless you have a really good Hispanic market in your area -- they're just not as common as they are South of the Border.
Luckily it's easy to find them online!
The easiest is Amazon -- I've bought these Mulatos in the past and was happy with them.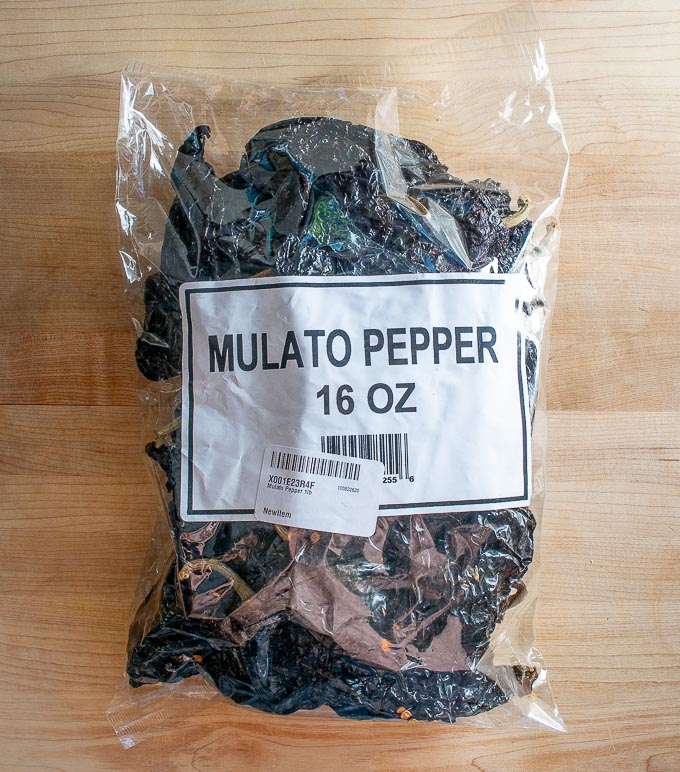 And if you want more online buying options see my article Where To Buy Dried Chiles Online.
Mulato Chile Recipes
You'll frequently see the combo of Anchos, Mulatos, and Pasillas referred to as the Holy Trinity of dried chiles.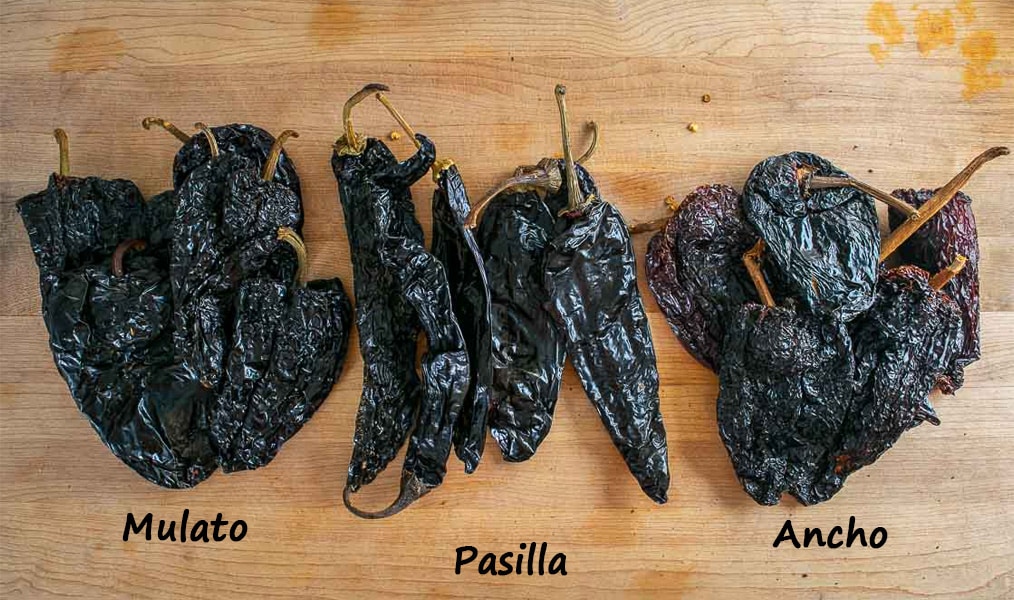 It's the base flavor for Mole Poblano and it's my main use for Mulato chiles.
Combining these chile varieties gives you an incredible depth of flavor and it's turned Mulatos into a pantry staple for me.
I'm also experimenting with a Birria recipe using this combo of chiles and I hope to post it on the site soon.
Okay, I hope this answers all of your Mulato chile questions! Keep an eye out for these beauties as it's been a real treat having them in my kitchen lately.
Good luck!
To get up-to-date recipes follow me on Instagram, Facebook, or Pinterest.
Disclaimer: there are some affiliate links on this page which means I will get a small percentage of the sale if you make a purchase at no additional cost to you. But I only recommend products that I use and trust — feel free to get in touch if you have any questions about this!
Still hungry?!
Want to receive Mexican Please recipes via email when they are posted?  Sign up below to subscribe.  All recipes are spam free.