Make a big batch of Spicy Shredded Chicken and you can easily whip up either of the salads in this post!
I've been making both of these keepers over the last couple weeks and it's been a welcome change of pace in the kitchen.
How To Make Spicy Chicken
Of course, all of this relies on a fiery batch of shredded chicken showing up in the house, and there are two main ways to get there.
First, you can poach the chicken for 20 minutes or so. Simply cover the chicken with cold water, bring to a boil, and then simmer until the insides are no longer pink (160F).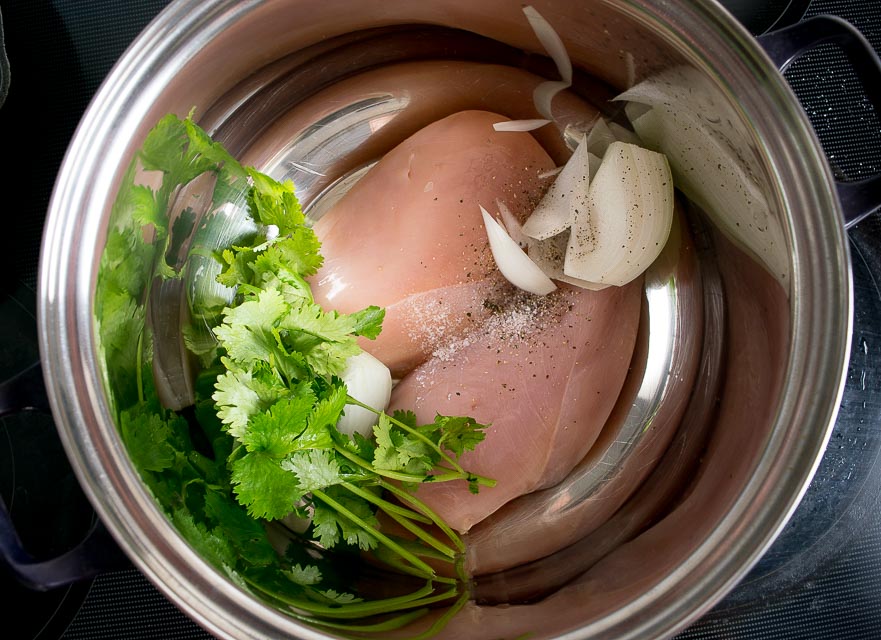 Once cooled you can shred it with two forks and then add some fireball seasoning -- more on this in a moment.
Or instead of poaching you can brine and bake the chicken.
Lately, I almost always use the brine-and-bake method as it gives you such a great headstart on seasoning.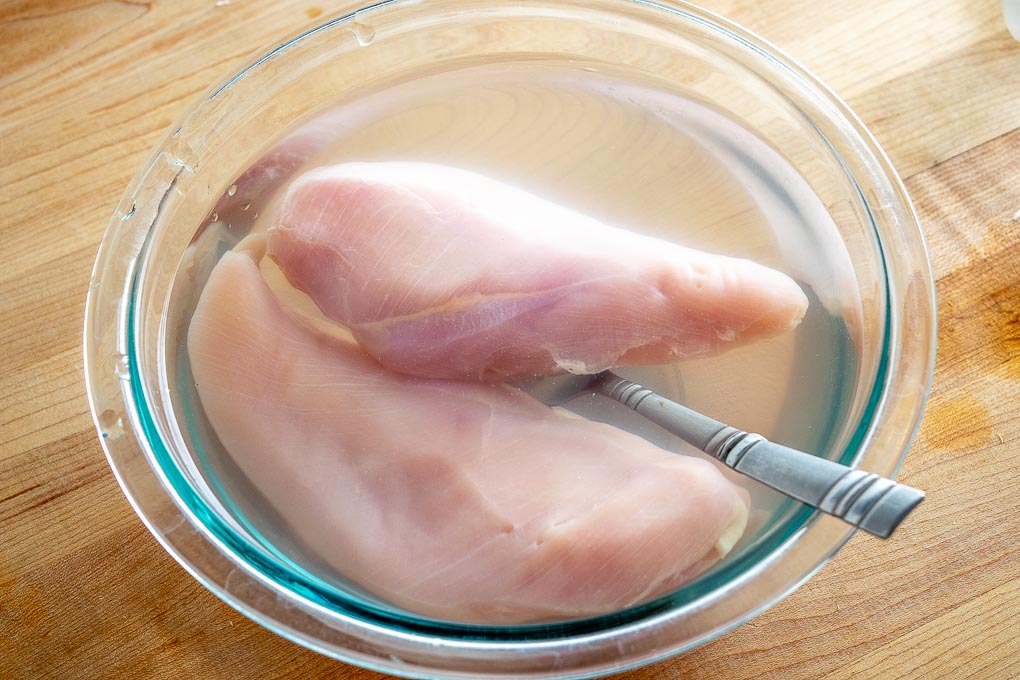 Simply add a quart of cold water to a mixing bowl along with 1/4 cup Kosher or sea salt. Combine well.
Then add two chicken breasts and let them rest in the brine for 30-60 minutes. I usually cover them and stick 'em in the fridge.
Once brined you can pat them dry and bake for 20 minutes in a 400F oven -- or until they register 160F on the inside.
Let cool for a bit and then shred them using two forks.
And don't forget to take a taste! It's amazing how much flavor the brine gives the chicken -- and that's without any spices yet! You can also use this simple brine technique for Pork Carnitas.
Brining gives you a great foundation and makes the rest of the seasoning process effortless. Some good chile powder will do the job, but I also add adobo sauce when available.
So for this single pound of chicken I used:
1 tablespoon pure chile powder
2 tablespoons adobo sauce from a can of chipotles More info on chipotles
a pinch of Mexican oregano What is Mexican oregano?
But feel free to fire up your chicken as you see fit. If using chile powder be sure to take a look at the label -- some are loaded with unnecessary ingredients and I avoid those. Here's more info on the pure chile powders I use.
So which salads have I been making with this fiery shredded chicken?!
First up is this traditional Chicken Taco Salad: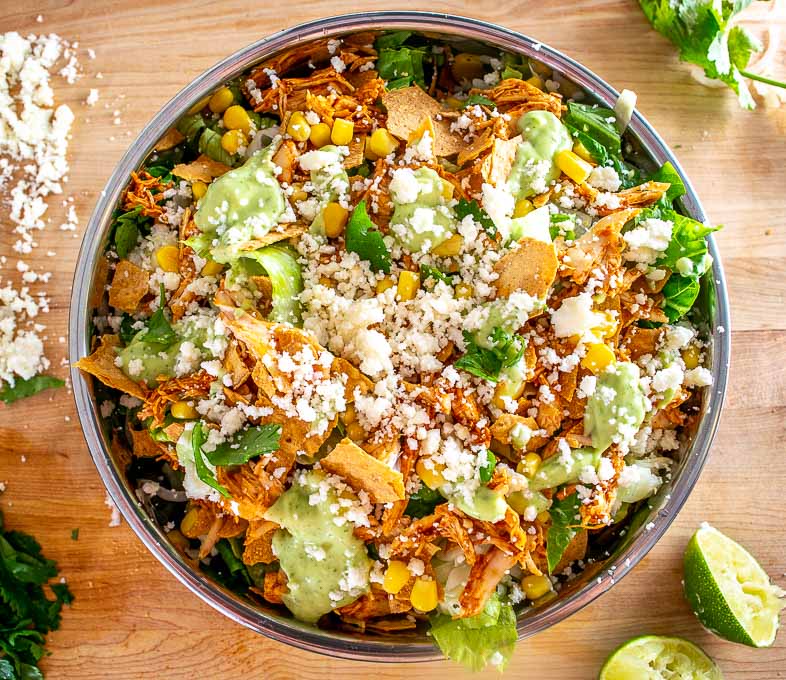 If you made the Beef Taco Salad from a few months ago then you're already familiar with most of the fixings.
For this big bowl of salad awesomeness I used:
Spicy Shredded Chicken
Crispy tortilla strips
Corn
Queso Fresco
Avocado Dressing
Freshly chopped cilantro
Romaine and Iceberg lettuce
The key ingredient in that list is the Avocado Dressing -- it's super easy to make and I highly recommend it if you're new to it.
I'll put full instructions for the Avo Dressing in the recipe box below, but here's a quick look at the ingredient list:
2 avocados
10-12 sprigs cilantro
1/2 garlic clove
1/2 teaspoon salt
1/4 cup plain Greek yogurt
1/4 cup olive oil
juice of 2 limes
1/2 cup water
The other salad I've been making recently relies on this big jar of Curtido:
This is a Pickled Cabbage Slaw that's made using the quick pickling technique.
If you've made these Pickled Jalapenos then it's the same idea -- simply let the cabbage rest overnight in a seasoned vinegar brine and the next day you'll have some fiery, tangy cabbage that works wonders on Fish Tacos.
Or on chicken salads 🙂
I use a combo of the Curtido and Romaine as the lettuce bed, and then top with:
It's such a quick meal and the tang of the Curtido is the perfect complement to the fiery chicken.
And by the way...the acidity of the Curtido could nearly stand on its own as a dressing, so the Avo dressing isn't as important in this version as it is in the Taco Salad.
For example, I've opened the fridge before and plopped all these fixings in a bowl:
Spicy Shredded Chicken
Curtido
Beans
Cheese
And it's a great on-the-fly meal even if you don't want to make a separate dressing.
I also wanted to mention that I like the Curtido version best when the Shredded Chicken is cold. Sure, you could chill the chicken after making it, but I usually just make a big batch and then grab leftovers from the fridge for the Curtido version.
Okay, I hope this post gives you some new ideas for the coming week!
If you're new to the brine and bake method then consider giving it a go -- it's such an easy way to get some well-seasoned chicken in the kitchen.
Buen Provecho.
To get up-to-date recipes follow me on Instagram, Facebook, or Pinterest.
Spicy Chicken Salad
Here are two great options for some home-cooked Mexican Chicken Salads!  The first is a traditional Chicken Taco Salad, and the second relies on some Spicy Cabbage Slaw. 
Print
Pin
Rate
Ingredients
2

chicken breasts

2

tablespoons

adobo sauce from a can of chipotles

1

tablespoon

chile powder

pinch of

Mexican oregano (optional)

freshly cracked black pepper

1/4

cup

Kosher or sea salt (for the brine)
For the Taco Salad:
1

head

Iceberg lettuce

1

head

Romaine lettuce

3

cups

crispy tortilla strips

1

can

corn (optional)

1-2

cups

cheese (I used Queso Fresco)

freshly chopped cilantro
For the Avocado Dressing:
2

avocados

10-12

sprigs

cilantro

1/2

garlic clove

1/2

teaspoon

salt

1/4

cup

plain Greek yogurt

1/4

cup

olive oil

juice of

2 limes

1/2

cup

water (plus more if necessary)
For the Curtido:
1/2

head

green cabbage

1

carrot (optional)

1/2

onion

1/2

jalapeno

1

cup

white vinegar

1.5

cups

water

1

teaspoon

Mexican oregano

freshly cracked black pepper

2

teaspoons

Kosher or sea salt
Instructions
To brine the chicken, add 1/4 cup salt to a quart of water in a mixing bowl.  Dissolve the salt and add the chicken breasts, letting them brine for 30 minutes or so.  If the chicken breasts aren't fully submerged then add a bit more water.  I usually cover and put them in the fridge. Once brined, pat dry the chicken breasts and add them to a baking sheet. Bake at 400F for about 20 minutes or until the chicken is no longer pink inside (160F). 

Once the chicken has cooled a bit you can shred it with two forks and add it to a mixing bowl along with: 2 tablespoons adobo sauce, 1 tablespoon chile powder, a pinch of Mexican oregano (optional), and some freshly cracked black pepper. Combine well.

For the Taco Salad, start by making the Avocado Dressing. Add the following ingredients to a blender or food processor: the flesh of 2 avocados, 10-12 rinsed cilantro sprigs, 1/2 peeled garlic clove, 1/2 teaspoon salt, 1/4 cup plain Greek yogurt, 1/4 cup olive oil, 1/2 cup water, juice of 2 limes. Combine well and take a taste, adding more lime and cilantro if you want. If it won't combine readily simply add another splash of water. Cover and keep cool until you need it.

For the cripsy tortilla strips I baked some corn tortillas, but feel free to use tortilla chips, fried corn tortillas, or crumbled taco shells. To bake corn tortillas, spread a thin layer of oil on each side of the tortillas and bake for 8-9 minutes in a 350F oven. I usually flip them after the first 4 minutes and then take a peek after another 4 minutes. Keep in mind that you'll have the best success with thin tortillas as thicker tortillas won't crisp up as readily. More on baking corn tortillas.

I used Iceberg and Romaine for the Taco Salad, but there is leeway on the lettuce type. Be sure to give the lettuce a good rinse and drain it well, then chopping it up into smaller, bite-sized pieces. Keep cool until you need it.

Finish prepping any other fixings you'd like to serve up in your Taco Salad. I crumbled up some Queso Fresco, and drained and rinsed a can of corn.

To serve the Taco Salad, I prefer adding the fixings on top of a bed of lettuce in a smaller bowl so that you don't have to intermix everything before chowing down. For bigger groups I would consider lining up an impromptu salad bar so people can build their own masterpieces. This helps keep distinct temperatures and textures in the salad and I think it tastes best that way.

If you'd like to make the Chicken Salad version with Curtido, see the original Curtido post on how to make a batch. It's easy and you are basically just adding shredded cabbage to a seasoned vinegar brine. Typically you'll need to let the Curtido rest overnight in the fridge to get full flavor.

For the Curtido salad, I combine the Curtido with some Romaine lettuce and then top with the Spicy Shredded Chicken, Queso Fresco, freshly chopped cilantro, and some Avocado Dressing (optional). I think the Curtido version tastes best when the shredded chicken is cold, i.e. hello leftovers!
Like this recipe?
Click the stars above to rate it or leave a comment down below! @mexplease
Want to see the latest recipe? It's this Roasted Poblano Soup.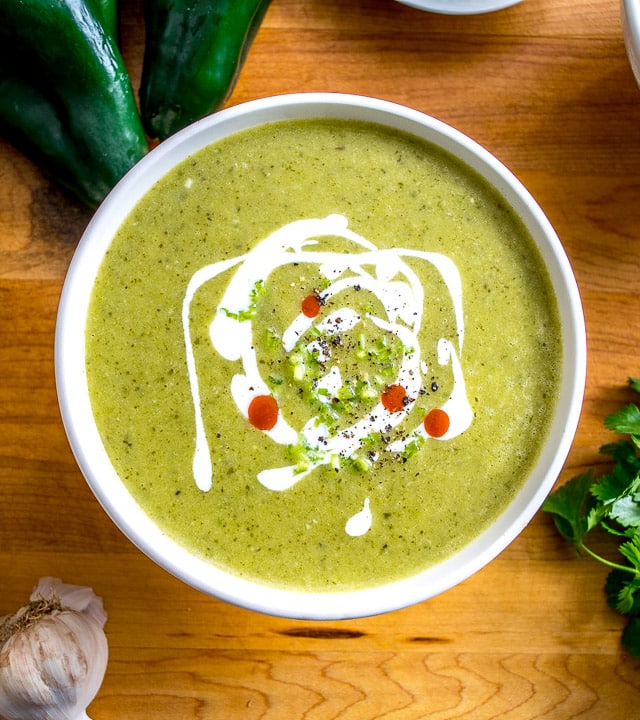 Still hungry?!
Want to receive Mexican Please recipes via email when they are posted?  Sign up below to subscribe.  All recipes are spam free.