Don't have tostada shells for that recipe you want to try out? Then it's time to whip up your own batch!
Sure, you can always run out to buy some at the store, but once you make your own you'll always have a more convenient option.
All you need is corn tortillas and some oil, and since you love Mexican food you've already got corn tortillas in the kitchen, right?!!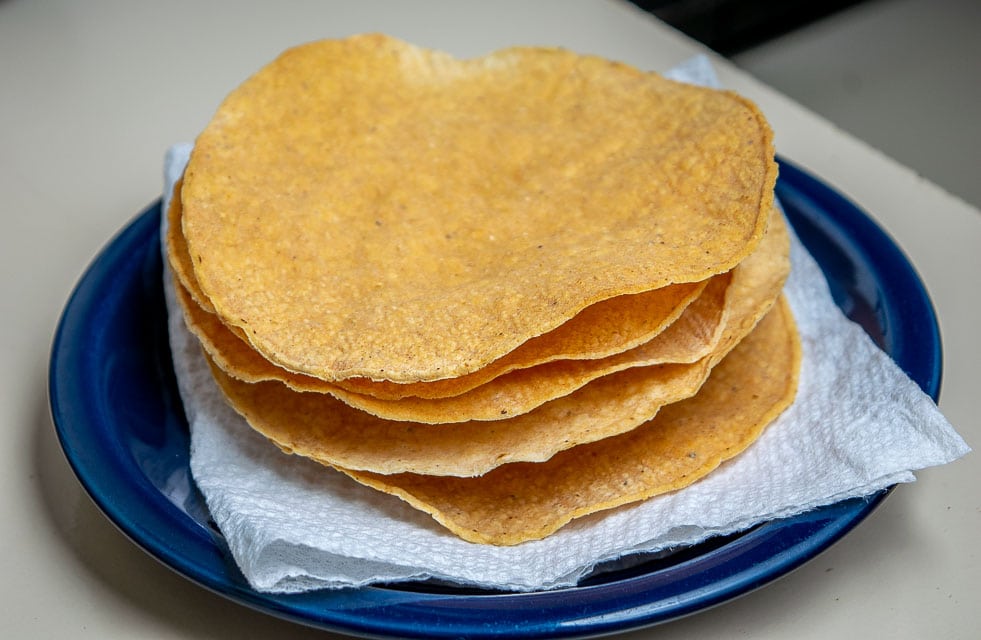 Homemade Tostada Shells
You've got two options for making your own tostadas at home. Let's look at the old school method first -- frying them.
Heat up a 1/4 " of oil in a skillet or saucepan and bring it up to 360F or so -- this is usually a bit over medium on my stove.
Use tongs to add a corn tortilla to the pan. You'll know the oil is hot enough if the tortilla sizzles immediately.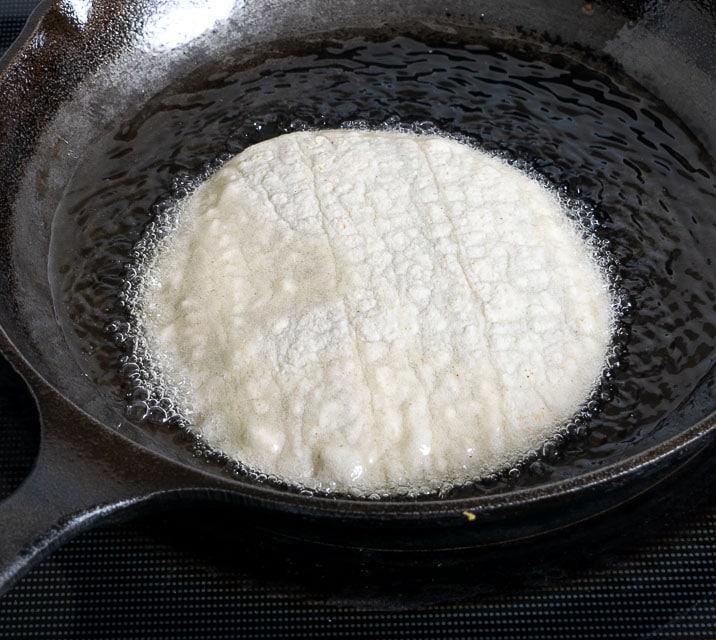 Fry each side of the tortilla until it is turning light golden brown. This will probably be around 30 seconds per side but it will depend a little on the thickness of the tortilla.
Once they turn golden brown you can remove them from the pan and set aside to drain on some paper towels.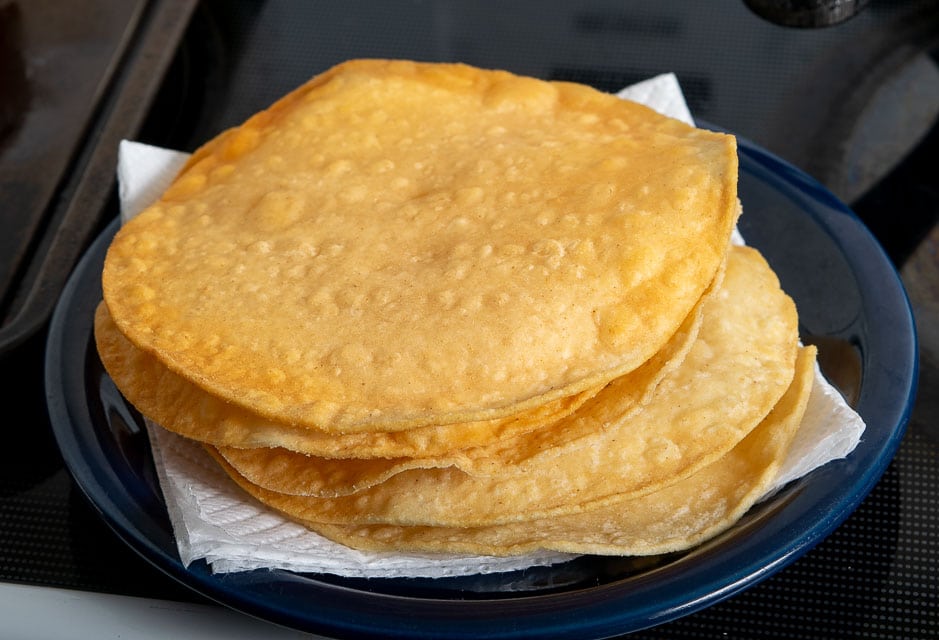 Hello tostadas! No mystery there -- just plain ol' corn tortillas fried in some oil.
But to be honest I try to limit the amount of frying I do in the kitchen. Luckily there's a great alternative when it comes to tostada shells -- you can bake them and get an equally good result!
Baking them will give you a batch of so-close-it's-close-enough tostadas, and this is a much more sustainable method for me.
Spread out 5-6 corn tortillas on a baking sheet and give each side a thin layer of oil. You can use an olive oil sprayer if have one, but it's just as effective to drizzle some oil on the tortillas and use your fingers to spread it around. Be sure to do both sides.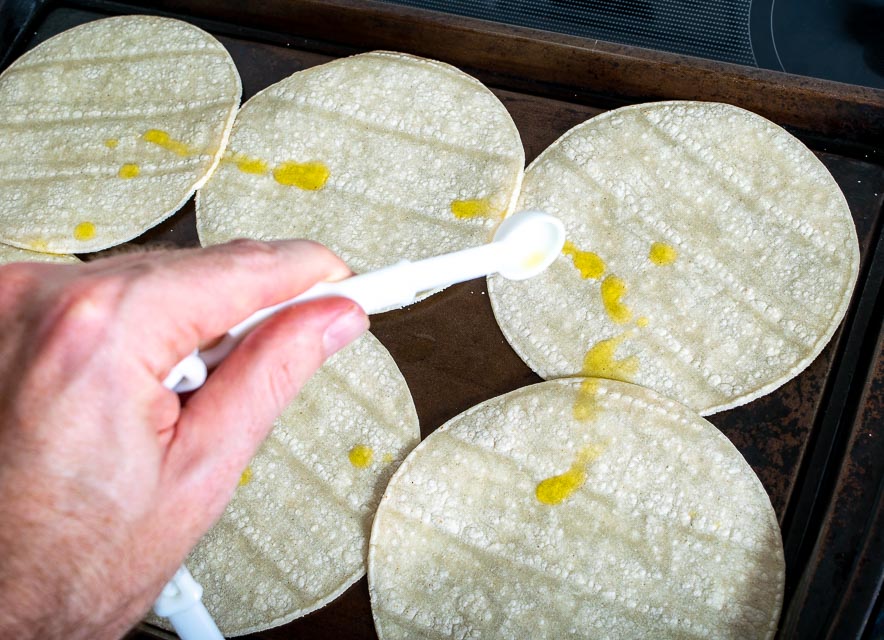 I usually eyeball it, but you can use 1/2 teaspoon oil per side as a starting point. In other words, in the above pic a heaping teaspoon of oil was enough to coat all six of those tortillas on both sides.
Plop them in a preheated 400F oven and give them about 4-5 minutes on the first side, flip, and then cook the second side for 4-5 minutes.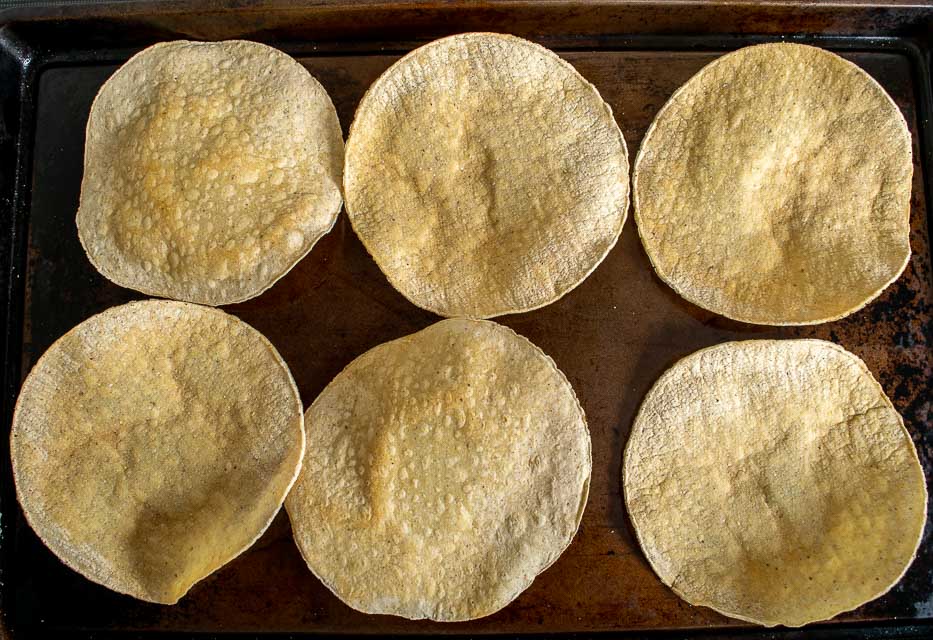 You'll end up with some golden brown, crispy tostadas that do a remarkably good job of impersonating fried tostada shells -- with no messy oil leftover!
Note that thinner tortillas will crisp up the easiest. If your tortillas are thicker then they might need a couple extra minutes in the oven.
You might find tortillas in your area that are labeled "for frying" -- if so these will typically be thinner and have less moisture than standard store-bought tortillas. Here's how they are labeled in my area: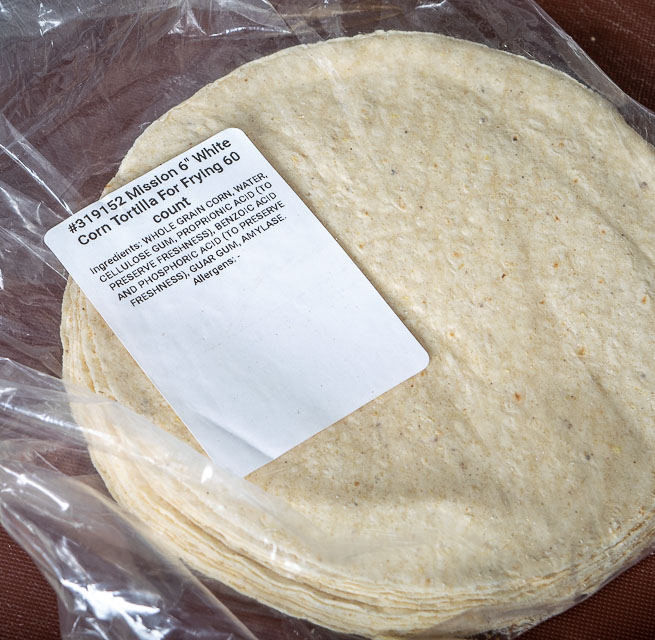 And here's how they look next to a standard tortilla, with the thinner "for frying" tortilla on top in this pic: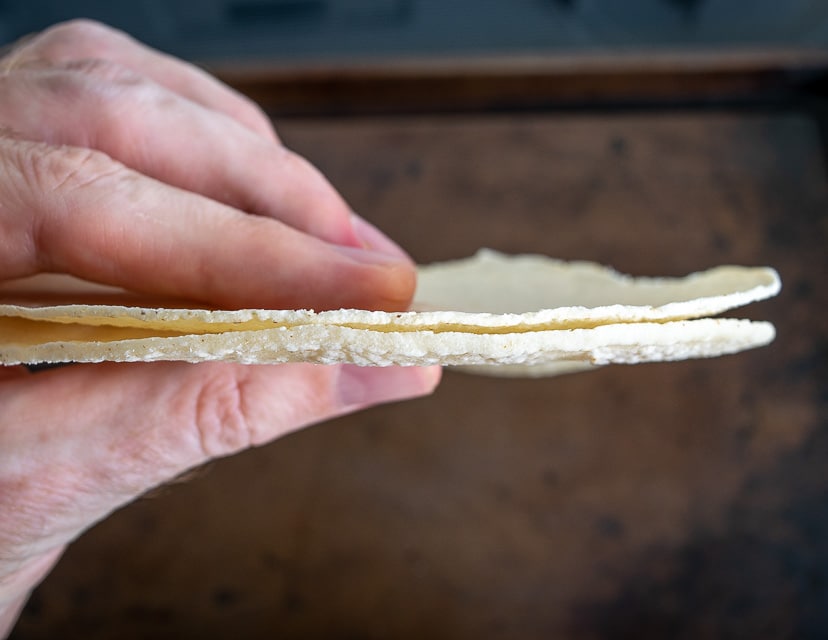 When available, I always use these thin tortillas for baked tostadas -- they crisp up so easily and it only takes about 4 minutes per side. You can still get a good result with thicker tortillas, but keep in mind that it might take an extra minute or two per side and sometimes the center won't crisp up as much.
Once baked you can set them aside until you need them. I tend to make these to order, but you could always make a bigger batch if you want -- just put them in a Ziploc in a cool pantry and they should keep for a few days.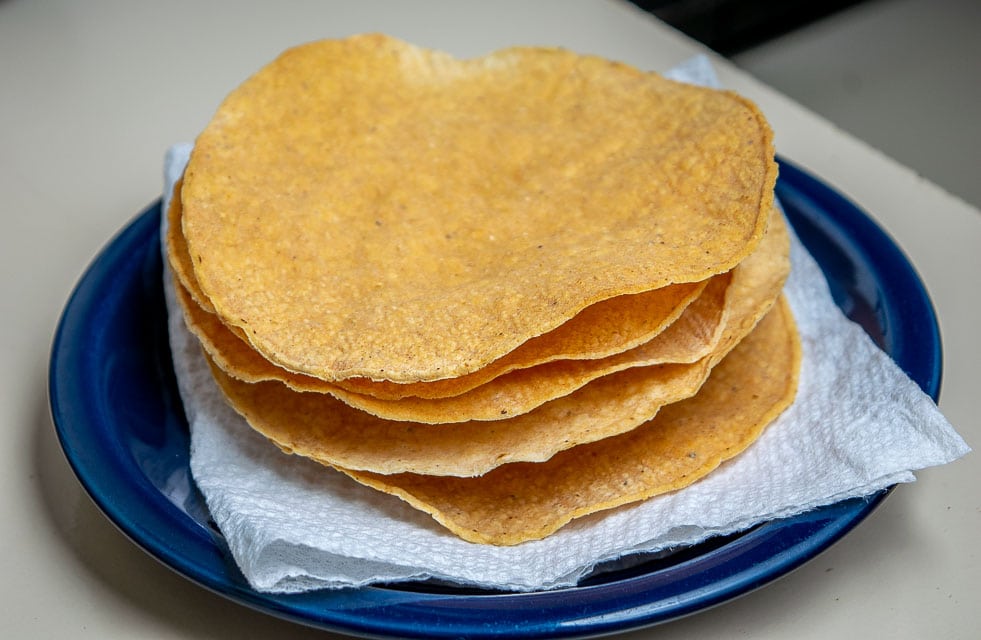 Easy right?
So now that you're an expert on making tostada shells how should you use them?!
The crunch of a tostada seems to be a natural fit for certain dishes, with shredded chicken and beef being at the top of the list for me.
Over the last couple months I've been munching on these Tinga Tostadas: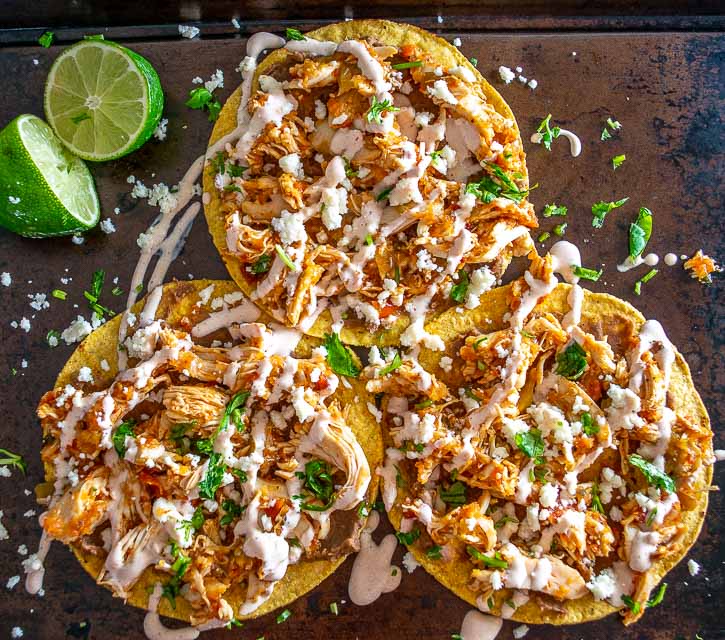 And these Chicken Chile Verde Tostadas: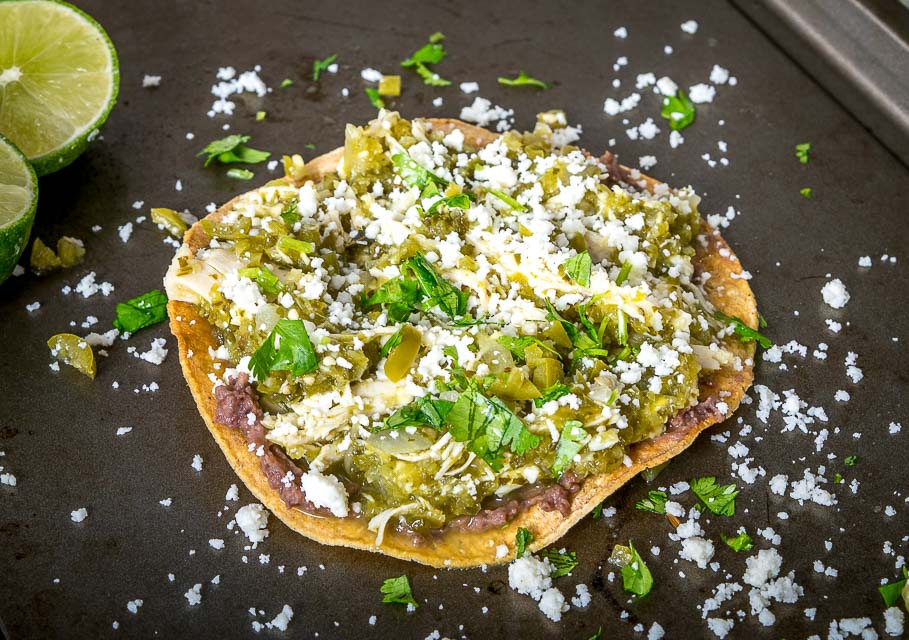 And if you tend to keep some refried beans in the fridge (bonus points!) then you are always just a few minutes away from a satisfying meal like these Black Bean and Guac Tostadas: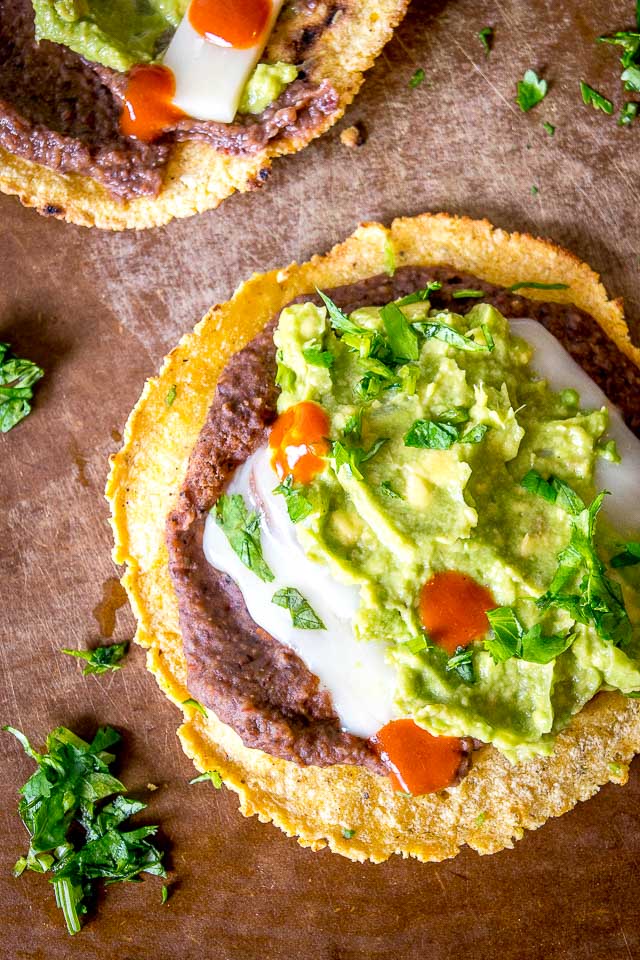 And last I want to mention one final endearing trait of tostadas....
You can get a much higher fillings-to-tortilla ratio compared to traditional hardshell tacos, so feel free to load them up with whatever sounds good to you! Shredded lettuce or cabbage, cheese, sour cream, tomatoes, Pico de Gallo -- you can literally make a meal within minutes just by opening up the fridge and giving it a quick scan.
And yes, when you load them up with a truckload of fixings they tend to get a little messy when you take a bite, but that gives them a bit of personality 🙂
Okay let me know if you have any questions about making your own tostada shells at home. Baking them is such an easy technique and it will instantly expand your kitchen repertoire so I hope you try it!
For up-to-date recipes follow me on Instagram, Facebook, Pinterest, TikTok, YouTube.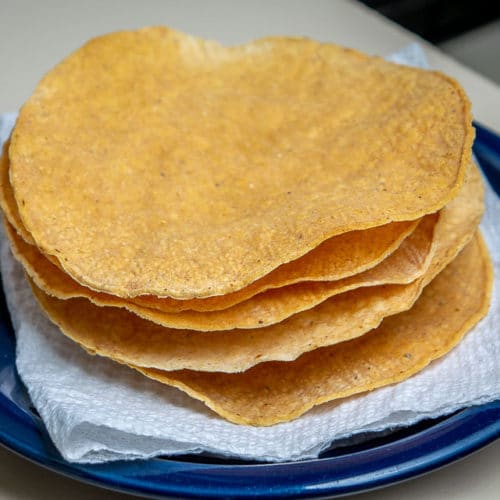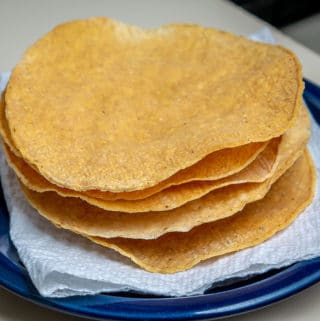 Baked Tostada Shells
Here's an easy way to bake some tostadas at home -- you still get a crunchy tostada shell but without frying them!
Print
Pin
Rate
Ingredients
5-6

corn tortillas

olive oil

salt (optional)
Instructions
Preheat the oven to 400F.

Spread out the corn tortillas on a baking sheet. Drizzle some oil across the tortillas and use your fingers to spread it around, creating a thin layer. Do the same on the second side. I usually eyeball the amount of oil, but a heaping teaspoon is usually enough to coat both sides of all six tortillas.

Bake the first side in the oven for 4 minutes. Flip the tortillas and bake for an additional 4 minutes or until they are turning golden brown. If using thicker tortillas they will probably need to bake for an additional 1-2 minutes per side.
Notes
When possible, try to use thin tortillas for baked tostadas.   Sometimes you'll find tortillas labeled "for frying" and these are a good option as they are typically thinner and have less moisture.  You can still get a good result with thicker tortillas but they might need a longer baking time. 
You could also use a pastry brush to spread the oil around.
Quick video on how to bake tostada shells.
Like this recipe?
Click the stars above to rate it or leave a comment down below! @mexplease
Our latest recipe is this Express Carne Asada: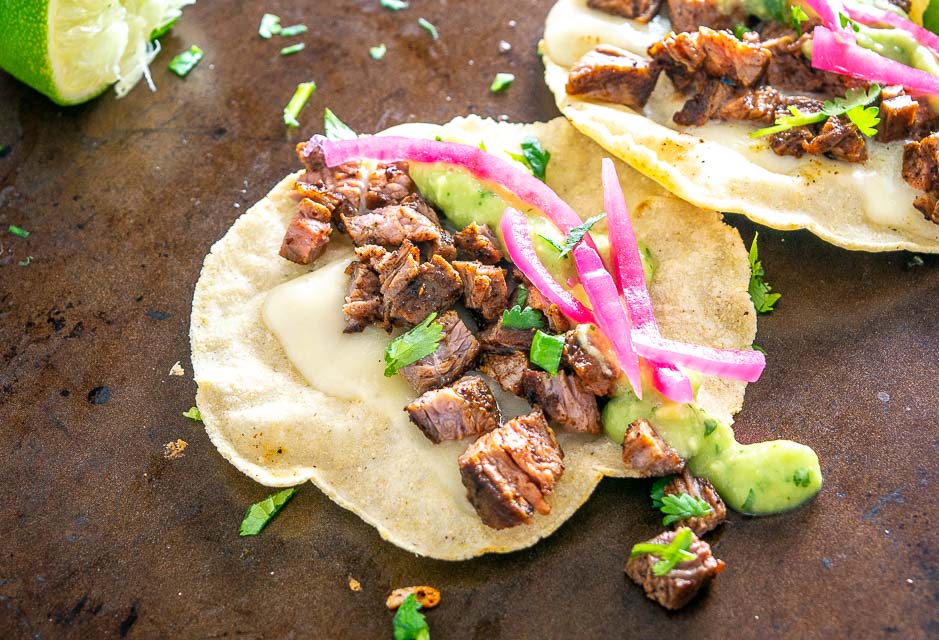 Still hungry?!
Want to receive Mexican Please recipes via email when they are posted?  Sign up below to subscribe.  All recipes are spam free.