Tinga Tostadas are a real treat and will have you making huge batches of Tinga de Pollo so you can whip up tingalicious meals for the rest of the week.
If you're new to this Tinga recipe be sure to add in the tomatillos as it makes a huge difference! Adding tomatillos gives it a vibrancy that you won't get from tomato-only Tinga.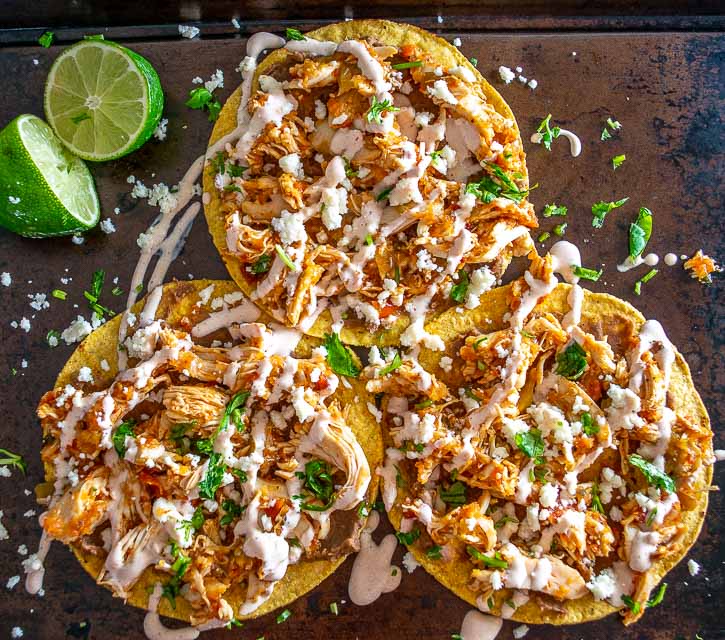 How to make Tostadas de Tinga
If you scan the recipe box below and see some garnishes or fixings that you don't have on hand please don't let that discourage you! The Crema, Queso Fresco, and refried beans are all nice enhancements, but you could just as easily serve up Tinga on a Tostada and it's still going to be a satisfying meal.
Why? Because the Tinga is bursting with flavor and everything else is just a bonus.
There's one other optional step in this version that you can experiment with if you want. I've been brining chicken more often lately and I tried it with this batch of Tinga.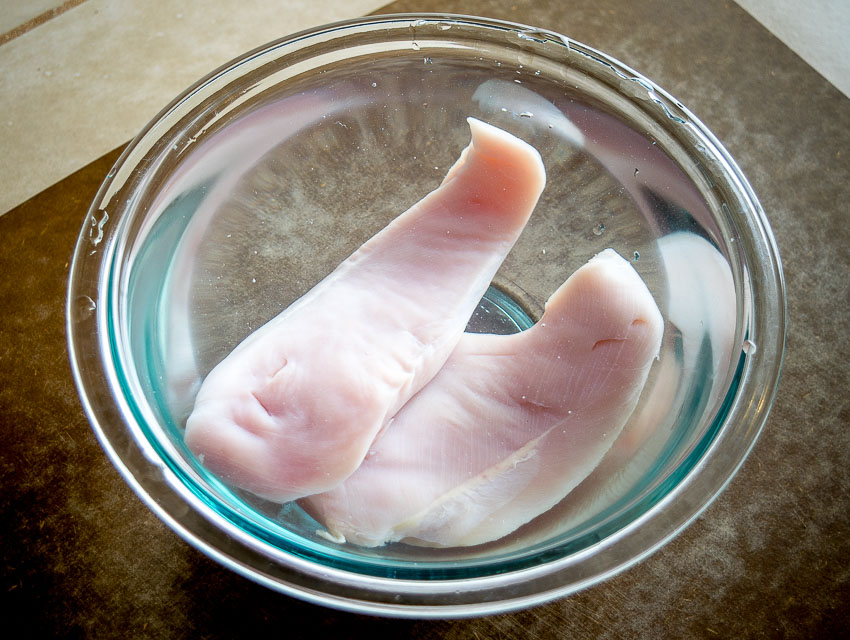 For Tinga de Pollo you'll need shredded chicken -- normally I just poach the chicken breasts but I decided to brine and bake for this batch. (You could also use rotisserie chicken if you want.)
A typical brining ratio is 1 cup salt per 1 gallon of water -- so in the above pic there are two chicken breasts resting in a quart of water that has 1/4 cup salt dissolved in it. Give the chicken 30 minutes in this brine and you'll be surprised how much flavor it can add to plain ol' chicken.
Once brined I put everything on a sheet pan and plopped it all in the oven.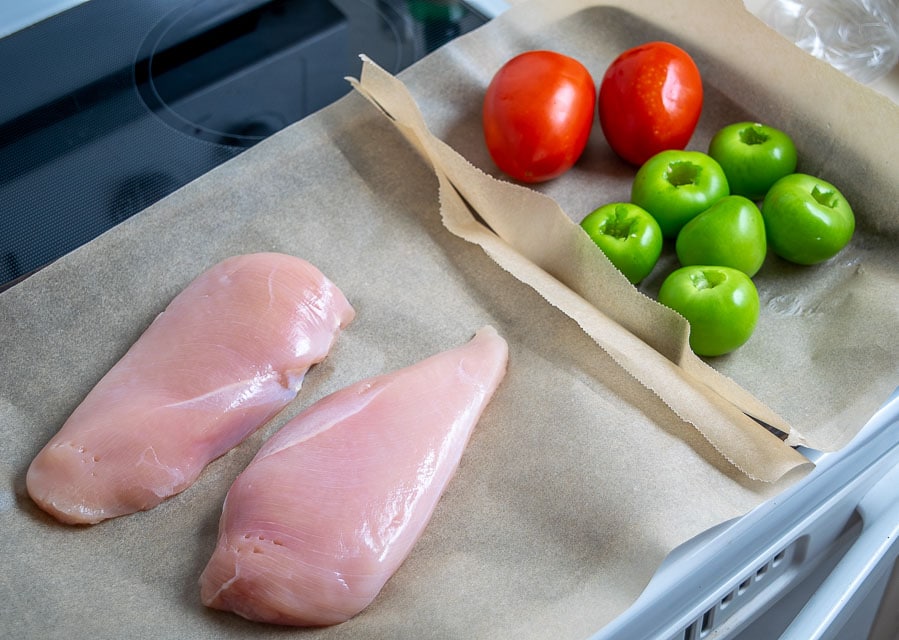 Chicken breasts will usually need about 20 minutes in a 400F oven and that works out well because the tomatoes and tomatillos need roughly the same amount of time to roast. Once the chicken is about 160F or no longer pink on the inside you can take everything out.
As the chicken is roasting you can roughly chop half an onion and saute it in some oil over medium heat. We'll also add in four whole, peeled garlic cloves.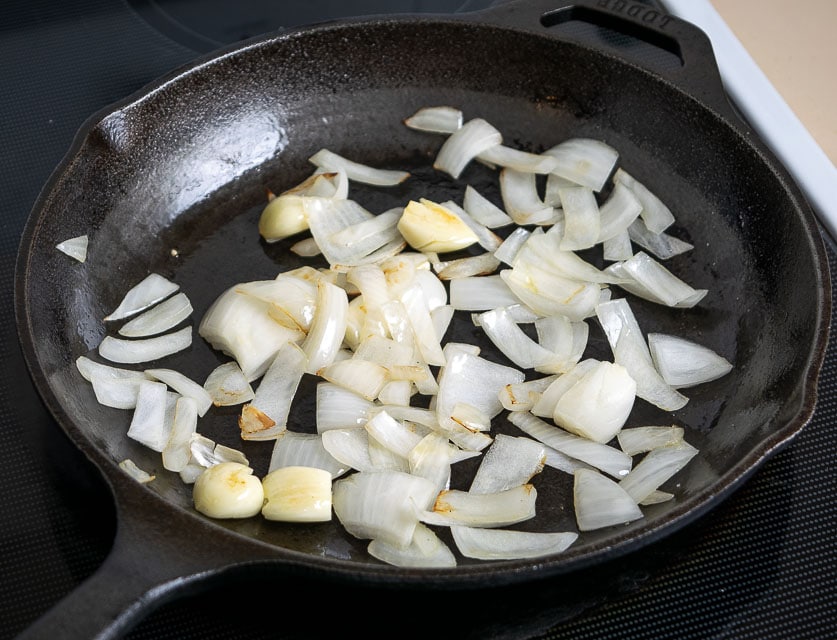 Once the onion starts to brown you can add this onion-garlic mixture to a blender along with the roasted tomatoes and tomatillos. What's a tomatillo?
We'll also add 3 chipotles in adobo. I usually scrape out the seeds from the chipotles. More info on working with chipotles in adobo.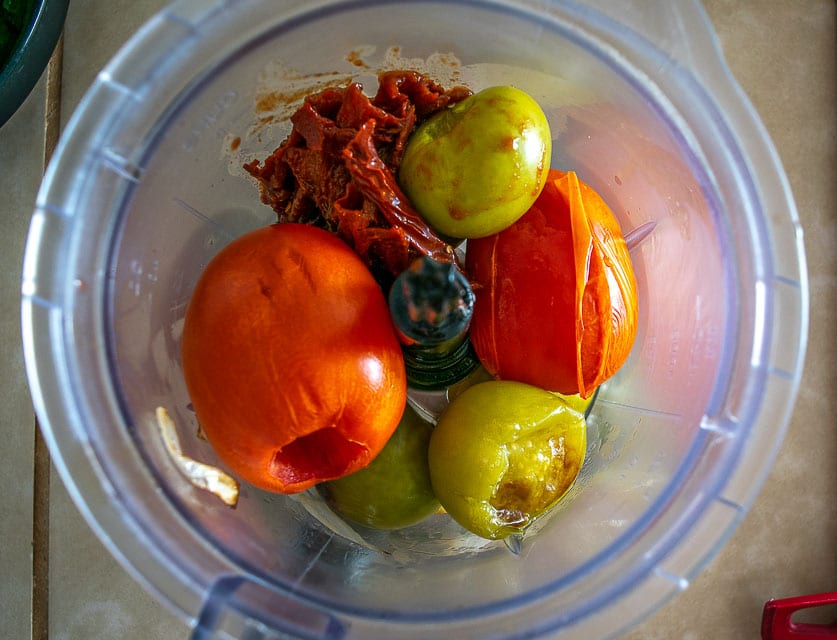 Give it a whirl and take a taste! I'm always amazed how much flavor it has at this point -- you too?!
Using three chipotles will give it ample heat, but feel free to add more if you want a more fiery version.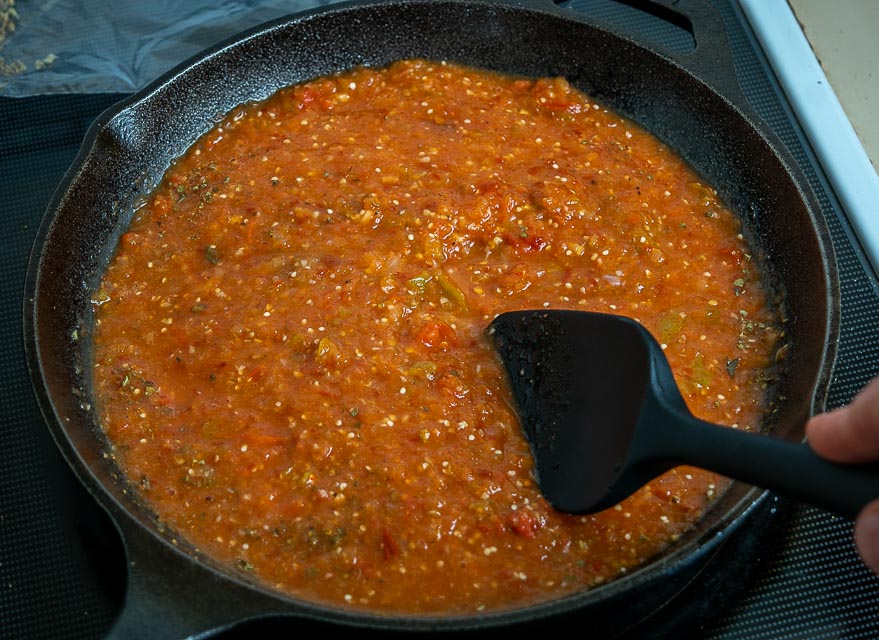 Add the sauce back to the same pan that you used to cook the onion, along with:
1 teaspoon Mexican oregano
pinch of cumin (optional)
1/2 teaspoon salt
freshly cracked black pepper
1-2 tablespoons adobo sauce (optional)
Using adobo sauce from the can is a quick way to add some more heat but you can consider that optional.
Let simmer for a couple minutes and then add in the shredded chicken.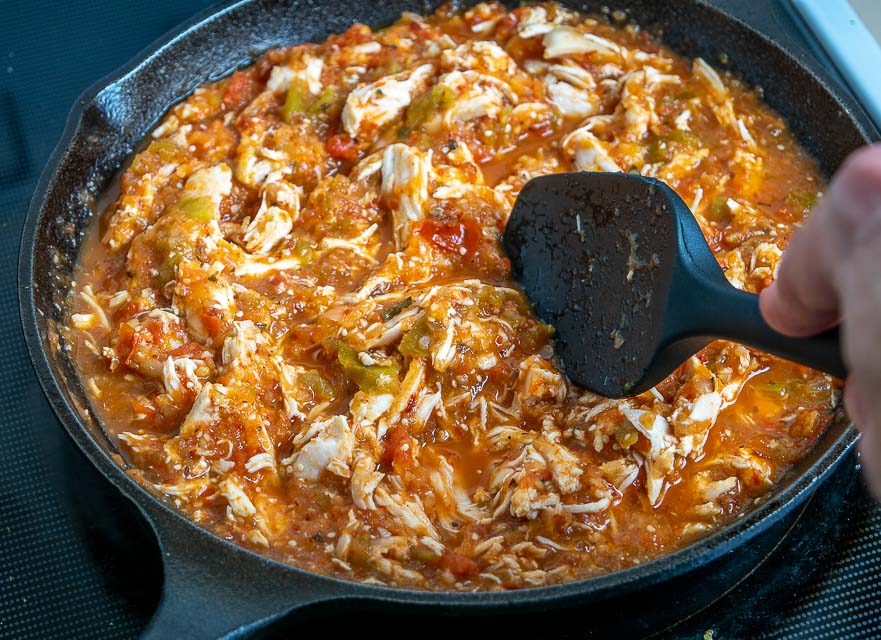 Hello Tinga de Pollo!
Give it a taste -- it should be loaded with flavor and proof that you don't need much else on the Tostadas to make them a success. But here's a good combo to try...
Add a super thin layer of refried beans to a warmed up tostada: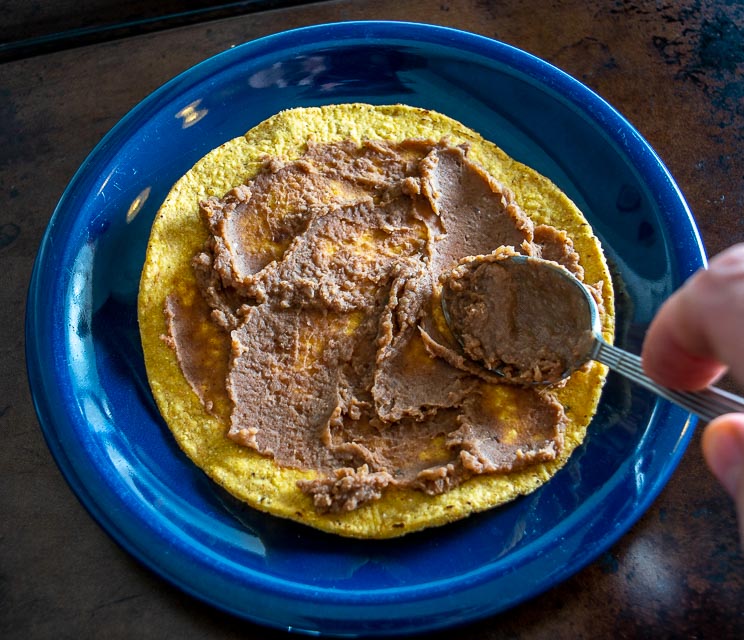 You can use store-bought tostadas or crisp up your own. More info on tostadas.
Give it a healthy layer of Tinga: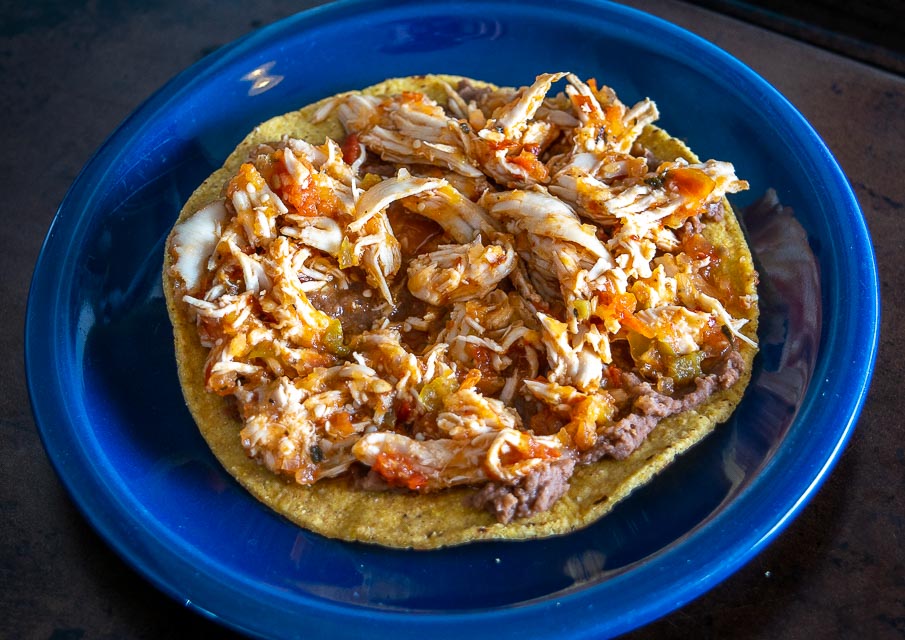 And top with Queso Fresco (or Cotija), chopped cilantro, and some Mexican Crema (or Chipotle Crema):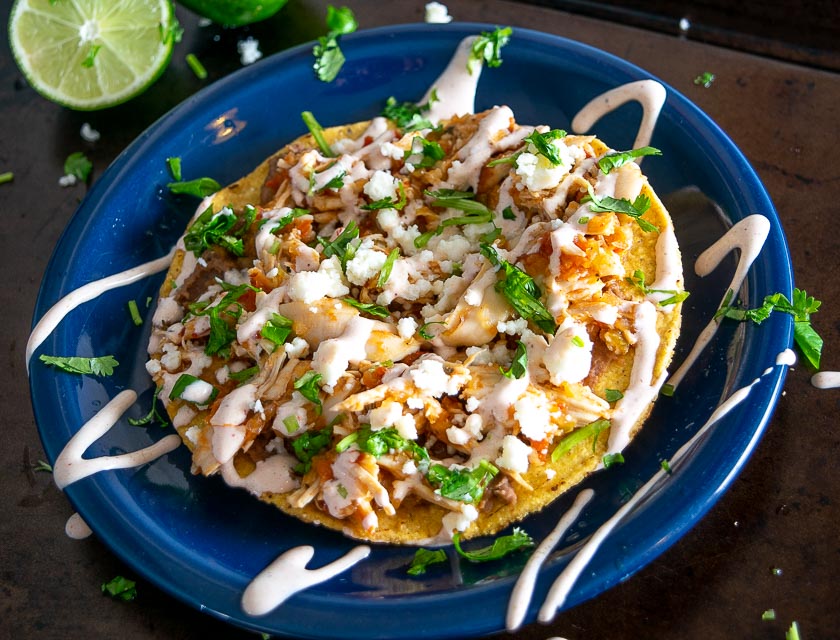 And serve them up with a final squeeze of lime.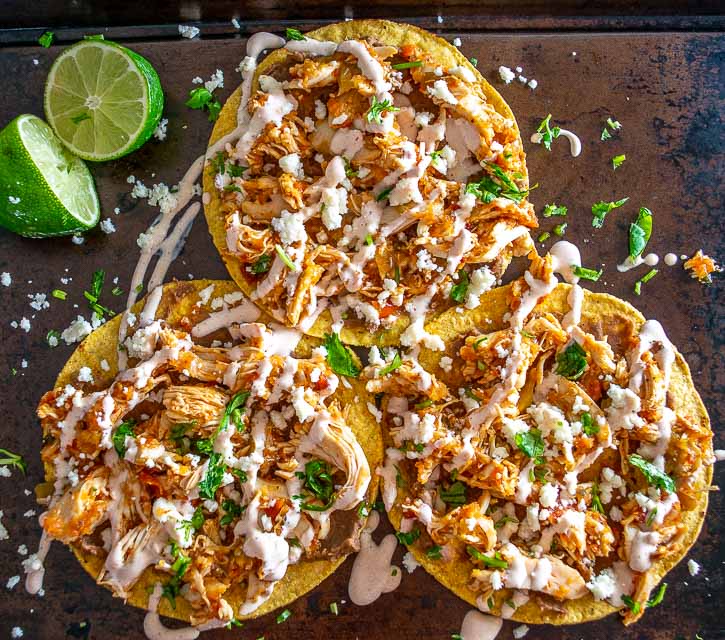 Tingalicious?!
It's such a flavorbomb dish and the crunch of the tostadas seems to combine really well with the texture of the Tinga.
But don't forget that the final garnishes are all optional -- all you really need is Tinga on a warm Tostada to make some happy faces at the dinner table.
Okay let me know if you have any questions about these Tinga Tostadas. It's a great recipe to have in your arsenal and having leftover Tinga in the fridge means you're only a few minutes away from these beauties.
Buen Provecho.
Scroll down for the recipe box, and feel free to use the comments section below if you have questions or want to leave feedback on this recipe. For up-to-date recipes follow us on Facebook, Pinterest, or Instagram.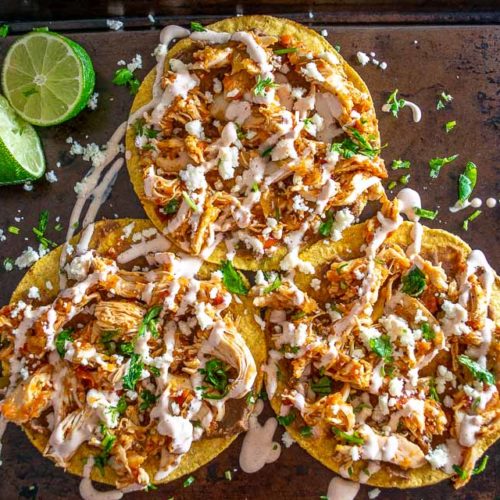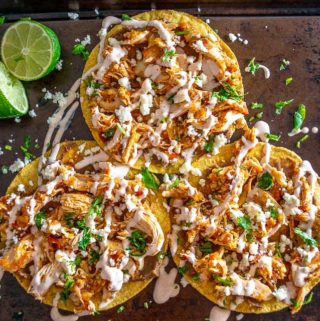 Tinga Tostadas
Tostadas de Tinga are such a rewarding meal for the family -- be sure to add some tomatillos to your Tinga as it makes a huge difference!
Print
Pin
Rate
Ingredients
8-10

tostadas

refried beans (optional)

Queso Fresco, or Cotija cheese (optional)

Mexican Crema (optional)

freshly chopped cilantro (optional)

lime wedges

1/4

cup

salt (for the brining step)
For the Chicken Tinga:
2

chicken breasts

2

plum tomatoes

4-5

tomatillos

1/2

onion

4

garlic cloves

3

chipotles in adobo

1-2

tablespoons

adobo sauce (optional)

1

teaspoon

Mexican oregano

dash of

cumin (optional)

1/2

teaspoon

salt (plus more to taste)

freshly cracked black pepper

olive oil
Instructions
Keep in mind that you can cook the chicken any way you want or even use rotisserie chicken. For this batch I brined and baked two boneless chicken breasts. To brine the chicken, add 1/4 cup salt to a quart of water in a mixing bowl. Dissolve the salt and add the chicken breasts, letting them brine in the fridge for 30 minutes or so. If the chicken breasts aren't fully submerged then add a bit more water. Once brined, pat dry the chicken breasts and add them to a baking sheet.

Rinse and de-stem the tomatoes and tomatillos. Add them to the same baking sheet and bake everything at 400F for about 20 minutes or until the chicken is no longer pink inside (160F).

Once the chicken has cooled a bit you can shred it with two forks and set aside until you need it.

Meanwhile, roughly chop a half onion and saute in some oil over medium heat. Add four whole peeled garlic cloves and saute until the onion is starting to brown.

Add the onion-garlic mixture to a blender along with 3 chipotles in adobo and the roasted tomatoes and tomatillos. I usually scrape out the seeds of the chipotles. Combine well and take a taste, adding more chipotles if you want more heat.

Add the Tinga mixture back to the same pan you used to cook the onion. Add 1 teaspoon Mexican oregano, a pinch of cumin (optional), 1/2 teaspoon of salt, freshly cracked black pepper, and 1-2 tablespoons of adobo sauce (optional). Bring to a simmer and take a final taste for seasoning.

Add the shredded chicken to the Tinga sauce and let simmer until everything is at a uniform temp.

Warm up the tostadas -- I usually put them in the oven for 2-3 minutes.

Add a thin layer of refried beans to each tostada along with a layer of Chicken Tinga. Optional garnishes include Queso Fresco cheese (or Cotija), Mexican Crema, freshly chopped cilantro, and a final squeeze of lime. Serve immediately.

Store leftover Tinga in an airtight container in the fridge where it will keep for a few days.
Like this recipe?
Click the stars above to rate it or leave a comment down below! @mexplease
Like these tostadas? Then try some with this Chicken Chile Verde: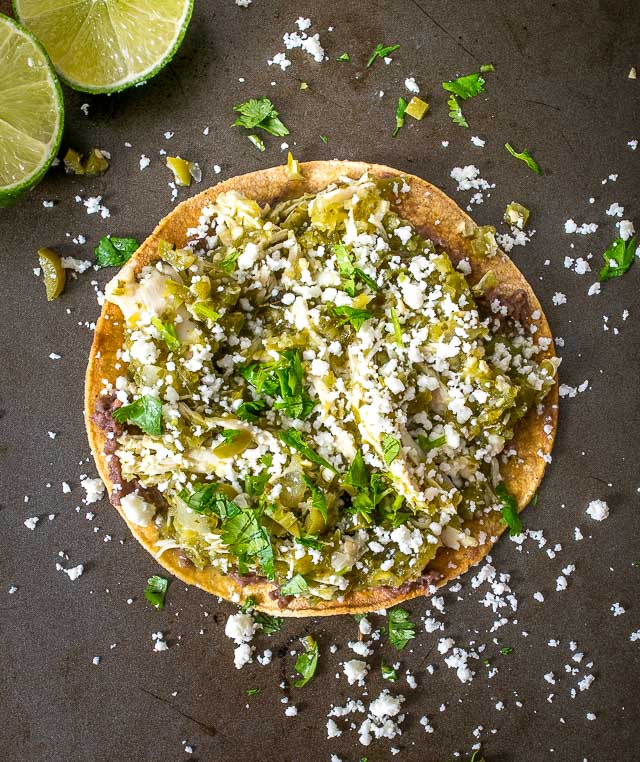 Our latest recipe is a batch of this fiery Jalapeno Hummus: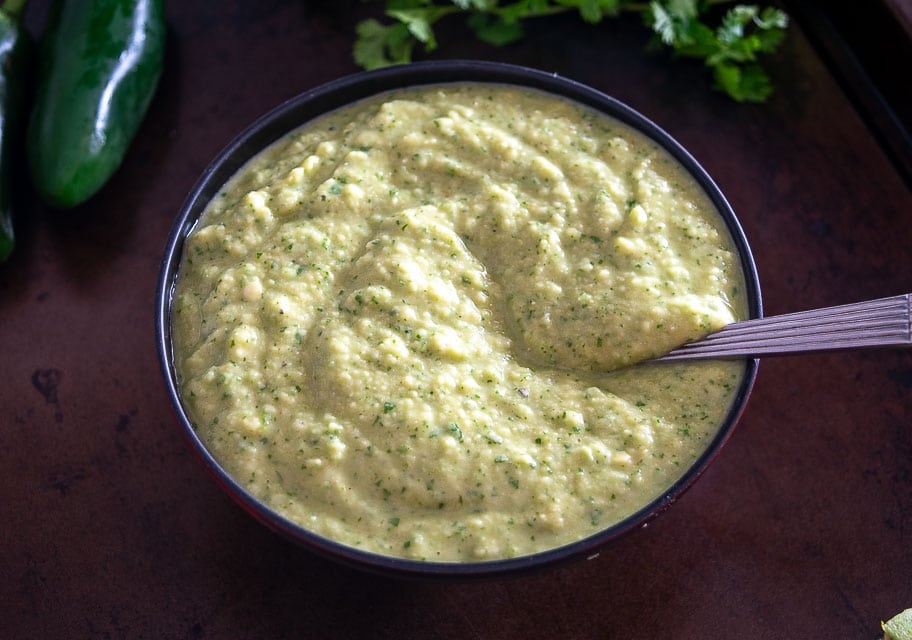 Still hungry?!
Want to receive Mexican Please recipes via email when they are posted?  Sign up below to subscribe.  All recipes are spam free.