Load up your kitchen with Mexican ingredients and they will start looking for friends!  This Jalapeno Hummus is a perfect example of that -- a decidedly non-Mexican dish that gets a welcome jolt thanks to a burst of jalapeno-lime-cilantro flavor.
Sure, it works well for some traditional dipping of veggies, but I've been using it to turn plain ol' cheese quesadillas into a satisfying express meal -- perfect for those nights when food sounds good but cooking doesn't.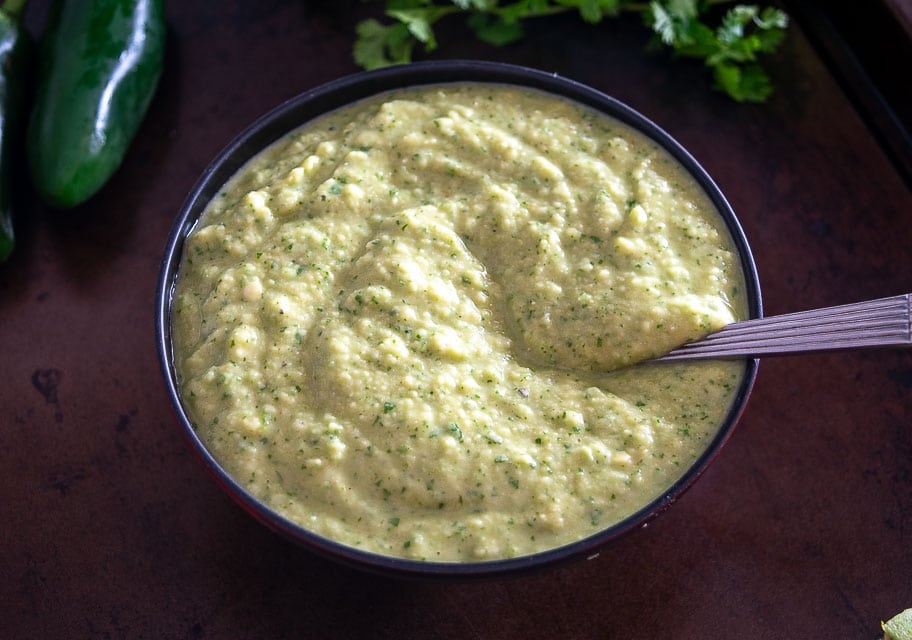 How To Make Jalapeno Hummus
Here's what you'll need to get started:
2 cans chickpeas (garbanzo beans)
3-5 jalapenos
juice of 2 limes
15-20 sprigs cilantro
5 garlic cloves
1/4 cup tahini
1 teaspoon cumin
1 teaspoon salt
freshly cracked black pepper
3 tablespoons olive oil
splash of water
Add everything to a blender or food processor and give it a whirl.
If it won't combine readily simply add another splash of water.
Using three jalapenos is a good place to start for a version with medium zip.  If you want more heat simply add another jalapeno, blend, and take another taste.  More info on working with jalapenos.
I added another jalapeno (4 total) and another generous pinch of salt to this batch.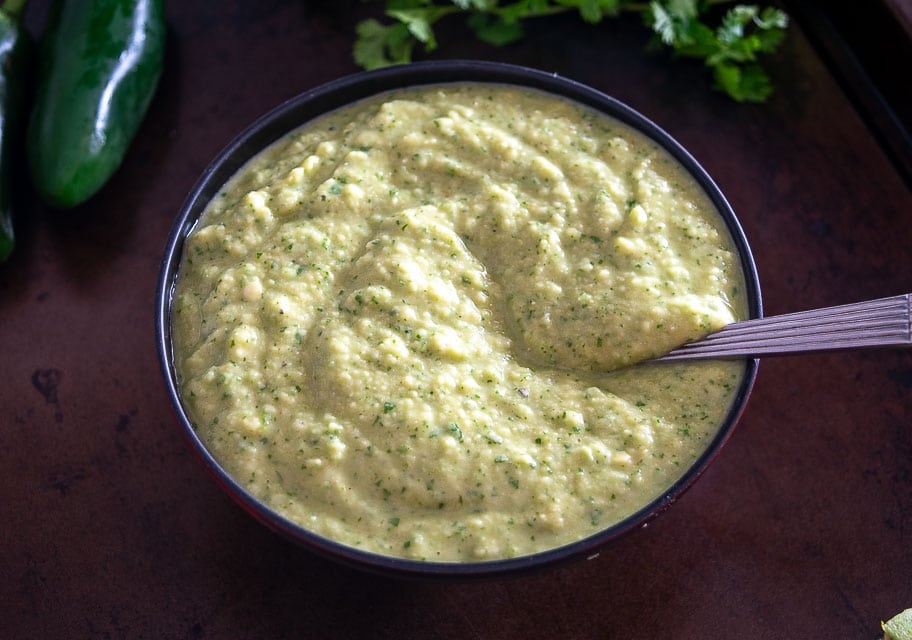 You'll get a vibrant, fiery batch of Hummus that is definitely multi-purpose!
As mentioned, I've been using it to turn a cheese quesadilla into a quick meal: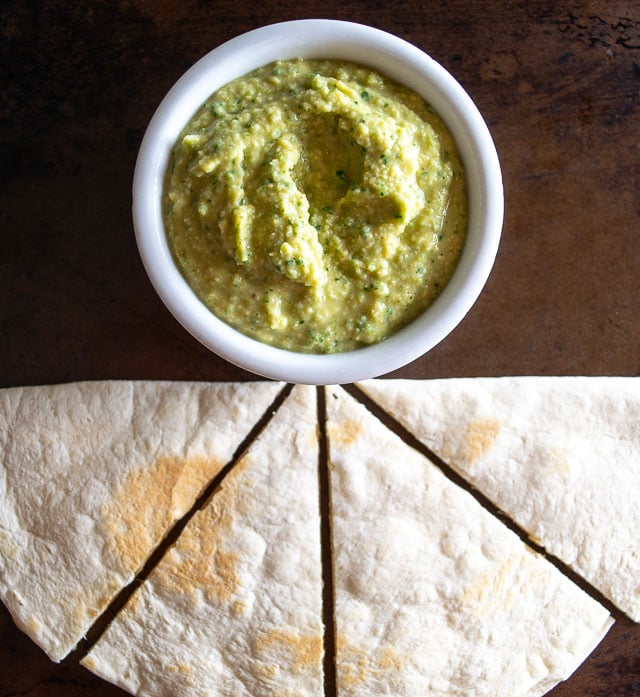 Simply load up half a flour tortilla with cheese, fold onto itself, and give it a few minutes per side in a dry skillet over medium-high heat.  Hello five minute meal!
These taste best when the quesadilla is warm and crispy, so try to serve them right off the skillet.
And by the way, take a look at this starting point for an alternative combo: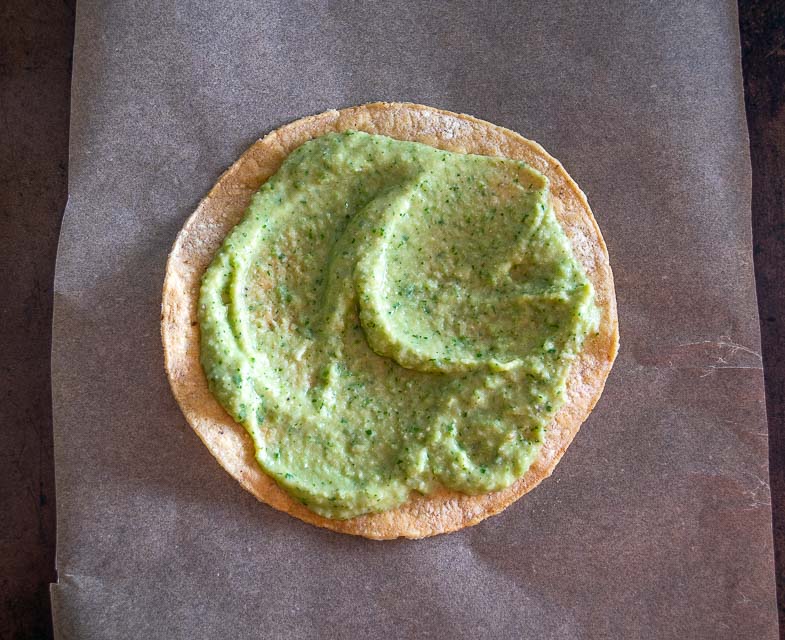 That's a layer of Jalapeno Hummus on a warm, crispy tostada.  Seeing lots of possibilities?
That's what I thought too!  But I can't get this combo to work as the Jalapeno Hummus does not seem to get along with the corn flavor of the tostada.   Your palate may disagree on that one so keep it in mind if you want to do some experimenting.
And one other option to consider....
Tahini is a paste made from ground sesame seeds and most Hummus recipes rely on it.    You can find it in jar form in any supermarket.
I've tried this recipe without tahini and while it's still in the Hummus realm, I prefer it when it includes tahini.  In contrast, we've made an Avocado Hummus in the past and I actually prefer that version without the tahini, so keep in mind that there is some wiggle room on the tahini.
If curious you can do a before and after to see how your palate reacts.  Simply add all of the ingredients except the tahini to a blender, combine, and take a taste.  Then add the 1/4 cup of tahini, combine, and take a taste.  Which do you prefer?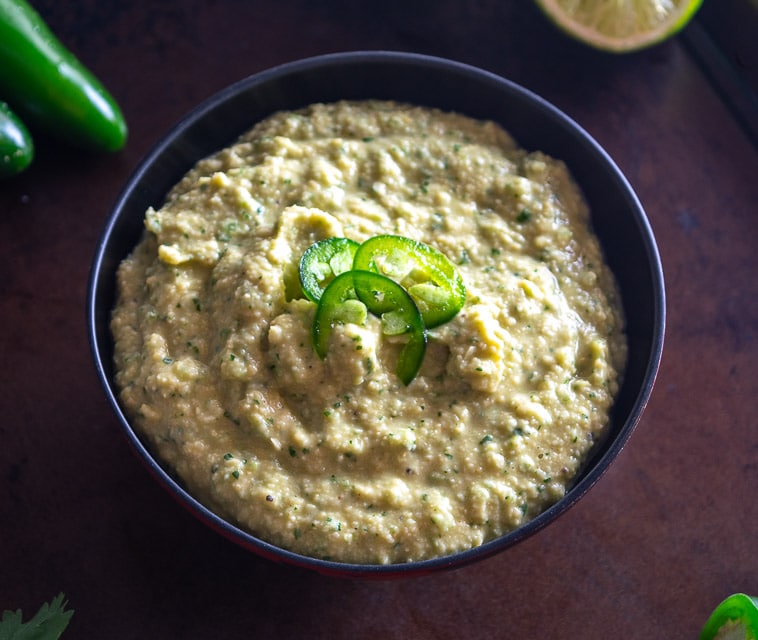 Either way, you'll end up with a heaping 3 cups worth of Jalapeno Hummus -- store leftovers in an airtight container in the refrigerator where it will keep for a few days.
And if you tend to forget what leftovers you have on hand once they go in the fridge (anyone?) then it can be a real treat to re-discover some Jalapeno Hummus for those nights when you don't feel like cooking.
Buen Provecho.
Scroll down for the recipe box, and feel free to use the comments section below if you have questions or want to leave feedback on this recipe.  For up-to-date recipes follow us on Facebook, Pinterest, or Instagram.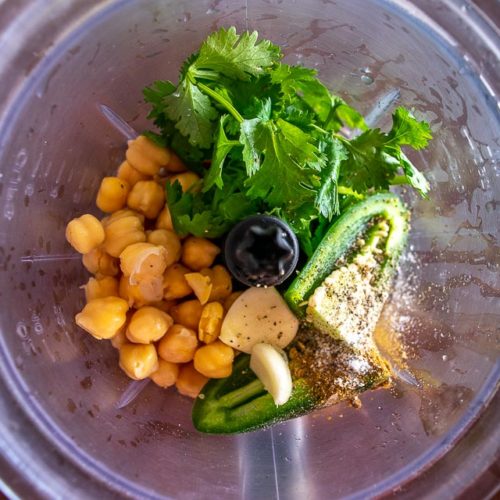 Jalapeno Hummus
Here's an easy way to make a fiery batch of Jalapeno Hummus! Giving it a burst of jalapeno-lime-cilantro flavor is a welcome update to a classic dish.
Print
Pin
Rate
Ingredients
2

cans

chickpeas (garbanzo beans)

3-5

jalapenos

juice of

2

limes

15-20

sprigs

cilantro

5

garlic cloves

1

teaspoon

cumin

1

teaspoon

salt

1/4

cup

tahini

freshly cracked black pepper

3

tablespoons

olive oil

splash of

water
Instructions
Start by prepping all of the ingredients. Peel the garlic cloves and give the jalapenos and cilantro a good rinse. I typically twist off and discard the bottom, thicker portion of the cilantro stems, but use the upper stems that hold the leaves together. I also usually drain and rinse the chickpeas before using them.

Add all of the ingredients to a blender or food processor and combine well. Take a take for seasoning and heat level. I added an extra jalapeno (four total) and another generous pinch of salt to this batch.

Serve immediately and store leftovers in an airtight container in the fridge.

If you want to serve it with a cheese quesadilla, simply add cheese to half of a flour tortilla, fold onto itself, and crisp it up in a dry skillet over medium-high heat. Cook for 2-3 minutes per side or until it is turning golden brown and the cheese is melted.
Notes
Using three jalapenos will give your Hummus medium zip.  For a milder version start with 1-2 jalapenos.  After doing some taste testing you can always plop another jalapeno in the blender to add more heat.
You can always substitute serranos for the jalapenos if that's all you have available.   Serrano vs. Jalapeno:  What's the Difference?
Like this recipe?
Click the stars above to rate it or leave a comment down below! @mexplease
Want more vegetarian options?  Check out these Zucchini Calabacitas: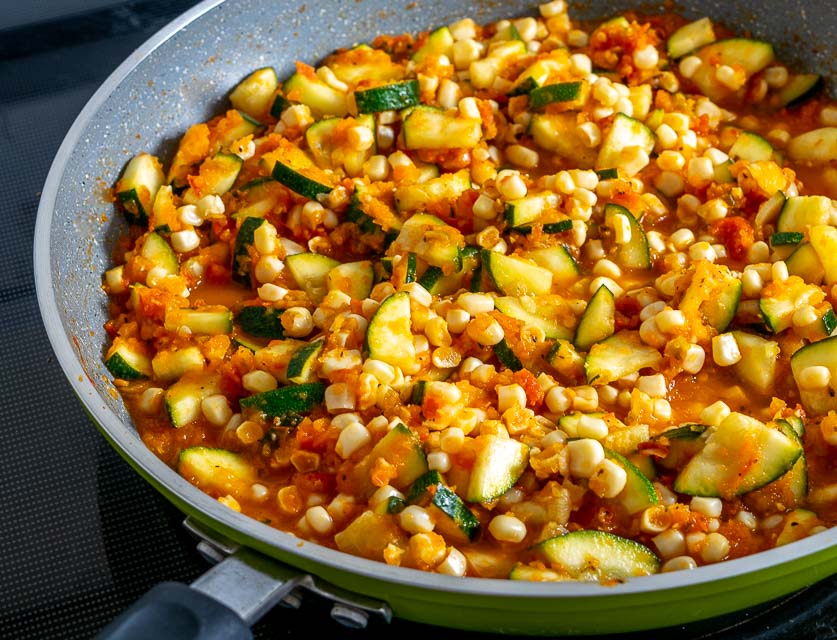 Our latest recipe is this Tiny Jar of Pickled Serranos: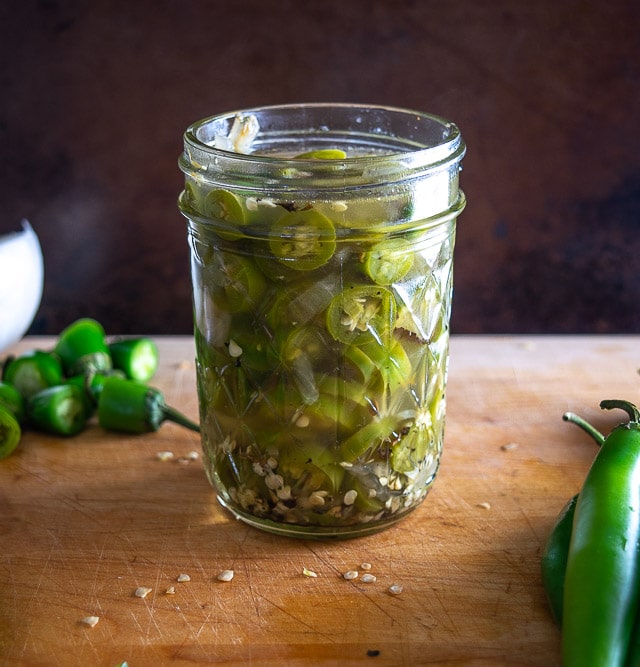 Still hungry?!
Want to receive Mexican Please recipes via email when they are posted?  Sign up below to subscribe.  All recipes are spam free.