This is probably the easiest way to make a killer batch of refried beans without spending a couple hours cooking the beans.
If you want to read about cooking up some beans from scratch see our Frijoles de Olla post.
But this version starts with cooked beans -- and you can get away with using a can of store-bought beans because you're loading them up with authentic flavors.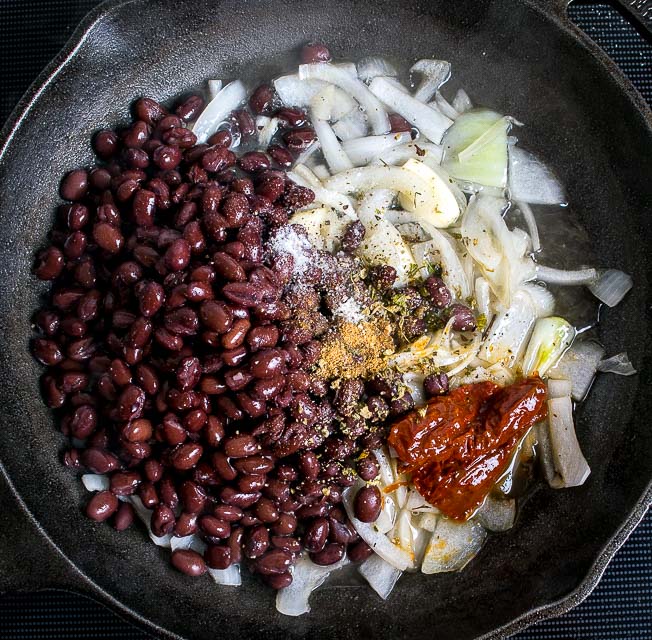 How to Make Refried Beans
Before we get to the recipe, it's worth heading back in time to see what refried beans were like a few hundred years ago...
Pot beans get mashed up and cooked in some fat, most likely lard. Plus maybe a bit of seasoning.
You really don't need much more than that for a satisfying batch of frijoles refritos, but if you bypass the lard like we're doing today then you gain quite a bit by adding in some additional flavors. And note that the accepted term "refried" can be a little misleading; you'll only need to cook them off once to make an authentic batch.
And since this recipe produces such a flavor-bomb, I'm more likely to build a meal out of these beans instead of just serving them up as a side dish. (See our Nachos, Molletes, and Enfrijoladas for some ideas.)
Start by cooking 1/2 onion and 2 garlic cloves in some oil over medium heat. (What kind of onion should I use?)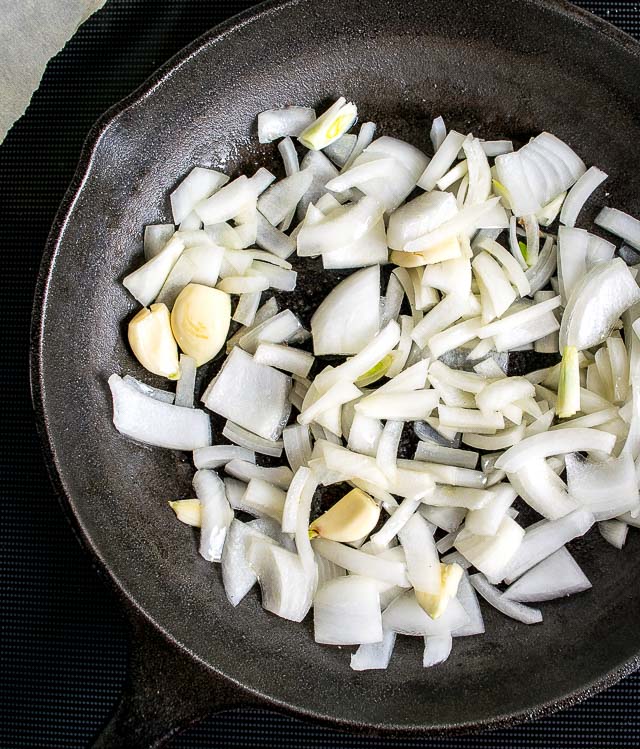 You can roughly chop the onion because all of this is going in the blender eventually. Similarly, I tend to just peel the garlic cloves and plop them in whole.
The onion will need about 5-8 minutes to soften and that will give you plenty of time to gather the other ingredients.
I usually drain and rinse the canned beans, so we'll do that with a single can of black beans.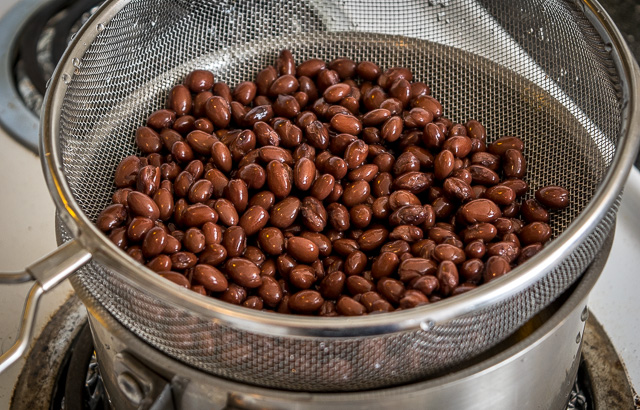 But keep in mind that you can use pinto beans and get an equally good batch.
I've also used Peruano beans with a similar recipe and had good results. Peruanos are also known as Canary beans or Mexican yellow beans.
Once the onion softens (5-8 minutes) we'll add:
1 can black beans (drained and rinsed)
2 chipotles in adobo
1 tablespoon adobo sauce
1/2 teaspoon cumin
1/2 teaspoon salt
freshly cracked black pepper
1/2 cup stock (or water)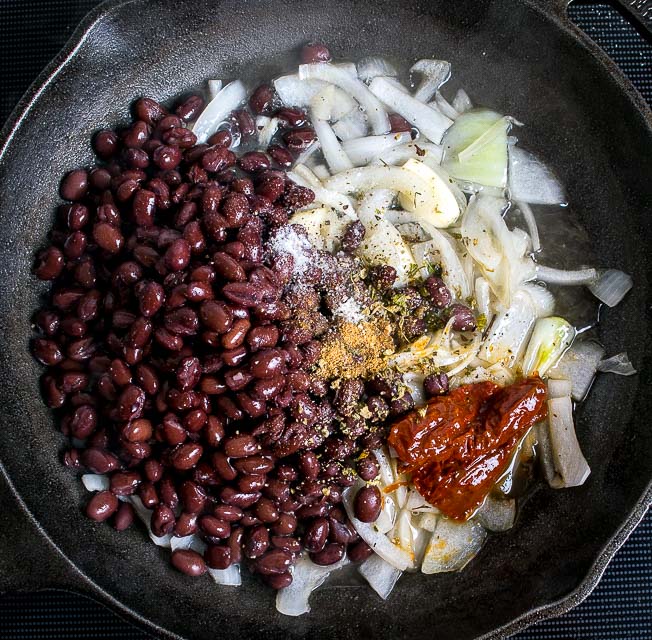 I usually cut off the stems and scrape out the seeds of the chipotles. (More info on working with chipotles in adobo.)
Let this simmer for a few minutes until everything is at a uniform temp.
For speed I usually just give this a whirl in the blender, but of course you are welcome to finely dice the ingredients and use a potato masher to mush up the beans directly in the pan.
After blending, definitely give a taste for seasoning. Beans are finicky when it comes to seasoning and having the proper level of salt will really make them come alive. You can also add a bit more heat if you want by adding another chipotle or some more adobo sauce.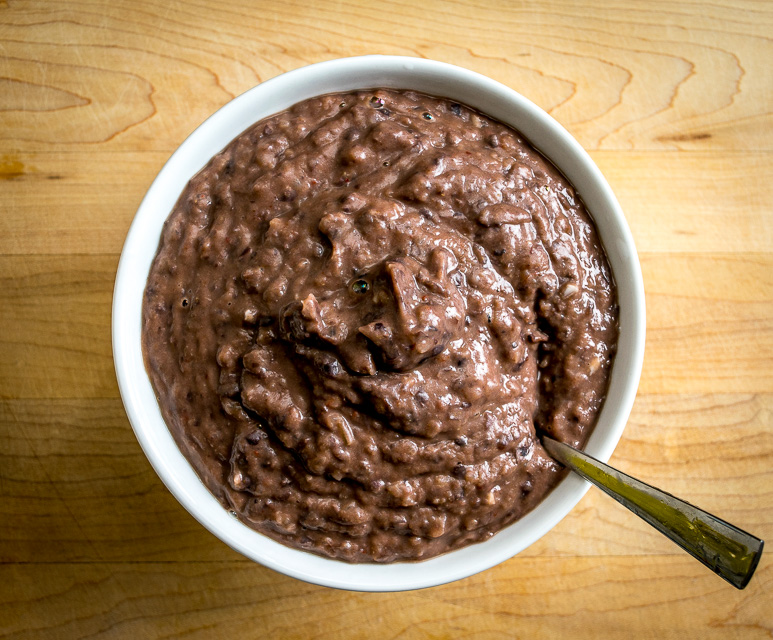 You can use these straight out of the blender, but if your blended batch comes out thinner than you want, simply put it back in the saute pan and cook over medium heat for a few minutes until they thicken up. If starting over with a dry pan I would probably add some oil to it first (or lard!).
Similarly, if your batch is having trouble combining in the blender, simply add a splash of water until it combines well.
You'll end with an addictive batch of refried beans that you can use to make all sorts of on-the-fly meals.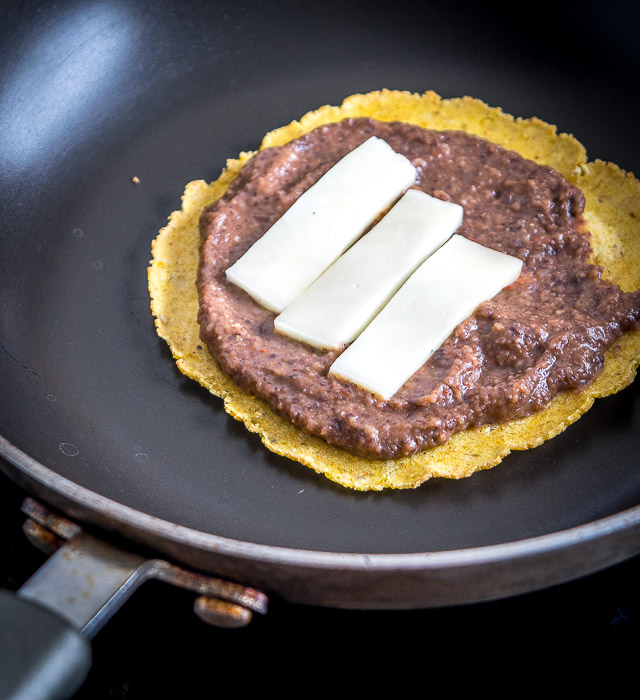 Even beans and cheese heated up in a corn tortilla will be massively satisfying because the beans already have so much flavor.
You can also add Guacamole to this combo as seen in our Black Bean and Guacamole Tostadas.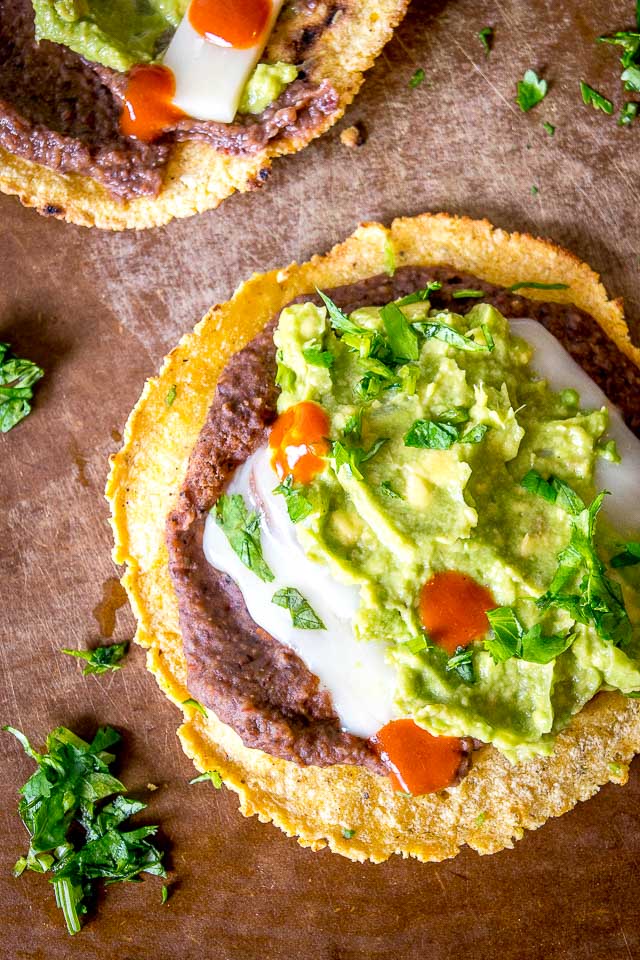 And as mentioned, you can use these beans in an epic batch of Nachos...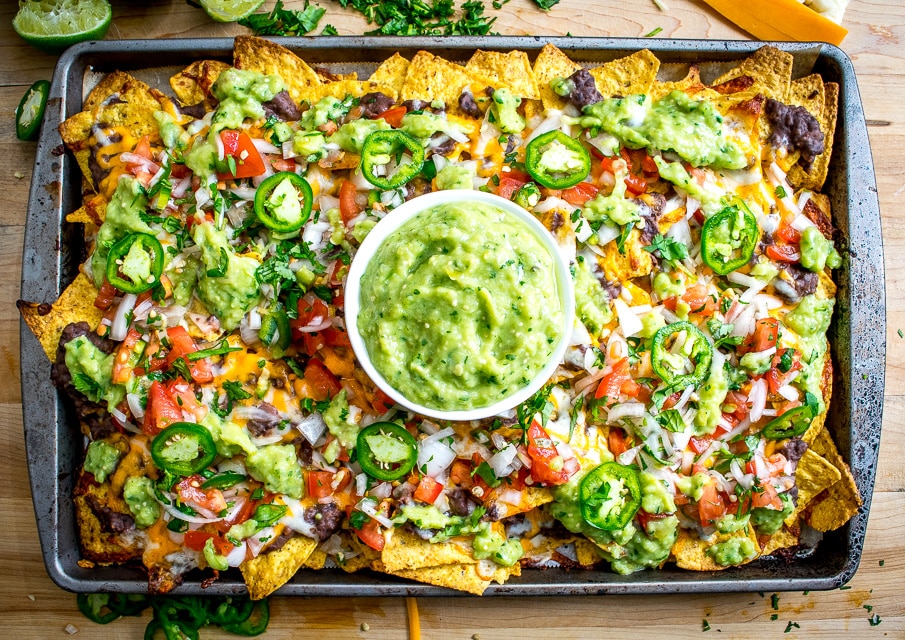 Or top them with some freshly made Pico de Gallo in some Molletes...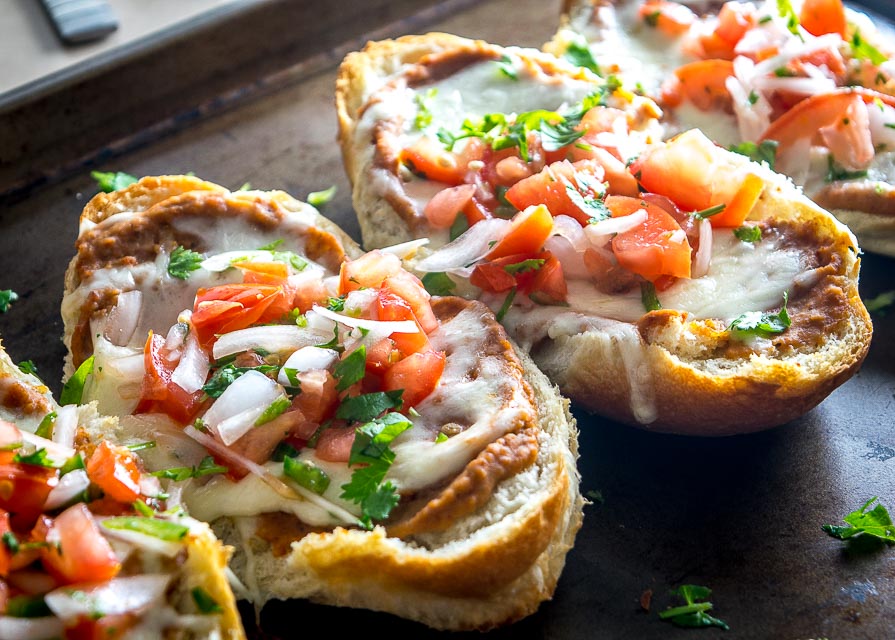 But however you serve them up, they will deliver some real deal flavor and they are a great addition to your kitchen repertoire so please consider making a batch!
Feel free to use the comments section below if you have any questions about them.
Buen Provecho.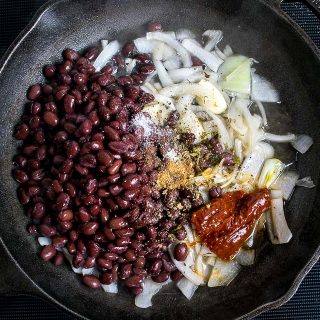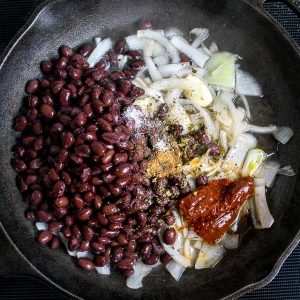 Easy Refried Beans
This is a great way to add authentic flavors to a homemade batch of refried beans.
Print
Pin
Rate
Ingredients
1

can

black beans (or pinto beans)

1/2

onion

2

garlic cloves

2

chipotles in adobo

1

tablespoon

adobo sauce

1/2

teaspoon

cumin

1/2

teaspoon

salt

freshly cracked black pepper

1/2

cup

stock (or water)
Instructions
Start by peeling 2 garlic cloves and roughly chopping 1/2 onion. Cook the onion and garlic in a dollop of oil over medium heat (you can leave the garlic cloves whole).

Once the onion is starting to brown, approximately 5-8 minutes, add 1 can beans (drained and rinsed), 2 chipotles in adobo, 1 tablespoon adobo sauce, 1/2 teaspoon cumin, 1/2 teaspoon salt, freshly cracked black pepper, and 1/2 cup stock (or water). Let simmer for a few minutes until heated through and then add everything to a blender, combining well.

Take a final taste for seasoning and heat. Add more salt if necessary and if you want more heat you can add more chipotles (or adobo sauce).

Serve as is or saute them in some oil (or lard!) over medium heat for a few minutes to thicken them up.

Store in an airtight container in the fridge. (Keep in mind that beans don't last long so eat 'em up soon!)
Notes
You can always adjust the consistency of the beans by either adding water to thin them out, or if they are too thin you can saute them in some oil over medium heat for a few minutes to thicken them up.
3 Bean Varieties I Use the Most
Like this recipe?
Click the stars above to rate it or leave a comment down below! @mexplease
We just used these beans to make a batch of Huevos Rancheros.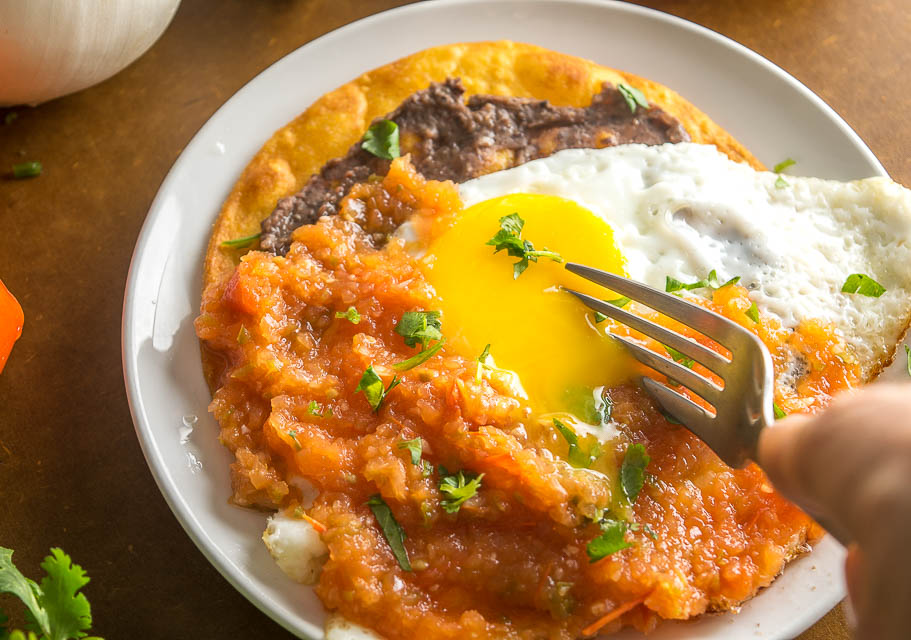 Still hungry?!
Want to receive Mexican Please recipes via email when they are posted?  Sign up below to subscribe.  All recipes are spam free.