It's true, the most effective way to make flavorful Carne Asada is to give it a lengthy swim in a zippy marinade.
But admit it, there are nights when you skip over any recipe that suggests anything as offensive as an hours-long marinade. Look dude, I'm starving and I barely have time to cook, so marinate this!
For nights like that I've been making this Express Carne Asada and it is wildly satisfying. Coat some skirt steak in a fiery chile powder mixture and you'll get some ridiculously flavorful beef that will stand up quite well to any marinated rivals.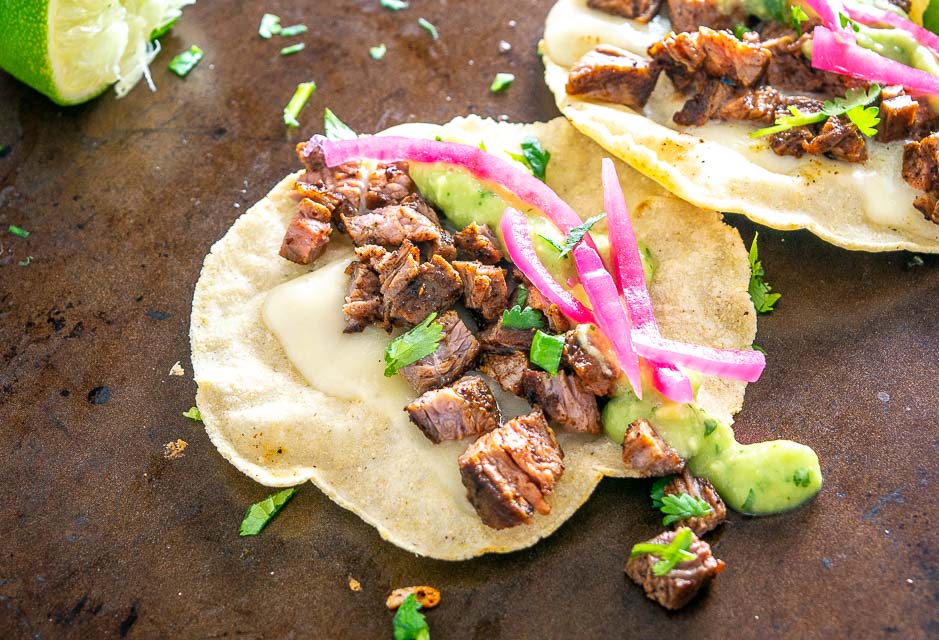 Dry Rub Carne Asada
Of course, the cut of meat will make a difference too, and skirt steak ticks all the boxes.
Skirt steak (Arrachera) is one of the most flavorful cuts of beef you'll find, and since it's typically sold in thin strips you can easily give it a quick cook on the stove. Perfect!
Here's what a single pound of skirt steak looks like: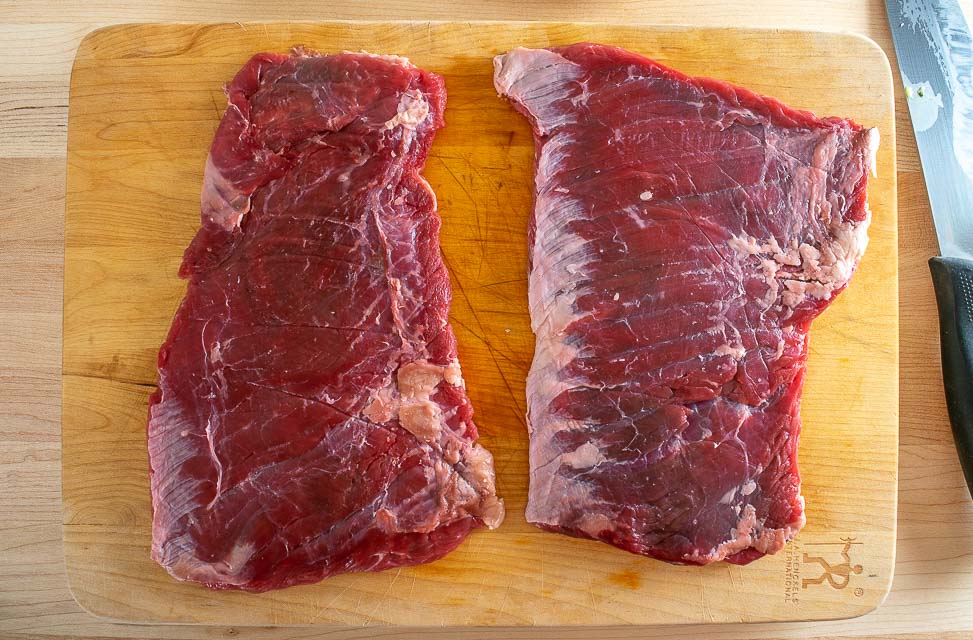 This will usually be enough for 3-4 people.
If it has thicker parts I pound it down so it cooks evenly. I usually just cover it in parchment paper and use a cast iron pan to even it out.
First things first, give it a healthy layer of salt on both sides. Using a coarse salt can make it easier to season by eye, so it's worth checking out something like this foodie-approved Diamond Crystal if you're still seasoning meats with table salt.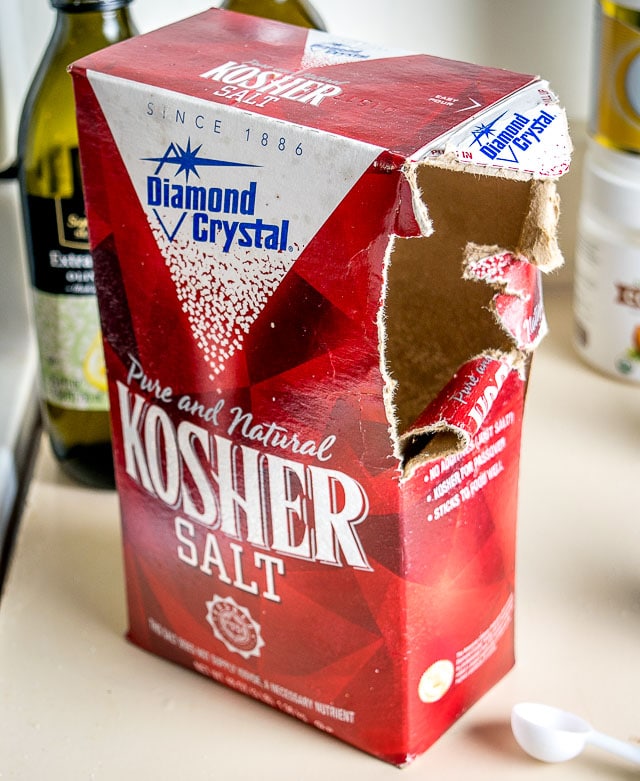 And now let's talk chile powders!
Here's what I used for the spice rub:
2 teaspoons New Mexican chile powder
2 teaspoons Chipotle powder
1 teaspoon Ancho powder
1/2 teaspoon salt
some freshly cracked black pepper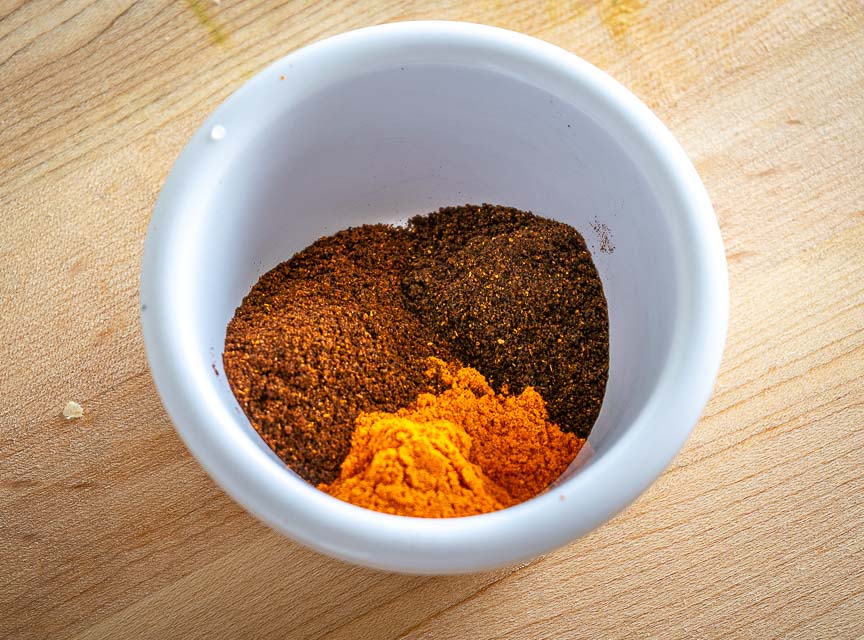 But don't worry about mimicking the exact spice mixture I'm using as there is tons of leeway.
At the very least though, it's worth taking a look at the label of any chile powders you might be considering. Most likely some of them will look like this: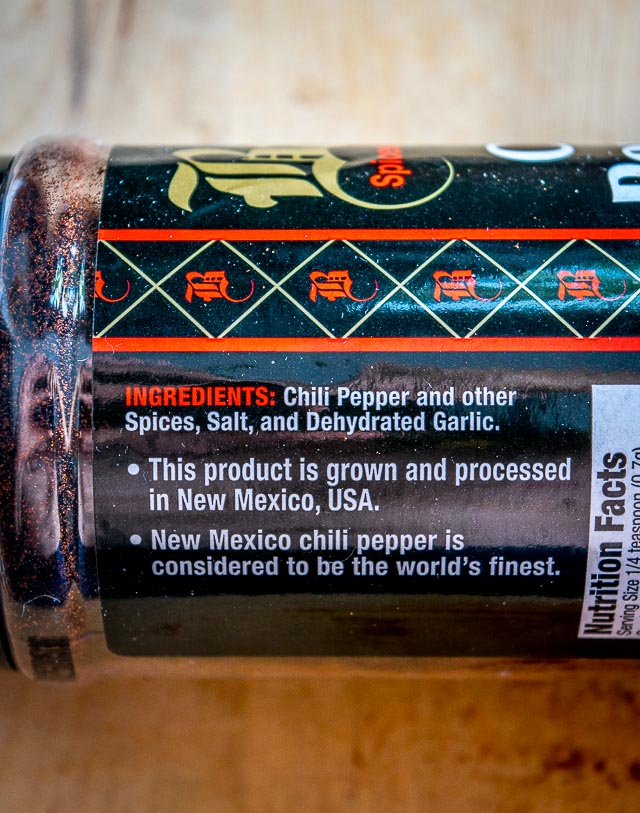 Store-bought chile powders are typically loaded with other ingredients and I'm not a fan! They're just diluted versions of the real thing, so I always recommend seeking out pure chile powders as an upgrade.
Chipotle and Ancho powder are quite common these days so keep an eye out for them in the spice aisle. And for more info on the exact chile powders I'm using, and tips on where to get them online, see our post Check Your Chile Powder Ingredients.
But again, don't worry too much about the exact combo the first time you make this recipe -- just be cognizant of what's in the jar and you'll be able to improvise.
After giving the steak a layer of salt I usually rub some oil into it and then load it up with the chile powder.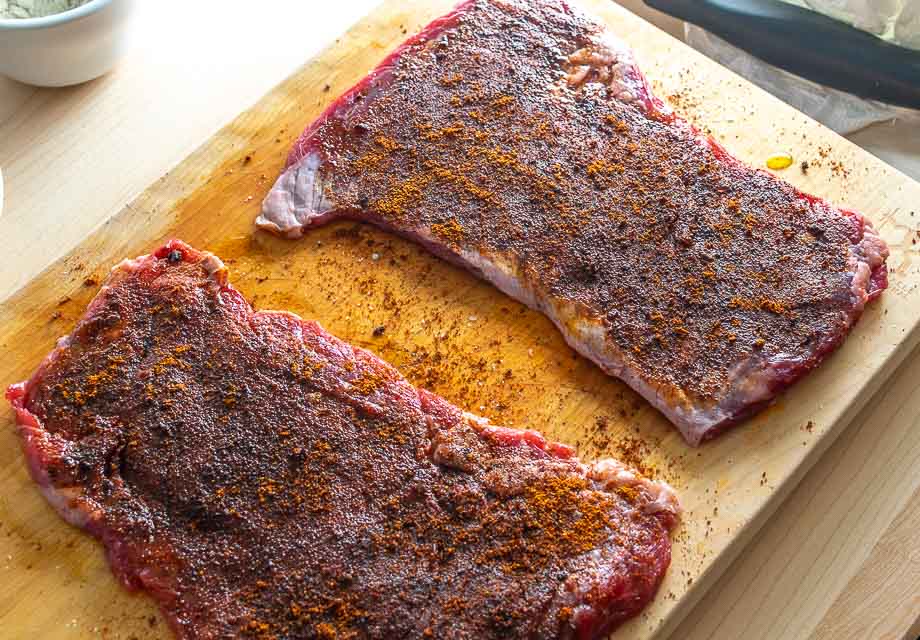 These thin cuts of skirt will only need a couple minutes per side in the trusty cast iron skillet.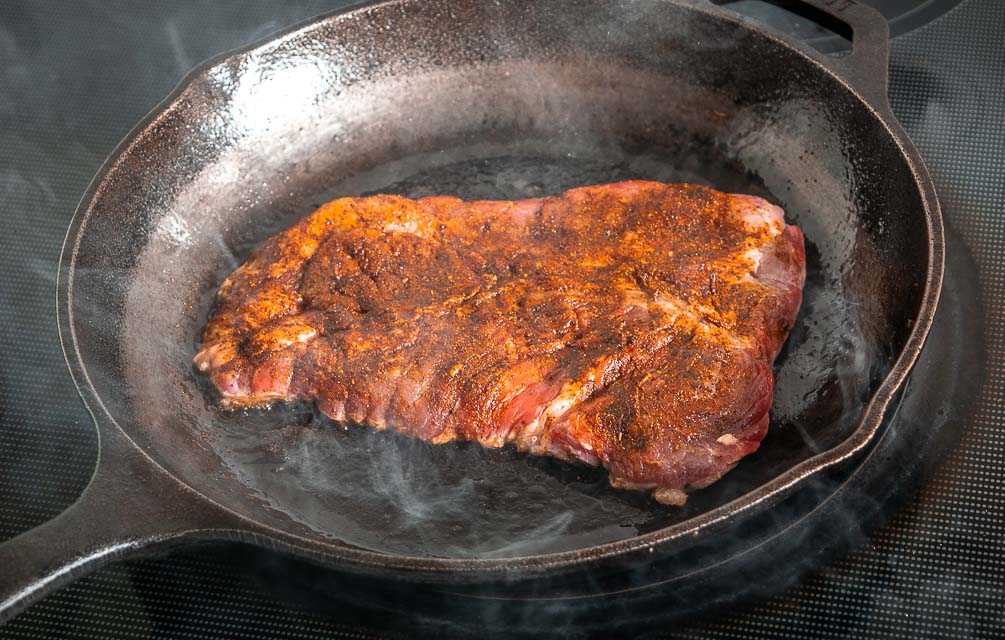 I usually put the heat just over medium so the chile powders don't get scorched and that means about 2-3 minutes per side to get them up to 135F or so -- that'll be around medium-rare and that seems to be the sweet spot for skirt steak.
If you cook it beyond medium-rare it'll get a bit tougher, but don't sweat it too much as I've had plenty of medium-well batches that are still quite tasty despite being less tender.
Once rested I usually slice it up into bite-sized pieces, but you are welcome to keep it in strips if you want. Just be sure to slice against the grain to prevent long, chewy strands.
You can serve the meat as you see fit, but here is the base layer to consider for an awesome batch of Express Carne Asada tacos: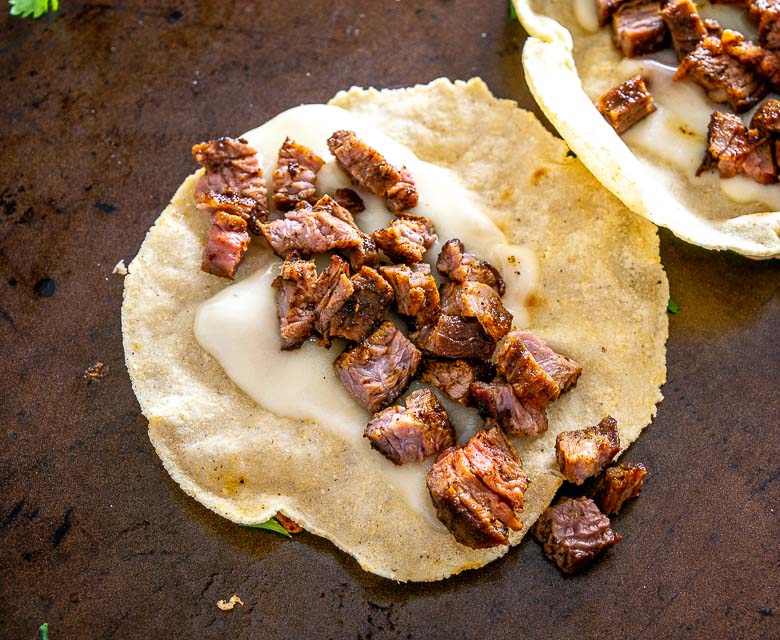 So in the above pic you've got a warm, crispy corn tortilla, plenty of melted cheese, and the fiery, flavorful Carne Asada.
If the seasoning is done right on the meat then this simple combo is already beyond satisfying and everything else is just a bonus. Crisping up the tortillas makes a world of difference so no skimping on that step! Simply put them in a dry skillet over mediumish heat, add a few strips of cheese (I used Jack), and give them 1-2 minutes or until light brown spots are forming on the underside.
Beyond that feel free to add any fixings that sound appealing to you. A freshly chopped Pico de Gallo is a great option and that's what we use for the marinated Carne Asada recipe.
But for this batch I served them up with a freshly made Salsa de Aguacate and some Pickled Onions.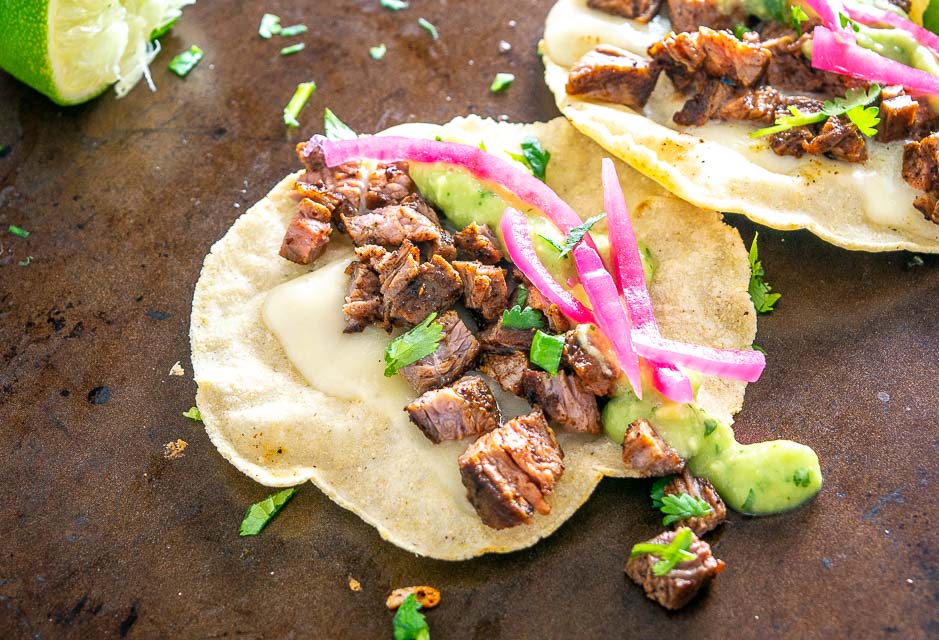 Yum!
Salsa de Aguacate is a mild, creamy green sauce that you'll frequently find in taquerias. It's on the verge of bland but when paired with big, bold meats it becomes the perfect dance partner.
It's super easy to make and I'll include instructions for it in the recipe box below, or you can check out the Salsa de Aguacate post.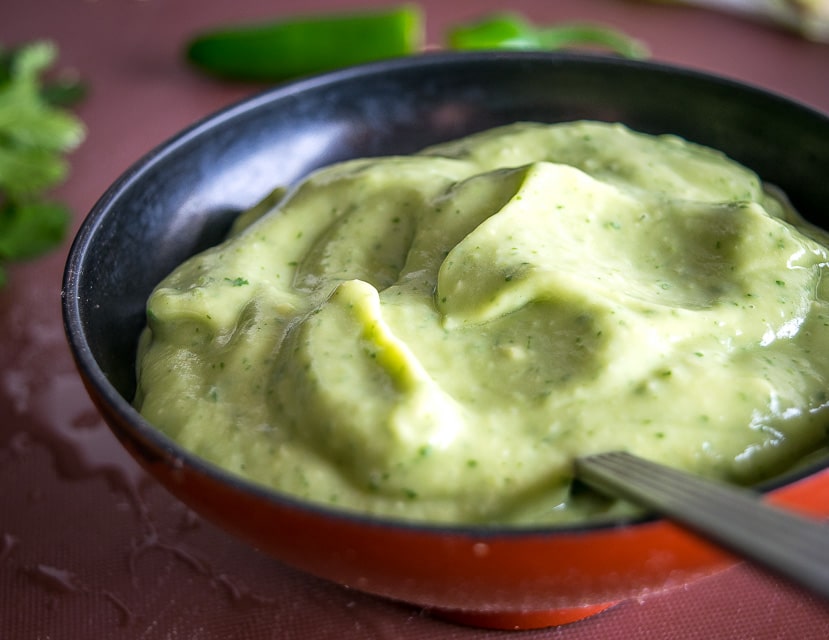 The Pickled Onions are quite easy to make as well, but of course they need a bit of time to get their full flavor so I usually keep some in the fridge for days like this!
If you're new to Pickled Onions then consider giving them a go -- it takes just a couple minutes to put a jar together and you'll be able to munch on them for the next few weeks. Here's the Pickled Onions recipe.
Okay I hope this post got Carne Asada on your brain! Having a chile powdered version in your arsenal is perfect for some quicker meals -- feel free to get creative and use it in tacos, burritos, enchiladas, or tostadas.
Buen Provecho.
Scroll down for the recipe box, and feel free to use the comments section below if you have questions or want to leave feedback on this recipe. For up-to-date recipes follow us on Facebook, Pinterest, or Instagram.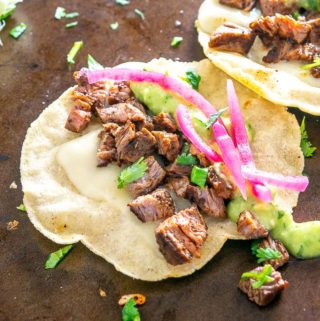 Express Carne Asada
You can make an express batch of tasty Carne Asada by using a fiery spice rub made from pure chile powders. I used skirt steak and it was delish!
Print
Pin
Rate
Ingredients
1

lb.

skirt steak

2

teaspoons

New Mexican chile powder

2

teaspoons

Chipotle powder

1

teaspoon

Ancho powder

1/2

teaspoon

salt

freshly cracked black pepper

olive oil

salt
For the Salsa de Aguacate (optional):
1

avocado

1/4

cup

water

juice of

1 lime

4-5

sprigs

cilantro

1/2

garlic clove

1/4

teaspoon

salt
For the Tacos (optional):
10-14

corn tortillas

cheese (I used Jack)

lime wedges

Pickled Onions (optional)
Instructions
If the skirt steak arrives in one long strip I will usually cut it into smaller, more manageable pieces. You can optionally pound the steak thinner if you want a more even cut. I usually cover it in parchment paper and pound it down with a cast iron skillet.

Give the steak a healthy sprinkling of salt on both sides.

Combine the chile powder mixture in a small bowl. Keep in mind that you can use any chile powder combo that sounds appealing to you. I used 2 teaspoons New Mexican chile powder, 2 teaspoons Chipotle powder, 1 teaspoon Ancho powder, 1/2 teaspoon salt, and some freshly cracked black pepper.

Rub some oil into both sides of the skirt steak, then coat each side of the steak with the chile powder mixture -- I usually use my fingers to rub it in.

Preheat a cast iron skillet if available. I used just over medium heat for this batch. Cook each steak for 2-3 minutes per side or until the inside temp registers 130-135F. Once cooked set aside, cover with foil, and let it rest for a few minutes.

If you want to make the Salsa de Aguacate, combine the following ingredients in a blender or food processor: the flesh of a ripe avocado, 1/4 cup water, juice of 1 lime, 4-5 sprigs of cilantro, 1/2 peeled garlic clove, and 1/4 teaspoon salt. Combine well, adding additional splashes of water if necessary.

For tacos I highly recommend crisping up the tortillas first -- add corn tortillas to a dry skillet over medium-high heat along with strips of cheese on each tortilla. Cook for 1-2 minutes or until light brown spots are forming on the underside of the tortillas.

Once the steak has rested, cut it against the grain into thin strips. You can optionally cut the strips into bite-sized pieces.

Each cheesy tortilla gets Carne Asada, Salsa de Aguacate, and Pickled Onions (optional). Serve with lime wedges for a final, optional squeeze of lime on each taco.
Notes
I used homemade corn tortillas for this batch but that is definitely optional.  Recipe for corn tortillas here. 
Medium-rare (130-135F) seems to be the sweet spot for skirt steak.  If overcooked it will get a bit tougher. 
If serving for a group I will typically go back to the stove a few times during the meal to make more crispy, cheesy tortillas.  And if the steak has cooled a bit you can always plop some of it on the tortillas to warm up as the tortillas crisp up.
What kind of meat is Carne Asada?
Like this recipe?
Click the stars above to rate it or leave a comment down below! @mexplease
Our latest post is a list of 2019's Best Recipes!
Still hungry?!
Want to receive Mexican Please recipes via email when they are posted?  Sign up below to subscribe.  All recipes are spam free.