Arrachera usually refers to skirt steak, but keep in mind that you'll get different opinions on this depending on which region you're in. Sometimes flank steak will be included in the Arrachera realm as both skirt and flank are quick-cooking cuts that work great for tacos.
And yes, once the skirt steak is marinated and grilled it's typically referred to as Carne Asada, which roughly translates as "grilled beef".
But don't let the nomenclature bog you down! The taste is far more important than the phrasing so let's take a look at how you can use Arrachera to make some drool-worthy Carne Asada Tacos.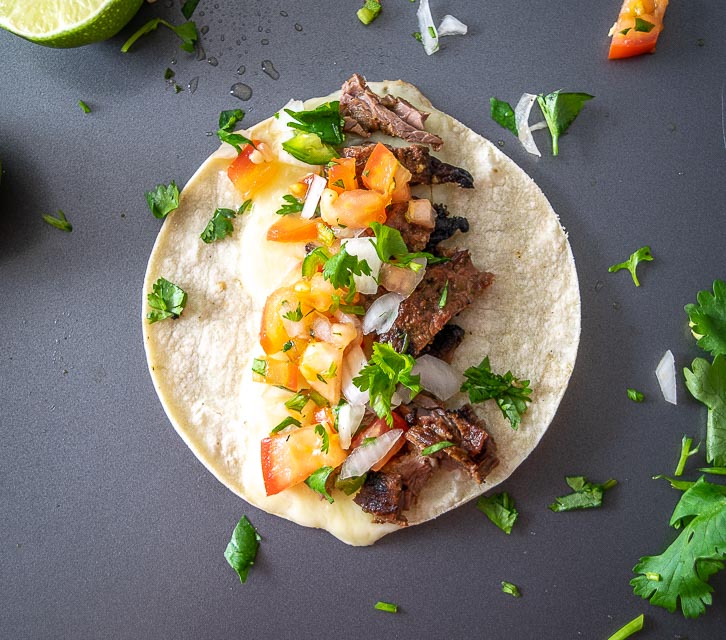 Skirt steak is a thin cut that makes cooking a snap. It's got a big, satisfying flavor that's made it popular amongst chefs and foodies.
This single pound of skirt steak was sold as a long strip but I've chopped it into pieces to make grilling easier.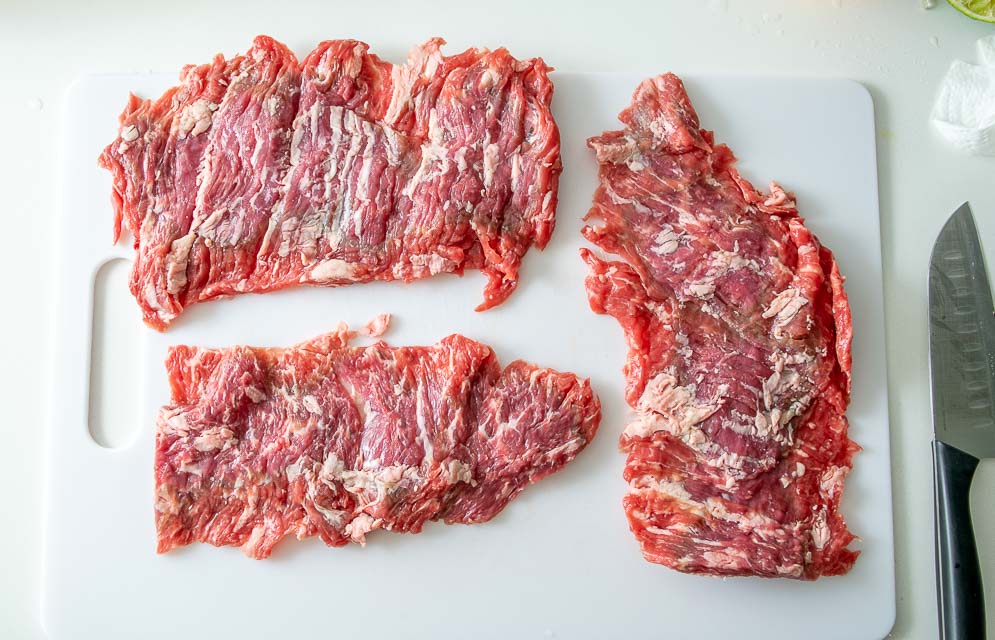 This is somewhere between 1/4" and 1/2" inch thick.
If there are any thicker parts I will usually pound them down to ensure even cooking, but you can consider this optional. I usually just put a piece of plastic or parchment paper on top of the meat and use a cast iron pan to pound it down
And now you've got two distinct options on flavoring your Arrachera.
The traditional method marinates the beef in a spicy citrus mixture and this creates some real flavor!
That's what we do in our marinated Carne Asada tacos and they are delish. Here's what the beef looks like in the marinade: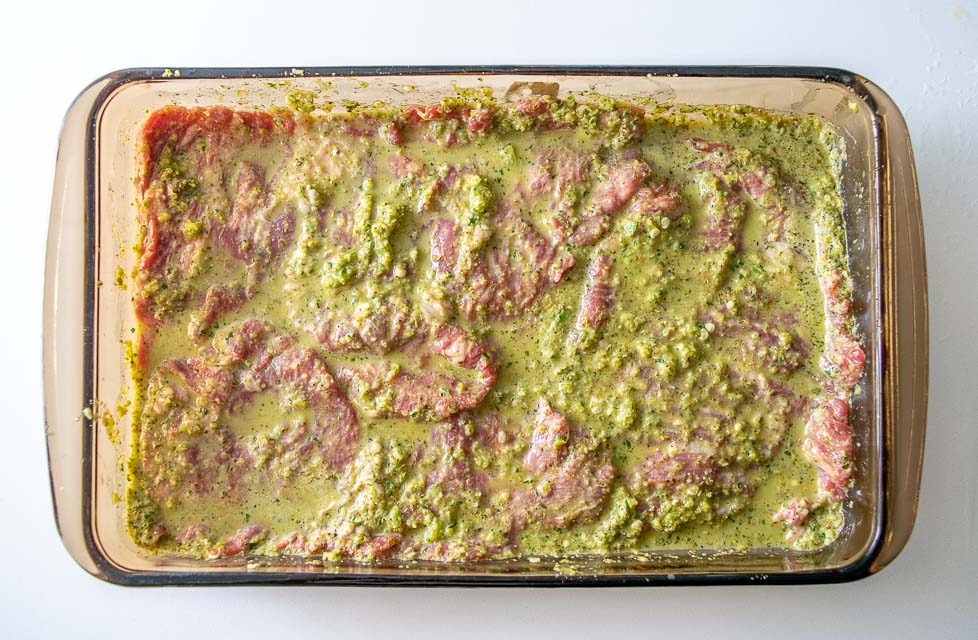 And here's a list of the marinade ingredients:
juice of 1 lime
juice of 1 orange
4 peeled garlic cloves
8-10 sprigs cilantro (optional)
2 de-stemmed jalapenos
2 tablespoons Mexican oregano
1 teaspoon cumin
1 tablespoon soy sauce
1/4 cup olive oil
freshly cracked black pepper
It's a potent marinade, so anywhere from 30-60 minutes is enough to give the beef loads of flavor.
Then it just takes a couple minutes per side to cook the steak. These were cooked over high heat on the grill.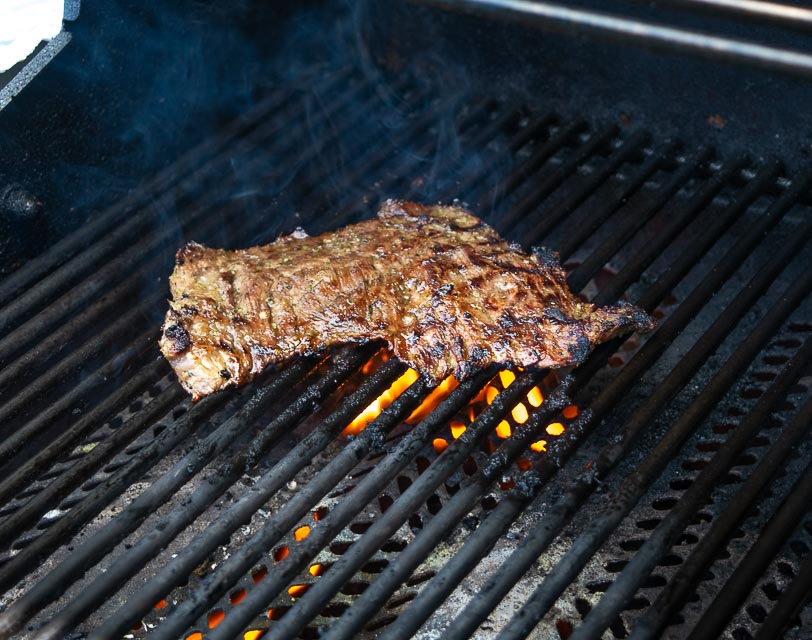 Ideally your skirt steak will have some pink on the inside as medium-rare seems to be the sweet spot for this cut. If it's overcooked it will get tougher.
I used to obsess about the internal temp and constantly test it with a kitchen thermometer -- medium rare will be about 135F -- but lately I just eyeball it, knowing that a couple minutes per side does the job when the heat is high and the steak is thin.
Let it rest for couple minutes after cooking to retain the juices, and then slice it up for some real deal Carne Asada Tacos.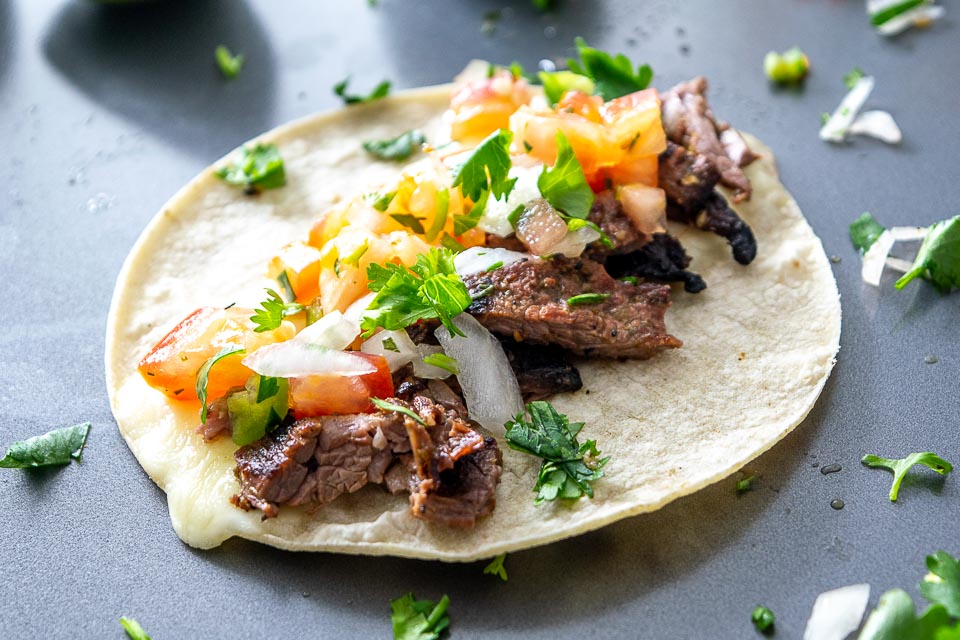 I served this batch with a freshly chopped Pico de Gallo and you really don't need much beyond that. So good!
Or if you are knee deep in hunger you can skip the marinade and still get a good result by using a fiery spice rub.
I do that with our Express Carne Asada, relying on a zippy chile powder combo to give the Arrachera a boost in flavor.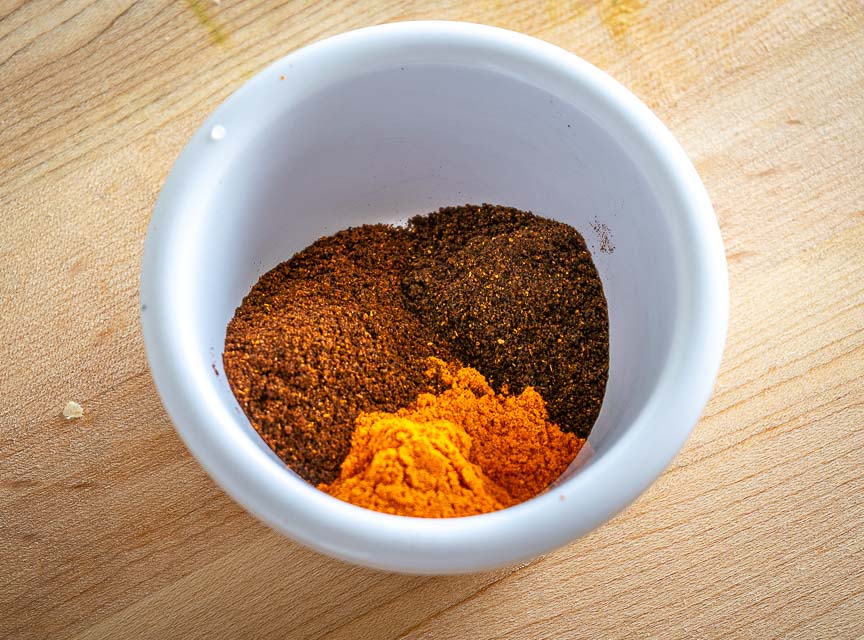 But keep in mind that it's really the skirt steak doing all the heavy lifting here and the chile powder, similar to the marinade, is used to enhance the already satisfying, beefy flavor of this cut.
This single pound of skirt steak used:
2 teaspoons New Mexican chile powder
2 teaspoons Chipotle powder
1 teaspoon Ancho powder
1/2 teaspoon salt
freshly cracked black pepper
After giving the skirt steak a healthy layer of salt, I rubbed it with some oil and then doused it with the spice mixture.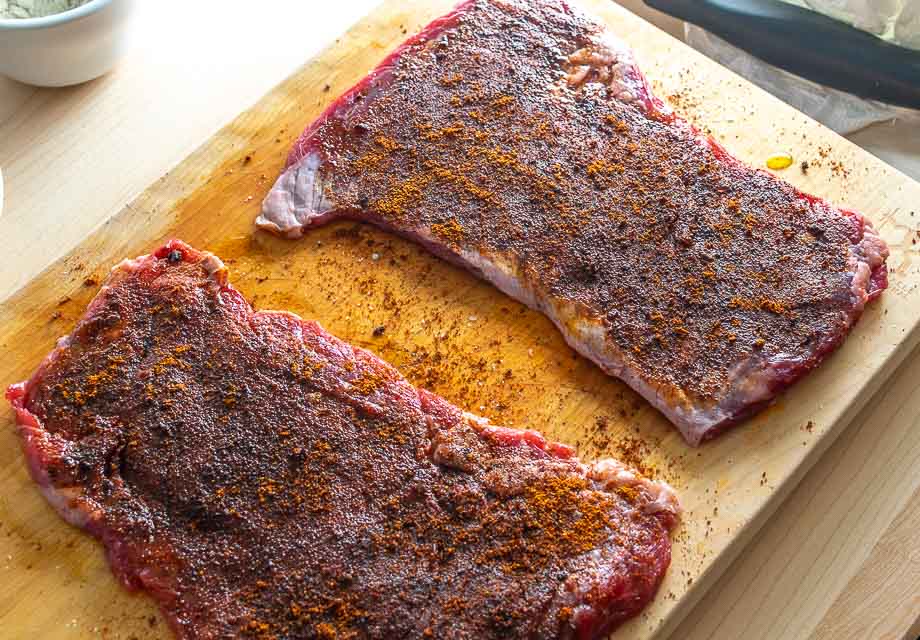 I cooked this batch on the stovetop in a cast iron pan. That's the beauty of a really thin cut like Arrachera -- it only needs a couple minutes to cook and a piping hot cast iron pan can work just as well as an outdoor grill.
This batch cooked for a little over two minutes per side and it was loaded with flavor!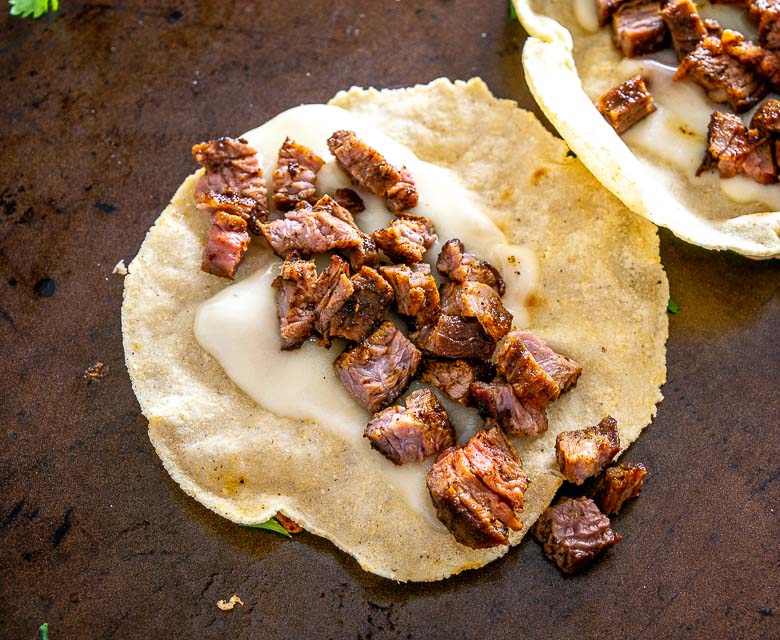 But don't worry about using the exact spice combo that I used -- you can improvise with what you have on hand and most likely you'll still get a good result. Just keep in mind that pure chile powders will always work best, so it's worth reading the label to see what exactly is in your chile powder. More info on the chile powders that I use.
Okay, I hope this solves Arrachera for you! It's such a great cut to get familiar with as it can lead to all sorts of satisfying meals. Here are the recipes referenced in this post if you want to experiment with them:
But keep in mind that you can use the meat any way you see fit as it is quite versatile, with Carne Asada Burritos being another tasty option.
Okay let me know if you have any other questions about Arrachera!
Buen Provecho.
Want the latest recipe? Click your favorite from these options and follow me: Instagram, Facebook, Pinterest, TikTok, YouTube.
Still hungry?!
Want to receive Mexican Please recipes via email when they are posted?  Sign up below to subscribe.  All recipes are spam free.