Homemade Tortillas continue to be in demand during these crazy times, so lately I've been getting this question more frequently:
I have popcorn kernels at home can I use them to make tortillas?
I've never had a great answer for this question, but I do now as I was quite surprised how good tortillas can be when made with plain ol' popcorn.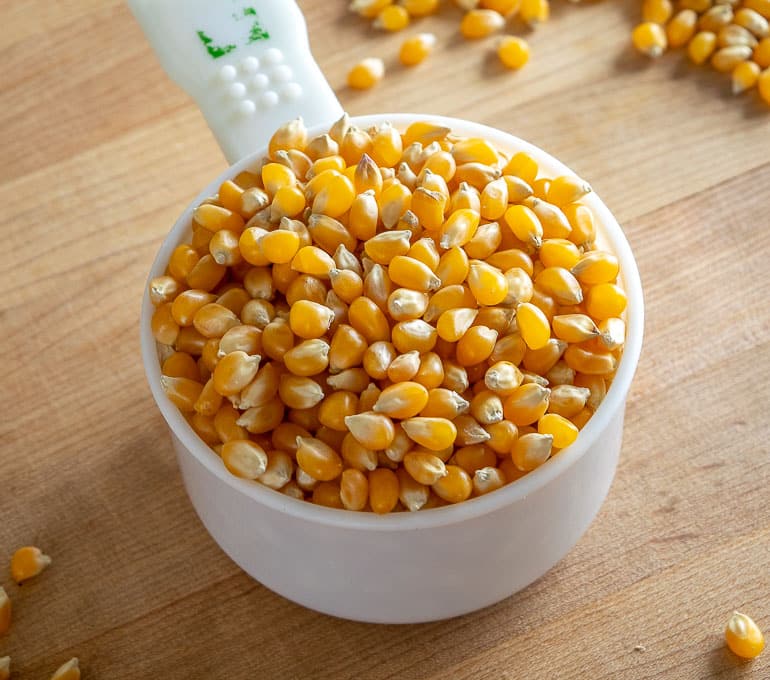 How To Make Tortillas From Popcorn
To make masa dough for tortillas you'll normally start out with dried field corn. Here are two varieties I've used in the past: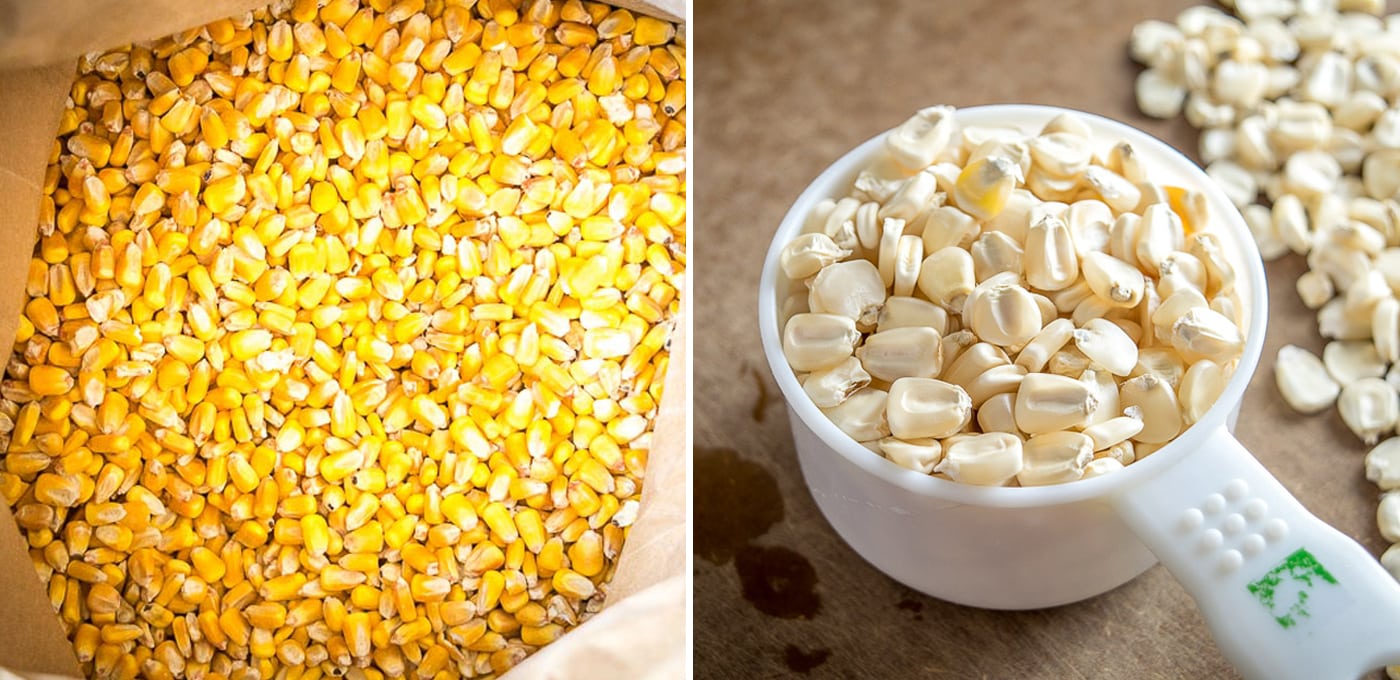 That's some standard field corn on the left, and on the right is White Olotillo corn from Masienda. I use that White Olotillo corn all the time and for reference they even sell it as Masa Harina on their site.
Compare those varieties to the popcorn kernels we're using for this batch.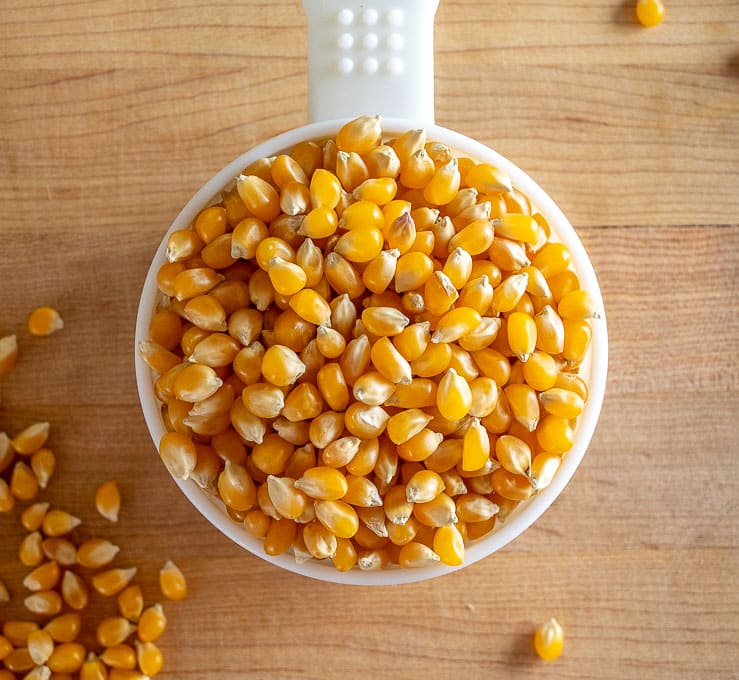 Although the anatomy of corn kernel varieties is above my pay grade, the differences usually come down to how much endosperm is surrounding the core germ -- meaning that some varieties will offer more bang for the buck and some are better for, well, popcorn. Why does popcorn pop?
And the taste difference? Let's find out!
To turn this into masa dough you'll first need to nixtamalize the corn, so you'll need some Calcium Hydroxide for this process.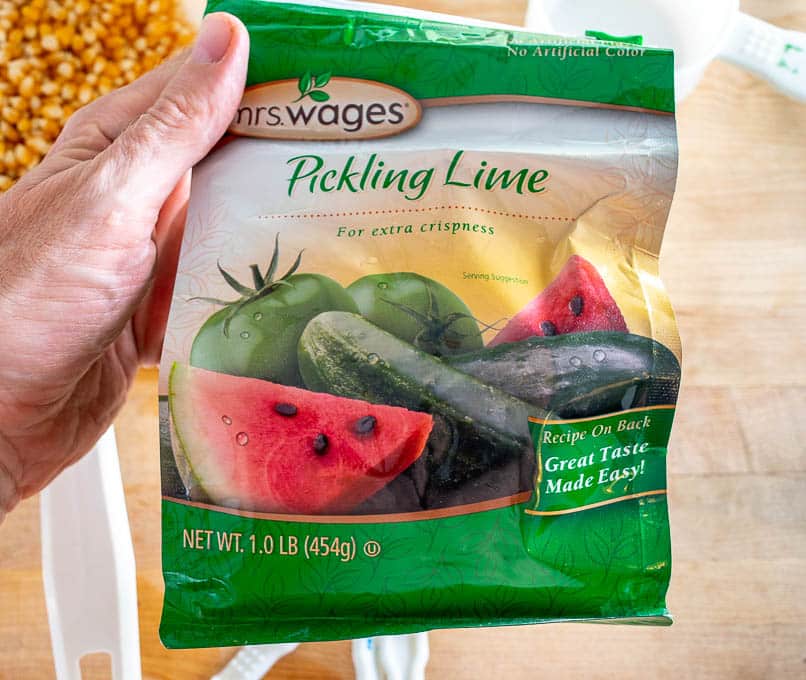 You'll see this referred to as Cal or Cal Mexicana in Hispanic stores, and it's also referred to as Pickling Lime in some circles. Here it is on Amazon.
But it's all the same thing -- an alkaline powder that not only loosens up the outside skin of the kernels to help with grinding, but also increases nutritional content and flavor.
After giving 2 cups of the popcorn kernels a good rinse, we'll cover it with 2 quarts of water and add a single tablespoon of the Calcium Hydroxide.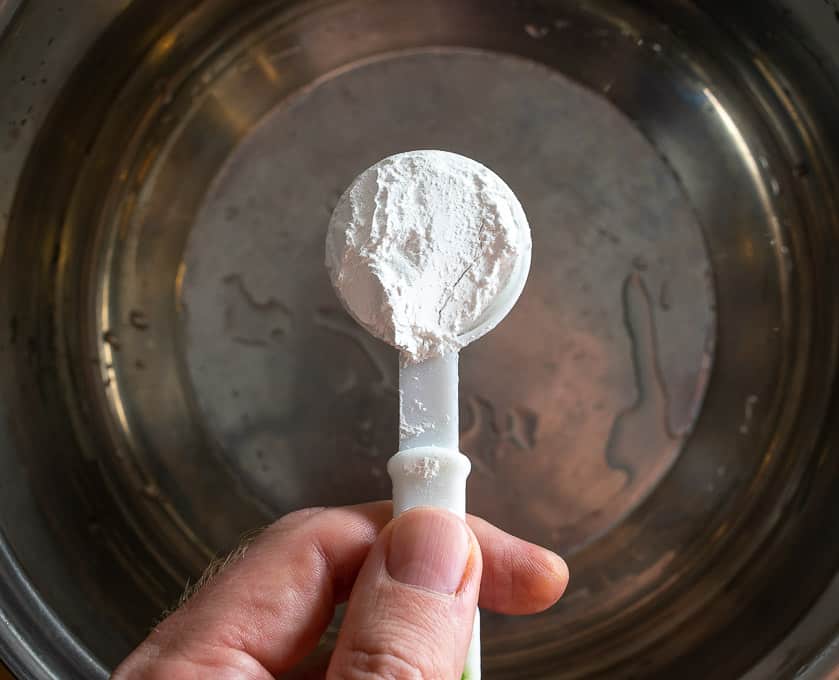 Bring this to a boil and then reduce heat to a simmer.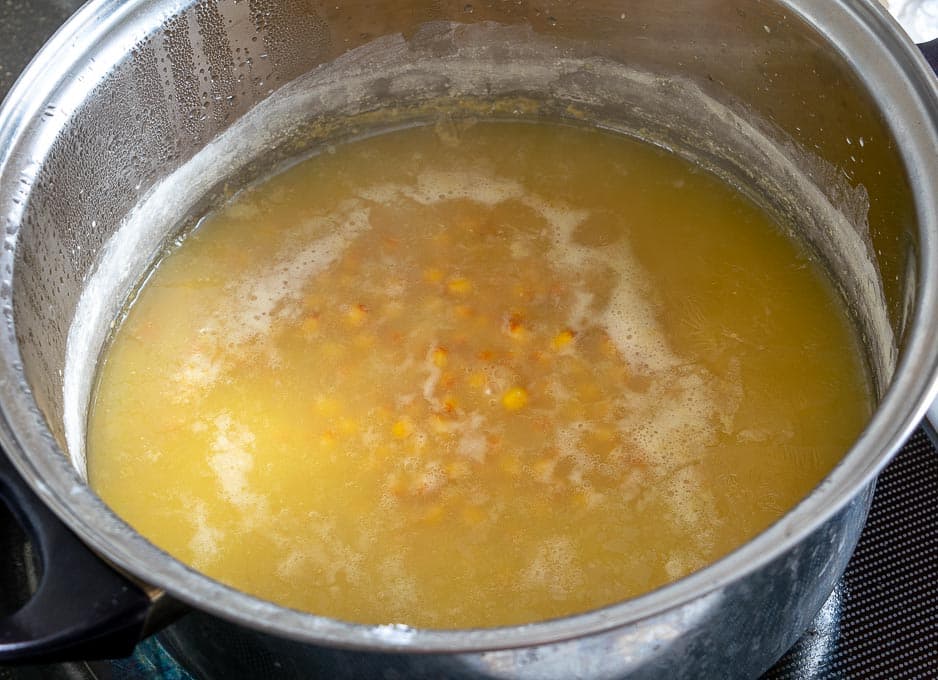 Let simmer for 30 minutes or so, stirring occasionally.
After 15 minutes you can pull out a kernel and take a bite.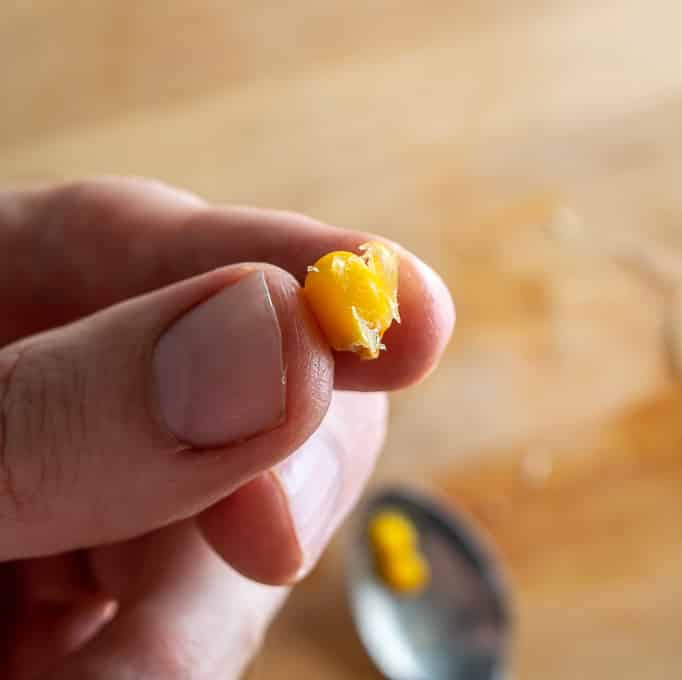 See how the skin has already loosened and is peeling off? That's the Cal in action.
I could barely bite into the kernel at this point so I let it go for a good 30 minutes before removing from the heat and covering. It'll need to sit overnight to complete the nixtamalization process.
Here's what it looked like the next morning.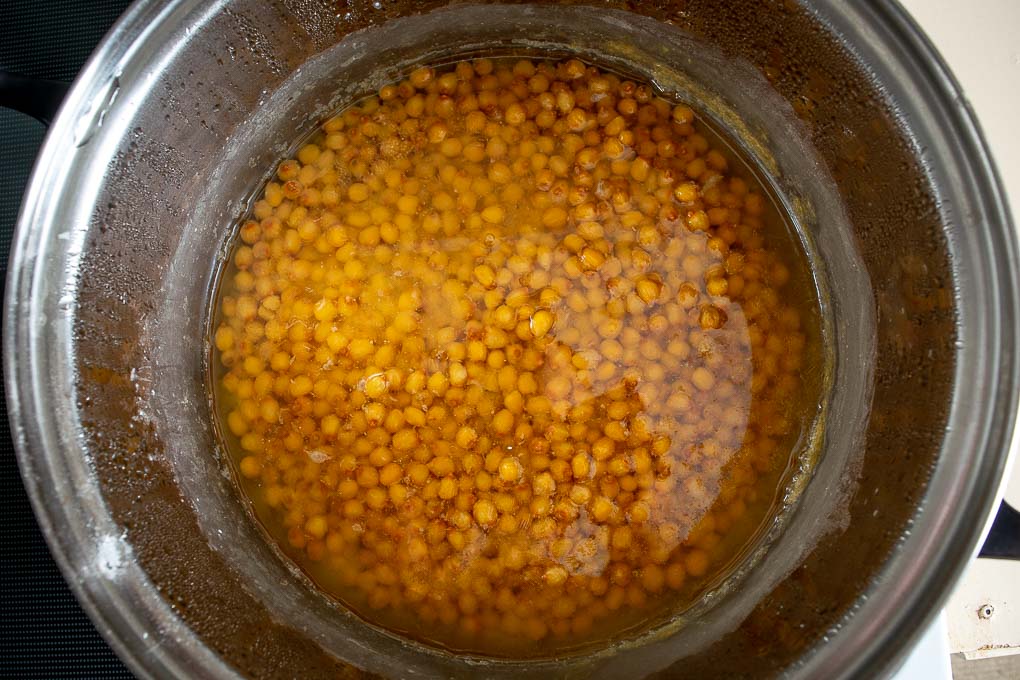 The kernels will hydrate a bit and change color.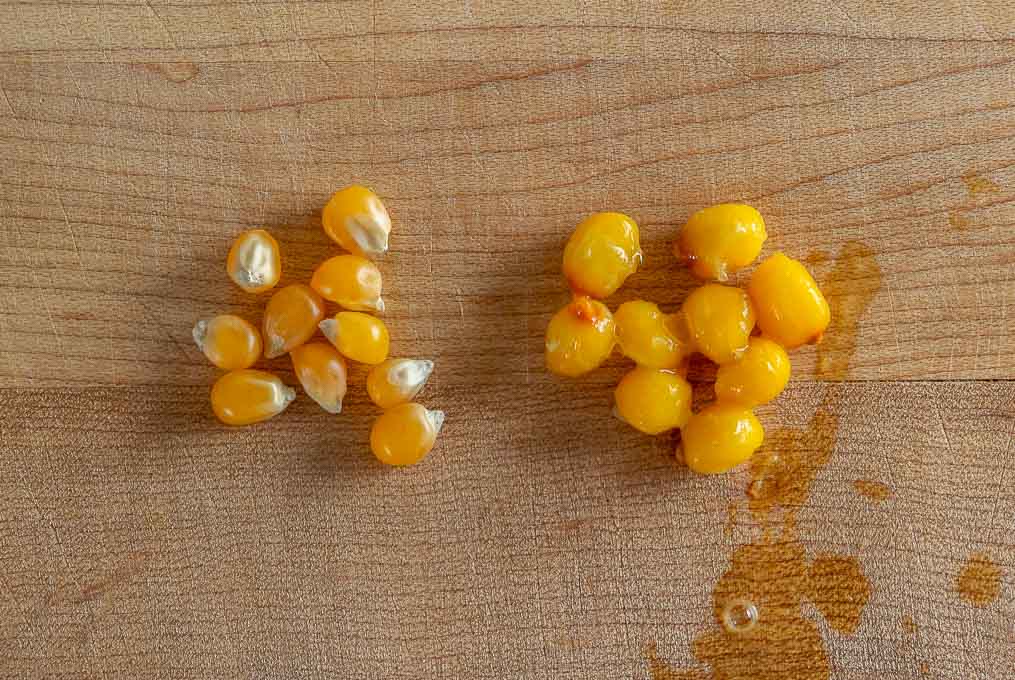 See all those slimy skins on the kernels to the right?
You'll want to give the corn a good rinse to ensure that all those skins go down the drain.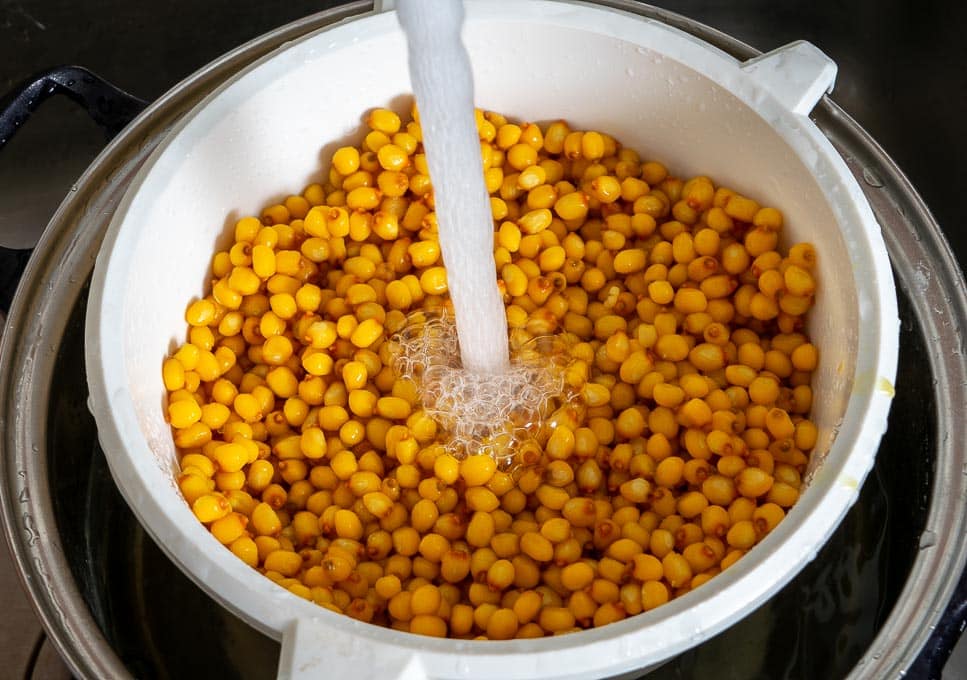 I usually put a strainer in a bowl and let the water fill to the rim, then use my hands to rifle through the kernels and loosen all the skins. Change the standing water a couple times -- once it runs clear you're good to go.
Most masa operations will use an industrial grinder to turn these kernels into masa dough. But you can get by just as well with a food processor.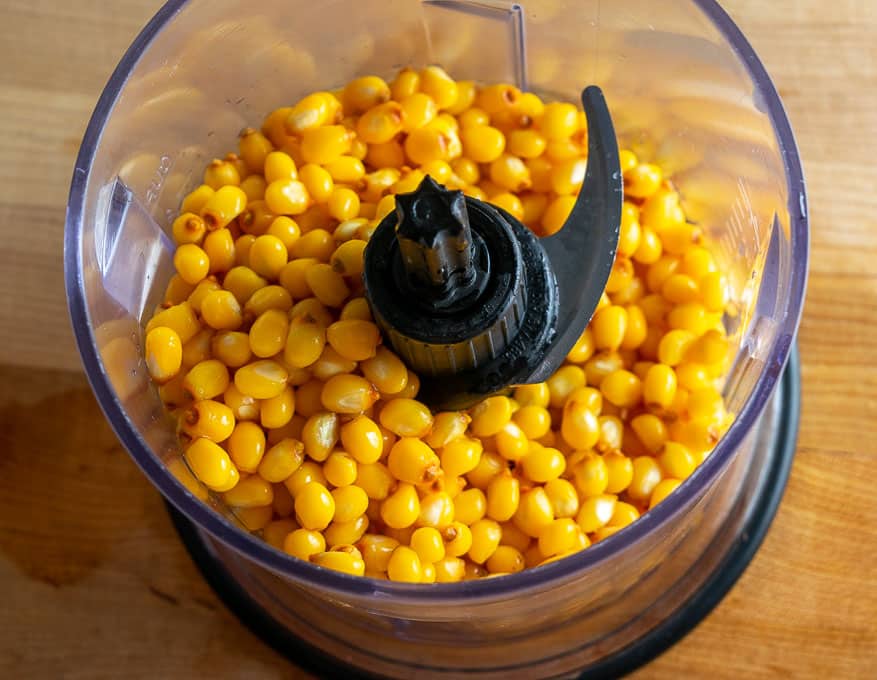 You'll probably have between 3-4 cups of hydrated, nixtamalized corn at this point -- you'll need approximately 1/2 cup water to grind it down into a dough.
Don't be surprised if you have to wipe down the sides occasionally as it will take a couple minutes to fully combine. And if it's not grinding down then feel free to add another splash of water -- I added a few more tablespoons of water to this batch and ended up with this bowl of awesomeness: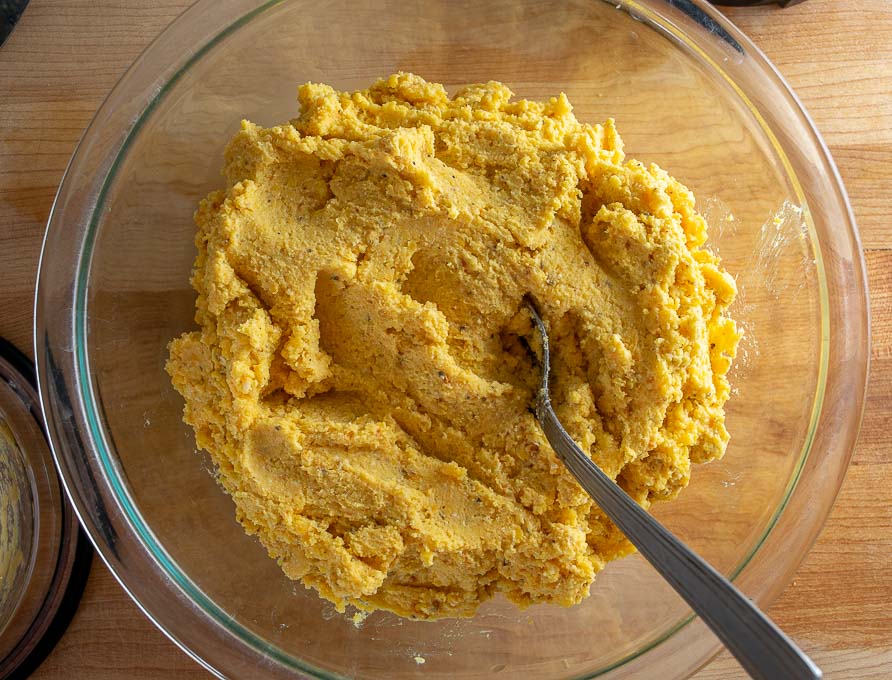 Hello masa dough made from popcorn kernels!
This masa dough is the starting point for both tortillas and tamales. For tortillas it's used as is, and for tamales you'll typically add some lard to it.
There's only one downside to using a food processor instead of an industrial grade grinder -- the water makes the masa dough a little wet and that can make the tortilla-making process kind of sticky.
So you'll probably want to dry out the dough a little before handling it and you've got some options on how to do this.
First up, if you have Masa Harina in the house then just add a sprinkling of it to the masa dough. I always keep Masa Harina in the pantry so that's what I did for this batch. What is Masa Harina?
So how much to use? It depends on how much water you added when blending the corn. When you can handle the dough without it sticking to your hands then you know it's the right consistency -- that was probably a few tablespoons for this batch.
Another option is to put the masa dough in a low temp oven to dry it out (250F). I haven't tried this yet but it's a good option for larger batches.
I will also occasionally get emails from people who use the dough right out of the blender with no issues, most likely because they didn't add much water when combining it. So please keep in mind that your mileage may vary, but it's always good to have some options to dry it out in a pinch.
Once you've nailed the masa dough consistency, pull off a golfball sized round and put it between two pieces of plastic:
Then squish it with a skillet or casserole dish. No, you don't need a tortilla press!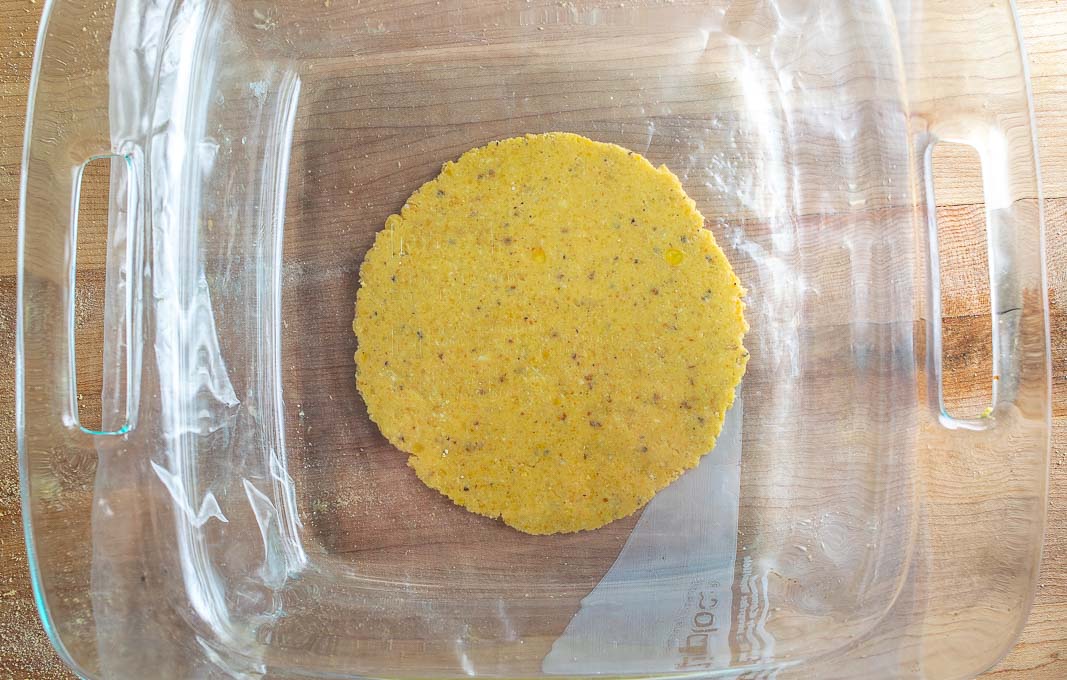 You'll know if you have the right consistency when you go to peel off the plastic.
If it sticks then the dough is too wet and you'll need to dry it out a bit more.
These will need about 60 seconds per side in a dry skillet over medium heat (I use just over medium heat on my stove).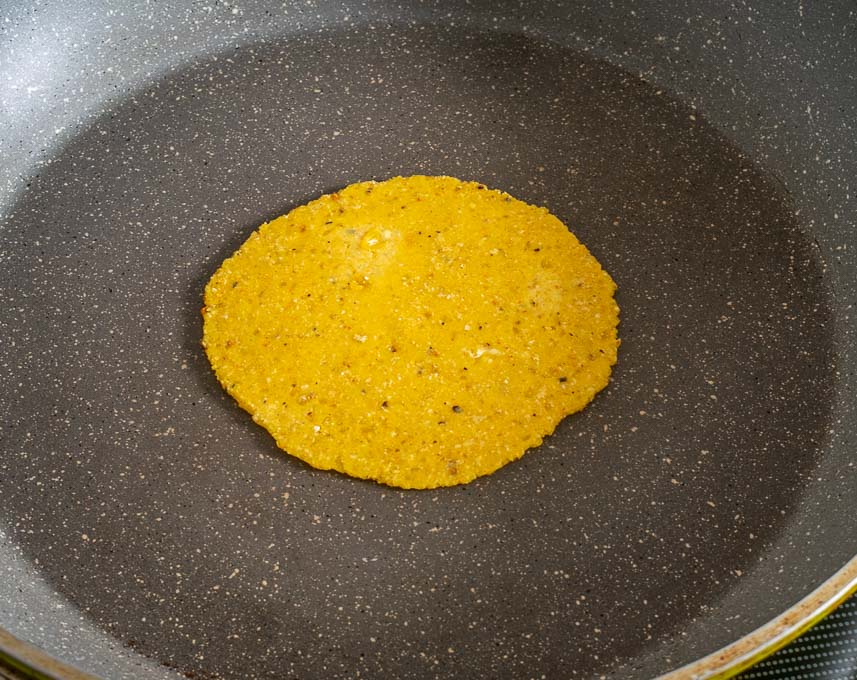 I also use the quick flip method when making tortillas.
After 10 seconds you can use your fingers to slide it up the side of the pan and give it a flip, then give each side around a minute or until light brown spots are forming on the underside. This quick flip seals in some heat and usually makes your tortillas puff up more readily.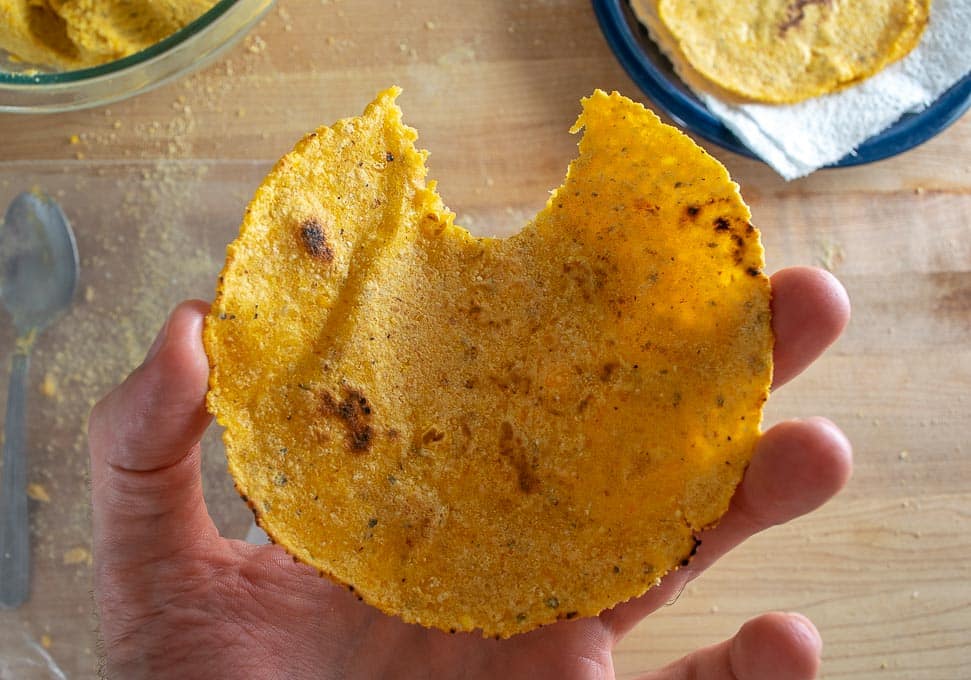 And now the most important part....how did they taste?!
I have to admit I was quite surprised how satisfying these were. I was expecting a more serious downgrade in flavor compared to my beloved White Olotillo tortillas, but the flavor was there and it's a massive upgrade compared to store-bought tortillas.
So for anyone who is even remotely curious about this process I would definitely recommend just going for it, even if that half-used bag of popcorn kernels doesn't look so promising.
Sure, maybe you'll eventually move on to more specific strains of dried corn, but even this simple batch made from popcorn kernels will get you familiar with the masa dough process. It's also a great reference point for store-bought tortillas, i.e. you'll gravitate to brands that come close to the flavor of your awesome homemade tortillas 🙂
Okay, here are links to some relevant posts for more info:
Using White Olotillo corn to make tortillas
More details on Homemade Corn Tortillas
And here's an affiliate link if you want to buy some Calcium Hydroxide on Amazon:
I hope this post will inspire some of you to try out this process! It's awesome to see what can come out of a simple bag of popcorn sitting in the pantry 🙂
Buen Provecho.
Want the latest recipe? Click your favorite from these options and follow me: Instagram, Facebook, Pinterest, TikTok, YouTube.
Corn Tortillas Made From Popcorn Kernels
I made a batch of corn tortillas from popcorn kernels last week and was surprised how good they were!   You'll need some Calcium Hydroxide for the masa dough process but you can find that easily these days. 
Print
Pin
Rate
Ingredients
2

cups

popcorn kernels

1

tablespoon

Calcium Hydroxide (or Cal Mexicana)

2

quarts

water

1

teaspoon

salt

1/2

cup

water (to grind the masa)

Masa Harina (optional, to dry the masa)
Instructions
Rinse 2 cups of popcorn kernels in cold water.  Remove any stones or struggling kernels.

Add 1 tablespoon of calcium hydroxide to 2 quarts of water in a non-reactive pot (I used stainless steel).  Combine well.  Add the popcorn kernels to this mixture. 

Bring to a boil and then reduce heat to a simmer.  Cook for 30 minutes or so, stirring occasionally.  When the skins of the kernels slip off easily and the insides are partially cooked then it's had enough cooking time.  (Don't worry about cooking the kernels all the way through -- I usually take them off the heat when the outsides are cooked but the centers are still starchy.)

Remove from heat, cover, and let sit overnight at room temperature.

The next day (or at least 6-8 hours later) drain the corn and massage it with your hands under running cold water. This will remove the skins from the kernels.  Change the standing water a couple times until it runs clear. 

Drain the corn and add it to a food processor. Add 1 teaspoon of salt and approximately 1/2 cup of water. Combine well. (I used a smaller food processor for this batch and combined it in batches.)  It will need a few minutes to thoroughly combine -- you might need to wipe down the sides and add splashes of water if it's not combining well.  

If you want to make tortillas then first gauge how wet your masa dough is. If it sticks to your hands you can add some Masa Harina to dry it out.  I added a few tablespoons to this batch until I was able to handle it without any sticking.

Separate the dough into golfball sized rounds, this will make the tortillas approximately 4 inches across. Flatten the dough balls using a casserole dish or tortilla press.  Be sure to line each side of the dough ball with plastic or Ziploc pieces.  The tortillas should peel off the Ziploc easily; if not then you might need to dry out the masa dough a little more.

Heat a skillet or comal to medium heat.  Add a tortilla and flip after 10 seconds. Then cook each side for 1-2 minutes or until light brown spots are forming on the underside.  Alternatively, you can skip the quick flip and just cook each side for 1-2 minutes. Serve immediately.
Notes
It's best to use a non-reactive pot when using Calcium Hydroxide.
You'll also see Calcium Hydroxide referred to as Cal Mexicana or Pickling Lime. 
Sometimes it can take some fiddling to get the heat right on the stove. If the tortillas are forming black spots quickly then dial down the heat.  Ideally, each side takes about a minute to form light brown spots on the underside.   For my stove that is a tad over medium heat.
Like this recipe?
Click the stars above to rate it or leave a comment down below! @mexplease
Want to see our latest recipe? It's this awesome Mole Coloradito.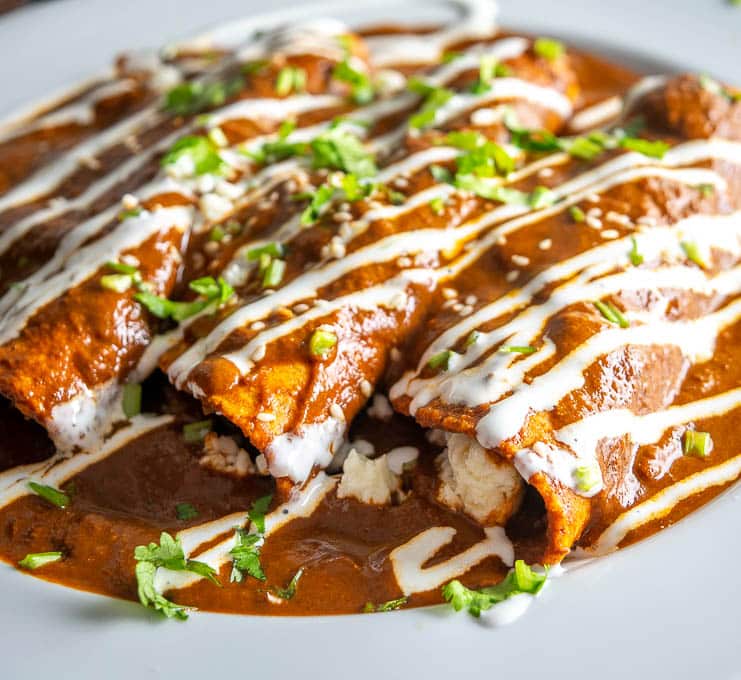 Disclaimer: Yes, there are affiliate links on this page. That means I get a small percentage of the sale if you decide to try out one of the linked products, at no additional cost to you. But my opinion is not for sale and I only recommend products that I actually use and trust. Email me if you have questions about this.
Still hungry?!
Want to receive Mexican Please recipes via email when they are posted?  Sign up below to subscribe.  All recipes are spam free.