One of the surprise benefits of putting a blog out there in the world is the way it accelerates my own learning. These White Olotillo Corn Tortillas are the perfect example of that phenomenon.
They're probably the most rewarding tortillas I've ever made at home, so if you ever find yourself disappointed with your local selection of tortillas then maybe it's time to make your own!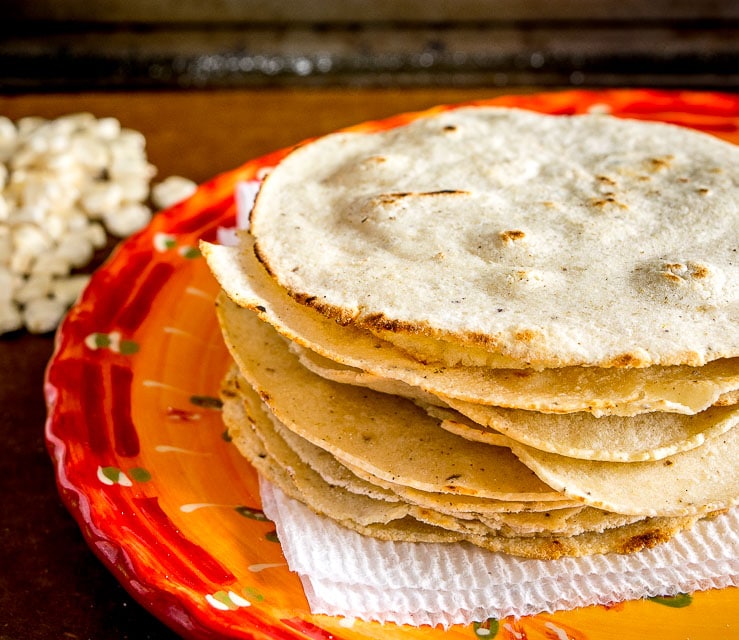 Corn Tortillas Made With White Olotillo Corn
But before we get to the recipe here's the quick backstory on how these beauties have come about...
Last summer we made some Masa Dough using yellow field corn bought on Amazon. Dried field corn is surprisingly hard to come by and in the comments section of that post people started mentioning other places you can buy it.
One of the vendors that popped up was Masienda, a Los Angeles based company that specializes in tortillas. They sell three varieties of dried corn and trying them out has been on my to-do list for awhile. I also recently got an email from blog reader Paul who is on a similar Masa Quest, and his enthusiasm for homemade tortillas finally spurned me on to get some of this in my house: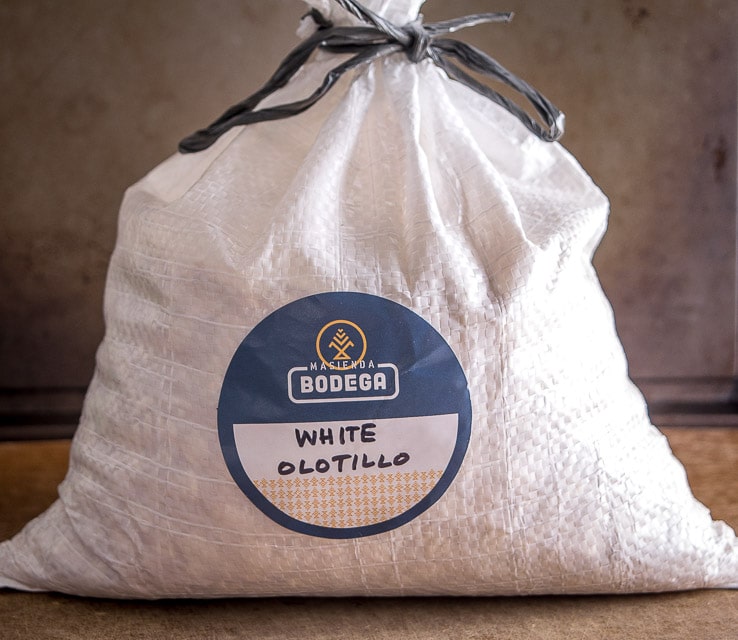 That's 5 lbs. of White Olotillo Corn from Masienda.
I don't have any affiliation with Masienda but it seems like their products are the real deal -- this particular corn varietal is grown in Oaxaca and it's the same corn they use for their in-house tortillas.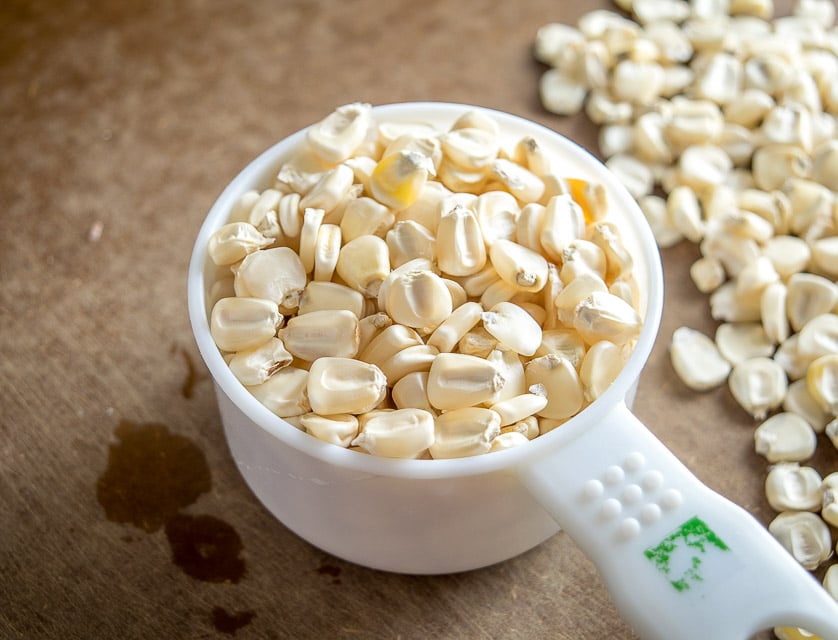 So how do we make tortillas out of this?
When you're starting with dried corn you first need to nixtamalize it. Nixtamawhat?!
Soaking corn in calcium hydroxide (nixtamalization) dissolves the outer layer of the corn and also increases the nutritional content of the kernels. It also makes the final product taste better.
You can find calcium hydroxide in Hispanic markets where it's sometimes referred to as Cal or Cal Mexicana, and on Amazon you'll frequently see it referred to as Pickling Lime.
We'll start by giving 2 cups of the dried corn a good rinse, discarding any stones or struggling kernels. One tablespoon of calcium hydroxide is a good starting point for that amount of corn (a bit less than a pound).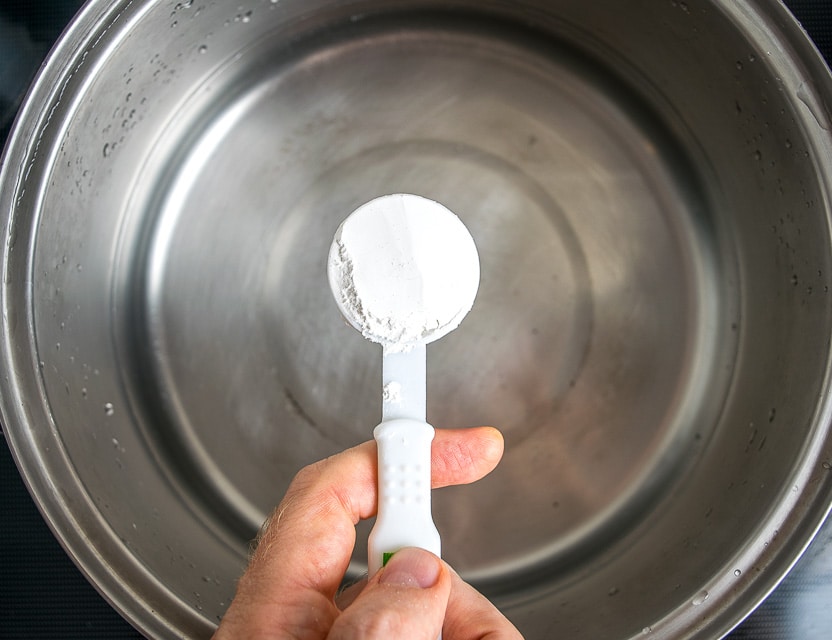 Add the calcium hydroxide to a non-reactive saucepan (I used stainless steel) along with 7-8 cups of water. Stir the Cal into the water and then add the corn.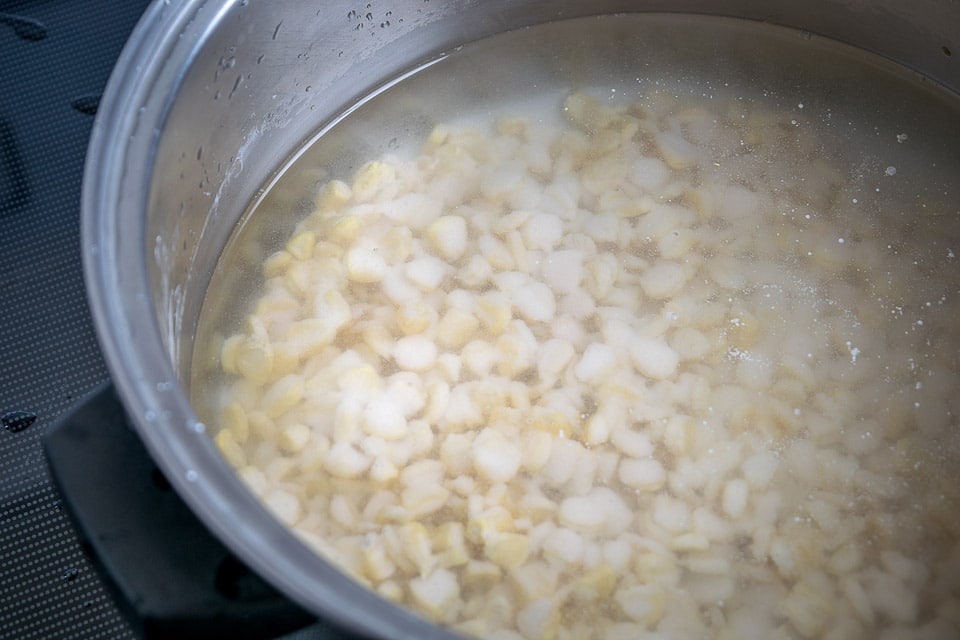 Bring this to a boil and then reduce heat to a simmer.
Once it's boiling it'll need about 20-30 minutes until the outer layer is cooked and the pericarp slides off easily.
Some varieties need less time so you can start taking bites into the kernels after 15 minutes or so; if the outer layer is cooked and the center is white and starchy then you're on track -- you don't need to cook it all the way through.
Remove the pan from the heat and if needed add enough cold water so that the corn is completely submerged in the liquid. Cover and let this sit overnight at room temperature. This gives the calcium hydroxide the time it needs to work its magic.
No one knows for sure how long the corn needs to soak before using it, but try to give it at least 6-8 hours. I usually just let it rest overnight.
Here's what this batch looked like the next morning.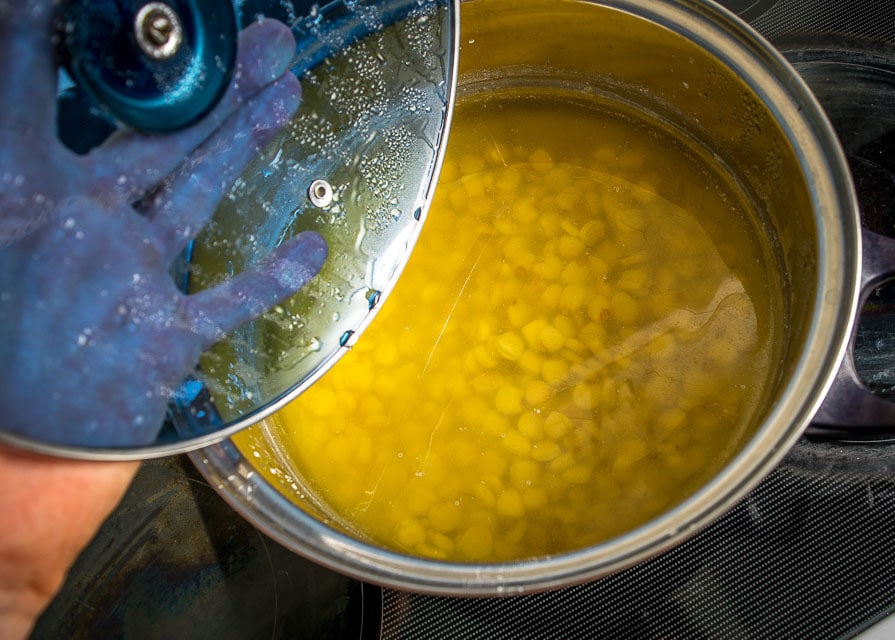 Drain this and discard the soaking liquid.
Run the corn under cold water and use your hands to remove the outer skin of the kernels. Most of the outer skins will fall off easily under the running water, but you can also give the kernels a squeeze to accelerate their removal.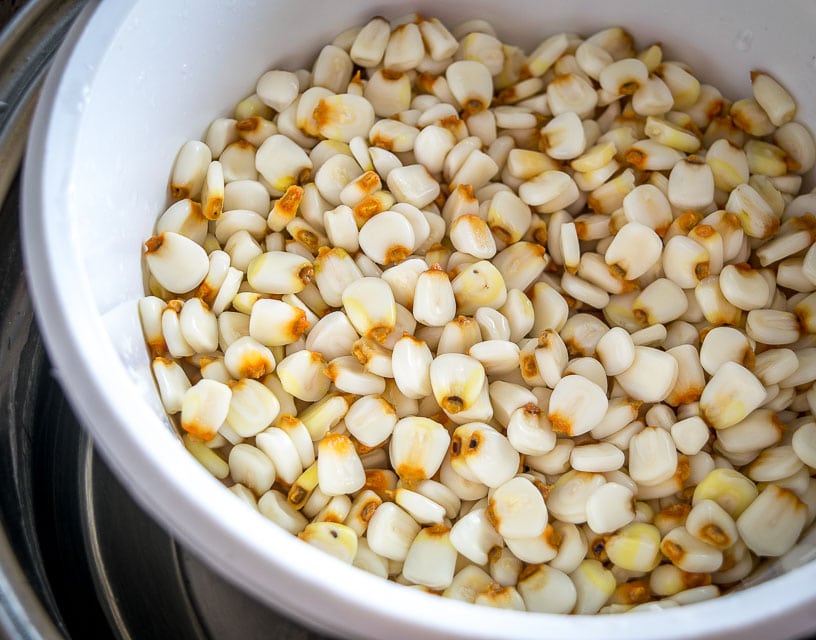 I usually put the strainer in a large bowl and rinse the corn until the leftover liquid starts to run clear.
The greatest obstacle to turning this nixtamal into masa dough at home is the grinder. Typically you need some type of elaborate grinder to get the nixtamalized corn into a fine enough consistency for tortillas. Most people, including me, don't have that type of kitchen gear, but luckily you can get by using a food processor.
When using a food processor you need to add water to grind the corn into a fine consistency, but you end up with masa that's a bit too wet for tortillas. By adding in some Masa Harina at the end you'll get the right consistency and still retain most of the flavor from the ground corn. Perfect! I'll go over the details of that workaround in this post but it's listed out in the Masa Dough post as well.
Add the corn to a food processor along with 1 teaspoon of salt and 1/2 cup of water.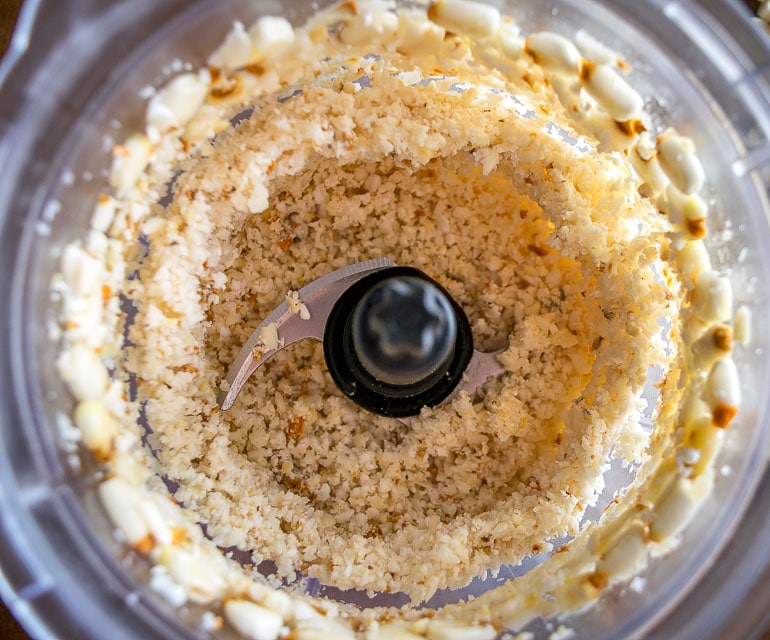 Give it a whirl; you'll probably have to wipe down the sides a few times before it turns into a cohesive dough. I also had to add a few extra tablespoons of water to this batch.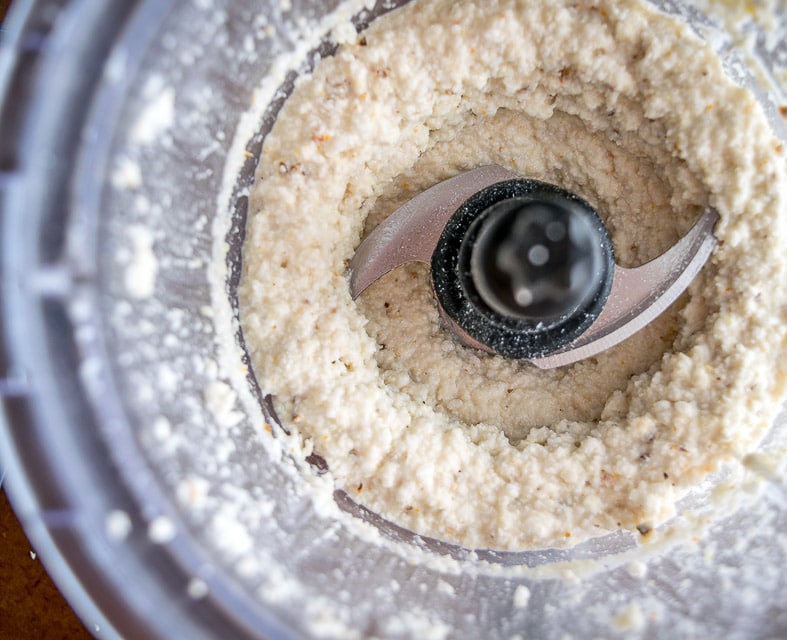 Don't be surprised if it takes 4-5 minutes in the food processor to combine together.
When you can rub some between your fingers without it feeling grainy then you are mostly there.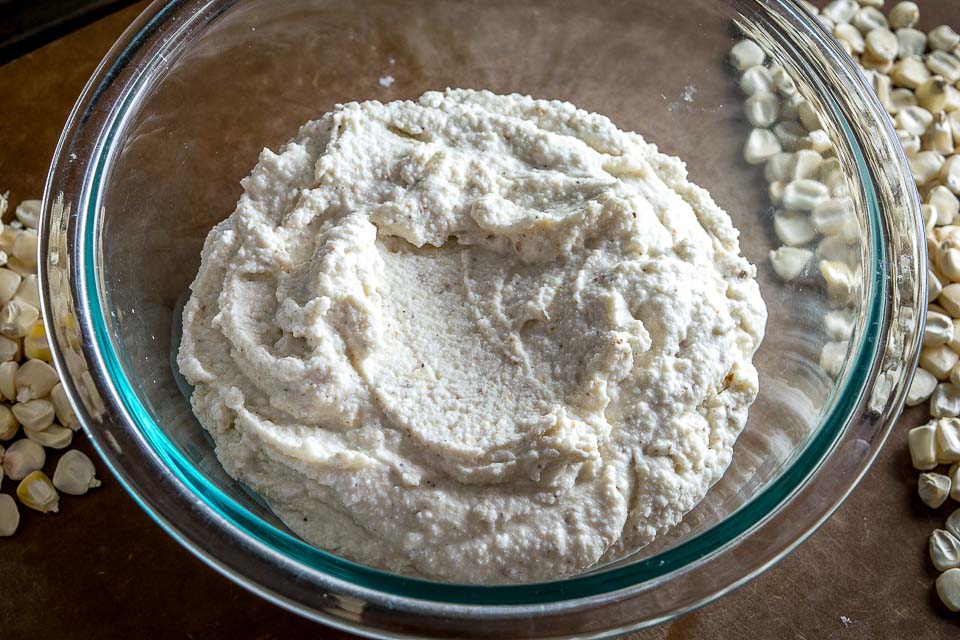 You're left with about 3 cups of White Olotillo masa. Well done!
But since you added water to grind it down this dough will be wet. As mentioned, the workaround is to add in some Masa Harina to dry out the dough a bit and give it the right consistency for tortillas. (What is Masa Harina?)
Start with 1/4 cup of Masa Harina and feel free to add more if necessary. I probably used a total of 1/2 cup for this batch.
When you can roll a golfball of dough in your hands without it sticking then you've got the right consistency. (More details on Masa Harina and dough consistency in our Homemade Corn Tortillas post.)
And to further prove that you can make these tortillas with a bare minimum of kitchen gear, I flattened these dough balls with a casserole dish instead of a tortilla press. Do I Really Need a Tortilla Press?!
Start by placing the dough ball between two flaps of a Ziploc (or plastic wrap).
And then flatten them with a casserole dish or skillet.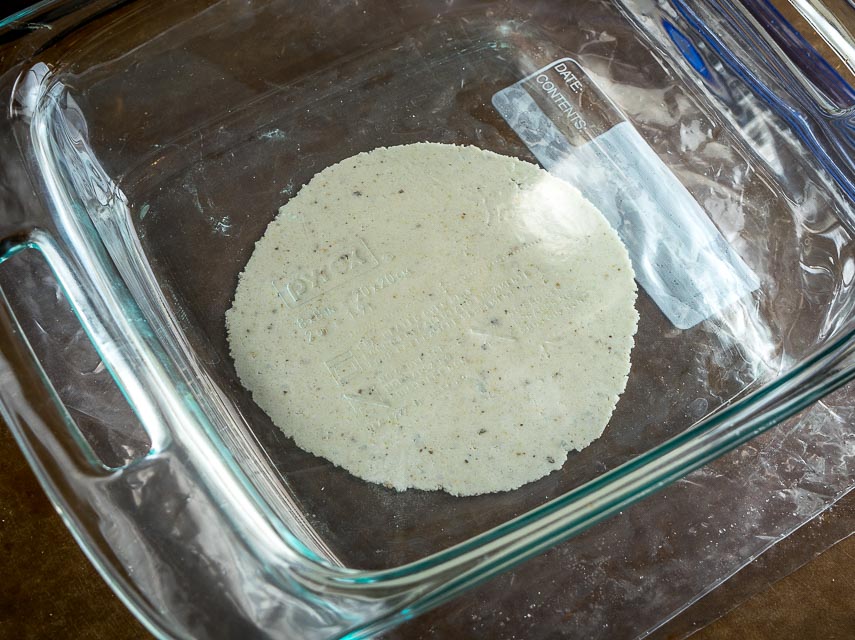 If you can peel the plastic off the flattened dough with ease then you've nailed the dough consistency. If the dough is sticking to the plastic then it's probably a little too wet and you'll need to add a bit more Masa Harina.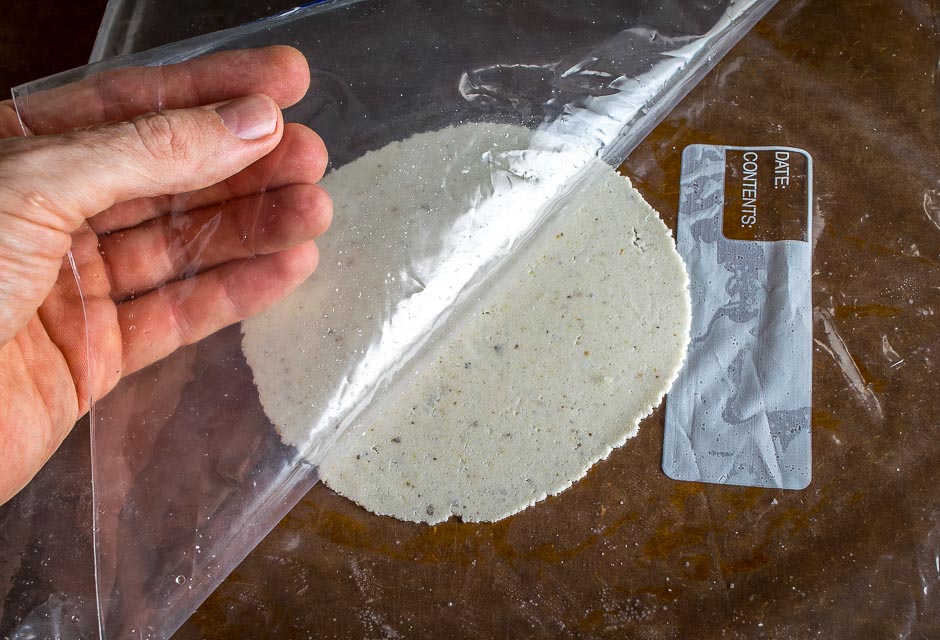 Another potential pitfall of homemade tortillas is the stove temperature.
I use medium heat in a non-stick pan on my stove and that will have brown spots forming in about 60 seconds per side, maybe a tad longer.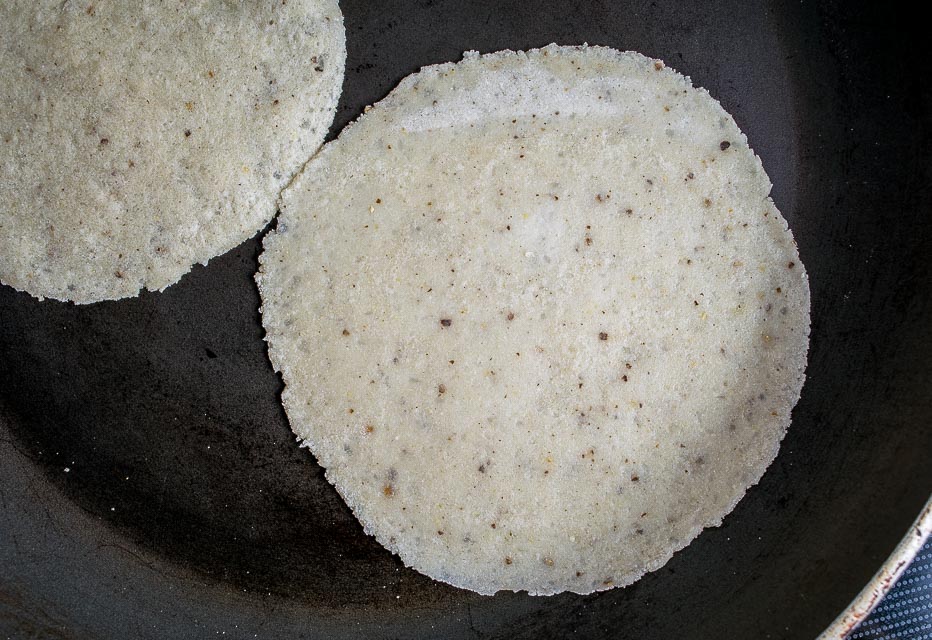 There are more details on how to cook tortillas in the Homemade Corn Tortillas post, but I'll quickly go over them here.
There are two schools of thought when it comes to cooking tortillas on the stove. The first school simply cooks them for 60-90 seconds per side. The second school flips them after 5-10 seconds and then cooks each side for 60-90 seconds -- the idea being that a quick sear on one side will seal in some heat and cook the insides quicker. This can result in slightly fluffier tortillas but it is also more laborious, just something to keep in mind.
If you're quickly getting black spots on the tortillas then turn down the heat. If it's taking longer than 90 seconds for brown spots to form then you can probably turn up the heat a little.
These 2 cups of dried corn made about 3 cups of masa and nearly 20 real deal corn tortillas.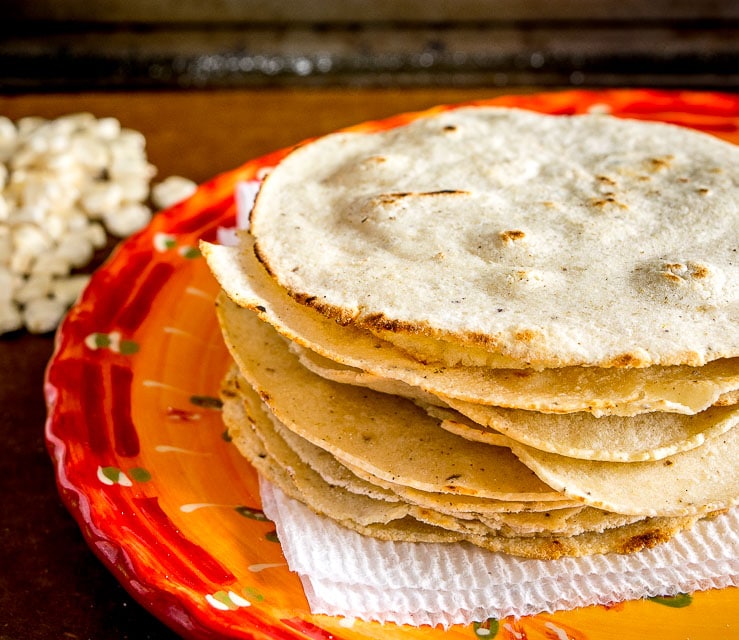 I like them best when they're super thin. Of course, this can lead to some frustration when peeling them off the plastic wrap but I think it's worth it.
They have incredible flavor and they're a significant improvement over store-bought tortillas.
Be sure to do lots of taste testing along the way...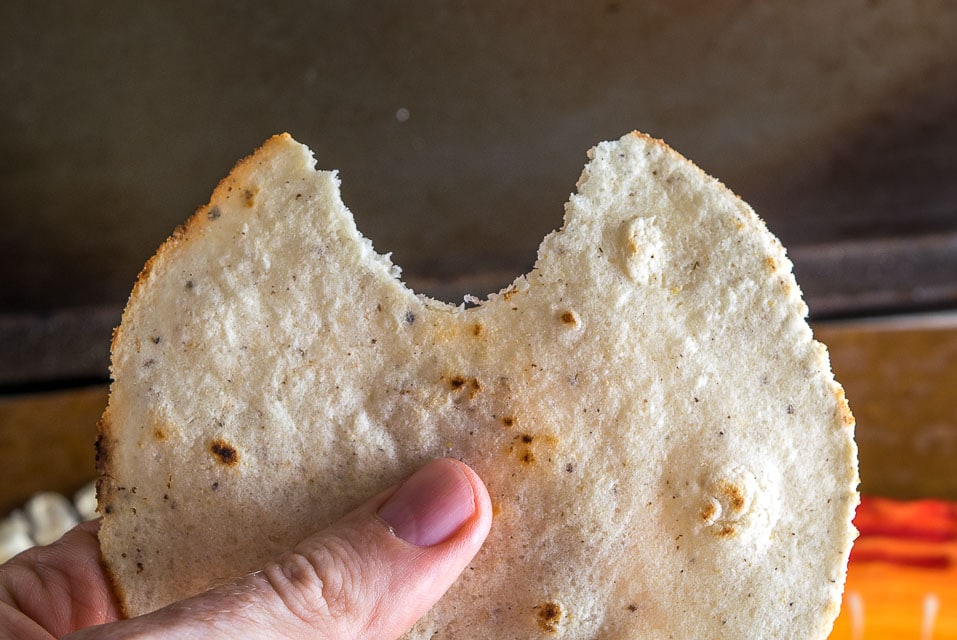 ...because it can take a couple rounds until you get the heat of your stove in the sweet spot.
When they are fresh off the stove you don't need much else to turn them into a meal. I simply piled on cheese, cooked chicken, a fresh Guacamole and then gobbled them up.
Keep in mind that they are best served warm. If they have cooled down, I usually put them in a skillet over medium heat and pile my taco toppings on top, letting everything heat up at the same time.
Okay, let me know if you have any questions about these White Olotillo Corn Tortillas -- and for any of you out there on a similar Masa Quest feel free to use the comments section below as it will help with the next step forward.
Buen Provecho.
Want the latest recipe? Click your favorite from these options and follow me: Instagram, Facebook, Pinterest, TikTok, YouTube.
White Olotillo Corn Tortillas
Here's the recipe for a recent batch of homemade corn tortillas I made using some White Olotillo Corn. I used a food processor to grind the corn down and added in some Masa Harina to get the right consistency.
Print
Pin
Rate
Servings:
5
(16-20 tortillas)
Ingredients
2

cups

dried White Olotillo corn

1

tablespoon

calcium hydroxide

8

cups

water

1

teaspoon

salt

1/2

cup

water (to grind the Masa)

1/4

cup

Masa Harina (plus more if necessary)
Instructions
Start by rinsing 2 cups of the dried corn. Discard any stones or shriveled kernels.

Add 1 tablespoon of calcium hydroxide to 7-8 cups of water in a non-reactive pot (I used stainless steel). Combine well. Add the 2 cups of corn to this mixture.

Bring to a boil and then reduce heat to a simmer. Cook for 20-30 minutes. When the skins of the kernels slip off easily then it's had enough cooking time. (You can start taking bites of the kernels after 15 minutes to test them. Ideally the outer skin slips off easily, the outer layer of the kernel is cooked, and the inside portion is still dry and starchy.)

Remove from heat, cover, and let it sit overnight at room temperature. Be sure there is enough water to completely submerge the corn, you can add more cold water if needed.

The next day (or at least 6-8 hours later) drain the corn and massage it under running cold water. Use your hands to remove the skins from the kernels. Change the standing water a couple times until it starts to run clear.

Drain the corn and add it to a food processor along with a teaspoon of salt and 1/2 cup water. Grind it together until you have a cohesive dough, wiping down the sides of the food processor occasionally. It will need approximately 4-5 minutes to thoroughly combine, you can add additional splashes of water if it's not combining well.

To make tortillas, first gauge how 'wet' your masa dough is. If it sticks to your hands you'll need to add some masa harina to dry it out. I added 1/4 cup masa harina to start with and added additional pinches of masa harina until it had the right consistency, i.e not sticking to your hands.

Separate the dough into golfball sized rounds, this will make the tortillas approximately 4 inches across.

Flatten the dough balls using a tortilla press or a flat bottomed casserole dish. Be sure to line each side of the dough ball with plastic or ziploc pieces. The tortillas should peel off the ziploc easily; if not then you might need to add some masa harina to the dough.

Heat a skillet or comal to medium heat. Add a tortilla and flip after 10 seconds. Then cook each side for 1-2 minutes or until light brown spots are forming. Alternatively, you can skip the quick flip and just cook each side for 1-2 minutes.

Continue cooking the tortillas until all of the masa dough is used. Serve immediately, keeping them warm in a tortilla warmer or kitchen towel.
Notes
Don't feel like you have to cook the tortillas for a full 1-2 minutes per side as your setup might need less time than that.  The best time to flip them is when brown spots are starting to form.
It's best to use a non-reactive pot when using calcium hydroxide.
You'll also see calcium hydroxide referred to as Cal Mexicana or Pickling Lime. 
Like this recipe?
Click the stars above to rate it or leave a comment down below! @mexplease
Still hungry?!
Want to receive Mexican Please recipes via email when they are posted?  Sign up below to subscribe.  All recipes are spam free.