Last week I got a kitchen penalty for not having freshly pickled goods in the fridge. Minus ten points!
But instead of making individual batches of Pickled Jalapenos or Pickled Tomatillos, I took a shortcut and made a batch of Pickled Everything.
So this quart-sized jar is loaded with Jalapenos, Carrots, Onions, and Tomatillos -- all pickling together in harmony.
Sure, some of the individual pickled recipes on this site have their own preferences (like adding sugar to Pickled Onions), but overall they are similar enough to take a shortcut like this.
It's also a good way to introduce pickled something to your kitchen if you're new to the process. Compared to canned goods you'll get a massive upgrade in flavor, and it takes so little time that it's become a regular routine in my kitchen.
Here's what you'll need to get started:
5-6 jalapenos
3-4 tomatillos
1 small carrot
1 small onion
4 garlic cloves
And here's how it all looks after chopping: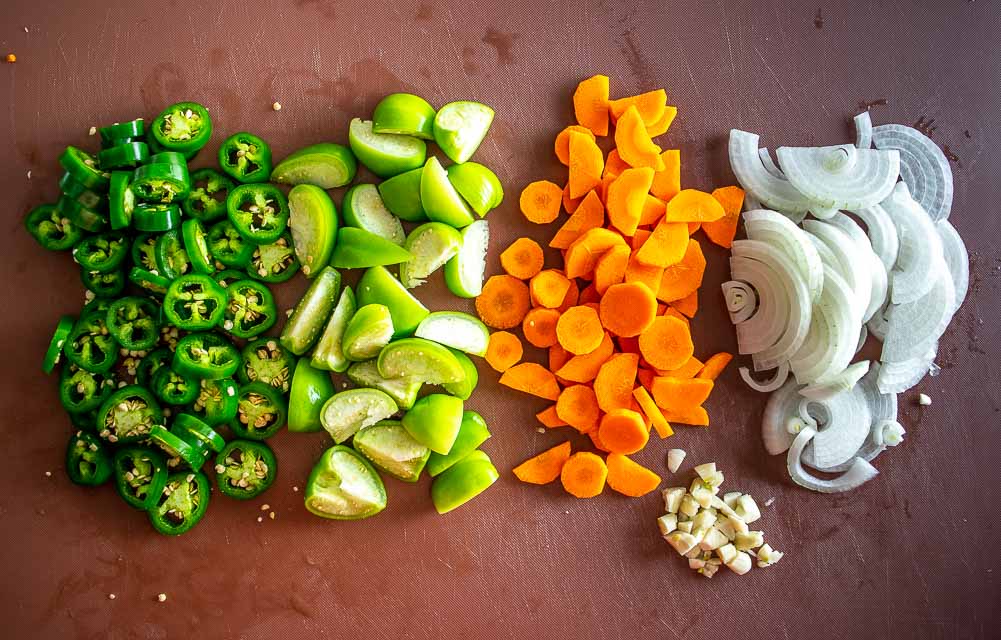 I usually cut the onion into longer strips, half-moon style. And yes, all of that somehow fits into a quart-sized jar!
Here's a look at the spice mixture I used: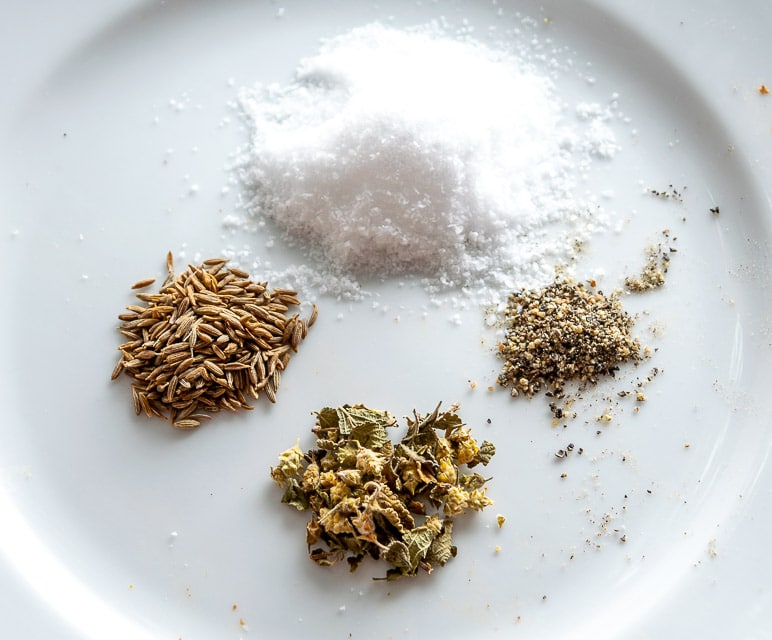 So in the above pic you've got:
1/2 teaspoon cumin seeds
1/2 teaspoon Mexican oregano
freshly ground black pepper
1 tablespoon Kosher salt
But don't sweat the spice mixture too much. If you don't have Mexican oregano on hand you can omit it and still get a good result.
I usually give the cumin seeds a quick crush in the molcajete to release some of their flavor.
And note that Kosher or sea salt is recommended for pickling. Table salt will frequently have additives that can affect the brine. I use this foodie-approved Kosher salt for just about everything in the kitchen and you can find it super cheap in most grocery stores: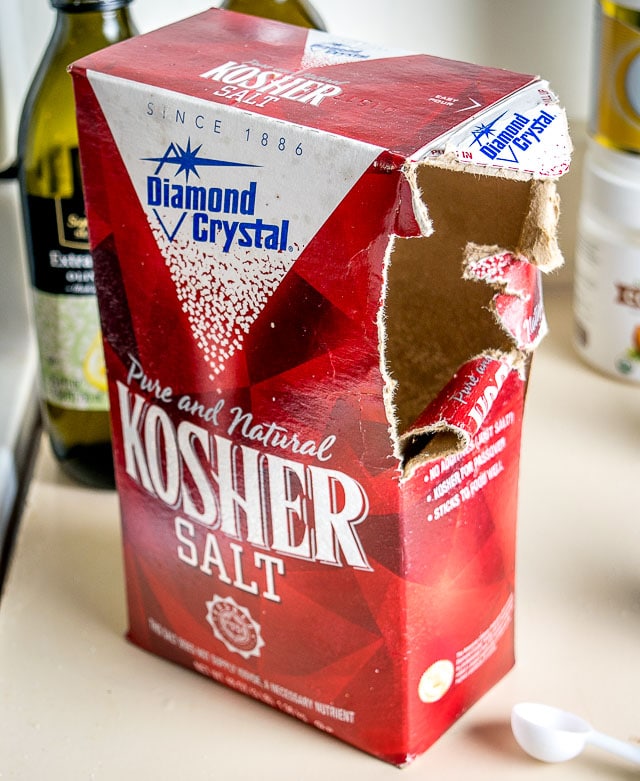 Start by adding the following ingredients to a saucepan and bring to a boil:
1.5 cups white vinegar
1 cup water
1 tablespoon salt
Instead of simmering the veggies we're just going to give them a quick saute -- this will prevent the tomatillos from getting too mushy.
Briefly cook the onion and roughly chopped garlic in some oil over medium heat.
Then we'll add the rest of the chopped goods along with the spices.
Note that it's best to use a non-reactive pan for this recipe -- don't use your favorite cast iron pan because the acidity of the vinegar will eat away the seasoning.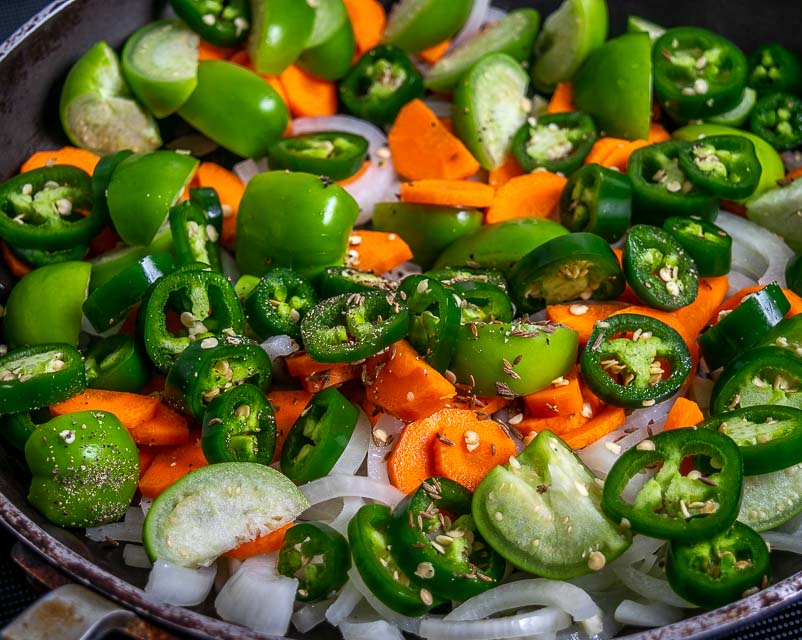 Saute briefly and then add the hot brine mixture.
Combine well and then add everything to a quart-sized Mason jar (or two pint-sized jars).
If you don't have any of these jars it's worth picking a few up at the grocery store -- they are super cheap and and a non-reactive container (like glass) is best for storing the brine.
Yes, everything will be slightly pickled at this point, so feel free to take a bite!
But it will take a few hours to fully pickle so I usually tuck it away in the fridge and try to forget about it until tomorrow.
At which point you can open the fridge and have Pickled Everything to choose from.
The jalapenos take on a delicious flavor from the brine and spices -- and some of their heat will infuse into the tomatillos and onions. Nice!
These pickled yummies will keep in the fridge for weeks at a time. (Note: this recipe is not designed for long term canning.)
I use these pickled delights on all sorts of dishes: Tacos, Chilaquiles, and yes, even Pizza!
And keep in mind that once you get familiar with this process you can always revert back to the individual recipes if you want. Here are links to those recipes:
Okay, I hope this Pickled Everything recipe will get Pickled Something into your kitchen. The fiery blast of acidity is a great finishing touch on a wide range of dishes, and if you find yourself munching on them straight from the jar then Everything has gone according to plan.
Buen Provecho.
Want the latest recipe? Click your favorite from these options and follow me: Instagram, Facebook, Pinterest, TikTok, YouTube.
Pickled Everything
Here's my recipe for a batch of Pickled Everything -- jalapenos, carrots, onions, and tomatillos. Yes, tomatillos! (Note: this recipe is not designed for long term canning.)
Print
Pin
Rate
Ingredients
5-6

jalapenos

1

small carrot

1

small onion

3-4

tomatillos

4

cloves

garlic

1.5

cups

white vinegar

1

cup

water

1/2

teaspoon

cumin seeds

1/2

teaspoon

Mexican oregano

freshly ground black pepper

1

tablespoon

Kosher or sea salt

olive oil

pinch of

sugar (optional)
Instructions
Add 1.5 cups vinegar, 1 cup water, and 1 tablespoon salt to a saucepan and bring to a boil.

Give the jalapenos a rinse and cut them into 1/4 inch slices, discarding the stems. Peel the carrot and cut into similar sized pieces. Peel and cut the onion in half, chopping it up into half moons. Remove the husks from the tomatillos and give them a good rinse. De-stem the tomatillos and cut them into quarters (or eighths for the bigger ones). Peel and roughly chop the garlic cloves.

Saute the onion and garlic in some oil over medium heat for a couple minutes.

Add the chopped jalapenos, carrots, tomatillos and the spices: ½ teaspoon Mexican oregano, ½ teaspoon cumin seeds, and some freshly ground black pepper (approx. 1/4 teaspoon). I usually give the cumin seeds a quick crush in the molcajete but this is optional.


Saute briefly and then add the hot brine mixture. Combine well and add everything to a quart-sized Mason jar (or two pint-sized jars). Partially cover and let it cool down on the counter.

Once cooled, store in the fridge and let them pickle overnight for full flavor. They will keep for weeks at a time in the fridge.
Notes
I normally add a pinch of sugar to Pickled Onions, but usually not to Pickled Jalapenos.  For this batch of Pickled Everything I didn't add any sugar but feel free to experiment with a pinch.   
Kosher, sea or pickling salts are the most common salts used for pickling vegetables. Iodized salt isn't recommended as sometimes additives will affect the brine.
It's also best practice to use a non-reactive pan when simmering veggies in the vinegar.  I have mistakenly used my beloved cast iron pan in the past and the acidity eats away at the built up seasoning. 
Similarly, it seems that glass containers are the best choice for storage of this vinegar based brine. 
Like this recipe?
Click the stars above to rate it or leave a comment down below! @mexplease
Our latest recipe is a batch of Papas con Chorizo: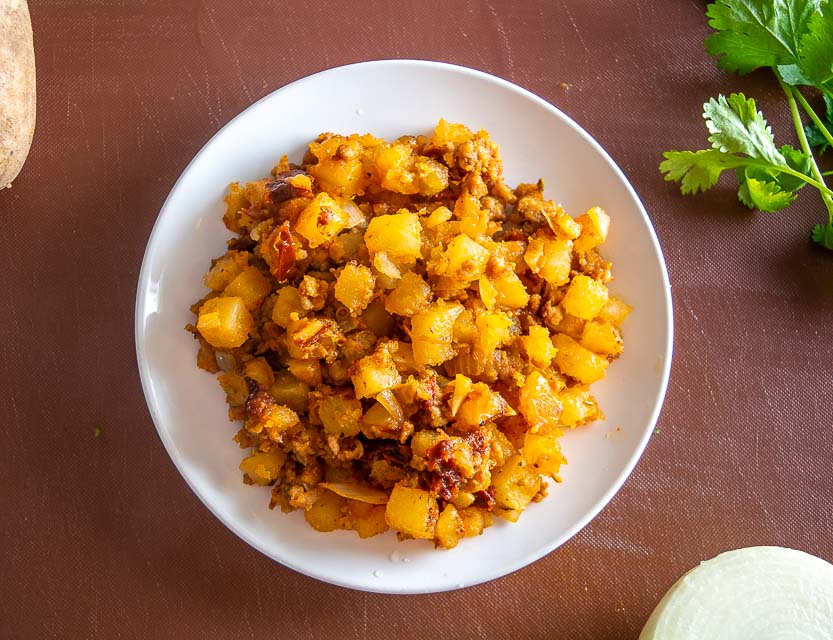 Still hungry?!
Want to receive Mexican Please recipes via email when they are posted?  Sign up below to subscribe.  All recipes are spam free.